This post is a transcription composed in real-time during one of the many seminars at CineEurope 2015 in Barcelona, Spain. As such we often paraphrase the presentations being given.
The Coca-Cola Company's retail seminars tends to be one of the highlights of CineEurope, as the company always has tons of research, examples and insights to share about the concessions market, as well as excellent speakers. No wonder that it is packed, even at 8:30am on the morning after the big 20th Century Fox "Peanuts" party.
The session will start with a presentation from Hoyts Australia, who will share retail strategies and success, and will be followed by a stimulating debate, with some of the big names in cinema retail discussing future retail trends. 
Corinne Thibaut, International Director of Cinema & Leisure, The Coca-Cola Company
"I won't to offend you by telling you how important retail is for your business," Corinne begins her presentation. "Amazing how many people we have here at 8:30. F&B does not just contribute to your bottom line, but as you saw yesterday, it contributes to the overall experience. The idea for this year is to learn from each other because we believe that you don't compete when it comes to retail. The format is a bit different this year."
"First a 20 minutes presentation from Matt from Australia. I had the opportunity to visit him a few months ago and I saw amazing execution, but I don't want you to spend 50 hours all on a plane so we have brought Matt here instead."
With that the seminar switched to 'Best Practices from Australia'.
Matthew Ezra, General Manager Premium, F&B, Hoyts Cinema Australia
Matt begins by playing film that gives background to Hoyts Cinemas: 47 cinemas, 375 screens. Hoyts Lux, Hoyts Xtreme Screen. 3rd largest English speaking market [Australia]. CRM: over 900K loyalty members, 388K FB likes, $50m in annual corporate solutions sales, over 700 kiosks. Planned expansion to over 1,000 kiosks within 5 years.
"eXperience More – new CEO of Hoyts recently who pushed this idea. 8 months start to finish we created the Lux brand. Food Emporium self serve. Metro by Hoyts."
"Multi-sensory retail. We should look outside our industry when we are creating new concepts. The right sound, music, smell of coffee and donuts, are all examples of this. Look at Abercrombie & Fitch. Mood and lighting and scent is all there (I can smell the store before I see it). AND they have models up front."
"Hoyts Lux – Within Australian market premium cinema has been around for a long time. Competitors have been doing it for long time. Hoyts had mixed offer with seats in back. Competition had Gold Class. We took inspiration from QT hotels with its bars and lounges."
"When you creat this environment it has to be credible; not a cinema operating a bar but a bar in its own right. Broken into three zones with edge and fun personality and quirky. General public can use this space as well. We wanted everyone to enjoy it. But at the back is the green zone where you have your own dedicatedspace with staff with iPads that take you to your seat."
"We employ people with hospitality background to staff the restaurants and bars and kitchens. Even the toilets hava a personality and mirrors have writing on them. Every little bit counts. There is somebody to greet you and to say good night. People get treats on the way out and a 'Thank you'. That is the last and lasting impression for customers. We try to be different from our competitors."
"Food Emporium self-serve concept. We built a new cinema four years ago in Hamilton and decided to do things different. How do we change people's way of spending money? When they stand in line they will only buy what they think they want from the stress of people waiting behind them."
"We are pulling 50% more out of our F&B. It enabled us to expand our range because of the space. Increase in impule items like confectionary and ice cream. And we can add new offers. Filthy Rich icecream counter also serves out towards the mall."
"METRO by Hoyts. Also in Hamilton in New Zealand. We took a second-run cinema and turned it into something different. 1/3 revenue comes from F&B and 2/3 from tickets, whereas for Alamo Drafthouse it is the opposite. It is based on a Subway type of model. Food and Beverage first in an urban environment aimed at a different audience."
"Dual point. Admissions have been pretty flat for last five years so any additional revenue comes from F&B spend. Met several needs. 'I have queuing up behind people buying popcorn and soda,' – our customers said. Serving pizza takes longer. McDonalds has moved to this system globally: different locations for taking orders and delivering. It takes same amount of time but the perception is that it is shorter. You wait off to the side to get your food. I think, "Wow, the service has improved". Easier for our staff to engage with the customers."
"Digital Menu Board – using Coca-Cola insights. Five is the optimum. Promotional combos that rotate through on board number one. Six items on each of these. Every ten seconds it transitions to a new image. Then we have an interruptive. Just because you can animate anything, doesn't mean you should animate everything. Apetite appeal is the last one. Project that is now underway and we are converting our entire circuit."
"Coke photo-vending booth. Something shocking like 60% of teens have not drunk Coke. Smaller entry point can was one thing. How could we make it different and special. So we created the photo booth. Buy coke, have picture taken, add effects and see yourself on the big screen."
"Colouryoursummer turned over the 3D glasses and gave them away for free."
[youtube]https://www.youtube.com/watch?v=o0M6UHjEfPk[/youtube]
"Freeze your seat  – Frozone – because Australians drink more frozen beverage than any other nation on earth. Created an app that sat within the Hoyts app. Wanted to engage with teens over the summer while they were out and about. So you would log on and you could see if there was a virtual seat next to you that had a prize. The pins changed every day so that people would log on. 99% of the prizes were claimed. 75% of tickets prizes claimed. Pretty staggering rates."
"MARS icon stores. They work with Cineplex in Canada and grew sales 50% over five years. Mars Australia partnered Hoyts. Made giant M&M characters that cost $100,000 for six of these characters. Think of different ways to engage with customers. The kids and teens love them. Upload their photos. Refill promotional combos. We had never done refill bucket for popcorn (at full price), you get a free M&M, Malteser or Pods. Very high redemption rate."
"Refill Promotional Combos – Vintage Coke Cups. We run over 40 promotions per year. We sold 90,000 Coke collectible vintage cups. People saw the value in that. People from the shopping centre would also come in for a cheap refill. For the Contour 100 we have created the refillable bottle. We would have generic refills like the collectable Milk Bottle when there is no campaign running."
"If there is a perceived value then peole don't consider it expensive. Adult Promotional Combis. Some things we get right and some wrong. If we don't go wrong that to me that we are not trying hard enough. Movie going experience doesn't end at the front door but comes home with you. We sold 15,000 for "Jurassic World". Kids Promotional Combo."
"That's me. Thank you."
After Matt exceeds his 20 minutes by some margin (but with fascinating insights), Corinne invites everybody else up to the panel.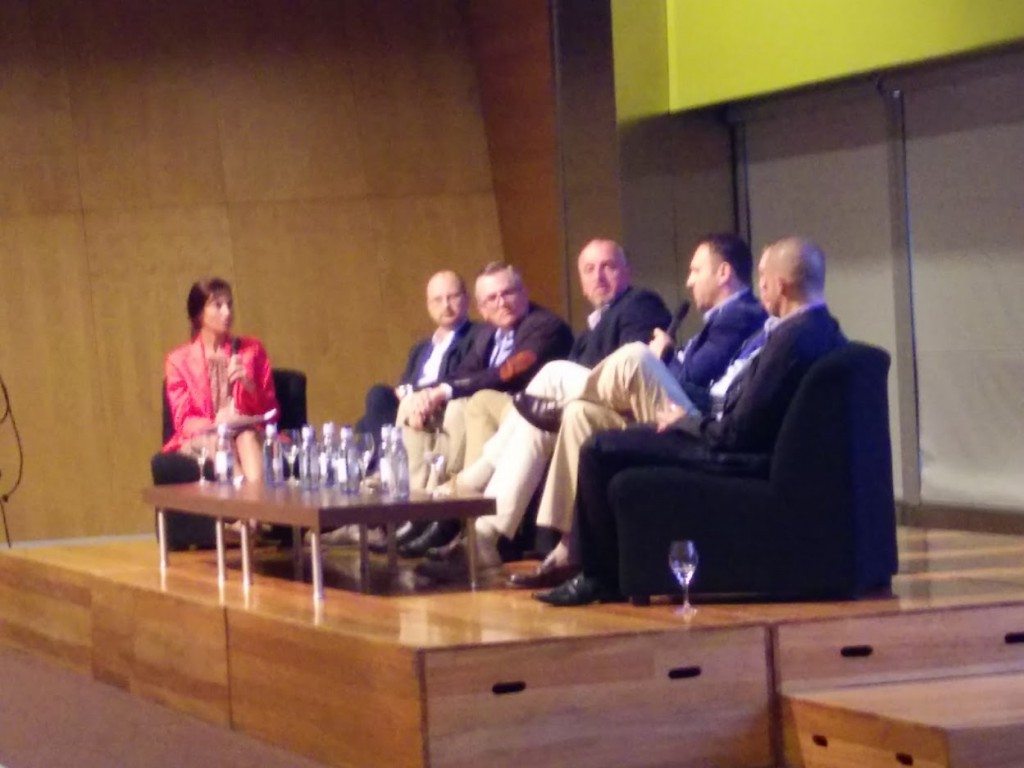 The panelists in addition to Matthew are:
Christian Hoffman, HR, Procurement concessions, Operations Manager, Cineplexx
Duncan Reynolds, Managing Director UK & Ireland, Odeon & UCI Cinemas
Stefano Salvischiani, Deputy Managing Director, Italy, Odeon & UCI Cinemas
Mariusz Spisz, Sales and Marketing Director, Multikino
Teodor Teodorescu, Operations Director, Pathe Switzerland
Corinne points out that, "We are trying to have regional diversity (if not geneder diversity – all men)." Asks, "Mariusz, what were key drivers?"
Mariusz: "I had pleasure presenting our KPI in the last few years. Our focus is on combos. All that we do in F&B is connected with selling combos. It is something we beleive in and the numbers show that it grows our total spend. Strike rate of combos grew over 20% and our spend-per-head also grew 20%."
Stefano: "Italy is a sunny and great place to be. But when you look at economic figures it is not so good. Less than 50% of other territories when it comes to customer. So we decided to focus on transaction, transaction, transaction. Focus on getting the customer to the stand. We work on each single item of transaction, whether queuing, speed of service, etc. The other thing we did was on combo. Those were our two key pillars."
Corinne: "Has any hospitality business inspired you?"
Duncan: "We look a lot at the high street. One of the successes has been Costa Coffee. We see it as one of the few places that welcomes you in. We have a lot of teens in our business. Other don't want them, we do. Pret-a-Manger is another great example. Get there ten to twelve and see everyone who comes up for lunch and you see how that place changes and everyone is geared up to serve."
Corinne: "Let's talk retail layout."
Christian: "The idea of the combo station [cinema ticket + concessions in same place] – we experienced that a few years ago and we don't think it is a good experience for the client. It puts pressure on the client. First focus is to buy ticket. So the idea is to go to a self service and once you have the ticket you are relaxed and can choose your F&B options. More and more also internet tickets so you are not catching clients at the counter."
Mariusz: "A couple of years ago we introduced combination stations of ticket and concessions in one place. But we never had a single charge for cinema ticket and combo. This is because of [Hollywood] studio resistance that don't like bundles or want too big a share. But a couple months ago we launched the "all inclusive" that you can have unlimited films and popcorn in one day. But the studios did not love it as much as we loved it. But the results were very nice. People who bought them watched average of five films in one day and visited concession stand betwen each. It was the equivalent cost of three movie tickets. Unfortunatelly because of decisions of two studios we cannot continue this. Maybe in the future we will have a new approach and try to convince the studios."
Christian: "In south-east Europe like Serbia we had experience of combination, but because labour is cheap it is more common. In Austria people are not used to it queuing for long time is not popular. We also have rule that you need to pick up tickets 20 minutes before [the start of the film] if you want reservation. Nobody wants to stand and wait. So you lose your audience."
Stefano: "Experience of customer is not so good because it has to do two things at the same time. You also have to improve staff training because it is asking more of staff to learn sales technique."
Matthew: "We are future proofing our business because we know that everything will be done on the mobile phone. If you make it lively and exciting in the F&B area then it will result in sales."
Duncan: "We have been on an interesting journey because UCI & Odeon merged in 2005 because UCI was counter service and Odeon was self service. UCI was selling 20% more so we had to shift everything. But we realise that somewhere between is best. Hotdog and popcorn is best for counter service but create some self service opportunities. Alternative content is getting bigger with Take That grossing alomost one million pounds but you need a different appraoch when it comes to selling for thing like that and Royal Opera House."
Corinne: "We see that there are trends in terms of range of products."
Teodor: "People are coming to the cinema for pleasure. We have tried healthy foods like apples and fruits. But people want their chocolate, Coke and popcorn. I don't think we will sell vegetables and fruit in cinemas One thing we have done is to reduce the oil for popcorn to make the popcorn less fat."
Christian: "We sell healthy in terms of the quality of our products. We do the big brands. As Teodor said, people are coming to have fun, so they don't care a little bit about fat on their hips. When we offer to sell 0.5 bottle then you have the option to switch to bottled water – 3% take up the offer."
Stefano: "We tried the healthy option, but what we learn from the hospitality business is to talk abut the qulity of our popcorn. So we changed the tubs and started telling people about the qality of the maize and where it comes from. Standard package is always the same. Then there is another package that offers more reassurance about the quality. 90% said that the popcorn in the second tub was better, even though they were completely identical."
Corinne: "Another trend is aging population. How do you adapt your offer?"
Duncan: "It comes back to segmenting your offer by time of day. With alternative content you have to have different ways to display your product. Alcohol is another growing category, though many customers don't realise that you can buy a glass of wine and take it into the cinema with you. We are now introducing a bottle of wine for 9.99 or 19.99."
Corinne: "So segmenting audience ads balance. But 40 promotions per year?"
Matthew: "Every single transaction we have goes through to Coke. That will feed into digital menu boards. We know that seniors like sparkling water and chocolate. Very important for that. For 7-8 years we have been growing that in menu boards."
Mariusz: "I was trying to count how many promotions we are running in a year – 30-40 probably. Digital menu boards definitely helps. Is there a retailer we look at and coffee shops is definitely one of those, McDonalds is another one."
Teodor: "Digital signage is very important. We started six months ago. Each item is showed as a clip. Bring attractivity and flexibility as you can have different offers at different times."
Question from the audience about healthy popcorn – example of skinny popcorn. "Why can't I buy skinny popcorn with chocolate on it like I can with Pret or Tesco, where it is now part of meal deal?"
Duncan: "There is room for both. We have introdiced Metcalf popcrn. It is manufactured in same place as regular popcorn and not that much lower callorie, but it is a smaller size so it a different entry point. They can sit along side each other."
Question from the audience: "40 promotions per year means three promos per month. Does that not confuse the customers?"
Matt: "It goes across genres. There will be different ones for kids, growns ups, so there will not be overlap. There is also a 40-50% drop off after the first week. It is exciting to have constantly new product. Sometimes it does not sell and we are stuck with a bunch of package. We simply disolve that into our regular offering. If you want to be risk averse, that is all that you do."
Question from the audience: "What impact is rising ticket prices having on retail revenue?"
Duncan: "I'm not sure the two are completely connected. We are trying to increase the quality of the product that we sell. We are reinventing things that we have done for 25 years. We changed nachos to have better cheese, we changed guacamole to go from 4% to 94% avocado content,  and same for better hot dog content. Then people won't feel that they are being ripped off. That is part of the experience of going out for a night and having a good experience."
Question from the audience: "A lot more pople are buying tickets online. Is there a way to do concession sales online?"
Marius: "We noticed that that some of the highest ticket online sales had declining concession sales. So we introdced special offers and kept pushing and promotion. A couple of weeks ago we introduced paper and mobile verison of coupons. And the mobile one is double the response of the paper one."
Teodor: "One point is about ATMs. You can propose F&B products related to the movie there. If you buy Furious 7 ticket then what about beer and nachos combo."
Matt: "When McDonalds introduced dual point then they introduced that you can order it on your device. It has your credit card stored. You can shop while you are browsing and you go straight to the collection point."
Corinne: "A lot of imagination, drive and determination. Thank you to my panel."
And with that the panel ended.

Latest posts by Patrick von Sychowski
(see all)