Are box office figures being falsely over-reported to attract audience interest? Sina Entertainment is quite explicit about what the issue is:
As of the end of May, China has nearly 17 billion yuan takings at the box office. Such results make the world speechless, but behind there is a simmering unspoken set of rules: a lot of producers use their own money to buy the film side of the box office, or use lower split ratio rebate, even taking no money from the theater – which not only created the illusion of high box office, but also leads to the earlier crowding out of other movies … why do many viewers simply feel that there are more and more bad films?
In a long and excellent investigative article Sina even finds and interviews a distributor who claimed to have spent CNY ¥60 million (USD $9.66 million) and used a staff of 200 across the country to buy up tickets to his film in the opening week to ensure his film ended up high up in the box office chart. The accusation that distributors are "buying the box office" is also examined by Mtime, which says that the corrupt practice could be rampant in the industry:
It is understood that many of the film distributors use a lot of their own money to buy movie tickets, then give away or sell on at a low-cost to the audience, not only created the illusion of high box office, but the resulting false high discharge sheet can squeeze out competing films earlier.
Lack of transparency means that such practices can go un-noticed, though accusations do fly on microblogging sites by directors whose films suffered. But writing for Sina Weibo one producer (who began his career in cinemas) says that audiences are no longer swayed by reports of a film's high box office takings and also defends the practices of rebates, e-commerce subsidies, private screenings and other ways that the Chinese cinema market is being distorted.
Some on the film side will feel that rebate and subsidies ticketing websites behavior is unfair competition, but I do not think that competition may not be authentic, but not morally wrong. If one day the country has laws and regulations that do not allow this, then you can confidently say that these means are wrong, but now there is no regulatory restrictions, I think these are market-based instruments.
He goes on to say that cinema development in Chins is in its early stage, with the audience's viewing habits not fully nurtured, so it would be wrong to compare these practices to what is accepted industry standards in the United States or France. Meanwhile Jiemian looks at the practice of distributors 'rebating' their films to keep them playing, even though this practice does not inflate the box office. But the reason for doing so is still the same, "The purpose of the issue is to use the least amount of money to achieve most of the same goal; basically a no-budget way to buy the box office."
Time Network asks why movie trailers are increasingly being "crowded out" at the cinema. "Since the trailer is so important, why it has been marginalized in the theater, and even almost about to disappear? Reporters visited a lot of theaters in the capital, and found that to see trailers in the cinema is almost "entirely luck," the length of playing time is not regulated at all." Advertising is often squeezing out trailers, plus under 2011 guidelines by the  China Film Distribution and Exhibition Association start times adversities for films should not contain more than 10 minutes of ads and trailers. LINK
The reliance on commerce apps for booking cinemas tickets in China raises issues of security when vulnerabilities are exposed in the underlying software and cloud platforms, as was recently the case with the ASDC app. "Cloud platform based on the information display, ASDC cinema ticketing system developer it was confirmed on May 17 that the vulnerability exists, and white hat [i.e. good hackers] replied that it, "will be released as soon as the new version fixes." It is reported that, ASDC cinema ticketing system is one of the leading provider of ticketing system, customer service, including Wanda, Stellar, Film and many other new southern chain of theaters."  LINK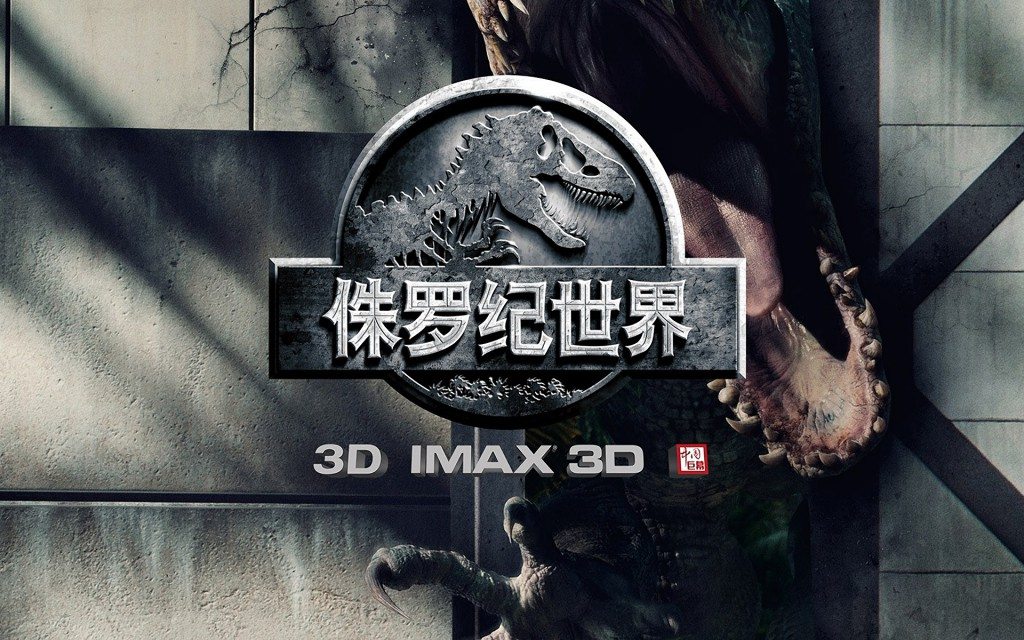 19 June is set to be an exceptionally crowded weekend in the Chinese box office calendar. "Movie line-up from the current release sheet, the opening of the summer on June 19, will become the "worst in the history of the competition schedule," with nine new film choosing this day for their release. Industry insiders say that regardless of the blind get together and release schedule may make the June 19 release of nine new film to become "cannon fodder." IT also comes a week after the release of "Jurassic World" which adds to the crowding. LINK
Efforts continue to standardise box office software reporting, in order to avoid fraud, though it is proving a challenge for the authorities. "the National Film Office will continue to increase funding cinema ticketing system and standardize management efforts in five aspects. It requires a single theater of raw data rate should be up to date submitted to complete more than 98%. Clear penalties for violations, with theaters which for seven consecutive days reported rate of less than 98%, will result in suspended license ticket software sales for three months." Chen Xing gets a name check for its CineMaster 3.0 software solution, claiming to be the only one with FIPS certification. LINK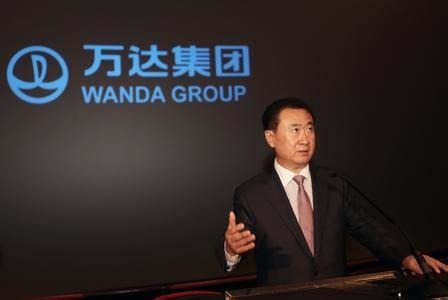 Wanda's acquisition of Australia's Hoyts was big news, but meanwhile in its home territory the company grew in May. "On 4 June Wanda Cinema Line Corporation announced that in May 2015 the company grossed 450 million yuan, an increase of 42.0%, with audiences 10.11 million spectators, an increase of 28.3%. As of May 31, 2015, it had opened Wanda Cinema 187 cinemas with 1657 screen. 2015 January to May, total box office revenue was 2.4 billion yuan, an increase of 54.2%, with audiences 54.83 million attendees, an increase of 45.3%."  LINK
Many fans hoping to catch the first ever cinema screening of the original "Star Wars" trilogy in a Mainland cinema were left disappointed. "However, yesterday, the newspaper received complaints from the public, who were queuing overnight at Yonghua Cinema City, "everything apart from a few tickets were gone." Reporters Contact Yonghua Film City get a response, ticketing process does have movie tickets, "suddenly disappear" happens, a phenomenon suspected "death", but soon recovered ticket, there is no doubt fans "sell less." But many fans do not buy it." Perhaps screening the films in an auditorium of just 156 seats was a little short sighted. LINK
Barco had a big presence at a recent film summit in Shenzhen. Given the importance of the Chinese market this should not come as a surprise. "Wim Buyens, senior Vice President of Digital Cinema Worldwide, said: "We expect that in the next three years, China will account for 25% of the number of screens worldwide. With the number of commercial theaters there is no doubt that the Chinese market is becoming a global digital cinema technology growth engine for Barco. We have many partners in China with whom we maintain long-term close communication, and thank them for their support and trust. We are constantly pushing breakthrough innovation, and hope that in the theater with increasingly fierce competitive differentiation, becoming the theater users reliable and innovative partner."  LINK
More consumer rights-related complaint in Yanqing about cinema membership cards expiring and unused credit not being transferred or returned. "After repeated communication and coordination with the theater staff the theater eventually promised to replace Chak's old card with a new one, and the card balance within would convertible into a movie ticket at the cinema, while the cheater apologised to Chak for any inconvenience."  LINK
Accessibility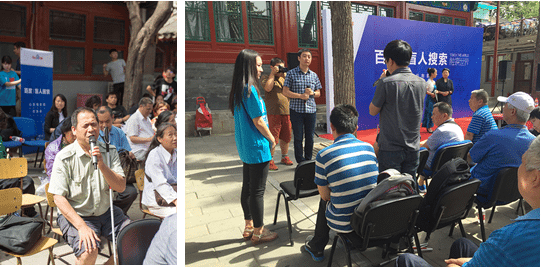 China's search engine major Baidu has got behind an effort to provide audio description to blind and visually impaired audiences. "June 6, on the occasion of National Eye Day, Baidu took a video into the Gulou West Street in Beijing, an ancient courtyard – "reckoning cinema", hope and Tsinghua University jointly developed innovations introduced by this video search services, "Baidu blind search" change the lives of blind people, using specially developed technology to solve problems they encounter in life." LINK
Private Cinemas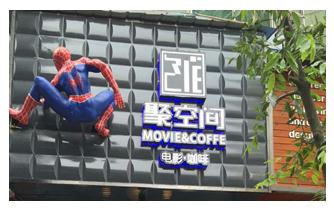 Sohu News asks what the appeal of private cinema is. "According to the owner, private theateres have become popular in the past two years as a new way of viewing [movies], because of the comfort and privacy of your environment, and you do not lose large cinema audio and visual effects, and it eliminates the trouble of queuing for tickets means more and more people are welcome." The writer picked the 'Transformers' room to watch 'Starship Troopers' and is impressed. LINK
Cinema Opening/Closings
October is the target opening date for this cinema joint venture in Kunning between Earth Theatres and Wal-Mart. Yes, Wal-Mart (and Sam's Club) has a presence in China. "Wal-Mart currently has a total of 22 stores in Yunnan, this figure even exceeded its number of stores in Beijing and Shanghai, and it opened a total of 412 stores in 165 cities in China. The future will continue to see an increase in investment in different businesses in China in 2015 – 2017 for the three years it plans to add 115 stores." LINK
Finally
There is a wax effigy of George Clooney in a Wanda cinema in Beijing. "Heartthrob George Clooney arm chair couch sitting stretch freely among the gentle eyes, mouth smile up, charming enough to the real thing, the scene of fans and idols have intimate photo." Looks a little creepy. LINK

Latest posts by Patrick von Sychowski
(see all)