Cinema data and campaign firm Movio has launched a product that tracks and analyses cinema-goer behaviour, aimed at giving studios and distributors greater consumer insights.  
Movio, the global leader in marketing data, analysis, insights, and campaign creation and management for theatrical exhibitors, studios and film distributors, is proud to announce the debut of its newest product platform: Movio Media. Designed for, and Beta-tested by, US film studios and distributors, Movio Media allows movie marketers to analyse and connect with the most avid moviegoers (those attending films six times a year or more) for more targeted messaging, interactive conversation and increased ROI.  

With close to 16,000 screens (21% of the worldwide total) currently engaged in its highly regarded Movio Cinema platform, which maintains real-time, authoritative data on the loyalty activity and transactions of customers for many of the world's biggest cinema chains, Movio captures the behaviour of 30 million moviegoers. It operates in North America, Mexico, Australia, New Zealand, the United Kingdom, Turkey, China, Vietnam, Thailand and Malaysia, and is currently targeting Europe as well as emerging markets in Latin America and Asia Pacific. Headquartered in Auckland, New Zealand, Movio has offices in London, Los Angeles, Mexico City, Sydney and Shanghai.  LINK
NAB/CinemaCon – RealD is offering its image enhancement tools through the cloud process provided by Sundog Media Toolkit, which will be used in Ang Lee's next feature film amongst others.
RealD Inc. (NYSE: RLD) announced today that the company's RealD TrueImage™ image enhancement technology is now available as part of the Sundog Media Toolkit cloud-based media processing platform. As a cloud-based automated process, RealD TrueImage™ is now readily scalable for workflows from individual shots to 4K 3D feature films, combining the advantages of cloud-based post production over dedicated infrastructure with industry leading image processing.

First used with "The Hobbit: The Desolation of Smaug," RealD TrueImage™ eliminates artifacts commonly associated with digital and film based capture through a proprietary process, resulting in higher quality imagery which is more detailed, lifelike and a more accurate reflection of a content creator's intent.   LINK
Look out for a Q&A interview with Sundog's founder Rich Welsh this coming Monday here at CJ where more will be revealed.
NAB/CinemaCon – Demonstrating that this year's cinema trade show is likely to be as much about apps as about lasers, here is an announcement that ticks a lot of catch-phrases: "mobile/web", "gamification", "social networks", etc.
At CinemaCon 2015, the annual worldwide cinema convention, IntensNet will introduce INTENSIFY, a new generation loyalty solution fully dedicated to cinema which is the first innovative and breakthrough end-to-end service offering.

For the brands advertising into cinema venues to intensify both in-house and external communication, boost the social activity with the patrons, build a loyal community and expand sales.  LINK
USA – Cinemas do not seem too worried about smartphone live-streaming apps like Periscope and Meerkat. Yet. At the moment that could be because streaming is restricted in the amount of time it can be on.
"We haven't encountered any issues with (Periscope or Meerkat) yet," said Patrick Corcoran, National Association of Theatre Owners VP and chief communications officer. But, he added, theaters generally do not allow patrons to use devices capable of recording video to be used in auditoriums: "The same would be true of devices that live-stream."

Still, NATO and MPAA are both concerned about new technologies making it easier to pilfer and share movies. It's worth noting that last fall, the orgs officially prohibited recording by users equipped with Google Glass or other wearable devices in theaters as part of their joint policy to prevent film theft.  LINK
Mexico – The Green Party in Mexico has given away over half a million free cinema tickets. The  Morena party has filed a complaint to the National Electoral Institute (INE).
Senator Charles Bridge acknowledged that the Ecologist Green Party of Mexico (PVEM) distributed throughout the country 650,000 tickets for the cinema chain Cinemex prior to the start of the campaigns homes of its members.

He explained in a press conference that every ticket 21 pesos [USD $1.40], representing a cost of 13 million 650 thousand pesos [USD $914,750].  LINK
Poland – This arts centre cinema in Poland has to scale back screenings in its 300 seat auditorium – because they are too popular.
Huge interest by the local population meant that we would be forced to reduce film screenings, so that the institution would not qualify to have to pay VAT . The mayor explained that the income from the cinema business can not be higher than 150 thousand. z? (USD $40,000) per year. EU rules say so. "We have to spread out in the near future the number of sessions, so as not to fall in the VAT category," says Janusz Reszelewski. "Certainly during the holidays we will take a break."  LINK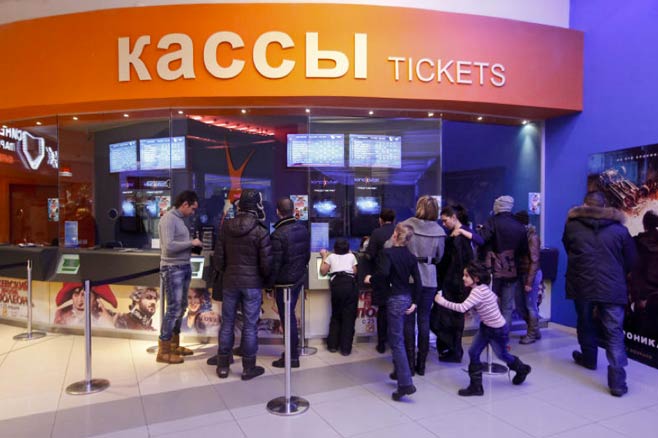 Russia – Box office is resilient in Russia, despite the declining rebel and economic downturn, with a third of the BO takings coming from domestic films.
Figures for the first three months of the year released at a top-level industry conference in Moscow show that theatrical receipts through the end of March totaled between 13 and 14 billion rubles ($232-$250 million at current exchange rates).

Although it is hard to use first quarter figures to forecast annual box office in a country where local currency has lost around 40 percent of its value against the dollar in the past year, the numbers suggest that overall box office may still not be far off the billion dollar annual receipts recorded in Russia in recent years. LINK
USA (KS) – The state government has introduced a law that bans Kansas welfare recipients from spending money they are given at the cinema and other goods and services deemed luxuries. Sorry kids.
There's nothing fun about being on welfare, and a new Kansas bill aims to keep it that way.

If House Bill 2258 is signed into law by Gov. Sam Brownback (R) this week, Kansas families receiving government assistance will no longer be able to use those funds to visit swimming pools, see movies, go gambling or get tattoos on the state's dime.  LINK
France – A good scheme by UGC in Bordeaux to entice students into cinema celebrates its tenth year.
Once a month for ten years, on Thursday, the UGC Cinécité Bordeaux organizes free screenings for students. It is unique in France. Only the Bordeaux site offers such a formula in France . Specificity that must be the local team was able to establish a connection with local partners. And since its inception, the students of the EFAP attend these parties, learning to communicate on évênement.  LINK
Zimbabwe – The banning of "Fifty Shades of Grey" in Zimbabwe is one of the last nails in the coffin of the country's cinemas, with pirates having taken over most of the business.
Before the Zimbabwean dollar collapsed under record 231 million percent inflation in 2008, cinemas were common in cities and towns.

Even in the poorest neighbourhoods, local councils ran cinemas that were a hit with children and adults. Today, only five movie theatres remain in the country of 13 million people.

"A [pirated] movie costs a dollar. Going to the movie houses costs $6 per person. You can do the math and you see why I stay at home," said 26-year-old Samantha Baranza, a clerk at a Harare automotive spare parts distributor.  LINK
Outdoor Cinema
Germany – The world's only fly-in-cinema is returning for a second year. Popcorn in the cockpit, anyone?
The premiere of "Fly-In Cinemas" Last year was a success. Now the Texel Airport invites for the second time to the heavenly movie night. At the airport the West Frisian island will host the second edition of the Fly-In Cinemas on 9 May. "Based on the concept of drive-ins can attend directly from the airplane cockpit of a film screening pilots on the tarmac of Texel Airport. On a giant movie screen a spectacular aviation strip will be seen," according to the airport. On the two nights before, the place additionally opened a drive-in cinema for motorists. LINK
Germany – It is not clear if the above cinema was part of the recent get-together of Germany's top open air cinema operators, who agreed on uniform prices and also the setting up of a common web platform: www.topopenairkinos.de
In the largest open-air cinemas now apply uniform spot prices. This is what the representative of the Berlin open air cinemas Kreuzberg / Friedrichshain / Rehberge, the Dresden Film Nights at the Elbe river, the Chemnitz movie nights in the theater space, the PSD Bank cinemas Dortmund, the Commerz Real Cinema Dusseldorf, the Stadtwerke summer cinemas Duisburg, the Hamburg-Hills cinemas and the Munich cinema , Moon & Stars now decided at a meeting in Dresden. The uniform for all venues marketing offers and spot prices can be booked by advertisers list for a future of cooperation partners. "We want it making it even more attractive for our customers to present themselves as part of Germany's most popular open-air cinema," said Michael Claus of the film nights Dresden / Chemnitz.  LINK
Advertising
UK – Orange Wednesday's replacement Meerkat Movies has released the first pictures of its upcoming campaign.
Comparethemarket.com has paid homage to a series of iconic films by recreating famous movie buddy scenes to promote its Meerkat Movies 2 for 1 cinema tickets reward scheme.

This sees friends Naomie Harris and Alice Eve pose for photographer Greg Williams in the guise of Cher and Dionne from Clueless, Thelma and Louise from the self-titled movie and the Black and White swan in Black Swan.  LINK
Cinema Opening/Closings
USA (NY) – Regal and Cinemark are both said to be "very interested" in this space.
The owner of the former Wal-Mart site on Route 58 is working to bring a movie theater to the space vacated by the national retail chain last year.

The property owner and its leasing agent met with Riverhead officials today to discuss their plans for the site, Riverhead Councilwoman Jodi Giglio said this afternoon.  LINK
UK – Plans for one of the largest Imax and multiplex developments in the north-west of England has been announced.
A multiplex cinema with an IMAX screen will sit at the heart of the newly updated Bridge Street Quarter Regeneration Scheme, Warrington Borough Council has announced.

The local authority has prepared a revised masterplan for the flagship regeneration project in a report to be submitted to its executive board on 13 April 2015.

The new masterplan envisages a 2,000-seat cinema being created within the £107m development accompanied by a market hall incorporating the grade II-listed former Boots building frontage.  LINK
UK (Wales) – Tickets will be just GBP £4 when this Premiere Cinema opens in Cardiff's Capitol centre next week.
These are the first pictures from inside the Cardiff Capitol shopping centre cinema due to re-open next week after laying unused for 15 years.

Premiere Cinemas, which runs venues in locations such as Romford and King's Lynn, has invested a seven figure sum into the venue which has been completely refurbished and is set for an opening date of Friday, April 17.  LINK
UK – Care to guess which four UK chains might be interested? My bet is Vue, The Light, Empire and Curzon.
FOUR national cinema chains are in a bidding war to run a new 200-seat cinema in Abingdon Guildhall.

The companies vying for the contract in a top-secret process have all submitted formal bids to the hall's owners Abingdon Town Council.

The cinema is the anchor in a £3.5m redevelopment of the hall, which would also create a new cafe-bar and see the building refurbished.  LINK
Argentina – This historic cinema in Buenos Aires is set to re-open.
After 11 years of being closed, on Friday April 24 will reopen historic movie theater Gran Rivadavia cultural center for residents, located in the neighborhood of Floresta. To reopen the landmark theater a show duo Pimpernel was prepared.

The emblem building, located on Avenida Rivadavia 8600, started its refurbishment in January 2014 rationalist style and respecting its original facade. It currently has a capacity of 1,500 seats and have sound and lighting equipment of last generation.  LINK
USA (NY) – After overcoming two lawsuits, the town of Monroe has finally appointed a cinema operator.
Town of Monroe officials have hired the operators of the 60-seat Downing Film Center in Newburgh to run the multiplex theater they bought in 2012, and hope to begin showing films on three of the former Monroe 6 Cinemas' six screens as soon as next month.

Under a five-year contract signed March 16, the town will pay Downing $154,000 a year to oversee the operation and will supply town employees to staff two ticket booths and the concession stand. Town Comptroller Peter Martin said Wednesday that the theater will show movies seven days a week and have 15 viewings per week on each of the three screens.  LINK
Finally
Michael Bay has a 4K Barco home cinema installation and he is very proud of it. Don't you feel better for knowing that?
Barco, the global leader in digital cinema technology, is the projector of choice for Michael Bay who recently selected a Barco 4K model for what he describes as "one of the very best home theaters in the world" in his newly constructed East Gate Bel Air, California home.  LINK

Latest posts by Patrick von Sychowski
(see all)