AMC has published its 2014 Q4 and year-end figures and though admissions and ticket sales were down, F&B revenue was up as the exhibitor continues to focus on the "guest experience."
Highlights for the fourth quarter 2014 include the following:

Total revenues were $712.2 million compared to total revenues of $713.0 million for the three months ended December 31, 2013.
Admissions revenues were $460.3 million compared to $482.1 million for the same period a year ago. Average ticket price was $9.54 compared to $9.57 for the same period a year ago.
Food and beverage revenues were $215.3 million, compared to $197.9 million for the quarter ended December 31, 2013. Food and beverage revenues per patron increased 13.5% to $4.46, representing the highest in the history of the Company.
Earnings from continuing operations and diluted earnings per share from continuing operations were $29.8 million and $0.30, respectively, compared to $282.6 million and $3.62, respectively, for the three months ended December 31, 2013.  LINK
UK – Up-amd-coming coming UK exhibitor The Light Cinemas has secured GBP £5.2 million in new funding from Connection Capital to further expand.
The investment from Connection Capital was supported by £4.5m of funding from Santander.

The investment will be used to acquire a nine-screen multiplex cinema in the centre of Cambridge from Cineworld.

It will also fund the roll-out of further sites across the UK – Bolton, Sheffield, Thetford (Norfolk), Dundee, Stockport and Walsall – all of which are secured under a signed agreement for lease.  LINK
UK – It seems that the 2-for-1 scheme known as Orange Wednesday that was due to end following the withdrawal of the sponsor EE is set to continue. At least for one more month and with Vue.
It seems as though Vue Cinemas at least is continuing with the 2-for-1 offer on Wednesday's cinema tickets. Throughout March at least, the chain will be running the offer, and it does seem to have EE involvement. "To qualify for the Vue 2for1 Wednesday offer", it writers, "you must be an Orange or EE Mobile customers, or have either an Orange or EE Broadband or Mobile Broadband account".

Whether this is a one month extension, a Vue exclusive, or something else, remains to be seen.  LINK

At a time when cinema stocks are inching up, Imax saw a 2% drop in its share price, following a downgrade by Canaccord Genuity from Buy to Hold and a price target of $34.50 (unchanged).
"We have seen a meaningful upswing in the stock over the past 6 months (up 32%), we believe due to the growing expectations around the 2015 film slate. Nonetheless, the stock trades at 16x 2015E EV/EBITDA and 13x 2016E. This compares with an average historic multiple of 13x NTM EV/EBITDA. Moreover the set of comps that we have identified for IMAX (SBUX, NKE, KORS) now trade at a discount to IMAX. While we continue to believe the solid long-term growth in the business and the relative strengths of the upcoming slates, we prefer to await a better entry point," said Galappatthige.  LINK
Switzerland – A fire erupted earlier this week in Zurich's recently opened cinema Houdini. The apartments above had to be evacuated.
When Houdini cinema at the Zurich Badenerstrasse a fire broke out in the morning. Photos show how flames rising from the cinema and smoke comes out of the ventilation ducts above the theater entrance.
According to police in Zurich, the area is cordoned off a large area. Notes on injured or missing, it is not. As protection and rescue Zurich announced some homes were evacuated.  LINK
France – A French man takes his excitement at seeing "Fifty Shades of Grey" a bit too far. Fortunately all cinema patrons present were reimbursed.
The website of France 3 Haute Normandie reported last Saturday at a screening, a man exposed himself to the audience in the room of a Pathé cinema, Rouen.
The individual, aged 46, rose from his seat, pulled down his pants and urinated in public.

Following this, the distribution of the film was interrupted to allow security film to apprehend the man, who was already known for similar offenses in the same cinema.

"The Exhibitionist, arrested by the police, was then supported by the educator of the home in which he resides, in Rouen. It would not have all his mental faculties," say our colleagues.  LINK
[youtube]https://www.youtube.com/watch?v=ijFDDeWrFJk[/youtube]
USA (FL) – More details about the 'teen rush' earlier this week, which was apparently related to "Fifty Shades". We love the CG animation.
A Florida mall said its changing policy as a result of hundreds of teens rushing a movie theater that refused to sell them tickets to 50 Shades of Grey.

Police said hundreds of teenagers swarmed around the AMC theater at the West Oaks Mall in Ocoee Saturday night and about approximately 100 of the teenagers made it into the theater before its doors were locked and attempted to force their way into a screening of 50 Shades of Grey, which is rated R.

"It wasn't a mob. They weren't smashing windows. They weren't crashing in to steal anything. They were just saying, 'Hey, I can get in and see a free movie," Ocoee police Lt. Mike Bryant told WESH-TV.  LINK
USA (GA) – And another case of unruly teenage mobs at the cinema.
A night at the movies got out of hand Valentine's Day when police had to remove more than 100 unruly juveniles from the theater and arrested a 15-year-old who allegedly had possession of drugs and bullets from a gun.

#Conyers Police Department Cpl. Shyra Hardwick and Officer Daniel Ward responded to the Conyers Crossroads shopping center around 10:30 p.m. Saturday when deputies with the Rockdale County Sheriff's Office requested extra units due to a large number of juveniles on the scene at the Carmike Cinema. According to the CPD incident report, deputies escorted approximately 150 juveniles out of the movie theater for unruly behavior.  LINK
India – Foreigners are often surprised that Hindi is not the native language in Mumbai, the home of Bollywood. It is Marathi, which has its own, much smaller, film industry.
Marathi cinema which is allegedly getting step-motherly treatment from the multiplex owners has embarked on radical experimentation. As a part of this experiment, Makrand Anaspure, renowned Marathi actor and one of the Brand Ambassadors of Swachh Bharat Campaign in the state, has requested the State government and the Brihanmumbai Municipal Corporation (BMC) to hire drama-theatres and mini-theatres during free hours for screening Marathi movies at reasonable rates.

In the last decade, Marathi cinema was successful in carrying out various experiments on the screen. However, it failed on financial ground as Marathi movies did not get space and time in multiplexes and cinema halls. If the latest experiment works, it will give fiscal rejuvenation to Marathi film industry.  LINK
Law & Order
UK (Scotland) – A man who made bomb threats agains ta Cineworld cinema has been sentenced. As so often in Scotland, alcohol was apparently involved.
A MAN who said there was going to be an "explosion" at a city cinema has been placed under supervision for two years.

Janis Gardrivits, 24, was handed a community payback order with two year's supervision for a string of offences – including telling staff at Cineworld that there was going to be an explosion.

Gardrivits was being sentenced at Aberdeen Sheriff Court for behaving in a threatening or abusive manner at Cineworld, Union Square.  LINK
People
USA (CA) – Former Disney executive Jason Brenek has moved over to Imax.
Brenek, most recently senior vp of worldwide digital cinema and cinema programming at The Walt Disney Company, joined Imax on February 9 as executive vp, according to a Feb. 17 SEC Filing also confirmed by the giant screen exhibitor on Tuesday.

At Walk Disney, he oversaw international distribution of studio content on emerging digital platforms after an initial theatrical release. Brenek on Jan. 29, 2015 received the International 3D & Advanced Imaging Society's first founders award for creating the organization in 2009.  LINK
Cinema Opening/Closings
USA (MI) – The former Rave Cinema in Pittsfield Township will re-open after extensive renovations as a Cinemark multiplex.
Renovation efforts at the theater have been ongoing since late last year and should be completed by April. The former Rave Cinema is being updated by new owner Cinemark Holdings Inc.

"They're going through a big remodeling campaign. Some part started last year, but the majority is going on right now," said Frank Gonzales, a marketing manager for Cinemark.  LINK
UK – Bradford's National Media Museum is getting an upgrade to its Imax projector.
SPECTRE, the 24th James Bond film and the new Star Wars film The Force Awakens, are likely to be shown in the National Media Museum's big screen IMAX cinema this year after the completion of improvements costing nearly £800,000.

Work on upgrading the 32-year-old cinema involves changing the IMAX projection system into digital format, replacing the 50ft high screen both of which were installed in 1999 as part of improvements to the whole building costing more than £16 million.  LINK
UK – Weston's Odeon has been undergoing extensive renovation as is soon re-opening.
The national chain has spent about £250,000 on bringing the historic site into the 21st century with new seating, better sound proofing and an electronic ticket booking machine to make queuing a thing of the past.

The old stained glass window, pictured, has also been brought back into view after removing an internal wall.

Odeon bosses have made no secret that the work is designed to ensure it remains a long-term fixture in the town, with Cineworld due to open a new multiplex at Dolphin Square.  LINK
Japan – This is quite possibly one of the smallest public cinemas in Japan – but it offers both 35mm and 16mm projection.
New cinema "Cinema Bruno Convention Cento" was opened in February 7 in Kanagawa Prefecture Yokohama. Location, Nishi-ku, of wisteria trellis shopping in the city, seat number at 28 seats, 32 seats bar "Trattoria Novecento" are also features.

Katsuhiko Minowa of representative, also in charge of jury of action professional Film Festival in Yokohama "Cinema Junction". After that had been operating for 11 years in Kawasaki "Cinema Bar The Gris Som gang" was closed, and the "old shopping street like" is Takaji, met in this listing of wisteria trellis shopping district of Nishi-ku, Yokohama, together boost the mall Iki want and that decided to open in this place.  LINK
Germany – The only cinema in Tegernsee will not be closing, but will get a complete renovation.
About four weeks ago shocked the message that the only cinema will close in the Tegernsee valley. The excitement was great. After the planned closure of gaming arena and water park in Bad Wiessee also one of the last places of entertainment in the valley now should soon be history. The next opportunity for a lovely evening with popcorn and cola before the big screen there again until finally in Bad Tölz or Hausham.

The lease with the owner of the building complex, which also houses the Penny supermarket is set to expire on 30 June. Then the operator family should take off Schlinker with its cinema, because the owner had planned a complete restructuring. But now there is a joyful news for all fans: The Cinema stays where it is.  LINK
Australia – It's final curtains for this lovely Perth cinema.
THE historic Piccadilly Cinema will be converted into a commercial space subject to City of Perth approval.

The decision was made at last night's City of Perth planning Committee meeting, after extensive efforts to find a cinema operator to take over the nearly 80-year-old art deco building failed.

Various heritage aspects of the building will be retained, including the option to revert it back into a cinema.  LINK
Finally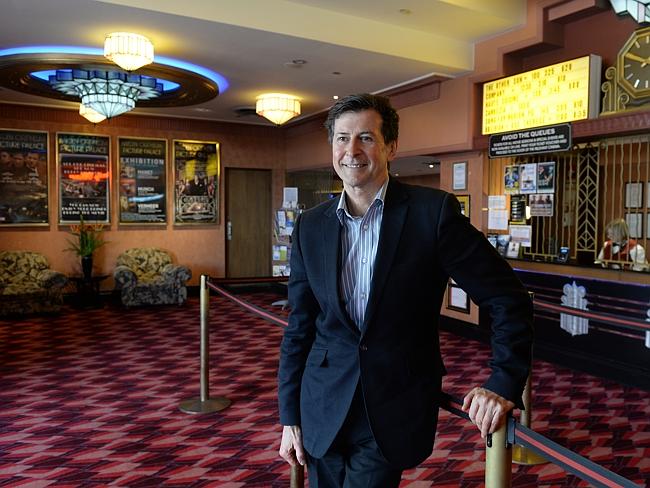 It's another mums-and-babies screening of "Fifty Shades" this one in Australia. We predict a lot of screaming, vomiting and rowdy behaviour, maybe not just from the tots.
A SYDNEY cinema has defended plans to screen erotic movie Fifty Shades of Grey at their mums and bubs session.

The special session designed for mothers and babies at the Hayden Orpheum Picture Palace in Cremorne will screen the R-rated film next Monday — at the request of the mums.

Like regular mums and bubs sessions, mothers can bring their baby to watch the film but the choice to screen Fifty Shades has attracted complaints.

The cinema has received several complaints from customers about the suitability of the film, described as "mummy porn'', but theatre manger Paul Dravet defended the choice.  LINK

Latest posts by Patrick von Sychowski
(see all)