India – Having confirmed its new acquisition, Cinepolis won't just re-brand the Fun cinema circuit but revamp its entire portfolio, we are told. And it also plans a significant – but realistic – organic expansion.
Cinepolis India Pvt. Ltd, the Indian movie exhibition arm of Mexican chain Cinepolis, is planning to add 60 screens to take its total count to over 250 screens by the end of 2015, said a company executive.

"With the acquisition of Fun Cinemas assets, we now have 193 screens and… we will end 2015 with more than 250 screens," said Javier Sotomayor, managing director at Cinepolis India.  LINK
India – A strong end to 2014 for Bollywood translates into a good quarter for PVR.
India's largest cinema chain PVR announced robust financials for the quarter ending 31 December, the third quarter in the country's financial year. The company posted revenues of $702 million (rupees 4.21 billion), up 24 per cent on the same period in 2013. Profit after taxes reached $5.26 million (316 million rupees), up by 127 per cent, while EBITDA (earnings before interest, taxes, depreciation, and amortization) rose 63 per cent to $14 million (840 million rupees).

PVR claimed the strong results were due to solid hits including Disney-UTV Motion Pictures' record shattering PK (considered the most successful Indian film), Fox Star Studios' Bang Bang! (a Bollywood remake of the Tom Cruise-Cameron Diaz starrer Knight and Day), superstar Shah Rukh Khan's Happy New Year and director Vishal Bharadwaj's Hamlet adaptation Haider.  LINK
PVR has also announced that it is buying back the stake in the exhibitor owned by luxury good company LVMH.
PVR, India's leading multiplex cinema chain, is to buy back a 10% share stake owned by an investment subsidiary of luxury goods giant LVMH.

The move followed strong financial results by PVR, which did not disclose the purchase price.

The stake had been held by L Capital Eco, part of LVMH's L Capital Asia, since August 2012.  LINK
Sweden – A year on from it winning the Golden Bear at the Berlin Film Festival, Chinese film "Black Coal, Thin Ice" will get a 'super day-and-date' release in Sweden across three platforms. Will be interesting to see which cinemas agree to play it.
Considered a pioneer of day-and-dating in Scandinavia, Nonstop Entertainment is set to go one step further, releasing Yi'nan Diaos' noir thriller "Black Coal, Thin Ice" simultaneously in theaters, via VOD and on TV.

The pic, which won both the Golden and Silver Bear awards, will roll out in Swedish theaters, on VOD via SF-Anytime as well as on pubcaster SVT1 on Jan. 30.  LINK
UK – A change of ownership for this nine-screen Cambridge multiplex.
After months of speculation the future of the cinema on Cambridge Leisure Park looks to be secure, as a new firm prepares to take over the Cineworld multiplex.

The Light, an international cinema chain with UK branches in Wisbech and on Merseyside, is in talks to take over the Cineworld branch, with an official announcement expected by the end of the week.  LINK
The move represents a bold ambition by the small rival to the UK cinema majors Vue, Odeon and Cineworld.
Independent cinema operator The Light is challenging the dominance of its mainstream rivals, raising £5.2m to buy a nine-screen multiplex in Cambridge from Cineworld, the largest UK cinema chain.

The acquisition is part of The Light's strategy to bring personality back to city centres and help regenerate Britain's high streets, according to co-founder Keith Pullinger.  LINK
USA (TX) – The growth of Imax and VIP cinemas is behind the expansion drive of this architecture firm's exhibition business in US, China and elsewhere.
A Dallas architectural firm is busy working on the next generation of cinemas. And they don't look much like movie palaces of the past.

Architect 5G Studio Collaborative has set up a special design studio just to do cinemas, entertainment and sports facilities.

The new operation is headed by Rick Walker, a new 5G partner who joined the firm from Dallas-based Beck Architecture.  LINK
People
USA (NY) – Fathom Events has promoted four key executives.
Kymberli Frueh-Owens, VP of programming, handles all programming acquisition in the alternative content space for Fathom Events, from series initiatives to perennials to unique, one-time-only events. She also handles international content partner relationships and key recurring accounts for the company. She previously spent seven years as senior director on the Fathom programming team.

Lynne Schmidt, who has been with Fathom since 2006, now serves as VP of operations, handling logistical and network operations, event mastering, systems, business relations and customer service. She also serves as the main contact for the Metropolitan Opera, Drum Corps Intl. and other repeat clients.  LINK
USA (AZ) – UltraStar Cinemas has a new COO.
UltraStar Cinemas announced on January 23, 2015 the promotion of its Vice President and General Manager to Chief Operating Officer in an expanded position while remaining in charge of the UltraStar Multi-tainment Center at Ak-Chin Circle.

Adam Saks, a resident of Chandler, AZ is an active participant in several community organizations. He is an active board member for First Things First, a non-profit dedicated to childhood development and leadership. Saks also sits on the leadership council with Playworks Arizona, an organization focusing on childhood development of social skills and anti-bullying. He is a graduate of the Chandler Police Citizens Academy, and most recently was named Vice Chairman of the Maricopa Chamber of Commerce in January.  LINK
Germany – Vue has lost its second Cinemaxx MD as Carsten Horn is put in charge of the division.
Christoph Ahmadi, managing director of Vue-owned CinemaxX Holdings, is to step down and leave the group "to pursue his own interests in a new venture".

It follows the departure of CinemaxX's other MD, Christian Gisy, who left the group after nearly eight years on August 31.

Ahmadi, who was also chief sales and marketing officer of CinemaxX, had assumed overall responsibility for the company following Gisy's departure.  LINK
Advertising
USA (NY)  – Audience Entertainment and Shazam have signed a deal.
Shazam® and Audience Entertainment today announced a partnership to bring motion-sensitive advertisements to Shazam-enabled screens in locations including concert venues, sports arenas and shopping malls. The partnership will offer new, extended content opportunities to Shazam users.

Shazam's cutting edge technology will interact with 3D cameras surrounding Shazam-enabled screens at a variety of venues. Screen programming will respond to Shazam users' movements and gestures, and will be tagged within their Shazam app, extending the content experience and revolutionizing the way people interact with advertisements.  LINK
India – GroupM predicts that cinema advertising in India will grow strongly this year.
That digital as an advertising medium has been growing consistently in the last few years is a trend that has been well-documented by a number of studies that track ad spends in the country. However, what is striking about the latest AdEx Report released by the country's largest media agency network, GroupM, is the growth of cinema advertising in India. GroupM forecasts a rate of growth of 20 per cent for cinema advertising in 2015, second only to digital advertising, which comes at 37 per cent.

While the growth last year of cinema advertising was 25 per cent, according to GroupM estimates, thanks to elections, officials at the media agency network say a comparable number would be the growth seen the previous year (2013), when it (cinema advertising) was 12 per cent.  LINK
Digital Death Watch
USA (FL) – Here is a rare dollar/discount theatre that managed to survive the switch to digital. They even upgraded their popcorn machine.
When people come in to the movie theater at DeSoto Square mall these days, Lance DePatie said, they can't help but notice the difference.

Since the old dollar movie theater in the mall closed last summer, he said, almost every aspect of the operation has been upgraded. Walls have been painted, projectors and screens have been replaced, restrooms have been remodeled.  LINK
Cinema Opening/Closings
UK – Odeon is opening its latest cinema at the end of February.
The doors will open at the new state-of-the-art ODEON cinema at MK1 at the end of the month.

The 11 screen hub promises the largest screen in the area – an 18.5 metres wide and 10.3 metres high custom built IMAX® screen.

The cinema will also feature 'The Gallery' – a VIP ticket upgrade option – where guests will gain access to a private bar, larger seats, more leg room and unlimited nachos, popcorn and soft drinks, letting them experience the latest blockbusters in even more comfort.  LINK
USA (AZ) – Work is underway on Carmine's latest multiplex.
Southwest Albuquerque has broken ground on a 12-screen movie theater at the new Las Estancias, a 79-acre development near Rio Bravo and Coors. This project represents the first time in over five decades that South Valley is getting the chance for a night out at the movies.

Las Estancias is a $70 million, 550,000-sq.-ft. retail development with a health-care facility. NAI Maestas & Ward's Steve Maestas, has owned the land with developer Mike Mechenbier for several years. They are also the developers of Las Estancias. The closest multiplex to the development area is Cinemark 14, located in the heart of Downtown.  LINK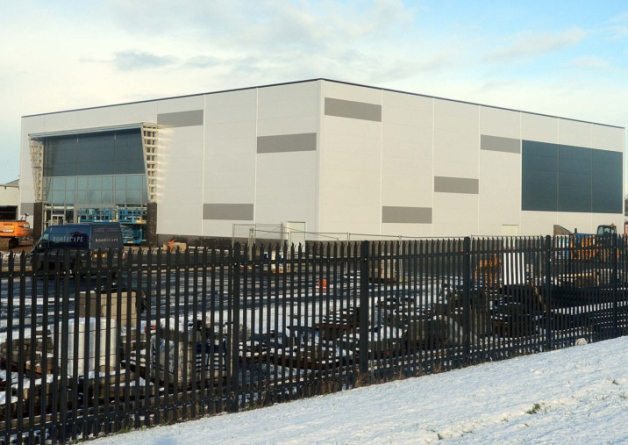 Ireland (Rep.) – Omniplex is opening its third Maxx (PLF) screen complex.
The cinema will open on Wednesday, March 25 and Omniplex are accepting applications for the position of cinema manager.

The new leisure complex at Highfield Heights will include an eight-screen cinema with a 'MAXX' giant screen, four restaurant units and 415 car parking spaces.

The MAXX cinema in Craigavon will be the third of its kind in Omniplex cinemas in Ireland with Newry and Rathmines boasting the other two.  LINK
Canada (BC) – Cineplex's nearby 11-screen multiplex is allegedly what finally killed off this cinema.
It's been a while since we posted something about the closure of a movie theatre. Metro Vancouver went through a wave of closures over the past few years, including Burnaby's Dolphin Theatre in May 2014.

But after 40 years, a movie theatre that was Abbotsford's first cinema is slated to fade to black permanently.  LINK
Malaysia – 2015 looks set to be a year of expansion for Golden Screen Cinemas, starting with this multiplex.
LEADING cinema chain, Golden Screen Cinemas Sdn Bhd (GSC) kicked off their 2015 expansion plan with the launch of 11-screen multiplex in NU Sentral Mall today, located next to the nation's largest transit hub – Stesen Sentral Kuala Lumpur.

With its strategic location, GSC NU Sentral will be easily accessible via rail, bus or car and is set to enhance the entertainment lifestyle of movie fans in the Klang Valley and beyond.  LINK
Malaysia – But local rival TGV Cinemas is also ramping up.
TGV Cinemas has increased its multiplex theatres nationwide to 26 after the opening of four new locations.

They are in Aeon Bukit Mertajam in Penang, Aeon Seri Manjung in Perak, Aeon Kulaijaya in Johor and Permaisuri Imperial City Mall (PICM) in Miri, Sarawak.

Collectively, the four cinemas have 27 screens and 4,480 seats, giving TGV Cinemas a total of 211 screens and more than 36,500 seats across the country.  LINK
UK – Plans to build a cinema on top of a car park. Sadly not a drive-in.
Plans to redevelop a multi-storey car park and build a cinema and restaurant complex there will be discussed next week.

A company has approached Wellingborough Council with a proposal to build a leisure complex with a cinema and restaurant on top of the car park in the town centre.

Councillors will be asked at a meeting next week to agree to the idea in principle, so that further negotiations can take place.  LINK
India – A two-screen cinema can hardly be defined as a 'multiplex'.
Shillong on Thursday got its first multiplex with the inauguration of 'Galleria Anjalee Cinemas'. The multiplex has two screens with a combined seating capacity of 346.

The multiplex was inaugurated by Social Welfare Minister Deborah Marak after which the superhit Bollywood thriller Baby was screened.

The multiplex became possible in Shillong after Mridul Properties Pvt. Ltd. tied up with the owner of Anjalee Cinema.  LINK
Finally
[youtube]https://www.youtube.com/watch?v=Fns7oJeQmZ8[/youtube]
Given that the book on which it is based has been called "mommy porn" this should perhaps not come as such a surprise.
A top cinema has sparked outrage over its decision to host a special screening of raunchy film Fifty Shades of Grey – for parents and BABIES.

The Barbican has been slammed by parenting groups for organising a special showing of the erotic thriller especially for parents and infants under 12 months.

The central London performing arts centre and cinema, the largest of its kind in Europe, will only allow adults with young children in tow to view the 18-rated sex film on February 23, based on the popular S&M-centred books by E.L. James.  LINK

Latest posts by Patrick von Sychowski
(see all)