With Wanda Cinema's IPO imminent we thought it would be a good to revisit the article 'China's Multiplexes Are Headed For a Crash – Statistics Show Why' that we published last April. With another year of strong box office growth in China and no large scale cinemas going bust in the Mainland, were we wrong?
At the time we wrote that "It is too early to say whether Chinese cinema exhibitors are in for a hard crash or a soft landing, but a correction is now becoming overdue." It increasingly seems like 2015 will be the year that the correction is due, with several troubling indicators making themselves felt.
We will not re-hash the arguments from the original article, which remain valid, so we urge anyone not familiar with it to read it first. We will instead look at some new factors that we did not highlight back then.
It is also worth noting that at the time overall growth in China was slipping below 8% and now it has fallen even more. For the third year running China has missed its export target and as the FT reports,
The missed target comes as China prepares to release annual gross domestic product figures next week that will show growth in the world's largest economy (in purchasing power terms) came in below the government's annual target for the first time since 1998.
This is the macroeconomic picture to keep in the back of the mind when discussing the cinema market in China.
In broad strokes, the five trends can be summarised as follows:
Mistaken belief in a demographic cinema dividend;
Unsustainable price-war in micro-blog ticket services;
Inability of Hollywood films to fill a post-quota gap;
Failure of Chinese film production due to censorship;
A 'hidden' decline in the growth rate of the box office.
1 – The demographic cinema dividend fallacy
Wanda Cinema is very confidant about the future growth of the China cinema market, as stated in its IPO document, which begins with the bold claim "The company's main business is the cinema industry, [and] the [cinema] industry has always come out on top":
Our cinema industry in the future continue to benefit from the rapid growth of the film industry

In recent years, China's film market continues to maintain a rapid development momentum, the movie industry revenue is expected to usher in the 2015-2016 phase of explosive growth. We believe that our large population, the urban population has a number of screens compared with Europe and other developed countries, a big gap under the background of the geographical distribution of the theater, the per capita number of screens there is a large room for improvement, the cinema industry will continue to maintain a high level of development.
This is a refrain often heard in discussions about Chinese cinema: that the country is under-screened compared to markets in Europe or that cinema attendance is low compared to that in the US. As the market matures it will continue to grow, is the belief.
Growth thus seemed predicated on a demographic dividend from the Chinese middle class, as discussed in this article from 21st Century Business Herald's Securities News.
 Chinese film at the box office last year amounted to 29.639 billion yuan, viewing trips reached 830 million, an increase of more than three percent. However, compared with China's 1.36 billion population base, this figure is still much to mention. South Korean population of 50 million last year, driven by 215 million people watching the films; North America is based on the population of 353 million, driven by 1.275 billion viewing trips. From the per capita number of viewing, the Chinese film market maturity lags far behind the developed countries in the movie, a huge market potential to stimulate capital investment in the theater.
But this hope rests on the assumption that all of the middle class, regardless of gender or age, will want to watch cinema in equal amounts. If we are to look to the west, we know that this is simply not the case.
There is also less talk that growth will come from Tier 3 cities and below as these are now approaching the same level of saturation as Tier 1 and 2, with no significant middle class in Tier 4 cities and below to help future growth. See this article from Projection Screen Information:
Last year, about 60 percent of domestic new screens in 3832 the construction of second and third tier cities and county-level cities. With the continuous development of the domestic market are also allergic viewing enthusiastic attitude to terror doubled annually. The first half of 2014, the Chinese film at the box office exceeded 10 billion yuan mark, finished the year 2010 the total box office. Grossed skyrocketing also stimulate theater construction has entered a new round of high tide, with the first-tier cities increasingly saturated theater building, all cinema operators began eyeing the second and third tier cities, the influx of a lot of money so that second and third tier cities to usher in the theater building History climax, last year more than 60% of the screen layout in these cities. And above all the data displayed below the three-city theater is growing at a terrifying speed, has a strong into the fast lane, both domestic cinema building into the mainstream, but also become the future mainstay of the domestic box office.
There is also an increased statistical awareness in China that the majority of cinema consumption is undertaken by a minority of the middle class. An editorial in Daily Worker discusses this trend of a minority being responsible for the majority of cinema going (with added emphasis).
The same [Art Advisory] report also shows that in 2014 China reached 830 million people watching the films, an increase of 34.52 percent, with 39 percent of the old number of visitors accounted for 78% of the contribution of viewing trips. Young white-collar workers have become the core of Chinese moviegoers. Under Chinese movie ticket online and offline e-commerce penetration rate of 39% volume, surged 23 percent over the previous year, the electricity supplier to train more new users and change user movie tickets behavior through low fares.

Behavior change is not just tickets. Cheap fares, so that more people into the audio-visual effects, increasing service levels theater. Original price 80 yuan a movie ticket on the site only need to buy 25 yuan to 40 yuan, double the "Eleventh" period, there is an electricity supplier or 9.9 yuan sold cheaper fares than 10 years ago. Today, many are coupled to buy that buy and use, expired refunds, many theaters also supports online booking seats, naturally recognized by the people.  LINK
The most ardent cinema goers are thus already close to or at the same level as their OECD counterparts in terms of frequent attendance. Other members of the Chinese middle class, such as parents with small child(ren), will not suddenly become more avid cinema goers than their likes in USA, Germany or Australia are. There is also the fact that the Chinese middle class has peaked, as the country grows old before it grows rich, whereby "inadequate healthcare coverage is preventing consumers from discretionary spending."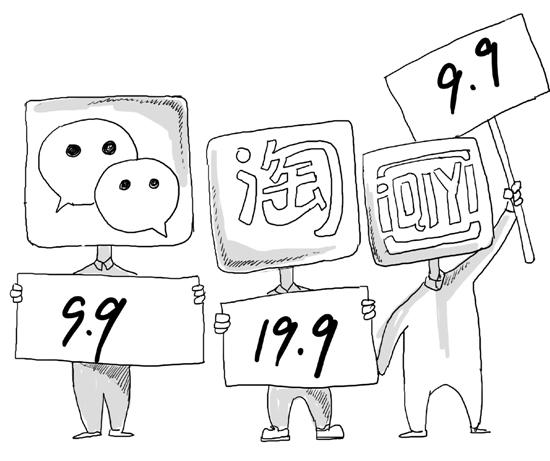 2 – Unsustainable price competition amongst mobile ticket operators
The above article neatly brings us to the second factor, which is tickets costs. How can the 80, 90 and 00 generations (known as Millennials in the west) afford to go so much to the cinema? They do have a disposable income that could only have been dreamt at by their parents, but it is being smartphone and online savvy that fuels their frequent cinema trips.
There is currently a price war going on between mobile ticketing providers, linked to micro-blog and smartphone e-commerce platforms, as highlighted in this article from Beijing Daily:
From buy to online seat selection, the emergence of these new ways of tickets originally intended to subvert the traditional ticketing mode, more convenient for the consumer user experience, and now the mind is being replaced by low-cost and even super cheap. From 9.9 yuan to 1 yuan cinema watching movies, cheap war between the Federation of electricity providers upgrade comes at the holidays. However, the low price should not be the only synonymous with online seat selection.
Clearly cinema tickets prices of CNY 19.99 (USD $3.23), 9.99 (USD $1.61) or even cheaper is not not sustainable in the long run. Yet there is a land grab that will see consolidation, but also exhibitors themselves reclaiming online ticketing supremacy from third-party operators.
It is highly unlikely that ticket buying by the core movie goers will remain at the same level once these prices return to more normal levels.
As the above article from the Daily Worker drily notes, "We can say that cinema has become a "cheap" in the spirit of cultural consumption. A two-hour movie is even cheaper than the same length of parking fees, a friend joked, because his movies are often sent to the parking ticket coupons."
3 – Easing the Hollywood import quota won't help (much)
There have been those that say that the lifting of the quota restricting the import of foreign films could be a booster for box office in China. The current restriction of 20+14 films is due to be eased in four years time.
Yet the latest report from Ent Group appears to contradict this idea, as reported in THR.
Chinese movies will be able to thrive even after the quota on Hollywood movies is lifted in coming years, but there needs to be a greater focus on producing better movies, a report by the research group Entgroup said.

The Hollywood blockbusters that make it into China are the biggest and best of the bunch, Entgroup said, and that any additional movies coming in should the quota be lifted would be only "second and third class products."
So it seems that if Chinese audiences were to have a chance to watch "Paul Blart: Mall Cop 2" legally and in cinemas, it will not significantly improve box office takings. This sentiment was echoed in the 21st Century Business Herald:
Hou Tao of 21st Century Business Herald reporter said, "even if the import quota system release, the proportion of foreign films in the Chinese market will not bring disruptive change. "
What matters is that "Avengers: Age of Ultron", "Star Wars: Episode VII" and other blockbusters will and do get shown. It is also likely that foreign films will overtake Chinese films as a proportion of the total box office takings in 2015 for reasons that we will examine next.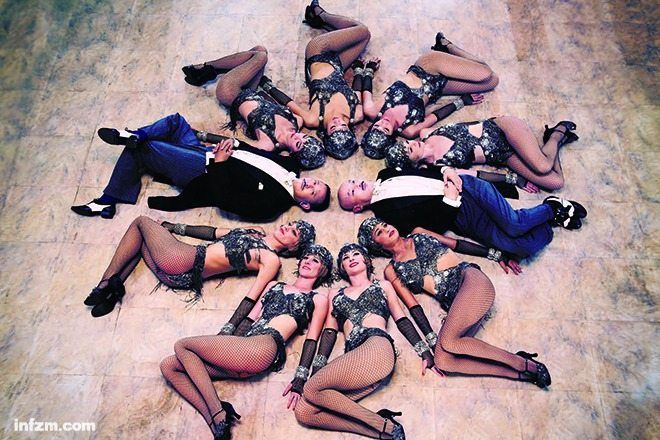 4 – Little chance of better domestic films
So should there instead be hope for a crop of quality domestic films to lure Chinese audiences in even greater numbers to cinemas? Here the problem is not quotas but restrictions of the creative kind.
China is a country where too many subjects and genres are simply no-go areas, as illustrated in this article from the New York Times by a Hong Kong-based novelist and screenwriter Nury Vittachi.
A few years back I got a call from a film director based in China who had read one of my detective novels. "Can you help me write a screenplay for a crime story?" he asked. "The tricky thing is that it's set in Beijing, so no crime can be involved."

Welcome to the world of screenwriting for China, where crime stories are crime free, ghost tales have no ghosts and crooked politicians can't be crooked.

China has a large film industry and the second-biggest box office in the world, but few people outside the country have ever watched a Chinese movie released there: Once you've seen one acrobatic hero single-handedly dispatch an enemy platoon, you've seen a lifetime's worth. For that, you can blame the rules of film censorship in China, and a Chinese government extremely sensitive about how the nation is portrayed.
Those who think that Hong Kong-based films offer a respite from the censorship requirements of the State General Administration of Press, Publication, Radio, Film and Television (SGAPPRFT) should keep in mind that at least half of all current Hong Kong films are co-productions with the Mainland. The same censorship requirements apply to foreign co-productions.
A prime example of the problems this creates was the Sony co-produced end-of-year would-be blockbuster "Gone With the Bullets." The film, which hoped to skirt censorship issues by being set in pre-communist Shanghai 1920s, suffered unspecified last-minute censorship delays. As THR notes, the censor demands most likely hurt the film's box office prospects.
It's not clear how big a factor the censor's demands were in lessening the movie's impact, but many of the reviews said the film was somewhat confused. Global Times said it had "an abundance of ingredients that spark very little chemistry."

After strong pre-sales, there had been hopes that Bullets would give Transformers: Age of Extinction a run for its money, but the last installment of Michael Bay's robot franchise still holds that record, with $90 million in its opening weekend from 166,446 screenings, with 14.7 million admissions.
For those that hope for a future easing of censorship requirements, the NYT article has some bad news.
The problem is not about to go away. According to Xinhua, the state-run news agency, China's uncompromising president, Xi Jinping, told a forum of writers in October, "The arts must serve the people and serve socialism." Anthony Lee, a Hong Kong Polytechnic University lecturer on entertainment, said, "The buzz in the industry is that the toughness of China's new leader is making things harder, not easier."
So it seems that China is likely to produce more big productions that under-perform at the box office in 2015. But it also means that investors prefer to invest in infrastructure (cinemas) than in content (films) creating a lopsided domestic market. From 21st Century Business Herald again:
Arts Well data show the amount of investment in China last year, about 7.2 billion yuan movie content, less than 31% of the total [movie] industrial investment. More investment in the infrastructure sector flock, also shows that the market's emphasis on the channel over the contents of this and other similar industries Chinese expansion characteristics.

Associate Dean of Peking University Art Messier on 21st Century Business Herald reporter, although the Chinese film market continued to grow rapidly, but in recent years made large reputation, poor box office after another, leading to the film side unwilling to dare to invest large, and more willing to shoot small budget films, counting on to deduct, reduce investment risk.
And also in the same article:
Investment structure reflects the film industry is still in a relatively early stage of the expansion, the good news is that China's huge population base to support this expansion a few years in the future, but the lack of good domestic content support, make this round of expansion will face greater risks .
So we are back to the situation of investors pouring money into cinema construction in the hope that it is a safer investment, while relying on others to fund the content that will drive attendance, not acknowledging that the former investment trend is massively outpacing the latter.
 5 – Past peak cinema growth
The last refuge of those claiming that cinema will continue its strong growth in China is to point to past growth and extrapolate those figures into the future. Putting aside the standard disclaimer that should always be applied, about past performance not necessarily being an indicator of future, let us examine these claims.
It is true that Chinese cinema box office has grown at a level unprecedented in modern times. Looking at the chart above (shift the comma in the second column one place to the left to get billion yuan) you can see that it has grown from just over CNY 1 billion to over 21 billion between 2003 and 2014. The percentage figures on the right tell their own story of dizzying growth.
Win Business Network picks up on this in its prediction about China overtaking the United States on the box office front.
2003-2013 Chinese movie box office market average annual growth rate of 34.7% over the past five years, the average growth rate of 41.49%, a CAGR of 31.39%; 31.39% if in accordance with the compound annual growth rate in five years is expected to exceed 10 billion dollars at the box office made a par with the United States box office position.
But these calculations include the years 2009 and 2010, which saw growth rates of almost 43% and 64% respectively. Even the most bullish forecaster will not claim that there will be a likely repeat of these years.
If we home in on the most recent years we see that three of the last four years have seen a decline in the growth rate, and growth of just 1.25% in the odd-year-out of 2010. Moreover, this decline appears to be accelerating.
Consider that the box office in 2014 failed to breach CNY 30 billion yuan, having to settle for CNY 29.64 billion yuan, mainly due to three end-of-year domestic productions under performing. This means that the growth rate for 2014 was 26.55%.
While Hollywood would have been happy with just one-tenth of that in the US, this is ominous for China.
Were this de-acceleration of the past three years to continue at the same rate we will see a year-on-year growth of less than 21% in 2017 and just 15.5% in 2020 (see chart above with the highlighted 2015-onwards extrapolated from the last three years).
Even though China's box office will have doubled by 2018 to CNY 60 billion yuan, that will still be less than the USD $10.35 billion that the US box office was in 2014. So at current trends and even assuming minimal growth to the US box office for the rest of the decade, it will not be until 2020 or later that China overtakes US in total box office spend.
But this is on the assumption that Chinese box office growth will not de-accelerate further, which is what the previous indicators point towards.
Winner and losers
It is a perhaps ominous sign that Wanda has scaled back the IPO of its cinema division, as reported in Variety:
The IPO on the Shenzhen Stock Exchange will be conducted at RMB21.35 per share with the company selling 60 million shares or close to 11% of the company. That will raise RMB1.28 billion or $209 million.

The company had previously looked to sell more shares and raise up to RMB2 billion ($327 million), but was advised by the China Securities Regulatory Commission, which is trying to carefully manage the IPO market.
Despite this, Wanda could end up being the main beneficiary of a slow-down in the cinema market. This is because of the complicated interplay between Wanda Cinemas and Wanda Realestate (which was floated late last year at the Hong Kong stock exchange). While this is an article in its own right, in a nutshell it can be summarised thus:
Cinemas traditionally pay 15% of their running costs to the landlord, but in Wanda's case most of the cinema properties are owned by Wanda's real-estate arm and only get charged about 11% – up from about 10% a year ago. If the cinema market were to stumble, Wanda can thus reduce the rent or be more lenient towards its cinema division. Other cinema operators are not so fortunate to have a real-estate sugar daddy looking after their best interest.
This means that once the China exhibition market enters turbulence there is likely to be consolidation and Wanda could end up increasing its market share from the current 14% to 20% or more. [NB: This should NOT be construed as endorsement or investment advice in favour of Wanda Cinemas, because there are other inherent problems in the organisation that we do not have room to go into here.]
Finally
If you have read this far and feel that this analysis is unusually bearish, know that it is only a reflection of what gets written in mainstream Chinese financial press, which we have quoted extensively. Reading the articles in full will make clear that we have not quoted selectively or downplayed more positive assessments, but quoted them both above.
We have in fact held back from some of the most negative and scathing comments about the market to emerge from the Chinese-language online publications. To give you a taste of the more 'Doomsday scenario' analysis, we end with some quotes from the article "Cinema is for real estate work. – Interpretation of 2014 Chinese film market" from Southern Weekend by reporter Li Yi Lan, which interviews several leading figures from the Chinese film and cinema industry.
It is worth reading the article in full, but here are some of the assessments of the future of Chinese cinema:
SW: China's movie fare to hundreds of high energy, low-energy low-to-two thirty, is how determined?

Zhoutie Dong: Chinese [cinema] fare is a reflection of China's real estate bubble. The film industry is one industry, but it's more of a retail business, it is the theater of retail outlets. I know of a theater, eight screens, operating almost five years, the annual income of more than twenty million at the box office, the industry has been very good theater, but also in a loss, why? Most cattle theater can only get 50% of box office receipts, up to twenty million back over nine million, eight million a year rent, utilities, property costs, at least more than two million, which more than a thousand Wan gone. Some people eat horse feed, deduct VAT, etc., can not lose it? So now a lot of theater in the real estate business to work, the developers do cinema can enjoy expansion, because the real estate is their own home.

Now is the worst time cinema, everyone desperately beachhead. If our movie tickets hundred dollars a piece, which may have at least 50%, or even more than 60% due to the real estate bubble. This is a problem that faces the entire economy, not the movie industry to solve the problem.

SW: So now the Chinese film market is booming, the cake bigger, theaters would not be too difficult, right?

Zhou Tiedong: No, profit theaters in the past is to take 17% of the fee, then gradually shrink to 7%, to 3%, 3% and now are not insured. Now signed to join the cinema theater, signed only once a year, as a result of the vicious competition among theaters almost malicious price: you go to the cinema, I come, I only smoke a 2%; other theaters that I only smoke to 1% on the line, some theaters do not you just say that I am not only money, I pay you back subsidies.
Nobody wishes for the Chinese exhibition business to go 'pop', even if it is a bubble. But given current trends it seems more prudent to hope for a gradual deflation, like a punctured tire, rather than to go on about how soon the Chinese cinema business will overtake the US.

Latest posts by Patrick von Sychowski
(see all)