An apparent arson attack has destroyed the oldest cinema in Ukraine's capital. While nobody was injured, this appears to be a despicable hate crime attack that could have had even more tragic consequences.
The oldest movie theater in the Ukrainian capital of Kiev was seriously damaged as fire swept through the historic building during the screening of an LGBT movie in a suspected arson attack.

There were no injuries reported among the 100 moviegoers, who attended the screening of the French film 'Les Nuits d'Ete' (Summer Nights) as part of the Molodist film festival program.

However, the landmark Zhovten movie theater, which was opened back in 1931, suffered severe damage in the incident.  LINK
The same week that Picturehouse (Cineworld-owned) announces that it said would sack staff from the Brixton ritzy after lengthy strikes for a Living Wage (see next story), rival Curzon has agreed to pay its London staff the UK capital's version of minimum wage.
The arthouse cinema chain Curzon, which runs nine sites around the country, has agreed to pay front-of-house staff the London living wage at its six cinemas in the capital.

It follows a year-long negotiation with media union Bectu as well as an online Change.org campaign, and sees wages rise from around £7 an hour to £8.80.  LINK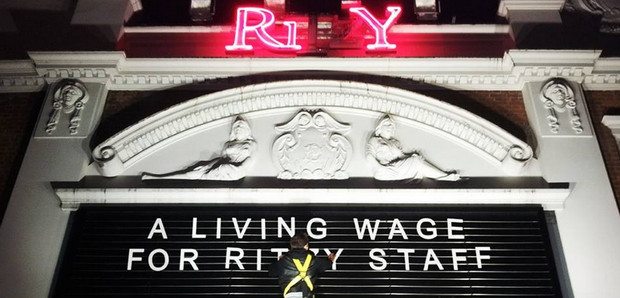 UK – Picturehouse has now made a complete U-turn and announced that it will NOT be laying off any of the Brixton Ritzy staff. If anybody deserve sacking at this stage it must surely be the cinema's management for their mis-handling of this whole sorry saga from start to finish. A lesson in bad PR.
Workers at Brixton's Ritzy cinema no longer face compulsory redundancies after the cinema's owner, Picturehouse, backed down on threats to shed up to 34 staff. The threats of job losses came after a successful campaign for workers to earn the London living wage (£8.80 an hour).

On Tuesday, staff were presented with letters threatening compulsory redundancies, which campaigners argued was contrary to an agreement reached on the dispute through the conciliation service, ACAS.  LINK
India – More on the change in the law to allow single-screen cinema to convert to mini multiplexes.
The government has framed the Karnataka Cinemas (Regulation) Rules, 2014, by exercising powers under Section 19 of the Karnataka Cinemas (Regulation) Act, 1964, to provide impetus to cinema owners to create more screens, besides modernising existing theatres. The Karnataka Cinemas (Regulation) Rules, 2014 was gazetted on October 7.

Under the changed rules, cinema owners are permitted to use a portion of the total space available to construct commercial complexes. The government has relaxed rules pertaining to issuing licence and no objection certificate for construction and renovation of cinemas, minimum number of seats fixed per area, parking of vehicles, and width of aisles, among other things.  LINK
Health & Safety
USA (TN) – Cinemas ought to take more pride in their marquees. This one looks terrible.
The City of Springfield has ordered the removal of Springfield Cinema's sign within the next 30 days because of codes violations.

The city's Codes Department issued a corrective action letter to Carmike Cinemas, notifying the company that the marquee at Springfield Cinema, located at 718 S. Main Street, has deteriorated and leaks water when it rains, according to Codes Administrator Mark Fields. Violation letters were sent to Carmike Cinemas in 2009 and 2012, he said.  LINK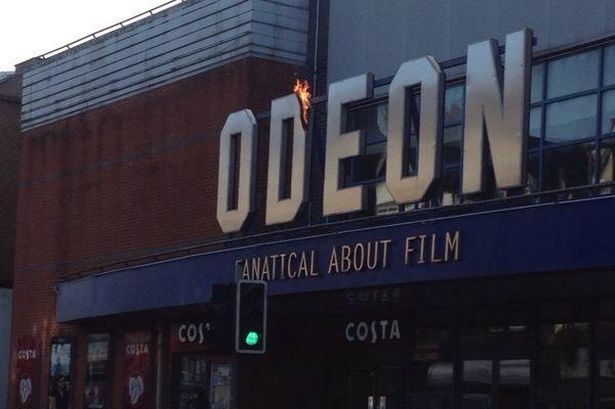 UK – While in the UK an Odeon cinema's sign catches fire. No arson suspected and the fire actually makes the sign look more exciting.
The large letter 'D' caught fire on the front of the building, in the High Street, at around 9.30am.

Epsom firefighters were sent to the scene and used a hose reel to tackle the fire.

No-one was injured and the flames were extinguished quickly after the electrical supply was turned off.  LINK
USA (NY) – Possibly the most world's most incendiary film festival, and, no, it is not LGBT films.
George Eastman House announced Monday the launch of The Nitrate Picture Show, the world's first archival festival of film conservation, showcasing vintage 35mm nitrate film prints made from the beginnings of cinema to the early 1950s. The inaugural edition of The Nitrate Picture Show: A Festival of Film Conservation will be held May 1–3, 2015 at the Dryden Theatre.

The Dryden Theatre—one of only a few archival venues in the world that can project nitrate film—is home to the museum's ongoing program of past and present cinematic works from all countries.  LINK
Law & Order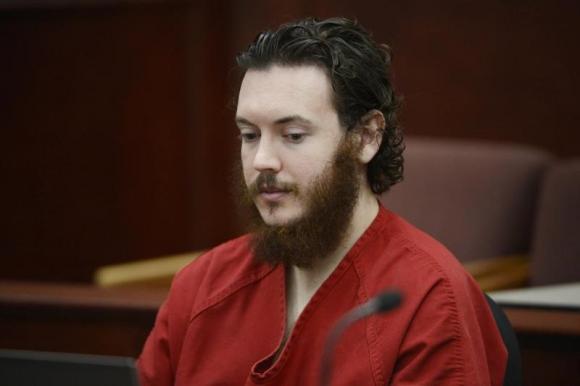 USA (CO) – The trial of the alleged Aurora cinema shooter has been postponed slightly.
The judge presiding over the Colorado cinema massacre case on Monday delayed the murder trial of accused gunman James Holmes by six weeks to January, but denied a request by defense lawyers for a lengthier postponement.

Holmes, 26, has pleaded not guilty by reason of insanity to criminal wrongdoing linked to the shooting deaths of 12 moviegoers inside a suburban Denver movie theater during a midnight viewing of a Batman film in July 2012.  LINK
Science
Germany – Yes, but did it include a popcorn? Actually an interesting piece of research on the socio-psychology of OOH collective audio-visual narrative consumption, a.k.a. going to the cinema.
If the surroundings are designed to be sufficiently stimulating, even a simple computer screen is enough to generate an intense cinematic experience. After observing some 300 study subjects, researchers at the Institute of Psychology of Johannes Gutenberg University Mainz (JGU) in Germany concluded that the angle of viewing does not play a vital role in the cinematic experience, thus disproving various hypotheses. According to the results of their study, the presence of so-called contextual visual cues plays a greater role in actually drawing viewers into a movie. When the researchers gave a computer screen the attributes of a movie theater, the test subjects barely sensed a difference between it and a normal cinema with a large screen. Even a cell phone display performed relatively well in a cinematic environment. LINK
Cinema Opening/Closings
Canada – The residents of Conklin, Alberta can soon look forward to a new multiplex for their small town.
The Regional Municipality of Wood Buffalo held a ground breaking ceremony for the project Monday. The multiplex, which will host recreational facilities and local services like RCMP and RMWB bylaw offices, is currently at the design stage and will be out for tender in 2015.

"(It)was a great day for Conklin, and we really congratulate Wood Buffalo council on their forward thinking on this project," said Jeffrey O'Donnell, executive director of the Conklin Resource Development Advisory Committee. "That's so important to the community because the community currently provides a really wide range of social services…Having a multiplex there, we're able to actually align all of these services and strategically being able to deliver them over one roof."  LINK
UK (Wales) – The perils of running a cinema-arts centre in: never enough cash.
Those running the Scala in Prestatyn say it could be forced to shut early next week as it faces a proposed loss of council funding and struggles to pay staff wages.

A desperate "Save Our Scala" appeal has been launched to raise the £97,000 reportedly needed to keep the centre open in the long term.

Chris Bond, general manager of the Scala, said if the centre cannot pay its wage bill of £20,000 by next week, it will have to close.  LINK

UK – A historic cinema went on sale at an auction earlier this week. Not sure how much it sold for.
The Pavilion in Saltauctionhouse Road, Barrow, will be up for grabs at the Auction House Cumbria event in the Coronation Hall, Ulverston, from 6.30pm.

The building,which was most recently an antiques business and auction room called Rich Pickings, has a guide price of £95,000.  LINK 
Finally
How to give your cinema patrons a good fright off-screen. Happy Halloween.
[youtube]https://www.youtube.com/watch?v=gFQJh-7Yr-E[/youtube]

Latest posts by Patrick von Sychowski
(see all)