Fox's The Maze Runner will be the first film released in Barco's Escape triptych-screen format. The film will be released exclusively in five Cinemark locations, two in California and one each in Florida, Texas and Illinois before it is released later in Europe at Brussels Kinepolis Escape Theatre and possibly elsewhere. (BTW Great pairing: Maze + Escape – see what they did there?)
In the case of The Maze Runner, the film was shot in a traditional way, before the decision to use Escape was made. The center screen will display the live-action film, and imagery on the side screens will be extensions of the scenes — i.e., a larger maze — created using visual effects.

"Based on the speed we needed to get this to market and the creative challenges, we tried a new way of rendering and creating the material," Ted Schilowitz, who is Barco's "CinemaVangelist" and also works as a futurist at Fox, tells The Hollywood Reporter. This pipeline was built around a Crytek gaming engine for rendering, and computing hardware from Devil & Demon (Schilowitz is president of D&D). The artists worked inside the D&D mobile production unit dubbed Devil's Playground. (Schilowitz says this sort of setup might also be useful to the struggling VFX industry because "we need to better the tool set so people can be more profitable with their work.")  LINK
The art of big painted billboards in cinemas rather than posters is perhaps most associated with countries like India, but it is still practised in Germany in places such as München, the Yorck cinema in Berlin and this one in Bremen.
Every second weeks she provides a new poster to the Shauburg cinema. 400 to 500 Euro is what the cinema in the trendy Steintor-quarter pays each time for this unique film advertising. "The distributor covers part of the costs. But the main part is paid by us," says managing director Robert Erdmann. Wulfers cannot live from her dream job alone . Hence she also earns money as a freelance graphic designer and teaching painting classes at the community college.

For her Munich colleagues René Birkner it is the other way around. For 27 years he has been reproducing film posters for three movie theaters in the Bavarian capital. Approximately 40 square meters in size alone is the huge billboard of the movie theater at Sendlinger Tor. To fill it, the 58-year-old must work night shifts regularly. "I feed my family this way." The rest of the time he paints abstract images. "This is my passion." LINK
Germany – Having seen their home team win the World Cup, it should perhaps be no surprise that cinema was not foremost on the minds of people in Germany this summer. The good weather also didn't help.
The World Cup gave Hollywood releases a major kicking in World Cup champion nation Germany. The sporty competition drove box office revenues down to their lowest in 22 years here, with ticket receipts slipping 9.2 percent to $593 million (€450.6 million).

Excitement surrounding the global sporting event is always strong in Germany, but this year's tournament drew record ratings, with games averaging up to 80 percent market share and few viewers left over to go to the movies.

No single US title cleared the $50 million mark in the territory. Michael Bay's Transformers: Age of Extinction (barely) earned the blockbuster moniker, bringing in just under $38 million in Germany.  LINK
Add Media
USA (CA) – A look at the people who keep neighbourhood theatres alive in San Francisco. Going non-profit is part of the secret to their success.
Alfie Felder is a co-founder of the nonprofit San Francisco Neighborhood Theater Foundation, which owns the Vogue and has a 10-year lease on the Balboa. He doesn't buy the idea that people only want to sit alone at home and watch movies.

"Most people, given the choice, would rather watch a baseball game with an audience," he said. "So even though these options are out there, a film is created to be experienced in a communal way."

And then there's the neon. We defy you to walk down the sidewalk on a foggy San Francisco night and not get a lift from the warm, retro glow of the neighborhood marquee. It is, Felder says, all about the little city centers.  LINK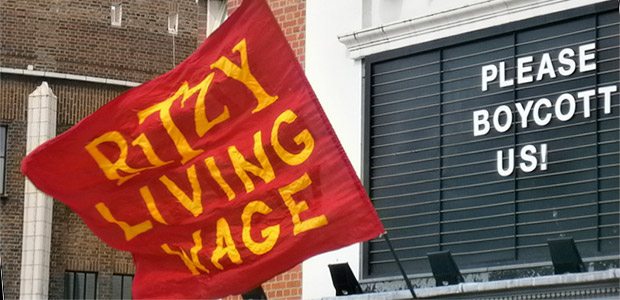 UK – It seems to be simpler to negotiate a truce between Israel and Hamas than an acceptable pay deal for Brixton's Ritzy staff.
BECTU members at The Ritzy have voted by a slim majority to reject the offer.

We would like to make clear that this should not be interpreted as a sign that we are in any sense divided. Nor does it indicate that a large minority of our members viewed this as a good deal that is worth accepting.

Over the last four weeks we have discussed the offer and all the implications of accepting or rejecting it in full at two full BECTU members' meetings and during lengthy discussion via email and face to face amongst ourselves.  LINK
Technology
Hong Kong – GDC claims the distinction of having shipped more integrated media blocks (IMBs) for digital cinema projectors than any other manufacturer.
GDC Technology ("GDC Technology"), a world leading digital cinema solution provider, has shipped over 14,000 units of its SX-3000 Standalone Integrated Media Block® (SX-3000 IMB) globally, making it the most widely installed IMB on the market.

As the industry's first standalone IMB, the SX-3000 IMB sets the standard for simple and hassle-free digital cinema solutions. The SX-3000 IMB significantly lowers operation, maintenance and installation costs by eliminating the need for an attached server – while offering High Frame Rate ("HFR") capability in both 2D and 3D, live 3D support, digital connectivity for alternative content such as 3G HD-SDI and HDMI input with image-scaling from HD to 2K. In addition, the unit allows long distance 2K and 4K content streaming and remote access via gigabit Ethernet to simplify multiplex cinema operations.  LINK
Beijing – Also from the BIRTV trade show happening in Beijing right now, Christie has been showing off its digital cinema innovations.
Christie® is demonstrating its state-of-the-art digital projection technology at the Beijing International Radio, TV & Film Exhibition (BIRTV), taking place at the China International Exhibition Center in Beijing August 27-30.

Widely acknowledged as the most influential exhibition for the broadcasting industry in Asia, BIRTV is the perfect platform to showcase the Christie Solaria Series DLP® Digital Cinema® projector that is capable of displaying premium 2D/3D High Frame Rate feature film and alternative content in its original format, giving audiences the best visual experience possible. A 24-seat internal theater at booth #2A232 features the innovative Christie Vive Audio™ solution that offers rich, dynamic and detailed sound for a complete cinematic experience.  LINK
Where is also announced that China Film Group has purchased 200 of its projectors.
Christie®, the world's dominant brand in the digital cinema projection market, announced that China Film Group Corporation (CFGC), the largest and most influential state-run film enterprise in China, purchased of 200 Christie CP2220 DLP® Digital Cinema® projectors to further expand its digital cinema business in China.

With this latest acquisition, CFGC will have almost 1,000 Christie digital cinema projectors in use, which is one of the largest fleets of Christie digital cinema projectors to be owned by a major state-owned film company in China. The newly purchased projectors will be installed in CFGC's cinema chain located nationwide.  LINK
Law & Order
Russia – In a further escalation of cultural conservatism (that saw swearing banned in public arts) and anti-Western reaction in the tit-for-tat over Russia's invasion of Ukraine, Moscow is now threatening to ban "anti-Russian" films from cinemas.
Batu Khasikov, a member of the culture committee at Russia's Federation Council, the upper chamber of parliament, told the Interfax news agency: "Specific requirements should be introduced for film exhibition in the country, and movies where everything related to Russia is overtly demonised or shown in a primitive and silly way should be banned from theatrical distribution."

He said such films would include those in which, "at the screenwriter's and director's whim, Russians are portrayed as a threat to humanity", though he did not mention specific titles. LINK
Did you know that in Russia is the only country where Disney changed the name of 'Captain America: the Winter Soldier' to 'The First Avenger: Another War'? Still went No. 1 though.
Advertising
USA (NY) – It seem that AdSpace's joint selling agreement with NCM is off to a good start.
In June, Adspace Networks, Inc., owner of the nation's largest digital place-based network in malls, entered into a joint selling agreement with National CineMedia (NCM) and Cinema Scene to create a new digital place-based network – called the Adspace Cinema Lobby Network – that includes screens in movie theater lobbies. The network consists of 1,700 movie theaters and 3,600 screens in 98 percent of the nation.

The report indicated that the Adspace Cinema Lobby Network generated 168 million gross impressions (P12+) in June, with an average of 3.1 impressions per visitor. The Adspace Digital Mall Network has been measured by Nielsen for the past seven years and aggregated 450 million gross impressions in June. With the addition of the Adspace Cinema Lobby Network, the month of June generated a total of 618 million gross impressions across 1,900 total venues and 6,500 screens.  LINK
Cinema Opening/Closings
USA (TX) – Alamo Drafthouse has announced the third location in Dalles-Fort Worth for its hugely popular chain.
Alamo Drafthouse Cinema's announced its third Dallas-Fort Worth area location Aug. 27, confirming Las Colinas as the site.

Alamo Drafthouse Cinema will open in the new Music Factory at Las Colinas located at Hwy 114 and Fuller Drive immediately south of the Irving Convention Center at Las Colinas.

"We couldn't be more excited to be a part of the Music Factory at Las Colinas," said Bill C. DiGaetano, COO of Alamo Drafthouse Cinema DFW. "We pride ourselves in taking first-run movies and events to the next level."  LINK
Germany – Wangen cinema is re-opening this Saturday after four years of closure. The specs are tip-top.
Speaking of modern: Since the beginning of the renovation of the building ran. "The technology is now completely redesigned and digitized," says Markus Sohler. The large hall can in future also 3-D films are so directly "Guardians of the Galaxy". A new sound system in Dolby 7.1.-quality also guarantee a good sound on a new state of the art.

Also, the screen has been expanded, and the foyer as well as the cashier areas are redesigned. The large hall can seat 171 cineastes as last place in the – to the lodges reduced – Studio there are 71 places. Come into play during renovation works were mainly local and regional artisans, emphasizes the cinema operator.  LINK
Finally
BFI offers a fascinating tour of "38 pictures that show how British cinemas have changed in the past 100 years". It celebrates how people went to the cinemas at the time of the outbreak of the First World War and onwards. Who knows the one below (without cheating)?
Cinema a century ago was a new, exciting and highly democratic form of entertainment. Picture houses nationwide offered a sociable, lively environment in which to relax and escape from the daily grind. With feature films still rare, the programme was an entertaining, ever-changing roster of short items with live musical accompaniment. 100 years on, this special compilation from the BFI National Archive recreates the glorious miscellany of comedies, dramas, travelogues and newsreels which would have constituted a typical night out in 1914. Our selection includes a comic short about a face-pulling competition, a sensational episode of The Perils of Pauline, scenes of Allied troops celebrating Christmas at the Front, and an early sighting of one of cinema's greatest icons…LINK

Latest posts by Patrick von Sychowski
(see all)