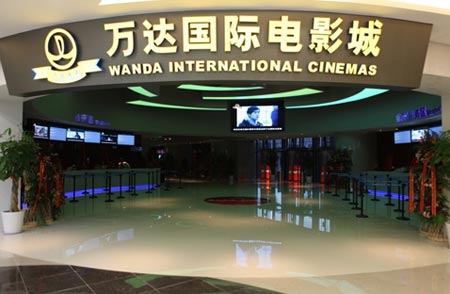 No less than 30 Chinese companies are looking to list on US stock exchanges this year, led by Internet giants such as JD.com and Alibaba. The reason for choosing the likes of Nasdaq is because unlike their Chinese counterparts they don't require three years of profitability as well as US regulations that allow for different classes of voting stock. In total some USD $36.6 billion has been raised by 140 Chinese companies through U.S.-based initial public offerings (IPOs) since 2000. But one Chinese company that isn't going down this route is Wanda Cinemas.
As we have already reported, Wanda is planning a two billion yuan (USD $321 million) IPO ahead of a listing on the Shenzhen Stock Exchange. This is likely to make it China's biggest domestic IPO in 2014, even if it is overshadowed internationally by Alibaba's U.S. listing. The smaller film distributor and exhibitor Shanghai Film Co. has also announced plans for a 969 million yuan (USD $145 million) IPO. But it is Wanda that we will focus on as it is more of a bellwether on the state of the Chinese exhibition industry.
It is important to remember that one of the reasons Wanda is not seeking a U.S.-based IPO is because it has already listed AMC Entertainment Holdings, which controls the second largest North American cinema chain. This listing raised USD $314 million, i.e. almost as much as the Wanda's China IPO aims for. The stock done very well since being listed, with shares rising from USD $18.81 to $22.39, after reaching a high of $26.68 in the brief six-month time span in which it has been trading.
Wanda Cinema's IPO: the Basics
By way of quick recap, WSJ tells us that:
Wanda Cinema Line is controlled by commercial-property conglomerate Dalian Wanda Group, which always installs cinemas in the shopping complexes it develops. With that support, Wanda Cinema has expanded into smaller Chinese cities. Dalian Wanda is controlled by its chairman, tycoon Wang Jianlin, who is the country's richest man. Wanda Cinema Line owned 142 cinemas in 73 cities with 1,247 screens at the end of 2013, its preliminary prospectus said. Its net profit in 2013 rose 55% to 603 million yuan from 388 million yuan in 2012, while revenue rose to 4.02 billion yuan, up 33% from 3.03 billion yuan.
It is worth flagging again the concerns raised in the risk factors section of the prospectus, as highlighted by the WSJ:
China's largest cinema chain takes a dim view of the domestic movie industry. In the risk factors section, the prospectus notes that "While Chinese films have achieved a certain volume, there are relatively few films of commercial value" and regulations limit foreign film imports. Therefore, Wanda faces risks resulting from the "lack of quality films in China that can really win good praise and reviews and completely satisfy market needs and the cultural demands of viewers."
So while everyone is celebrating the success of "X-Men: Days of future Past" and "The Monkey King" in the first half of this year, local action epic "The Iceman 3D" underperformed and had to be split into two releases in order to get a decent return on its runaway budget.  Meanwhile, even Hollywood flops like "Transcendence" didn't perform much better in China. We have also previously flagged up on this site the very real risk of a crash that the Chinese cinema business faces. Wanda – It's About Real Estate, Not Cinema However to really understand Wanda Dalien one has to not think about it not as a motion picture exhibitor but as a real estate company with interests in several commercial and retail business portfolios, of which the cinema exhibition attracts much attention because of its inherent glitz. Add to this the eye-popping plans announced last September of building a gigantic studio-festival-theme park complex in the port city of Qingdao as part of its USD $8.2 billion film investment plans.
So for the best analysis of Wanda's prospects turn to the people who understand the real estate market in China. This is where Taian Real Estate's article 'Wanda Cinema "bundling" – Benefits and Risks Coexist' makes for very interesting reading. It notes that Wanda wants to build a business that will last 'for a hundred years', but that to do so "it is necessary to have the material basis of a hundred years, and the real estate industry can not produce long-term, sustainable and stable cash flows, so Wanda must transition to cultural tourism." Hence its foray in Qingdao.
There is no arguing with Wanda Cinema's growth for the past half decade, having ranked as the top Chinese exhibitor every year from 2009 to 2013. Wanda Cinema's total revenue has increased from 2,208,694,800 yuan (USD $353.17 million) in 2011 to 4,022,557,500 yuan (USD $643.2 million)  in 2013, representing a CAGR of 34.95%. Moreover its net profit grew from 307,418,100 yuan (USD $49.2 million)in 2011 to 604,788,600 yuan (USD $96.8 million) in 2013. But as any prospectus will tell you, past performance is not necessarily an indicator of future growth.
So how is Wanda seeking to keep up this growth?
Two Strategies for Ensuring Growth: Part 1 – Content
Wanda has a twin strategy for mitigating future risks and it is the appraisal of the likely success of these that should guide investors considering the company's potential. The first was highlighted above, in terms of potentially poor film content, particularly domestic productions as Hollywood films continue to be restricted by the 20+14 import quota.
Wanda's answer is to get into film production and distribution itself. To this end it has financed films such as "The Palace", and as Hollywood Reporter notes, a mixture of Chinese and western films.
Among Wanda Media's production credits so far are Keanu Reeves' directorial debut, "Man of Tai Chi", "Police Story 2013" with Jackie Chan and "The Monkey King: Uproar in Heaven 3D" with Donnie Yen and Chow Yun-fat. As a distributor, Wanda has Jim Sheridan's Dream House, the Taiwanese epic "Seediq Bale" and Eng Dayyan's "Inseparable" with Kevin Spacey and Daniel Wu.
So far it has been the typical mix of hits and misses, but Wanda is determined to stay in this game for the long term. Earlier this month Wanda announced at the Cannes Film Festival that it will itself be launching "a first-class international film festival " in Qingdao in 2017. This strategy was highlighted by the Taian article:
However, from the current movie industry chain point of view, in fact, the focus is in the downstream part of Wanda Cinema. China's film industry chain, including filmmakers, film distributors, theaters, cinemas spread over four areas, mainly involved in the body, including producers, distributors, theaters and theater companies. In this regard, vice president of CITIC Construction Investment Securities Xuxian Gang notes that the upstream and downstream sectors of the industry chain enterprises, who often face a double squeeze on the downstream industry chain, have not fared well, while Wanda is an exception.
So Wanda can mitigate part of the risk of poor content by producing its own content for its own cinemas and other markets. While this vertical integration strategy is not unique, and fellow IPOer Shanghai Film similarly controls both upstream and downstream businesses ventures, Wanda's sheer size and spending power (it is said to have a war chest of USD $5 billion to spend every year) puts it in a league of its own.
Two Strategies for Ensuring Growth: Part 2 – Real Estate Rental Income
The second strand of Wanda's strategy is both more or less obvious until you really dig down into the prospectus. Wanda has built a strong cinema brand with a loyal consumer following thanks to a major focus on 3D with RealD and premium large format (PLF) with Imax. This together with the sheer number of patrons allows Wanda to drive a hard bargain with other distributors when it comes to terms for the films it shows.
Yet it is the bundling of the Wanda Plaza that really reveals Wanda's cinema strength. This enables Wanda Cinema to not just occupy prime real estate in malls, but also to enjoy very favourable real estate rental terms.
According to the prospectus, as of December 31, 2013, Wanda Cinema and theater subordinates have opened 83 service relationships through Realtor Wanda commercial real estate and related parties. Among them, 1 October 2012, the company is headquartered in accordance with the rental delivery of 200 yuan / square meter / month rent (not including property management fees) for the standard monthly rent; starting from October 1, 2012, the company under the rental price is set to pay rent of 300 yuan / square meter month (not including property management fees). These rents are far below the industry average.
Should there be a real estate market correction Wanda cinemas are in a better position than any of its competitors to re-negotiate rates down in their own favour.
What this points to is that while AMC is Wanda's US exhibition arm, the company is better understood as the Regal Cinemas of mainland China, keeping in mind that its competitors are smaller than the likes of Cinemark in the U.S.
Yet while Wanda has thus positioned itself well in terms of both content and real estate, there are future growth factors over which it has less control and these are the greatest potential source for concern. These include second and third tier cities, where future growth has to take place as cities such as Beijing and Shanghai have become over-saturated.
It is in these property markets that Wanda Plaza faces greater differentiation and sees cash flow issues, which could drag Wanda Cinemas into loss-making territory. As the Taian article observes, with Chinese understatement, "In the process of expansion in the future of cinema, this phenomenon is noteworthy."
In this regard, the financial data in the prospectus should also permit the concerns of those persons, in the current Wanda Cinema 91 subsidiaries in Shenzhen, Xiamen, Chongqing, Guiyang and other places in 21 subsidiaries are at a loss, which Zibo Wanda Cinema maximum loss, net profit amounted to -239.60 million followed Hakusan Wanda Cinema, net profit amounted to -209.66 million. Insiders noted in this regard, Wanda Plaza, multi-tier distribution in cities, urban fringe, its positioning is not high-end consumer groups. "For the relatively high fares Wanda IMAX theater, it might not be able to have the satisfaction of high box office receipts, attendance might also not be able to prop up the cinema operator, Wanda Cinema therefore need to take considerable risks."
So it is in the second and third tier cities of China that Wanda's future fortunes will be made or lost. While it is important to remember that even these cities have populations counted in the millions, they do not have the same spending power as moviegoers in China's biggest cities.
While it is generally assumed that the same type of films (Hollywood and Chinese) which attract cinema audiences in first tier cities will also play well in smaller tier locations, it could still be the case that different movie tastes will prevail with unknowable consequences.
Conclusion
It is thus clear that Wanda is in a better position to capture the future growth the Chinese cinema market promises and possibly even withstand any future blows from poor content or a dampening of the real estate market than any of its competitors (sorry Shanghai Film Co.).
Whether it can withstand a twin blow of a collapsed real estate market and a string of flops, coupled with challenges expanding into second and third-tier cities remains to be seen.
While some might hesitate to invest in Wanda Cinemas for the above reasons, it would still be foolish to bet against the company at this stage. Wanda might be more a real estate company than a cinema or film company, but this is all the more reason to take their claim of being in this 'for a hundred years' seriously.

Latest posts by Patrick von Sychowski
(see all)