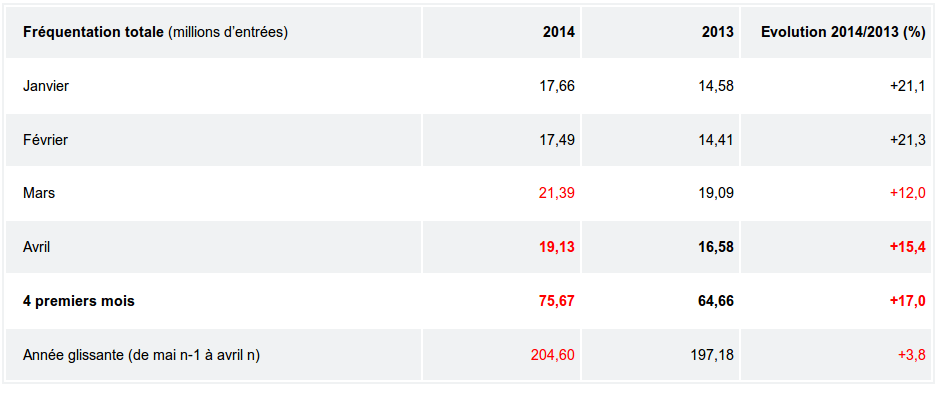 Cinema attendance is up in the first four month in France. Let's hope this is the start of a Europe-wide trend.
April 2014, the attendance of cinemas rose +15.4% vs. the same period in 2013, to 19.13 million entries, according to estimates of the National Film Centre and Moving Image Centre (CNC) . In the first four months of 2014, and 75.67 million viewers who were registered, 17% more than in January-April 2013. Market share of French films is estimated at 46 6% in the first four months of the year (vs 40.9% in January-April 2013) and the American films to 42.5% (vs. 47.5% in January-April 2013). Over the past 12 months, the market share of French films is estimated at 36.3%, that of American films to 51.7% and that of other films to 12.1%.  LINK
It seems that San Francisco is welcoming Alamo Drafthouse taking over the iconic New Mission Theater cinema with open arms.
There was a flurry of excitement among the film crowd in January 2013 when the Planning Commission approved the $10 million renovation of the long-shuttered, 2,021-seat New Mission Theater at 2550 Mission. At that same time, the Alamo Drafthouse — an Austin-based franchise which describes itself as "a lifestyle entertainment brand with an acclaimed cinema-eatery," with locations as far-flung as New Braunfels, Tex., Yonkers, N.Y., and Kalamazoo, Mich. — formally announced it was slated to open the rechristened Alamo Drafthouse New Mission "in the third quarter of 2014."

It was especially exciting for those of us who nerd out about the number of movie screens in town. In last year's big Summer Movie issue, I calculated that San Francisco had 75 movie screens spread among 18 theaters. That number is now up to 77 screens among 18 theaters, thanks to the Embarcadero's spiffy renovation last fall, and the Alamo Drafthouse New Mission would bump us to 82 screens among 19 theaters.  LINK
Business
USA (CA):  Is this un-wanted attention for RealD from an activist hedge fund? No word on what Starboard Value Lp has planned for the company, but recently they argued against the spin-off of Red Lobster from Darden Restaurants, so they don't just sit back quietly.
Managed by Jeffrey Smith, Starboard Value Lp disclosed a new activist stake in RealD (NYSE:RLD). According to a recent filing with Securities and Exchange Commission, Starboard now owns 3.10 million shares, a stake of 6.30% in the company.

Founded by Jeffrey Smith in 2002 via a spin-off from Ramius, Starboard Value Lp mostly focuses on small-cap stocks. Office Depot Inc (NYSE:ODP) constitutes the largest share in the fund's almost $2.00 billion worth equity portfolio, the fund holding a position of 43.45 million shares in the company. Recently, Starboard Value raised its stake in Unwired Planet Inc (NASDAQ:UPIP) to 10.50 million shares.  LINK
China: It seems Chinese cinema goers are upset to find that their pre-pay loyalty cards expire and remaining cash balance locked in and cannot be used unless they pay to renew the card for another year.
?Fan Hangzhou has a UME International Cineplex  membership card, costing 800 yuan each, for which he enjoys a 20% discount. "This is something I got last year, just like other prepaid cards, like department stores, but also requiring real-name registration." Fan said he usually likes to watch movies using this card, but was recently busy with work, and is not often free.

Some time ago, taking advantage of the holiday blockbuster releases, he took his family to go to Hangzhou UME cinema. When booking the ticket, the staff told him the card had expired, the money on it were frozen and cannot be used, and that he needs to recharge it to activate it again.  LINK
Technology
USA/Int'l: Captain America: The Winter Soldier went out in no less than 350 different digital cinema version. By way of comparison, Avatar had "only" 18 versions for US market and 92 for international, i.e. on third of what Captain America 2 did.
"Controlled chaos" is how one studio exec (who was not involved with The Winter Soldier) describes the situation. The reason is that the various options afforded by digital technologies means that multiple versions of a movie are needed. "The number has skyrocketed."

Several sources confirmed that it's not uncommon for a studio to create roughly 15 different versions of a movie for a domestic release — and some recent tentpoles have exceeded 30 different versions just for North America. These can include any combination of 2D, 3D (typically at least two versions at different light levels), possibly Imax and, in the case of The Hobbit, a high-frame-rate option. If you have a "4D" release, each of the three 4D companies — CJ 4DPlex, MediaMation and D-Box — require their own proprietary version.  LINK
Event Cinema
Austria: After War Horse screening live in cinemas in 4K, it in now the turn of opera to go super high def. (Thanks Mark Schubin for this one),
At 7 pm Central European Time on Wednesday, May 7, the Wiener Staatsoper (Vienna State Opera) will transmit Verdi's opera "Nabucco," with Placido Domingo in the title role. Elemental Technologies' high-efficiency video coding (HEVC) will be used to stream the event over the Internet in 4k resolution, using MPEG-DASH, for viewing around the world. It will also be sent to a 65" Samsung UHD TV at the opera house. A Wiener Staatsoper app with built-in time shifting will allow users to view it live or at 7 pm in their local time zone.  LINK
Law
Russia: A day after Putin announces a crackdown on swearing in cinemas a Russian court overturns the fine for cinemas showing drug-taking in The Wolf of Wall Street.
The Novosibirsk Regional Court has overruled a decision by a local judge to fine a cinema chain for showing the Oscar-nominated film "Wolf of Wall Street."

Regional judges annulled the 800,000 ruble fine and dismissed the case against the Cinema Park theater chain after previously overturning fines totaling 3.2 million rubles ($89,800) against several other chains, Interfax reported Tuesday, citing a court spokesman.  LINK
Germany: Robbers didn't just steal money from a cinema in Germany – they also stole sweets.
ALSFELD. Between Monday and Tuesday 22:45 clock, 8:45 Clock unknown thieves got into the Marburger Straße in Alsfeld in the cinema one. The perpetrators came through a side entrance by force into the building and searched the premises. Then the thieves took a few hundred euros of cash as well as sweets and spirits and ran away. There was property damage in the amount of 1,000 euros. Notes to the offense seeks the criminal investigation under the number (0 66 31) 9 74-0 or online at www.polizei.hessen.de / online guard  LINK
Digital Death Watch
Poland: The Cultural Centre in Braniewiak has acquired a digital projector, thanks in part to a scheme by the Polish Film Institute to assist cinemas.
To be able to buy the new equipment Braniewski Cultural Centre has sought a grant from the Polish Film Institute. Obtained for this purpose an amount of PLN 158,015. The rest was covered by ??City Hall.

PFI believes that digitization is inevitable, but not all cinemas have the money to convert. Sites that do not make this change will have to suspend their activities. To avoid such a situation, the Polish Film Institute launched a program entitled digitization of cinemas. Its purpose is financial support to supply local institutions engaged in film screenings with the equipment necessary for viewing movies in a digital format. It was with this program also benefited the BCC.  LINK
Switzerland: Renovating and digitizing your cinemas is sadly itself no guarantee that patrons will come, as this owner/operator discovered after re-mortgaging his house to upgrade his cinema.
"The most beautiful cinema hall in the region, from Biel to Solothurn, is what some visitors have called the <Rex> at the Biel road, but unfortunately simply too few people realized it." Walter Loosli, who four years ago along with the landlady spent over half million Swiss francs on the conversion and complete renovation of the cinema with 270 seats, has given up. Since the end of April the "Rex" is closed. At the door there is a sign: "The cinema is closed for business transfer".

"I have <überlüpft> with tag, Loosli says on the question of why he sweeps the sails in Grenchen. He had put too much money into the total renovation and digitization, but even added a new mortgage on his house. "Pay off this debt, at the same time to shell out the rent, now that was just too much."  LINK
Cinema Opening/Closings
UK: Low ceilings and "irregular internal arrangements" doomed the gorgeous Curzon art-deco cinema in Liverpool in the eyes of the local council.
The Art Deco style former Curzon Cinema in Prescot Road, Old Swan will be knocked down and replaced with a Home Bargains store, after plans were today approved by councillors.

The company said the development would retain 25 existing jobs in the area and create 30 new jobs for local people.

Speaking at a Liverpool Council planning meeting, Tom Warner, from Home Bargains, said the existing building was "substandard".  LINK
Liverpool Confidential is more scathing in its own satirical way.
COMING SOON to the Curzon Cinema in Old Swan, the world premiere of Raging Bulldozer, a T J Morris Production, in association with Liverpool City Council Planning Committee.

The story so far: an art deco theatre of dreams where generations of people escaped the ravages of daily life faces and even the Luftwaffe faces a fight to say standing in this home-grown disaster movie.

Yes it's High Noon for the landmark Curzon after the go-ahead was today given for its demolition making way for a brand new discount supermarket.  LINK
Germany: It looks like Ahrensburg is getting a cinema where currently there is only a parking space.
Das sind die ersten Details: Ein Gebäude mit Wohnungen, Flächen für Einzelhändler und einem Kino mit vier bis fünf Sälen. Das sieht nach Abendblatt-Informationen der Entwurf des Projektplaners für das 6000 Quadratmeter große Grundstück vor. Zudem sollen im zweigeschossigen Keller des Gebäudes Parkplätze entstehen. Unter anderem, um die 60 Stellplätze auf dem bisher als Parkplatz genutzten Gelände zu ersetzen.

"Einen qualifizierten Betreiber für das Kino gibt es bereits", sagt Tobias Koch, Fraktionschef der CDU. Rund 40Lichtspielhäuser in ganz Deutschland betreibe die Kette. Spezialisiert sei sie auf Kinos in mittelgroßen Städten und damit erfolgreich. In Städten wie Ahrensburg. Der Betreiber hält sich derzeit noch bedeckt. Auch der Projektplaner möchte bis zu den offiziellen Beschlüssen der Politik nicht genannt werden. Er soll aber nicht nur einen Kinobetreiber an der Hand haben, sondern auch schon konkret mit möglichen Investoren gesprochen haben.  LINK
Finally
Sydney Film Festival has come up with perhaps the most ingenious cinema retro technology ever – View-Master. In my youth that's as close to 3D home entertainment that we ever got.
At a time when filmmakers can pinball Sandra Bullock through outer space, conjure up a city full of singing, dancing Lego people and thrill audiences in 3D, IMAX and ear-bending surround sound, the Sydney Film Festival aims to dazzle next month with View-Masters, a technology unveiled at the 1939 World's Fair in New York.

Audiences will be invited to gather at the Festival Hub in Sydney Town Hall for special View-Master "screenings" where each person will be handed a device – the same "toy" they might have used to wheel through a Superman adventure as a kid – then asked to sit together, cinema-style, as they click through a set of images that will tell a story with music and narration.  LINK

Latest posts by Patrick von Sychowski
(see all)