The Wrap takes a look at the growth of '4D' offered by the likes of D-Box, CJ 4DPlex and MediaMation and whether there is a business case for it. Not if it shakes the popcorn out of the tub, it seems.
Indeed, some theater owners have experimented with the technology, only to decide that it is best served up in small doses. Rolando Rodriguez, president and CEO of Marcus Theaters, installed 30 motion seats in one of his fifty theaters. While the seats are popular features when paired with big-budget blockbusters, he has decided not to invest in the technology. The $8 surcharge the 4D seats carry limits their appeal, he said.

"We're investing in other amenities that play better with our customers," Rodriguez said. "We're pleased with the performance, but from our perspective, investing in things like large screen theaters and in-theater dining is more important."

But other exhibitors and manufacturers counter that this is more than just a novelty act.

"We're finding that people turn into aficionados," Michel Paquette, vice-president of marketing of the 4D manufacturer D-Box Technologies, said. "Once people try it, if they like it, they usually get hooked."

Likewise, Heath Thomas regional manager of the Goodrich Quality Theaters, has placed 4D seats in 16 locations and reports they are a big hit with audiences between the ages of 18 to 30.  LINK
UK: UK/European cinema major Odeon-UCI saw its revenue and profit drop sharply in the past year, dragged down by the lack of a Skyfall-size hit and by its Spanish arm.
Odeon's earnings before interest, tax and other charges dropped by 24 per cent to £69.2m while sales fell five per cent to £706.7m.

In Spain, where Odeon operates 43 cinemas, Odeon's market volume fell 15 per cent last year.

"In 2014, there are some early signs that the economy may be turning: unemployment has started to fall slightly and retail sales have started to grow," Odeon said, adding that it has now grown its Spanish market share to 21 per cent.  LINK
Odeon's results do not include its property arm.

USA: Marcus Theatre is deploying the full range of services offered by NCR Cinema software.
NCR Corporation (NYSE: NCR), the global leader in consumer transaction technologies, today announced that Marcus Theatres®, a division of The Marcus Corporation (NYSE:MCS), has now deployed NCR's full suite of cinema and restaurant solutions to improve its business operations and enhance its customers' movie experience. Marcus Theatres has been a long-time customer, using NCR's mobile and fixed point-of-sale (POS) systems, indoor kiosks, takeout and delivery software and NCR MovieTime mobile application.  LINK
China: A fascinating glimpse into the mechanics behind the world's largest cinema chain, the Chinese property conglomerate Wanda Dalien that owns AMC in the US. Wang Jianglin, chairman and founder of Dalian Wanda Group, gave a talk where he revealed that the secret to their success is apparently to never miss a building project deadline. Ever.
At a lecture on Saturday at the China Europe International Business School's (CEIBS) Shanghai campus, Wang narrowed down some of factors that have led the company to take on larger-than-life projects like the one in Qingdao. To Wang, the difference between success and failure has simply meant "walking the walk" with the works he takes on. That is to say, meeting or beating project deadlines.

Wang said meeting the deadline for projects has been one of the most important ingredients for building what is now among China's most valuable property development companies. By completing massive commercial and cultural projects on or before the originally set date, Wanda has elated customers looking to buy space and, perhaps more importantly, ingratiated itself with local governments eager to stimulate business and generate tax revenues.
India: Mysore's Opera Talkies has been demolished, becoming the latest victim to the onerous taxes single-screen cinemas in India have to pay but multiplexes are exempt from.
According to some of the exhibitors, the demolition of Opera is just the continuation of the pathetic past, with many such theatres demolished, and some more in the line. They said single screen theatres are not so monetarily rewarding, no stringent policy is in place to safeguard the interests of exhibitors against piracy, irrespective of language, and also vapid films hitting the screens.

"Moreover, the differential in tax slabs, especially in Mysore with the Mysore City Corporation (MCC) charging exorbitant rates compared to metropolitan cities like Bangalore, is to be blamed. All was fine till the year 2001, when the self-assessment scheme (SAS) was introduced, bringing theatres, marriage halls and hotels in Mysore, under super commercial sector.  LINK
India: A good overview of the growth of the Indian film and cinema industry with diagrams illustrating the change, plus why India is still under-screened, from FICCI Frames.
Dreams are fulfilled and fortunes change in tinsel town, and not just of the actors and directors. There's a booming business behind the camera in the Indian film industry, and its consistent growth story amid the slowdown inspires confidence. The Ficci-KPMG Indian media and entertainment report 2014 reveals the film industry to be Rs 12,530 crore in size in 2013. It is expected to reach nearly Rs 21,980 crore by 2018 on the back of urbanisation, mushrooming multiplexes in small towns, slickly-made movies and receptive audiences. A corresponding growth is seen in the number of screens, with 200 added in 2013 alone and major growth coming from expansion in tier 2 and 3 cities. Even better, nearly 90-95% of all cinema screens have been digitised, improving the business proposition for exhibitors.  LINK
Law
UK: It seems at least one UK council has clamped down on mother-and-baby screenings of films rated 15, following a single complaint. It's not 'political correctness gone mad' but sheer stupidity.
Managers withdrew two scheduled screenings at The Rex in Berkhamsted, Hertfordshire, after being told they were breaking the law by allowing babies into movies with adult themes.

Dacorum Borough Council issued the warning after receiving a single complaint from a resident.

Council officials claimed they had no choice, yet the British Board of Film Classification, which sets the categories, said parent-and-baby matinees can be exempted by the local authority. This is why films with a 15 certificate are regularly shown at baby matinees in cinemas across the UK.  LINK
The Rex was recently voted the 'Best Cinema in the UK' – no votes for mothers and babies, I guess.
Large Format

Bulgaria/Slovakia: Imax has signed deals for one new screen each in the two Central and Eastern European cinema markets.
IMAX Corporation (NYSE: IMAX; TSX: IMX) today announced it has signed agreements with two new exhibitor partners to open an IMAX® theatre in Bulgaria and Slovakia. Kino Arena, an exhibitor in Bulgaria, will add an IMAX theatre to the Kino Arena Mladost Multiplex in Sofia. Cinemax, Slovakia's top exhibitor will add an IMAX theatre to the upcoming Bory Shopping Mall in Bratislava, marking IMAX's first theatre agreement in that country.  LINK
Digital Death Watch
Poland: The cinema in Poland hardly shows film any more, as only one film was distributed to it on 35mm print this year: Walesa, Man of Hope.
In 2013 , the 18 screenings that occurred there attracted just 400 spectators. And this is the only cinema in the 17,000 strong sity of Radzyniu Podlaski. The problem is that the facility is based on analog projectors that support only celluloid film. Meanwhile, most distributors distribute movies on digital media. – This year we got only one copy of the tape, it was the movie "Walesa, Man of Hope" – says Zbigniew Wojta? Radzy? director of the Cultural Centre, which operates under the Orangery. Facilities can not afford to digitization. It cost even within the limits of 400 thousand. z?. –

Anyway, for the purposes of Radzyn be enough room 50 – seater. cinema in its current form, with 200 places is too large – believes Wojta?. – In recent years, rarely had set the audience, he adds. his view, a black streak Orangery also deepened multiplexes. – Youth and adults are increasingly traveling to Lublin and Siedlce. because, as they say, there besides walking on the movie is still walking around the shops in the shopping mall – explains Wojta?. the digitization of cinemas could help radzy?ski magistrate. – We are aware of this problem. But now we have more important expenses. Nevertheless, the transformation of cinema is one of our tasks for the future – says Miroslaw Ka?uski, Deputy Mayor of the city.  LINK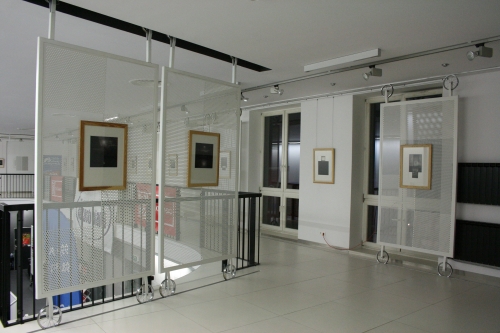 Poland: This cinema forum in Podlasia has had better luck, getting funding from the Polish film Institute and the regional government to help it go digital, splitting the PLZ 307,275 (USD 101,615) cost in half.
The first project is "The digitization of cinema Forum in Bialystok Cultural Centre". With the implementation of the hall will be equipped with a digital projector with the possibility of projecting 3D formats. This will improve the level of broadcast quality video, also raise standards for the only cinema studio in the city. Forum also wants to increase the number of sessions in digital. The project is the first step in the modernization of the cinema forum. Further tasks include upgrading the cinema hall for acoustic and construction, as well as the necessary rearmament in specialized audio equipment and lighting. LINK
Event Cinema
USA (NY): The new Met: Live HD cinema opera season has got off to a strong start. Now playing in over 2,000 cinemas in 66 countries.
The Met: Live in HD continued its eighth season on Saturday with a live transmission of Puccini's most popular opera, La Bohème. An estimated attendance of 92,000 in North America earned a gross of US$2.1 million. It was seen live on more than 800 screens.

An estimated additional 110,000 people saw it live on 900 screens in 32 countries in Europe, 11 countries in Latin America, Russia, Egypt, Israel, Jamaica, Lebanon, and Morocco.

More than 15 million tickets have now been sold since The Met: Live in HD launched in 2006.  LINK
Ireland: Irish Times InterTradeIreland Innovation Awards last week was broadcast live in 3D (to television, not cinemas). But it was a couple of paragraphs towards the end of the article that caught our attention.
"We're engaged in a project with the Royal College of Surgeons in Ireland, where we film doctors doing dissections of cadavers in 3D," says Baugh.

"When students watch a 3D dissection of a cadaver, it's easier to understand the anatomy. The geometry is much more realistic than watching a 2D video. In any demonstration where the scale and size of objects is important, this technology could be useful."
So a bit like Saw 3D, only for real. Pass the popcorn.
UK: The multiple award-winning West End production of Ibsen's Ghosts will be going out to cinemas.
The recent production of Ibsen's Ghosts, which premiered at London's Almeida Theatre last year before transferring to the Trafalgar Studios, will be screened in over 200 U.K. and Irish cinemas for one night only June 26.

Captured live in High Definition by Digital Theatre, it is to be screened as the third title in CinemaLive's West End Theatre Series, following earlier cinema screenings for Merrily We Roll Along and Private Lives.  LINK
UK (Scotland): Bless me Father, for I have cinema. Scottish congregation in Cineworld multiplex.
Queuing for popcorn at the cinema is not where you would expect to hear about the Bible – but that is what one church hopes to change.

Destiny Church Aberdeen held their first service at Cineworld Union Square yesterday in a bid to connect with more of the city's residents.

Pastor Andrew Owen, who founded the Destiny network in Glasgow in 1995, relocated to the north-east with wife Sue in December.  LINK
Accessibility
UK: British accessibility campaigner Richard Turner writes in SL First magazine about his difficulties to find a weekend screening with his wife of the film Mandela with subtitles. While asking for 10% is perhaps a bit much, his article make many other important observations.
Instead of only 1% of films shown in the cinema being subtitled, I think this should be increased to 10%. I am sure that if there were a greater choice of subtitled films shown at more convenient times, more Deaf and Hard of Hearing people would go there more often.

Going to the cinema is not cheap, particularly in Central London, so the cost of the ticket may be another barrier to many people. Perhaps the cinema operators could consider introducing special 'access' tickets at reduced rates to attract more people, like the theatres do for Deaf and Hard of Hearing people attending captioned performances, which are very popular.  LINK
Poland: An interesting proposal for a free app to provide audio description for blind and visually impaired cinema goers.
"The owners of cinemas are reluctant to invest in equipment for audio description, starting from the assumption that films with audio description is not enough. In turn, distributors and manufacturers do not allow cinemas such films, because cinema halls and so do not have the right equipment to play them. And here near closes "- says Tomasz Strzymi?ski, president of the Foundation Audiodescription.

Therefore, in order to be independent of whether the equipment is in the cinema, or it is not, the Foundation now wants to create an application called Movie Guide Dog, through which you can also use the audio description where the cinema is not relevant equipment.  LINK
Pop-up cinema
Canada: A truly inspiring effort to bring cinema to some of the remotest communities in North America.
Hollywood actor Adam Beach, star of the recently cancelled series Arctic Air, wants young people on native reserves to be able to watch movies without having to book a flight or travel all day to get to a theatre, so he has decided to take pop-up cinemas to remote First Nations communities.

The first to open was in the community of Brokenhead First Nation about 65 kilometres northeast of Winnipeg. But there are plans to bring pop-up theatres to other communities, including Norway House First Nation, 800 km north of Winnipeg and two First Nations communities in Saskatchewan.  LINK
Advertising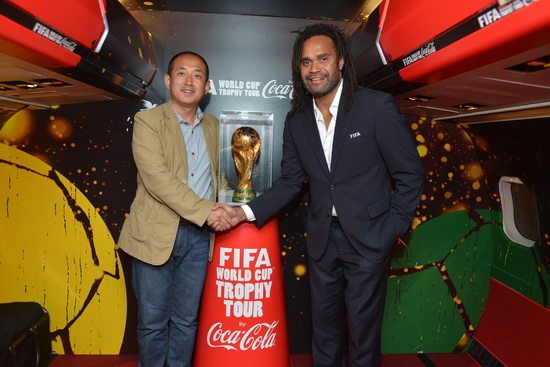 China: Wanda has tied up with coca Cola and Fifa for the promotion of the World Cup. No word on whether it will be shown in their cinemas too.
The Coca Cola FIFA World Cup Trophy Tour stopped off in Shanghai on April 9. Wanda Cinema Line has been actively engaged in this event by carrying out a series of collaborative promotions with Coca Cola.
Wanda Cinema Line selected 10 people from members of its 143 Wanda cinemas across China to serve as "Ambassadors" to escort the trophy. The 10 "Ambassadors" accompanied the trophy from Beijing to Shanghai together with FIFA officials.  LINK
Cinema Opening/Closings
UK (Scotland): We are depressingly familiar with cinemas turned into churches or bingo halls, but we've never heard of a plan to turn a swimming pool into a cinema.
The Montrose Playhouse Project hopes to transform the former swimming pool at the Mall into an independent cinema and have now submitted plans to be considered by the local authority.

David Paton, of the group, said he hoped the application would be supported by Angus Council.

He said: "If the council support the application I think it will be very well received by the community in Montrose. We have received £10,000 of lottery funding and £5,000 from First Port.  LINK
The sloping floor of the swimming pool would apparently become the basis for the cinema's stadium-like seating. This is one to follow!
Cyprus: We hope that Cyprus' Paphos/Pafos has better luck with its cinema plans than fellow European Capital of Culture 2017 UK city Hull (see here).
PLANS to revive a defunct Paphos cinema in the centre of town are being drawn up by the local technical services to form part of the Cultural Capital 2017 winning bid.

In preparation for works which officials hope to get underway by the end of the year, the facility's outside area was cleared of accumulated rubbish and weeds on Thursday.  LINK
Poland: Having opened Europe's first 360 degree 3D cinema, those clever poles are now opening the first 5D cinema (I'm guessing rumbling seats) 125 meters below ground in a salt mine that is a tourist destination.
It seems that this year the mine will attract very many tourists. Everything because of the world's first underground cinema 5D, which was created in one of the two new chambers.

During demonstrations, visitors will have the opportunity to learn many interesting things about working miners, geology, art and history.  LINK
USA (IL): One of the most spectacular movie palaces in the whole of the United States is slowly crumbling away in Chicago, via CinemaTreasures.org
The Uptown Theatre, 4816 N. Broadway, has been named to Landmarks Illinois' annual Ten Most Endangered Historic Places list, which was announced today, Tuesday, April 1, 2014, at a press conference in Springfield.

"While we understand how challenging this project is, it is imperative that key repairs are made to the Uptown so that the building remains viable for redevelopment," said Bonnie McDonald, President of Landmarks Illinois. "We encourage the owner not only to make necessary repairs permanent, but also to seek partners who can help make the Uptown Theatre an exciting entertainment venue once again."  LINK
UK: An eight-ten screen cinema is set to be developed in Grimsby, following Council approval of transfer of land (pictured above. No word on any operator yet.
A new multiplex cinema and restaurant complex is to go ahead at Freshney Place shopping centre in Grimsby after North East Lincolnshire Council approved the transfer of land at Riverhead Square for the development.

The land will be transferred to Grimsby Shopping Centre Ltd, a client of F&C REIT Asset Management, enabling the asset management business to embark on the new development at Freshney Place.  LINK
Finally
The Londonist has a charming collection of London cinema, big and small, working and defunct. Our favourite is the canal cinema near the Olympic Park.
Think cinema in London and most people think of the bright lights of the West End, the IMAX on the Waterloo roundabout, or perhaps BFI Southbank but there are many more picture palaces dotted around the capital, both in the centre and further out. Sadly, many of them have closed down now, but their art deco buildings remain, either dilapidated and empty, or redeveloped into other properties.  LINK

Latest posts by Patrick von Sychowski
(see all)