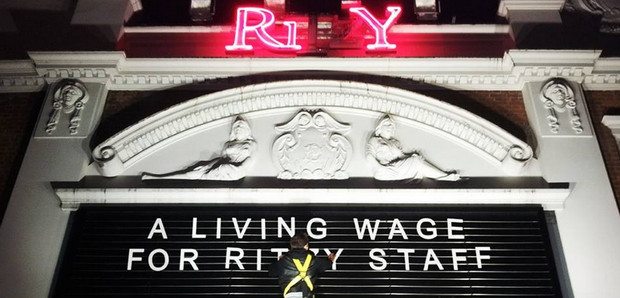 A long running wage dispute between staff at south London's Ritzy Cinema and the  owners Picturehouse Cinema (owned by Cineworld) has intensified, with the the disgruntled workers releasing a new statement.
Their latest statement – signed by the 'Ritzy crew' – disputes the accuracy of the statement issued by Picturehouse Cinemas last week, claiming that it contains, "misrepresentations and continues to completely miss the point."

The press release points out that the current negotiations cover all of the staff at the Ritzy, and repeats the claim that all workers should receive – as an absolute minimum – the London Living Wage (currently £8.80 per hour and £18,304 for someone working 40 hours per week).  LINK
USA (WI): Marcus Theatres will be spending USD $50 million to upgrade its cinemas with DreamLounger reclining seats, UltraScreens DLXTM (DreamLounger eXperience) conversions, Dolby Atmos and "Marcus Theatres' signature cocktail and dining concepts."
Marcus Theatres(R) , a division of The Marcus Corporation (NYSE: MCS), is investing $50 million by the end of its fiscal 2014 year in May to further enhance customer amenities across its 55 locations and 685 screens in Wisconsin, Illinois, Iowa, Minnesota, Nebraska, North Dakota and Ohio.

These investments allow Marcus Theatres to continue its nearly 80-year tradition as an industry leader in cinematic exhibition with guest comfort and conveniences at the forefront of the company's innovative efforts. Looking at the business from all customer angles, Marcus Theatres is bringing a full-sensory experience to its movie-going guests.  LINK
Technology
Immersive Audio: Dolby is bringing its Atmos technology to the conference-call phone. It won't be cheap initially at USD $1,600, but more proof that Dolby is thinking outside the home-cinema box, as we predicted recently.
BT Conferencing is bringing Dolby Laboratories' object-based sound, which played a prominent role in the Oscar-winning Gravity, into your business meetings. The two companies first released a conference-call service with similar Dolby sound engineering in 2013, but announced Friday that the service will expand to include a mobile app and a fully integrated conference phone.  LINK
Barco: Barco has appointed Red camera co-founder Ted Schilowitz as the Barco Team's "CinemaVangelist."
Barco, the worldwide market share leader in digital cinema projection, is innovating and setting a new standard for the most powerful and engaging experiences in cinema. The collaboration with veteran cinema strategist and movie technology futurist Ted Schilowitz will center around the launch of CinemaBarco, and bring classic Hollywood showmanship back to the theater.

"Ted brings a refreshing, childlike enthusiasm combined with his unique brand of disruption toward our efforts in creating new, exhilarating and communal entertainment experiences," comments Todd Hoddick, Vice President Global Entertainment for Barco. "Best of all, he reminds us just how much we can achieve when we kick our mutual talents into high gear, and have fun doing it! What we have to show you at Cinemacon is a result of all that good work."  LINK
Barco has also made public its partnership with interactive cinema company Audience Entertainment:
Also on Tuesday, Barco revealed that another piece in this initiative is a partnership with New York-based media technology company Audience Entertainment to create an interactive platform for moviegoers called iD (Interactive Dimension). According to the companies, iD could allow audiences to use their mobile devices to  "move and interact as a group, working as a team to influence and determine the outcome of the stories unfolding in front of them." It is recommended for use with advertising, preshow and feature presentations.   LINK
Screens: More pre-CinemaCon announcement, this time a foldable, rather than rollable, silver screen for 3D.
Severtson Screens (www.severtsonscreens.com), a global leader in innovative and quality projection screens for the cinema, commercial, pro AV, and home theater markets, is pleased to announce the launch of the new folded S?Vision 3D GX line of silver cinema projection screens at CinemaCon 2014, held in Las Vegas, Nev. from March 25-27, 2014 at Caesars Palace (Severtson booth 2010A, MasterImage 3D Inc. booth 2706A, and Livorno Room). Severtson's new folded shipping method now makes international distribution of the industry-acclaimed S?Vision 3D GX highly affordable, reducing international shipping costs by up to 70 percent. Folded screens are now available for international shipment.

"Purchasing our industry-acclaimed S?Vision 3D GX was cost prohibitive for theaters outside of the U.S. due to the shipping costs associated with such large packages," explained Ron Severtson, Severtson Corp. president and CEO. "Now our silver 3D screens can be folded and packed into a much smaller crate without any loss in structural integrity or performance abilities. Our new folded screen process not only reduces international shipping fees, the smaller packaging simplifies delivery to theaters and is more convenient for installers, as well."  LINK
Law
USA (AL): A record box office smash in Anchorage – of a glass window, that is.
At about 1:37 p.m. Friday, Fairbanks police received a call about the vandalism and arrested Robert James, 46, of Fairbanks on a charge of third-degree criminal mischief, the crime of intentionally doing more than $500 to someone else's property.

Theater staff told police that James became angry with an employee who was trying to refund money to him. Staff said James broke the window with his forearm and elbow, according to the criminal complaint filed against him. James allegedly tried to break a glass door on his way out of the theater. Staff estimated the box office glass would cost $1,200 to replace based on a similar window replaced at the Anchorage Regal Cinema.  LINK
UK: Apparently it is not ok for mothers (or dads) to take their toddlers to film rated 15, even if it is a special screening.
Berkhamsted's The Rex has had to withdraw two 15-rated films from its 'parent and baby' 12.30pm matinee slots after a complaint to the licensing authority.

August: Osage County, due to be shown yesterday, and Dallas Buyers Club, timetabled for next Tuesday, were pulled after the cinema received 'advice' from Dacorum Borough Council.

Licensing team leader Ross Hill said that after a complaint last week, his officers spoke to the Rex's managers about their advertised 'mother and baby' screenings of certain films.  LINK
Accessibility
USA (MA): Only shame that the cinema did not see fit to organise an autism-friendly screening of its own accord.
It started with a Duxbury mom and her 23-year-old autistic son being jeered out of a movie theater because he was noisy.

It will end next week when an acquaintance will rent an entire theater to give those with special needs the chance to watch a movie without the pressure of remaining quiet and in their seats, The Patriot Ledger reported.  LINK
Digital Deathwatch
UK (Scotland): A small community cinema in Fife has been saved from digital death by the intervention of Film Mobile Scotland:
A deal was expected to be struck last night (Tuesday) which could secure a much brighter future for Leven's Regent Cinema.

The five year partnership agreement between Film Mobile Scotland and the Regent will mean the local venue can boast a film programme to match that of big-player rivals, such as Odeon.

From the second week of April, local audiences can enjoy the latest film releases, National Theatre and West End productions, ballet, opera and even rock concerts.

And the change is all thanks to the introduction of bang up-to-date digital projection equipment.  LINK
Cinema Opening/Closing
Sweden: SF Bio is set to open Sweden's most advanced cinema in the Stockholm's Mall of Scandinavia, with 15 screens (four of which will be VIP auditoriums) and Scandinavia's biggest cinema screen 24m by 10m, opening in the autumn of 2015 .
In Mall of Scandinavia, shops and entertainment outlets are carefully positioned alongside a variety of restaurants ranging from fresh fast food to high-class restaurants. To further curate this perfectly conceived destination, a wide range of Unibail-Rodamco's 4-star services will be available at the centre, whilst the addition of government-owned Systembolaget off-license (selling alcohol) as a tenant underlines Unibail-Rodamco's outstanding commitment to its customers to produce the finest shopping centres in Europe.

This is bolstered even more by Mall of Scandinavia's leisure offer. The addition of SF Bio – the established cinema operator – is set to make its largest ever investment, culminating in Scandinavia's most modern cinema, totaling 9,000 sq m (96,875 sq ft).  LINK
Australia: The future is uncertain for a small cinema located on a publicly owned site in Port Augusta in the state of South Australia.
Just months before the end date of their lease draws closer, the future of Cinema Augusta remains in the dark.

After a four-year-long battle with the state and local government to determine the fate of the cinema, owners Michelle and Roger Coles have grown increasingly frustrated in recent months as the end date of their lease in June looms.  LINK
Australia: But meanwhile things are looking better for the cinema in Broken Hill in neighbouring state NSW.
Major renovations at the Silver City Cinema are testament to a belief in the local economy, according to business owner John Wren.

The project involves new seating for the theatre and an increase in capacity from 355 to about 480.

"I wouldn't be doing this if I didn't have faith in Broken Hill," Mr Wren said.  LINK
Egypt: The Middle East's largest country gets its first art-house cinema. Appropriately enough the first title to be shown there is Wadja.
Audiences in Egypt scour the city looking for film screenings that do not include 3D gimmicks and local low comedy offerings. Screenings at art and cultural centres have entertained audiences with international and local indie offerings, away from screaming children and the sound of popcorn being chewed, but most are only temporary openings. Zawya, the first art house cinema in Egypt, has changed this.   LINK
UK (Scotland): Scotland may soon have a new cinema in Angus and the Mearns to rival the likes of the Birks, the Mareel and the DCA.
Campaigners for a new Montrose Playhouse have obtained a £10,000 Lottery grant along with the services of a man who helped bring celluloid back to the centre of Dundee, Aberfeldy, Oban and Lerwick.

Members of the Montrose Playhouse Project have been in talks with Angus Council to turn the former swimming pool in The Mall into a community-driven hub for entertainment and learning.  LINK
Finally
We normally focus on projectors, but this look at the history of the film camera from the Society of Camera Operators is too irresistible not to share. Watch it to be moved and awed.
'The History of the Movie Camera in Four Minutes: From the Lumiere Brothers to Google Glass – Open Culture'
[vimeo]http://vimeo.com/88675290[/vimeo]

Latest posts by Patrick von Sychowski
(see all)