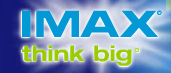 Large format (LF) company Imax has been awarded $11m in damages by an arbitration court, ruling in the case of an alleged breach of contract for the development of Imax screens in India by local exhibitor E-City Entertainment, affiliated with the Essel Group and operating under the brand name 'Funcinemas' and 'Fun Republic'. From the press release:
The case involved an agreement where Imax awarded E-City rights to develop a minimum of six Imax theatres in India.

Imax said E-City claimed the agreement was "a non-binding term sheet, that the amount of damages that IMAX was seeking for lost profits was excessive and that IMAX had failed to mitigate its damages."

Imax said the panel found the agreement was enforceable, and that E-City had breached its obligations.

Imax was awarded all of the lost profits that it sought under the agreement.

To Imax this was about more than just a standard breach of contract. We only need to look at what Imax is doing in China to understand what ought to have been happening in India. From the Economic Time of India (no link):
"IMAX has potentially lost five years of development as a result of this deal. In fact, when we struck a similar deal in China, which was at the same level of development in 2000, today, we have four IMAX theatres in India and 13 in China – and if you look at the planned openings, it is 11 for India by 2012 against 40 for China, said [IMAX co-chairman and CEO] Mr Gelfond.
Meanwhile the flagship Imax screen in Mumbai is set for a re-vamp later this year, so while Imax might have fallen out with E-City, they still have a friend in Adlabs.

Latest posts by Patrick von Sychowski
(see all)