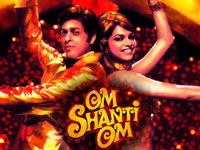 That would be Diwali, celebrated in India, its neighboring states and NRIs (non-resident Indians) all over the world. The five-day Festival of Light has in recent years become the favourite holiday for the big ticket Bollywood film releases. And this year was the biggest of them all, with the head-head battle of 'Om Shanti Om', starring the King of Bollywood Shah Rukh Khan, versus the Sony Pictures-backed 'Saawariya'.The proof of just how big the Diwali release event has become is amply demonstrated by the fact that 'Saawariya' out grossed 'Lions for Lambs' at the international box office. From The Hollywood Reporter:
"Saawariya," a nearly three-hour musical in Hindi with English subtitles based on Dostoyevsky's "White Nights," brought in an estimated $15.4 million from 900 screens in 13 markets. Almost all of the gross came from India, where the film opened No. 2 with an estimated $14.4 million from 754 screens.

"Lions," director Robert Redford's reading of contemporary events in Washington and the Middle East, opened at 2,681 screens in 45 markets for an estimated $10.3 million, less than $4,000 per screen. The film, costarring Cruise, Meryl Streep and Redford, also opened this weekend as the No. 4 film domestically.
While THR speculates that 'Lions for Lambs' under-performed due to bad reviews, the largely negative reviews of 'Saawariya' in Indian press (compared to a much more glowing review from the THR, which clearly does not understand Hindi-language cinema that well) did not hamper its first weekend performance. But while 'Saawariya' conquered the international box office, the domestic Indian battle appears to have been won by OSO, according to the Economic Times:
NEW DELHI: The audience verdict is out. The box office seems to favour Shah Rukh Khan's " Om Shanti Om " in comparison to Sanjay Leela Bhansali's much-touted magnum opus " Saawariya ".

While King Khan's film registered 90 percent occupancy across the country on its Diwali release, Bhansali's love story managed 60 percent.
…
According to Vishal Kapur, COO of Fun Cinemas, the Shah Rukh film has generated a lot of repeat audience interest in comparison to " Saawariya ".

"Among our 15 cineplexes across the country, the bigger ones did a business of at least Rs.500,000 and smaller ones Rs.150,000 on Friday. ' Saawariya ' churned out Rs.350,000 at the big centres, while at the smaller ones it could only manage to collect Rs.78,000," Kapur told IANS.
…

The difference of how well both the films would do in the coming days is also evident from the advance bookings.

"For Saturday, 50 percent of advance booking has been done for 'Om Shanti Om' while for 'Saawariya' it is just a little over 20 percent," said Ashok Bisht, assistant manager of JAM multiplex, Noida.
According to Screen International, OSO took $17m in India, outperforming 'Saawariya's' $14.4m from 754 screens. So when 'OSO' goes big internationally we should expect it to perform even better than 'Saawariya'. The growth of the Indian film industry has been noted by Fortune, which in an article called ' Time to short Facebook, buy Bollywood' believes that the film, cinema and media industry of South Asia has the better long term growth potential:
PriceWaterhouse Coopers forecasts that India is going to have the fastest growing media and entertainment industry in the world, rising at a compound growth rate of 18.5% between 2006 and 2011. The film business alone is expected to double in size during that period, to some $4.4 billion.

And what is perhaps most uniquely fascinating about the movie business in India is how popular it is domestically — some 95% of movie tickets sold in India are to see Indian films (this despite the increasing availability of dubbed versions of popular Hollywood films and the somewhat overdue arrival of multiplex theaters offering filmgoers much greater choice.)

That 95%, by the way, is roughly in line with how popular American films are in their home market, and dramatically different than how domestic films fare in a lot of other major markets. According to some academic studies, French and Japanese films sell only around 1/3 of the tickets in those countries, the domestic take at the box office is even lower in Britain.
The latest financial figures of the four major Indian exhibitors confirm this verdict – and that's before the takings of this Diwali's releases were counted. A Happy Diwali indeed for Indian exhibitors.

Latest posts by Patrick von Sychowski
(see all)