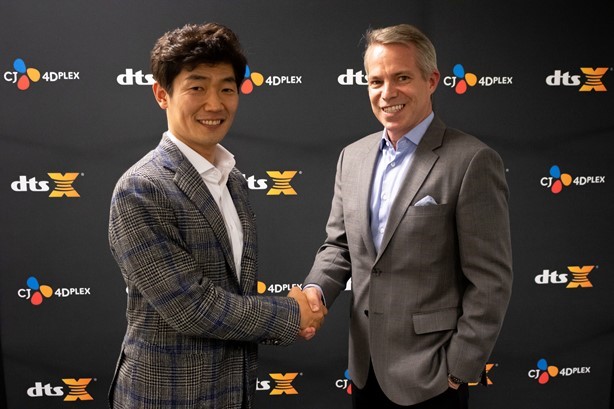 DTS, a global leader in premium audio solutions and a wholly owned subsidiary of Xperi Corporation, and CJ 4DPLEX, the world's leading cinema technology company, have announced a strategic alliance to bring DTS:X immersive audio technology to ScreenX theatres worldwide. Together, the companies will deliver the ultimate theatrical experience through the combination of ScreenX's 270-degree visual technology and DTS:X sound.
Beginning in 2019, DTS will work with ScreenX and exhibitors to implement DTS:X technology into ScreenX locations. DTS and ScreenX have collaborated to optimize the flexible and scalable DTS:X technology for ScreenX auditoriums while ensuring that the filmmakers' creative intent is delivered to audiences for a captivating moviegoing experience.
"DTS:X immersive audio technology complements CJ 4DPLEX's ScreenX immersive visual presentation, offering an amazing end-to-end product for exhibitors," said Bill Neighbors, SVP and general manager, Cinema, Home, Digital Media and Streaming Solutions, at Xperi. "Additionally, our global presence brings additional resources that will help grow our combined offering in 2019. I am confident that moviegoers will love the experience."
"Our alliance with DTS will take ScreenX theatres to the next level of immersion," said JongRyul Kim, CEO of CJ 4DPLEX. "It's an exciting time for cinema and technology to blend and create new experiences for audience members and we look forward to expanding our partnership in the months to come."
Geir Skaaden, EVP & Chief Products and Services Officer, Xperi shared that "in addition to new ScreenX theatres featuring DTS:X, DTS and CJ 4DPLEX will explore additional opportunities for collaboration; leveraging our combined extensive technology, business experience and relationships to deliver extraordinary entertainment experiences on an international scale"
For more information about DTS:X technology, please visit www.dts.com.
For more information about CJ 4DPLEX and ScreenX, please visit www.cj4dx.com and www.screenx.co.kr.
About DTS, Inc.
Since 1993, DTS, a wholly owned subsidiary of Xperi Corporation (NASDAQ: XPER), has been dedicated to making the world sound better. Through its pioneering audio solutions for mobile devices, home theatre systems, cinema, automotive and beyond, DTS provides incredibly high-quality, immersive and engaging audio experiences to listeners everywhere. DTS technology is integrated in more than two billion devices globally, and the world's leading video and music streaming services are increasingly choosing DTS to deliver premium sound to their listeners' network-connected devices.
To date, DTS:X has been installed in more than 800 screens worldwide. Via its strong relationships with content providers and access to content, DTS has released more than 200 titles to theatres worldwide in the DTS:X immersive audio format.
For more information, please visit www.dts.com. For more information about Xperi, please visit www.xperi.com.
About CJ 4DPLEX
CJ 4DPLEX is a leading, next-generation cinema technology company, headquartered in Seoul with international offices in Los Angeles and Beijing. The company has created immersive film technologies for theaters worldwide that include '4DX', 'ScreenX' and '4DX with ScreenX' for consumers to experience films in ways that were never before possible.
4DX provides moviegoers with an immersive, multi-sensory experience, allowing the audience to connect with movies through motion, vibration, water, wind, snow, lightning, scents, and other special effects that enhance the visuals on-screen. Each 4DX auditorium incorporates motion-based seating synchronized with more than 20 different effects and optimized by a team of skilled editors, maximizing the feeling of immersion within the movie, beyond the limits of audio and video. More than 610 Hollywood and local titles have been screened in 4DX. To date, more than 71,000 4DX seats operate in 616 auditoriums, spanning 62 countries.
ScreenX is the world's first multi-projection theater technology used within a theatre setting, marking it as the most visually immersive theater experience of CJ 4DPLEX. ScreenX allows moviegoers to go beyond the frame of the movie screen by utilizing a proprietary system that expands images of feature films and pre-show advertising to the left and right walls of the theatre, creating an immersive, panoramic, 270-degree viewing experience. To date, ScreenX has been installed in 200 screens around the world, including 87 screens in South Korea; 66 screens in China; 16 in the United States; 8 in England; 4 in Turkey; 4 in Japan; 3 in Switzerland; 2 in France; 2 in Vietnam and 1 in Spain, Hungary, UAE, Kuwait, Thailand, Indonesia, Israel and Canada. For more information, please visit www.cj4dx.com and www.screenx.co.kr.