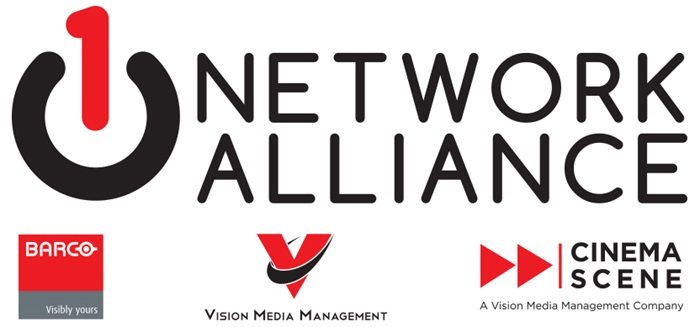 The Barco and Vision Media alliance are pioneering a turnkey lobby entertainment solution bringing together innovative cinema technologies and in-theater marketing expertise.
The One Network Alliance (ONA) – a strategic partnership between cinema technology leader Barco and in-theater marketing pioneer Vision Media – will commercially debut its turnkey digital Lobby Experience at Cinemark's Plano, Texas and Playa Vista, Los Angeles theaters this month. The solution will empower Cinemark to transform its cinema lobbies into immersive storytelling environments using vibrant digital content viewed on billboard-size displays.
"Cinemark has always been on the cutting-edge of movie entertainment, and with the One Network Alliance Digital Lobby Experience, we are once again pioneering a one-of-a-kind experience for the next generation of moviegoers," comments Mark Zoradi, Cinemark CEO. "The ONA's robust technology platform was very important to us, ensuring that we can continue to deliver on our mission of providing innovation within our theaters."
Turnkey lobby solutions engage visitors the moment they enter the theater
The power of the Digital Lobby Experience is its uniquely all-encompassing ONA platform, built on an alliance harnessing the best of both worlds: Barco's industry-leading cinema technologies and Vision Media's in-theater digital marketing expertise. The advanced technology concept brings the cinema lobby to life, engaging visitors the moment they enter the theater. Large-scale digital banners, vertical display systems and digital movie posters provide numerous different orientations to support all creative activations. During the eagerly-anticipated Lobby Takeovers, specific display systems will play in a symphonic coordination of light, sound and video content.
"Cinemark lobbies are poised to become interactive, multi-dimensional digital canvases where upcoming movies and dynamic, animated content will bring the magic of the movies front and center," comments Greg Patrick, Vice President Cinema-Lobby for Barco. "Our movie exhibitors can select from a comprehensive portfolio of fully integrated digital cinema lobby products designed to enhance the moviegoing experience, while driving customer engagement and loyalty."
Cinemark has consistently been the first exhibitor to embrace new generations of Barco's innovative cinema solutions, from its award-winning DLP Cinema projectors, to the industry's largest portfolio of Flagship Laser and Smart Laser projectors.
"The Cinemark agreement affirms the mission of the ONA strategic partnership. The ONA is building the next generation of digital display solutions and interactive consumer experiences. Our longstanding, cooperative dialog with Hollywood Studios confirms their interest in the evolution of how movies are promoted in our 'reimagined' lobby environment," said Joe Ross, President of Worldwide Sales at Vision Media. "Cinemark, as the inaugural ONA exhibitor, signifies their constant desire to bring innovation to the lobby, something Vision has seen for years based on their participation in our TrailerVision and VideoWall Networks."
Driving the lobby entertainment trend
Understanding the constant pace of new trends with hyper-targeting and advances in digital technology within the promotional space, the ONA will continue to incubate next-gen hardware and software solutions in their Innovation Vault.
About Cinemark Holdings
Cinemark is a leading domestic and international motion picture exhibitor, operating 529 theatres with 5,926 screens in 41 U.S. states, Brazil, Argentina, and 13 other Latin American countries as of June 30, 2017. For more information, go to investors.cinemark.com.
About Vision Media
Vision Media, headquartered in Valencia, CA, is the leading provider of Physical and Digital Media Management to the Entertainment Industry worldwide. World class physical asset management, concessions, fulfillment and distribution services coupled with premier digital content technology solutions. Vision's digital consumer engagement solutions include the Cinema Scene Digital Media network, digital signage solutions, consumer analytics and is a founding member of the One Network Alliance with Barco. Vision is backed by CenterGate Capital, an Austin-based private equity investment firm. www.visionmedia.com
About Barco
Barco designs technology to enable bright outcomes around the world. Seeing beyond the image, we develop sight, sound, and sharing solutions to help you work together, share insights, and wow audiences. Our focus is on three core markets: Enterprise (from meeting and control rooms to corporate spaces), Healthcare (from the radiology department to the operating room), and Entertainment (from movie theaters to live events and attractions). In 2016, we realized sales of 1.102 billion euro. We have a team of 3,500 employees, located in 90 countries, whose passion for technology is captured in 400 granted patents.
For more information, visit us on www.barco.com, follow us on Twitter (@Barco), LinkedIn (Barco), YouTube (BarcoTV), or like us on Facebook (Barco).