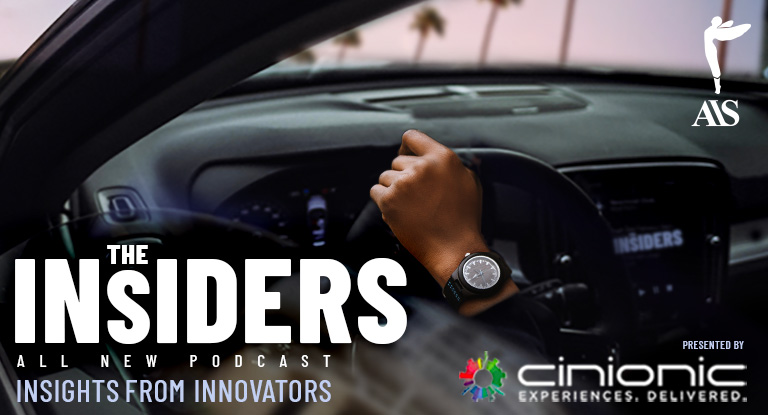 PROGRAMS WILL FEATURE ENTERTAINMENT INDUSTRY "INSIDERS NAVIGATING HISTORIC BUSINESS SHIFTS"
gainst a backdrop of technological shift and the effects of the COVID-19 pandemic, the Advanced Imaging Society and Cinionic today announced a new podcast series to serve as a source for the vital conversation with key stakeholders in media and entertainment. The first episode to be released Tuesday, March 2nd, 2021, on the Google, Apple and Spotify Podcast apps.
The series is the response by The Advanced Imaging Society and Cinionic to the ongoing need for information by entertainment stakeholders in content and technology at the intersection of new technologies and changes in consumer behaviors during COVID-19.
"Technology and the pandemic have created forces which are transforming the way we all live and consume entertainment and media", said Wim Buyens, CEO of Cinionic. "The Insiders is a gathering place for drivers of this change to share insights and ideas about how to approach today with an eye on the future. We are creating a community space to explore, discuss, and debate how our actions today will shape the entertainment paradigms of tomorrow."
The series will feature conversations with respected veteran voices in Hollywood including former DirecTV and FOX exec Hanno Basse who now serves as CTO of Microsoft Azure, former Disney and IMAX exec Jason Brenek now serving at CEO of MetaMedia, former ArcLight and AMC EVP Gretchen McCourt who also now serves as Pres. of Women in Entertainment, and Korn Ferry International Media and Entertainment partner Bill Simon. The Insiders podcast will feature deep focused discussions on the state of play for 2021, diversity and inclusion in entertainment, the future of film distribution, empowering storytellers with emerging technology, and timely strategies for the post-pandemic entertainment industry among other topics.
"Our guests are experienced in helping to set strategic courses at major studios, streaming services and social media organizations. The Insiders is our opportunity to share timely thoughts, ideas, and insights with our listeners", said AIS President Jim Chabin. "The explosion in demand for great content will grow many organizations. We want our listeners to have access to the best thinking available to help them navigate and win during this unprecedented time", Chabin added.
The Insiders podcasts premieres on Google, Apple and Spotify platforms on Tuesday. March 2nd. Sign-up here to get notified.
ABOUT THE ADVANCED IMAGING SOCIETY:
The Advanced Imaging Society was formed a decade ago to educate, demonstrate, and recognize emerging technologies to accelerate the success of next-generation consumer experiences. Founded by Walt Disney Studios Motion Pictures, DreamWorks Animation, Pixar, Marvel, Sony Pictures Entertainment, Dolby, and other Hollywood stakeholders, the organization now includes Silicon Valley and tech companies NVIDIA, HP, Google, and Dell.
In addition to its annual awards, the Society produces seminars, educational videos, screenings, and aids in research.
ABOUT CINIONIC:
Founded in 2018 as a cinema joint venture between Barco, CGS, and ALPD, Cinionic unites global leaders committed to creating a new visual standard and moving the cinema industry forward. Cinionic's future-ready enhanced services and technology solutions provide compelling cinema experiences. The company's world-class technology portfolio includes award-winning laser projectors, HDR, integrated media servers, and premium cinema experiences, among other innovations.
With more than 90,000 projectors installed globally, Cinionic is trusted by more than 200 exhibitors to help capture audiences at multiple touchpoints in their cinema journey and keep them coming back for more. Today, more than half of the world's movie theaters are illuminated by Cinionic.
Cinionic has offices in Belgium, United States, Hong Kong,?and?Mexico.
Visit www.cinionic.com and follow us on Twitter, LinkedIn, Facebook, orYouTube for more information.