On 19 May, the Cannes Film Festival's Marché du Film hosted the European Audiovisual Observatory's annual FOCUS conference covering the key trends of the EU28 box office (the European Union member states + the UK). The event saw the participation of the Observatory's reps Gilles Fontaine, Martin Kanzler and Patrizia Simone along with Beatriz Navas Valdez, General Director of Spain's ICAA.
First, Simone zoomed in on cinema attendance, which recorded a total of 657 million ticket sold in 2022, a remarkable growth on 2021 figures (400 million admissions). "But if we look back at before the pandemic, this [result] still falls short of the average levels registered between 2017 and 2019," she warned.
The overall EU28 recovery rate is still down 33% on pre-pandemic levels, even though "there are significant differences across territories." In 2022, territories recording growth levels above average included Denmark (recording an 82% recovery rate on pre-pandemic levels) and France (73%). Germany (68%) and the UK (67%) were in line with the EU28 average, whilst Spain (58%) and Italy (48%) were the ones struggling the most. Luckily enough, preliminary data collected from January-April 2023 suggest an upward trend, with Italy's recovery rate growing to 60%, Spain to 65%, France to 86%, Germany to 80% and the UK to 75%.
Next, Navas Valdez disclosed that in 2022 the Spanish box office recorded only 61.2 million admissions (104 million in 2019) adding, however, that "the growth is slow but steady." The reasons behind these low figures include the release rate of big blockbusters "still far from pre-pandemic levels," the change of viewing habits owing to the impact of streaming, audiences aged over 60 not coming back to theatres and the current economic crisis.
She added how a full recovery will not take place before the end of 2024, and stressed on the importance of programming arthouse European films spanning different genres to attract back older audiences, described as "very cinephile" and "essential" for the survival of independent cinema.
Simone later spoke about European screens, noting how their number essentially didn't change at all over the last few years. In comparison with 2019, there only some 300 screen less than the peak year of 2019, with countries like Estonia (+39% new screens), France (+5%) and the UK (+2%) managing to increase their capacity, and others like Italy reducing it slightly (-3%). A big role in this trend was played by the public support provided, which helped many theatres to survive the crisis.
Simone later touched upon "the widening gap between arthouse cinemas and big cinema chains enhancing premium experiences" and the obligation of European quotas for programming. Navas Valdez explained that a new cinema law is set to be approved in Spain by the end of 2023, reducing the quota from 25% to 20%, in order to help cinemas to programme more British films now that the UK has left the EU.
Later, Kanzler showed of the number of film releases is almost back to normal, with a recovery rate of 91% for the EU28 area (from 2357 releases in 2017 to 2213 releases in 2022) and how "this never dropped proportionally as box office did."
He noted that although the number of European releases is back on track (99%) that of US titles is well below the pre-pandemic average (73%). That being said the European charts are still dominated by US studio titles like Top Gun: Maverick (34.4 million admissions in the EU28 area), Avatar: The Way of Water (30.6 million) and Minions: The Rise of Gru (30.2 million). He also pointed out how production seems not affected at all by the box office decline, with countries like Slovenia (+50%), Italy (+25%), Slovakia (+50%) and Spain (+25%) producing even more than in pre-pandemic times.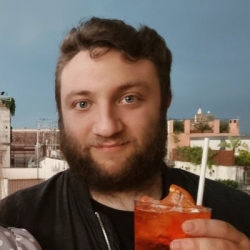 Latest posts by Davide Abbatescianni
(see all)