Chinese New Year is over (also known as Spring or Lunar Festival) and with it a record box office haul for the world's second biggest cinema market, as we enter the Year of the Dog. After last year failed to improve much on the previous holiday, this year saw a significant leap – both in the quality of the films and their box office. This is a time when Hollywood films are kept out (so black out for "Black Panther"), but this did not stop China from dominating total global box office this period. Overall China BO is up 39% in the first two months of 2018, mainly driven by local films, adding to the global feel-good period that cinema is in. Here we look at some of the notable fact, figures and stories to emerge from the holiday period.
Total revenue was CNY 5.699 billion (USD $900 million), which is up 76% on last year's festival. 143 million tickets were sold, representing 58% growth. The success of this year holiday hits was driven by word-of-mouth with the four highest hits scoring an average of 6.4 of film meta-review site Douban, compared to an average of 5.3 for last year's crop. The biggest hits were "Detective Chinatown 2", "Monster Hunt 2", and "Operation Red Sea". There were still reports of box office fraud and hand written tickets, but there was big relief that the capping of ticket discounting helped rather than hurt box office prospects. Quinzhan – 26 February 2018
Shares in Imax China jumped 10% in the first year of trading in the Year of the Dog, with Chinese audiences gravitating to 2D and Imax versions of local films instead of 3D. Imax's box office over the Chinese New Year was up 60% on last year. CEO Greg Forster is quoted as saying:
IMAX's record-breaking box office profits have benefited from our new film strategy, which includes the selection of multiple films in the same period and the introduction of new marketing tools. By providing a more diverse [film selection] we are able to fully exploit the audience's viewing preferences and maximize box office returns.
Playing three different films at the same time shows both a change in Imax's programming strategy and that the penetration in China is reaching a degree – 524 commercial theatres installed and 309 in the backlog – where it can afford to deviate from its traditional strategy of releasing on film at a time. Mtime – 21 February 2018
The main winner of the Chinese New Year holiday period was Alibaba's ticket platform Tao Piao Piao, which was involved in the ticketing, distribution and promotion of three of the four biggest hits:  "Detective Chinatown 2", "Operation Red Sea", and "Monkey King 3." Meanwhile rival Cat's Eye (Maoyan) was only associated with one: "Monster Hunt 2".  Tao Piaopiao has a stated goal to become China's biggest ticketing platform in 2018. This year the platforms were barred from competing with super-cheap tickets, but still managed to pull in a record haul at the BO. Weixin – 23 February 2018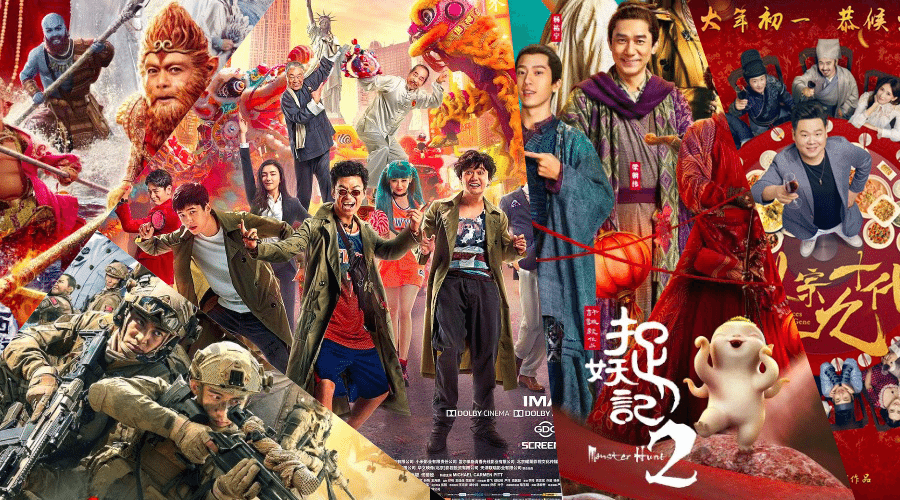 The number of screens in China has crossed 53,000 as of the holiday and NEC takes this occasion to trumpet the excellence of its projectors, particularly the blue-phosphor laser. "In 2017, the company also achieved sales of more than 3,000 sets of NC3541L + Series dual-color laser projectors and NEC ace products NC1201L series of single-color laser projectors." It predicts that the Chinese markets will have a compound growth rate of 15% over the next three years. Huanqui – 26 February 2018
People's Daily, the official publication of the Chinese Communist Party, took issue with the health effects of consuming excessive popcorn and soda with films over the holiday. It warns that "popcorn should be carefully consumed for people who are not hungry or diabetic." It also points to China CDC Center for Nutrition and Health's posting that warns that standard cinema snacks are not healthy. Sodas are linked to problems with kidneys, digestive tracts and teeth, as well as leading to diabetes and osteoporosis. Instead to recommends fruits, nuts and soy products. People's Daily – 27 February 2018
But it's not just all mainstream cinema in China. Zhejiang Online profiles a successful single-screen cinema in Wenzhou. Despite just 448 seats it achieves a higher occupancy rate than the two local multiplexes. Having operated since January 2016 the cinema focuses on providing a European-style art-house feel. Founder Gao Lei has been in the business since 2014 and aims to make the small theatre model a 'national brand'. The company has even developed its own ticketing platform. Zjnews – 26 February 2018

Latest posts by Patrick von Sychowski
(see all)