Dear Junkies,
Today is the start of the Berlin Film Festival (aka Berlinale to locals) and CJ will be taking part in various panels, forums, presentations, meetings, receptions and, who knows, we might even be able to fit in a film or two.
German cinema is celebrating a return to growth, with 122.3m tickets sold in 2017. Box office was 1.06 billion euro, the second best result on record. With 107 new or re-opened screens the 4,803 auditoriums is the highest it has been since 2008. Local films accounted for 23.9% market share (22.7% in 2016), thanks to hits like "Fack ju Göhte 3" and "Bullyparade – der Film".
It seems German cinemas have seen off the threat of Amazon and Netflix. (Remember that Netflix last year advertised the release of "Santa Clarita Diet" provocatively over Potzdamer Platz, the heart of the Berlin FF). So why is there still anxiety? 'The Love of Cinema and Fear of its Disappearance' was the topic of a recent panel discussion in Berlin that looked at the revamping of the FFA industry body, whose annual 420 million euro grant is seen as too little to help cinema survive as cultural institutions. Cinemas in Germany face rapidly rising real estate, employment and technology cost.
There's also too many films chasing too few screens, with 600 releases last year of which 240 were German films. At the same time the German cinema trade body is without a CEO, despite the country facing a long term cinema decline. The great and good gathering in Berlin this week will be hoping that last year was not a fluke, but unless concrete steps are taken, there could be less to celebrate at next year's Berlin Film Festival.
Regards – Patrick
---
---
Kuwait's Cinescape to open in Saudi Arabia; 2018 blockbuster year prediction; Korea's Big 3 different growth strategies; Vue goes £4.99 at 22 sites; Norway's Kinoklubb doubles membership; German and Korean cinema fires; Apollo Coventry closed due to sanitation; Orleans cinema owners jailed; Cambodian bed cinema raided; real-life police arrests at Showcase Cinema;  CCTV man wanted for flooding sabotage; 'PadMan' banned in Pakistan and Idris Elba proposes to girlfriend in Rio cinema.
Saudi Arabia – Kuwait National Cinema Company is the latest operator to announce plans to open cinemas in Saudi Arabia, after Vue, Vox and AMC. Cinescape Cinema (KNCC's JV with Front Row Filmed Entertainment) will launch 27 screens across three multiplexes in three locations by the end of this year. It is in negotiations for more openings in phase two. "KNCC's real estate holding company Tamdeen Group, one of the biggest listed companies in the region, already operates several malls, along with banks, hotels and investment firms," proving that mall links are critical to success in Saudi. Kuwait is seen as having close cultural links with Saudi Arabia, thus making it easier for KNCC to enter the market. THR – 15 February 2018
USA (NY) – Forbes is predicting that 2018 will be a bumper year for the US box office and that cinema share prices will rise accordingly. MoviePass is expected to start to have an impact on the BO in the first quarter, with most tentpoles ("Jurassic World", "Solo" and "Avengers") opening in Q2. Meanwhile THR asks why international companies are buying up US cinemas and investment firm Peel Hunt moves Cineworld from 'Hold' to 'Buy' in a vote of confidence of its plans for Regal.  Forbes – 12 February 2018
Korea (Republic of, South) – Korea saw 200 million admissions in 2017, making it the world's sixth largest cinema territory and with an average attendance of 4.25 visits per year, second only to Iceland (4.3 times). Growth was driven by domestic hits but above all the Big Three exhibitors CJ CGV, Lotte and Megabox:
Of the 496 domestic cinemas, CJ CGV has 147, Lotte Cinema has 125, Megabox has 97, and three movie operators have 396 between them. Of the 2,860 screens in Korea, about 90% are owned by three companies. There is a controversy about the screen monopoly, but it has reached to such a level that we can not talk about the growth of Korean movies except for the multiplexes of three companies (a multiplex building where theaters, shopping centers, restaurants, etc.).
With the domestic market close to saturation, CGV is opting to expand overseas, Lotte's strategy is "pursuit of stability" but has failed in efforts to separate its cinema and mall business, while Megabox is aiming to grow to 30% domestic market share instead of any overseas ventures. Bizhankook  (KR) – 12 January 2018
UK – Vue has permanently cut the price of tickets to £4.99 for all screenings at 22 of its cinemas, ranging fro Aberdeen to York. The price applies to all non-3D/IMAX screenings and non-VIP seating for all shows. Together with the Saudi Arabia announcement this is welcome positive news for Vue, which saw it get caught up in the controversy of a planned screening of a "gay cure therapy " documentary at a private event at one of its sites. WalesOnline – 6 February 2018
Norway – Quality film promotion scheme Kinoklubb now has 25,000 members. The scheme has doubled in size in one year from 11,300. It offers half-price tickets to Norwegian and international films. It is seen as having a measurable impact on attendance and concession sales. Film&Kino (NO) – 9 February 2018
Health & Safety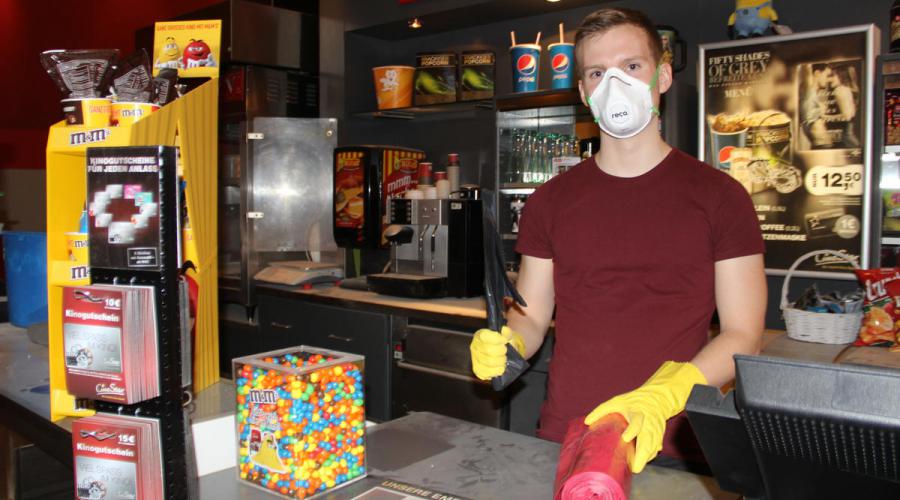 Germany – Warner Kino had to close after its popcorn machine caught fire. Cinema audiences were evacuated but the staff soon had the situation under control. Nordkurier (DE) – 10 February 2018
Korea (Republic of, South) – 130 people were evacuated from a cinema when a fire broke out in a complex in Gunpo. Nobody was injured. Kyeonggi (KR) – 11 February 2018
USA (IN) –  Apollo Coventry Cinemas in Aboite Township has been closed. "Fort Wayne-Allen County Department of Health officials last week shut down the discount and second-run multiplex because of unsanitary conditions, including mouse droppings in the concessions area, dead insects and mold on some seats – and that shutdown is likely to continue, Dave Fiess, the department's acting spokesman, said Friday." Cinema visitors were slipping on ice – INSIDE the cinema. Journal Gazette – 10 February 2018
Law & Order
France – Jail for two former operators of the Carmes cinema in Orleans. Boudjemaa Dahmane and Bertrand Mauvy were convicted after a lengthy trial of being guilty of unpaid rents, 'consulting activities' paid without contracts and missing accounts from 2011 and 2012. This led to losses of over 900,000 euro and led to the cinema having to be sold to Michel Ferry, a director and operator of Parisian cinemas. Dahmane and Mauvy got six months and tow years respectively, but are appealing. France3 (FR) – 9 February 2018
Cambodia – Police raided a new cinema in Phnom Penh's Chamkarmon district that offered beds instead of seats, arresting the owners. "Ly Vireak, a Chamkarmon district police officer, said three adults, who were the owners and managers of Home Cinema, were arrested for operating an illegal business that was enticing students to skip school and lay in beds all day instead." 16 students were 'educated about the importance of not skipping school' and then released to their parents. Khmer Times – 14 February 2018
UK – Three teenagers suspected of stealing cars were spectacularly arrested during a screening at the Showcase cinema in Birstall. An off-duty police officer spotted the 14, 16 and 17-year old youths during a screening of "Maze Runner: the Death Cures"."Our thanks to the staff at Showcase Cinemas for their help in allowing us into the screening to make the arrests and for the other people watching the film for their patience during the unscheduled interval," the police said in a statement. The Examiner – 7 February 2018
UK – This man is wanted for questioning in connection with vandalism. Toilets at the Palace Cinema in Gorleston were deliberately flooded, causing damage. Mercury – 12 February 2018
Censorship
India – Having created a blockbuster out of a story about the lack of toilets in India, Bollywood star Akshay Kumar's "PadMan" aims to do the same for menstrual hygiene. There will be special free female-only screenings of the film. But across the border in Pakistan the Punjab Film Censor Board has banned the Bollywood movie as the subject is said to be "taboo". The Insider Car News – 12 February 2018
Finally
UK – Idris Elba git down on one knee and proposed to his girlfriend before a screening at London's Rio Cinema. Not just any screening, but the opening of his directorial debut "Yardie". She said yes. But this man beat him by proposing to his girlfriend from the screen itself. Yahoo – 11 February 2018
UPDATE: This piece was corrected on 16 February 2018 to correct the fact that 2017 was NOT the second highest attendance year on record. There has in fact been a precipitous decline since 2001. (Our thanks to GF for pointing this out.)

Latest posts by Patrick von Sychowski
(see all)