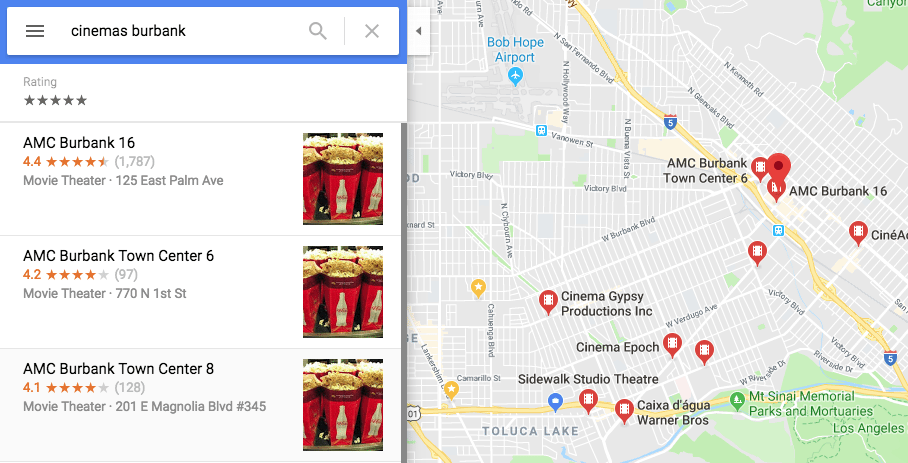 Google Maps' cinema ticket functionality; Inox acquires Swanston; Carnival's $150m+/1,000 screens ambitions; Standard General up NCM stake; is box office growing or falling; "Padmaavat" losses; Island Sunday cinema protests; AudioMovie access app and Odeon Leicester Sq. plans revealed.
---

---
USA (CA) – A week after we revealed Facebooks plans to offer cinema ticketing there are indications that Google Maps is also preparing to sell cinema tickets. The revelation comes in a 'teardown' of the latest software update, which shows that a ticketing function will be enabled in the latest version of Google Maps. However:
There's not enough evidence here to say with any certainty if Google will be selling the tickets directly or if the business model will be more like that of hotels, where Google is acting as a middleman for the booking sites (which are themselves middlemen).
Ultimately it will be a business decision whether to activate the technology. One possibility is that purchases will be handled inside the app even if transactions are handled by another party, such as the cinemas or a third-party like Fandango. AndroidPolice – 26 January 2018
India – Inox is acquiring just over a million shares in Swanston Multiplex Cinemas Private Limited (SMCPL), which will make it a wholly-owned subsidiary of Inox. There is no information of where or how many screens SMCPL operates. Inox's Q3 figures showed revenue grow 9.56% to INR 328.85 crore (USD $51.5 million) and profits at INR 13.19 crore (USD $2 million). Equity bulls – 29 January 2018
India – Carnival Cinemas is aiming for revenue of INR 1,000 crore (USD $156.8 million) in the current fiscal year. The previous one was INR 800 crore (USD $125.44 million), while analysts are predicting revenue could reach INR 1,500 crore (USD $235.2 million) in FY 2018-19. The exhibitor has 450 screens across 150 and is aiming for 1,000 screens (at least "on paper") by 2019. "After that we have a plan for 5,250 screens," Carnival Group Chairman and founder Shrikant Bhasi is quoted as musing. The company is looking to expand in Singapore where it has already acquired six screens. ETRetail – 28 January 2018

USA (NY) – Standard General and Soohyung Kim have increased the stake in US cinema advertiser National CineMedia (NCM) to 16.9% and is looking to have representatives on NCM's board. Three of the names put forward for two seats are: Colleen Brown, Andrew Glaze and Kurt Hall. The latter is the former president/CEO/chairman of NCM who stepped down in the wake of the failed merger with Screenvision. AMC was recently forced to sell off a big stake in NCM as a pre-condition for its merger with Carmine Cinemas. Seeking Alpha – 26 January 2018
UK – Stephen Follows asks "Are cinema box office takings rising or falling?" Shore answer: it depends on the country. Globally BO has been steadily rising to USD $39.9 billion in 2017. International box office growth is driven by a few key territories: China, Russia with even UK helping in 2017, though Spain and France have not done so well. Interestingly the second strongest growth market 2012-2017 after China was…Hungary (+65%). However, note that countries such as India are missing due to lack of data. Stephen Follows – 29 January 2018
India – Multiplexes in several Indian states are suffering losses due to the violence and no-show screenings of historic epic "Padmaavat". The head of Gujarat Multiplex Associations says, "A blockbuster film of the likes of 'Padmaavat' or 'Tiger Zinda Hai' usually boost revenue, especially over a long weekend. At such a time, when the film's release is stalled, multiplexes losses rise to 40%." In this state alone multiplexes are estimated to have lost INR 20 crore (USD $1.38 million) over the weekend. Times of India – 28 January 2018
UK (Scotland) – Cinema screenings on Sundays have taken place for the first time ever on the strictly Presbyterian Island of Lewis. A sold-out screening of "Star Wars: the Last Jedi" took place at the An Lanntair arts venue in Stornaway. There were two protestors outside. Two protesters, including a minister, protested with placards outside, possibly unaware of the striking similarities with the "Father Ted" cinema protests: "Down With This Sort of Thing.". BBC – 28 January 2018
Access
Poland – A launch was held on 25 January in the Elektronika cinema in Warsaw of the AudioMovie app that provides audio description to blind and visually impaired patrons. The app also offers different language tracks and is available for iOS and Android. AntyRadio (PL) – 26 January 2018
Finally
UK – Pssst, want to know what the revamped flagship Odeon Leicester Square will look like? Odeon has not revealed many details, but the full planning applications, including renderings, sketches and details can be found on the Westminster Planning Application website. The cinema will have a striking new frontage and integrated better with the next door five-screen mini-ilex. There is also a Costa Coffee and an intriguing 'Dolby' sign that might indicates that it will be a Dolby Cinema. Also notice the sign "Oscar Deutsch Entertains Our Nation" (i.e. O.D.E.O.N.) at the front. Nicely retro touch. City of Westminster website

Latest posts by Patrick von Sychowski
(see all)