China's BO returns to growth in 2017 – just about; interesting cinema year 2018 ahead with BO predicted to his CNY 60 bn ($8.5bn); growth of cinemas in smaller cities but average attendance low; authorities to push cinemas to show local films; China Giant Screen aims to overtake Imax; CJ CGV passes 100 cinemas milestone in China; private cinemas are 10% of total BO; Alibaba and Tencent fight it out for ticketing; Yick Ke Street gets funding for cinema massage chairs and "Youth" points to un-tapped potential of older cinema audiences. 
---

---
China's box office returns to double digit growth in 2017, with ticket sales up 13.5% to CNY 55.9 billion (or 30% in USD terms to $ 8.6 billion). However, 2017 was the year that Chinese authorities started counting ticketing fees as part of the box office, as well as including takings from so-called private cinemas. There was also the outsize hit "Wolf Warrior 2" that took over USD $850 in its domestic market. Without these two the box office would only have grown 3%, though this has not prevented renewed talk about how soon China's BO will overtake that of North America. Average ticket price is also declining, as a result of cinema opening in lower tier cities as almost 9,600 screens were added representing a staggering 23% growth. Fox Business – 31 December 2017
Deadline looks at what 2018 has in store for China-US media relations. Hollywood investments have cooled off; studios are pushing for easing the film import quota and restrictions and there is hope that the new year will have more "Wolf Warrior 2" hits and fewer "Great Wall" flops. Last year the Top 10 had four Chinese, five Hollywood and one Indian film ("Dangal"). Wanda is focusing on malls, with speculations still swirling about AMC, but the real battle ahead is in the streaming market. Foreign ownership restrictions may also be eased according to local media reports. Deadline – 29 December 2017
Chian's BO is predicted to hit CNY 60 billion (USD $8.5 billion) in 2018. The article aknowledges that without "Wolf Warrior 2" the market would have seen negative growth last year. Other (safe) predictions are the growth of cinemas in Tier 3 and 4 cities, the growing importance of online platforms (both for ticket sales and reviews) and more older cinema goers. Hollywood films are not expected to grow, nor will the import restriction quota change. We might even see the release of "The Three Body Problem"! Meanwhile BO declined in the Hong Kong S.A.R. for the second year in a row. Yulechanye – 3 January 2018
The Chinese cinema year 2018 got off to a good start with the New Year's weekend being the busiest on record, with takins of CNY 1.02 billion (USD $156.8 million). Youth in smaller cities and town (Tier 3 & 4) were the main driving force, even as tier 1 BO from Guangdong, Jiangsu, Zhejiang, Shanghai and Beijing totaled 45%. But:
the proportion of box-office receipts in first-tier cities dropped from 17.7% to 16.9% in 2017 as compared with 2016, while the percentage of second-tier cities dropped from 43.4% to 42.8% in the second-tier cities.
Meanwhile Tier 3 & 4 grew from 38.9% to 40.3% in the past year. EntGroup – 3 January 2018
More worryingly, the average cinema utilisation rate for 2017 was just 11.1% according to China Business Daily. This was different for different types of cinemas:
4% – single-screen cinemas;
7.6% – small cinemas (2-4 screens);
12.3% – medium-sized multiplexes (5-7 screens);
15.4% – regular multiplexes (8-10 screens);
16.4% – megaplexes (11 screens and above).
With cinemas with fewer screens being more common outside the major cities, there is thus a question of whether they can sustain the continued growth of China's BO. CBD itself is not optimistic.
With the gradual decline of the cinema market, the number of small and medium-sized cinemas in the third, fourth and fifth tier cities has risen sharply, and the management level of these cinemas in these regions has been relatively low.
With more cinemas barely breaking even, we could see further consolidation and strengthening of the major players (Wanda, Dadi, etc.). China Business Daily – 28 December 2017
Even with the biggest hit of the year being a Chinese film ("Wolf Warriors 2", for those of you not paying attention), only four out of the Top 10 films in 2017 were Chinese, with five from Hollywood and "Dangal" from India. The Chinese authorities are keen to change that in 2018, with incentives given to cinemas to ensure that they play mainly local content in 2018, through a new scheme:
The exact details of the program have yet to be spelled out, but the gist is that starting January 1, 2018, Chinese movie theaters will receive financial rewards for showing more Chinese films. The rewards are based on a theater's total box office receipts for the year and kick in if at least 55% of those receipts are for domestic films. Even bigger rewards kick in if the percentages exceed 60% and 66%, respectively.
This will necessarily mean that Hollywood films will have to suffer, even as they push for an easing of the restrictions on imports, revenue share and screening periods. The rallying cry to cinemas is: ""Carry forward the Chinese culture, carry forward the spirit of China, unite the Chinese forces and promote the core values of socialism." CFI – 18 December 2017
China Giant Screen (CGS) aims to overtake rival Imax as the country biggest PLF operator in 2019, by offering exhibitors a more generous cut of each ticket sold. "Our top priority is expansion, not profitability," Lin Minjie, chairman of China Film Digital Giant Screen (Beijing) Co., said in an interview. CGS will have 288 screens in China end of 2017 compared to 430 for Imax as of June of last year. CGS is looking to expand abroad, having screens in Hong Kong, Indonesia and Las Vegas. Imax didn't show China's biggest hit of 2017 "Wolf Warrior 2". Bloomberg – 29 December 2017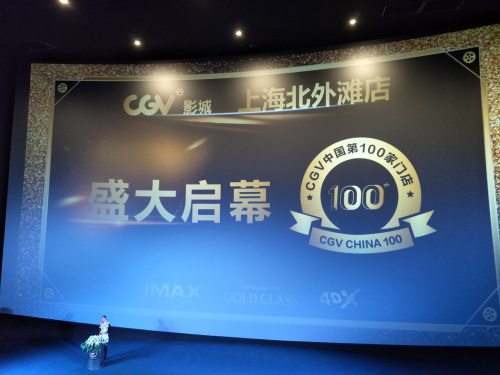 Korea's CJ CGV has passed the 100 multiplex milestone in Mainland China, with the opening of the CGV Shanghai Baiyantang in Baiyun Lan Square on December 2. It is the sixth CGV cinema in the city, with 1,330 seats across eight acreens including 4DX, IMAX and Gold Class. CGV aims to become one of China's Top 5 operators, having already 793 screens in 48 cities, currently being in the Top 10. Segye (KR) – 3 January 2018
China's private cinema are being pushed towards copyright respect as part of the government's drive to make them and (significantly) their box office part of the wider cinema market. Beijing Shijingshan District People's Court last year fined Storm Group Co., Ltd., Beijing Storm New Video Technology Co., Ltd., CNY 52 million (USD $8 million) to be paid in compensation to Beijing Ai Qi Yi Technology Co., Ltd. for violation of copyright of three films. 2018 could be the year that private cinemas in China finally turn a corner on shady practices. Legal Daily – 1 January 2018
It is estimated that there were over 6,000 private cinemas in China in 2017 and that their revenue is CNY 4 billion to 5 billion (USD $616-771 million) or roughly one-tenth of the regular cinema market. Operators like Amy 1895 Movie street are not just offering films with snacks but even arranging "holiday parties, Birthday parties, cultural salon and other personalized custom services." Wu Jian, an analyst at ticketing platform Cat's Eye, estimates that the market can double in size every year for the next two to three years. However, 80% are estimated to be operating at a loss and the same proportion show pirated content. "Obviously, there is still a long way for the private cinema industry to go," the article notes in conclusion. Hangzhou Network – 5 January 2018
The war of the ticketing platforms in China has been more quiet but not gone away. With smaller competitors pushed out it is left to the two majors Alibaba and Tencent to fight it out. As CFI characterises the difference: "While Maoyan wants to vertically integrate industry resources and highly involved in the production and distribution of films, Taopiaopiao has its focus on increasing movie attendance, reaching potential audience, and providing a better movie-going experience." This fits in with Tencent's ambition to be a media powerhouse to rival the likes of Disney, while Alibaba is more of a cinema pure-play. Sina – 19 December 2017
You might not have heard of Yick Ke Street, which is a Chinese company with a focus on theater publicity business services. The main products are micro booth, ticketing, mini KTVs, toy machines as well as immersive seating and massage chairs. The company has just raised tens of millions yuan in a Round A financing. The company has deployed over 20,000 of its massage chairs in some 2,000 cinemas.  36KR – 28 December 2017
PRC government organ People's Daily/Economic Daily asks what can be done to get more middle aged and older people into cinemas. The article notes the surprise success of the film "Youth" whose audience consisted to 35% of those aged 45 or above. The article urges film-makers to emulate films such as Oscar-winner "On Golden Pond".
If we care about the middle-aged and elderly people, not only out of moral traditions of respecting the elderly, but also out of humane care and social responsibility, then the breakdown of the movie market must be diversified and suitable for movie products and movie theaters for different audiences.
It goes on to say that there are both good economic, social and cultural reasons for catering to older audiences in China. CE.cn – 28 December 2017