Dear Junkies,
Strikes at UCI and Picturehouse makes us wonder what employees think of working at cinemas. Rather than putting that awkward question to the teen serving you popcorn before the next showing of "Thor Ragnarok", you can find out through websites like Glassdoor.com or Indeed.com where employees post anonymous reviews, likes and gripes about their job.
US cinemas score between 3.1 to 3.4 out of 5 on average, with Regal and Alamo on the higher end, with similar scores for Cineworld, Odeon and Vue. (By way of benchmarking working at McDonalds scores 3.2.) Alamo's Tim League has the highest CEO approval score (96%), while Odeon's (nameless) CEO is close behind at 93%. Vue CEO Tim Richards has 49% approval but Cineworld's CEO Stephen Wiener has just 39% [NB: Steve stepped down from Cineworld four years ago, but Glassdoor has not updated the position]. Cinemark's Mark Zoradi has the highest approval of the major US cinema CEOs (70%), while Regal's Amy Miles is close behind on (67%). None of the others fall below 55%.
The 'likes' of working for cinemas tend to be the same: 'free movies' and 'free popcorn', flexible hours, good entry job and sociable working environment. The 'cons' include long hours, minimum wage, scheduling issues and bad communication from managers. You might be surprised that the cinema that scored highest in overall rating was the one you've been hearing the most negative things about in employment terms in the news: Picturehouse scores a 3.7 and 86% would recommend it to a friend to work for. If you think it is a UK art-house cinema bias, know that Curzon scores 3.1 and Everyman has a lowly 2.2.
But one reviewer also has some sage advice for Picturehouse. "[P]lease realise how special Picturehouse is, please continue to value the staff. The moment you begin to see staff as expendable and simply rely more on managers to get the job done properly is the moment we become Cineworld 2.0, just with more wine and flapjack."
Regards,  Patrick
UCI & Picturehouse staff strike; terms of Star Wars Last Jedi revealed; MoviePass owner victim of own success; PVR profits fall but Inox up; Cinestar–RealD renew pact; Muvix is private cinema with headphones; Inox goes AR; Ster-Kinekor robbery story disputed; Lotte head faces 10 years jail; theatre no more heart racing than cinema; James Schmus on saving cinema.
---

---
Germany – Staff at the UCI Duisburg went on strike over payment this past weekend, for the third time in the past week. Negotiations between AMC/Oden-owned UCI and the Verdi union seem to have stalled. Meanwhile the strikes are spreading to UCI Kinowelt cinemas in Berlin, Hamburg, Bochum, Hürth and Düsseldorf. WAZ (DE) – 30 October 2017
UK – A detailed article by Geoffrey Macnab looking at the Picturehouse strike that was in full swing during the London Film Festival and the background to it. The issue is not as black-and-white as you might suspect but it is clear that the labour dispute that has been running since 2007 (!) does owner Cineworld no favours. Yet Cineworld does not appear to be ready to back down, having hired law firm Mishcon de Reya to notify union BECTU that any strike action at LFF would be illegal. BECTU fired back with a Benedict. So it continues. Screen Daily – 31 October 2017
USA (CA) – The terms of rental for "Star Wars: the Last Jedi" have just been leaked and they are draconian enough for the shares of cinema companies to fall. Disney is said to be asking for an unprecedented 65% of box office takes, with a penalty of 5% if distribution terms are not met. They also require cinemas to show the film in their largest auditorium. WSJ (pay wall) – 1 November 2017
USA (NY) – The parent company of MoviePass is in danger of becoming victim of its own success. The rapidly growing user base – which has now passed 600,000 – risks costing the company millions as it pays face value on all the tickets that it must buy for its users. Helios and Matheson expect movie pass to grow to more than 3.5 million by August of next year, instead of 2.5 million by next summer. It is putting its faith in the value of the data that it gathers:
This all sounds good on paper, but it's easy to remain skeptical about how a few multiplex-consuming data points from the perspective of a penny-pinching millennial can ever deliver enough usable research to justify treating someone to several nights at the movies every passing month.
The share price of Helios & Matheson has been on a roller coast rise. And MoviePass just made a critical change to their Terms of Service, which means they could charge you more than USD $9.99 per month. Motley Foool – 29 October 2017
India – PVR profits fell 15.13% to INR 24.72 crore (USD $3.83 million) for the most recent quarter. Income fell 0.31%. Box office revenue was up 7% and advertising up 10%, but the company continues to spend heavily on expansion as well as innovations such as 4DX, PXL, Dolby Atmos, VR lounges and more. Inox profits rose 643% but from just INR 1.6 crore (USD $248,000) to INR 11.7 crore (USD $1.81 million) Times Now – 27 October 2017
Germany – Cinestar and RealD have renewed their contract for stereoscopic equipment and services. Cinestar has 54 sites and 414 screens across Germany "with new sites including Neumünster, Cinestar Atrium in Weimar to follow in November and sites in Augsburg, Remscheid and Freising planned for 2018. " InAvate – 23 October 2017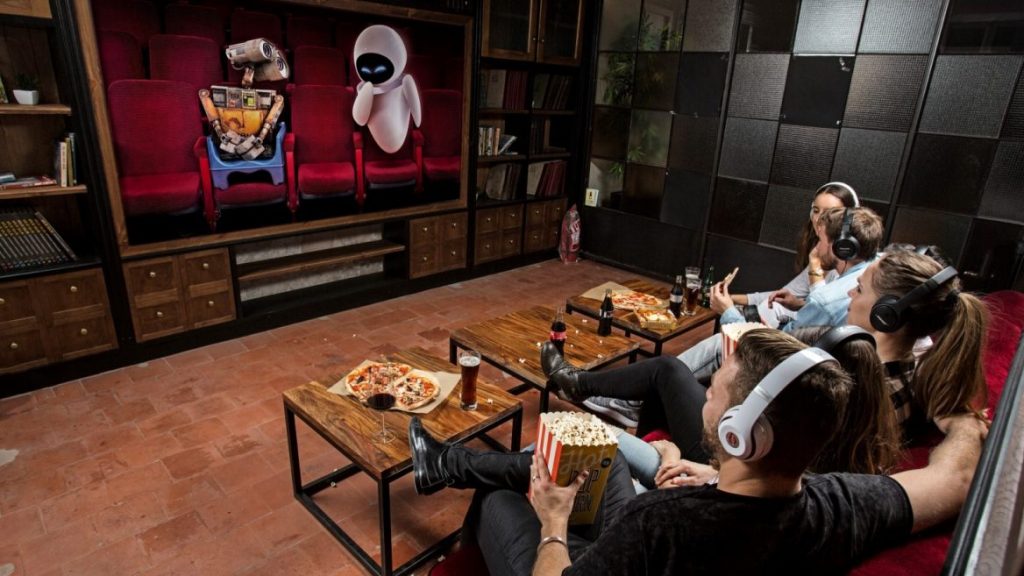 Israel – The Chinese concept of private cinema seems to have been adapted by start-up Muvix, which has opened a 14-room mini multiplex in Tel Aviv's fashionable Neve Tzedek neighbourhood. The critical difference is that users have to download the app and wear headphones to enjoy the film on one of the large flat screen TVs. You can also order food and drinks. There is no pausing the film either. Fee is NIS 20 (USD $5.70) per person, with one free drink included. (Not to be confused with new Chilean cinema chain Muvix.) Israel21c – 1 November 2017
India – Rival PVR may have launched VR lounges, but Inox has launched the country's first AR lounge. "This globally acclaimed AR experience which has been enjoyed in over 40 countries is now available at these 7 Star INOX properties in a large-screen format that immerses visitors in a unique interactive digital environment surrounded by photo-realistic 3D characters." Dinosaurs are involved. India Retailing – 27 October 2017
Law & Order
South Africa – Ster-Kinekor is disputing the story of a couple who claim that they were robbed by a five-man gang while watching a film at The Zone in Rosebank. "Our investigation so far has found that it was not a group of people' but rather one individual who stole the customer's belongings'" Ster-Kinekor said in a statement. The couple's social media posts about the incident had gone viral. Times Live – 30 October 2017
Korea (Republic of, South) – Prosecutors have demanded 10 year jail for the chairman of Lotte Group for embezzlement and corruption linked to Lotte's cinema concession operations.  "Chairman Shin Dong-Bin was charged with embezzling US$50 million and illegally offering relatives business favours that cost the group about US$120 million." Other family members, who are accused of running the company like their private property, are also on trial. Channel News Asia – 30 October 2017
Event Cinema
UK – Watching a scene is no more exciting seen in a live theatre, 360-degree VR video than in the cinema a new study has found. "The heart rates of 107 audience members watching the Royal Shakespeare Company's Titus Andronicus raised above average roughly the same amount across all three media, and increased to the level of a cardio workout for an average of five minutes across each performance." No word on whether the same is true for opera. The Stage – 26 October 2017
Finally
USA (NY) – This is a lecture we wish we could have attended. Legendary screenwriter and producer James Schamus talks the threats to cinema and how it can be saved. He reckons we have one year to do it. Except he wasn't talking about it from the perspective of 2017 but from 1916:
Schamus didn't have to spell out the connections to today in his tongue-in-cheek talk. The parallels of the issues being debated in 1916 were uncanny in their similarity to today: rising ticket prices, disparity of small regional theaters versus large state-of-the-art cinema palaces, the changing technical demands on theaters, the desire for serialized storytelling and "sequel-itus," flexibility of letting the audience watch what they want to watch when they want to watch it (one- and two-reel programs had no set start time, unlike feature-length films), the changing economic models and new competition of independent producers, the growing threat of international film industries, and, of course, the need to "preserve the integrity of the theatergoing experience itself."
This is a valuable lesson that cinemas has almost thought to be on death's door since its inception. Yet it survives. Schamus broke character at the end to talk MoviePass and more. IndieWire – 29 October 2017

Latest posts by Patrick von Sychowski
(see all)