No PVoD agreement, Regal Re-seating, Lotte corruption accusations, PVR takes "Inhumas" wide, Vista buys Senda stake, Odeon audio complaints, Paraguay cinema boom, South Africa ticket hike, "Annabelle" frightens, Lego ScreenX, Dirty Dancing outdoor fail, India anthem arrests and vintage posters find.

USA (CA) – Hollywood studios can't agree on premium video-on-demand (PVoD) for day-and-date or near-D&D release of films. Not so much news as status quo. The studios can't discuss it with each other (anti-trust reasons) but talks with platform operators like Apple and Comcast are bearing no fruit. AMC's CEO Adam Aron said in a recent conference call that he had discussed the issue with five different studio heads and got five different opinions. Doesn't mean it won't happen, just that it if/when it does it will be fragmented and messy. Particularly if it doesn't involve cinemas in some form. Bloomberg – 18 August 2017
USA – Post-quarterly earnings, companies are sharing their slide decks and analysts are taking stock. Regal shared their Q2 Earnings Slides and point to a strong Q4 and outperforming the overall industry growth. But the re-seating captures our attention (see above). 30% of the circuit will be re-seated by the end of 2017, with a potential for a further 10%-15% by 2019 and landlords paying 50% of this year's re-seating. Enhanced F&B offering also grew significantly in 2016. Seeking Alpha – 18 August 2017
Korea (Republic of, South) – Accusations of corruption and nepotism continue to swirl around Lotte. The latest claim is that the "honorary chairman Shin Ho-Ho of Lotte Group rented Lotte Cinema stalls to companies owned by their children and spouses, resulting in losses to the company." The trial continues. EKN (KR) – 21 August 2017
India – Marvel's "Inhumans" will not just be screening in IMAX in September but also in regular PVR cinemas in India. There are just 10 IMAX screens across India (PVR 4, Cinepolis 2, Inox 1, Sathyam 2), hence the decision to go wider. Kamal Gianchandani, CEO of PVR Pictures, talk this, selling off blueO and GST. Good insights, though no major surprises. Exchange4Media – 16 August 2017
New Zealand – Vista Group has acquired a 60% stake in its Latin America re-seller Senda Direccion Tecnologica. The Mexico-based company re-sells Vista and Movio services in Central and South America. Vista reports half-year earnings this Friday and analysts expect it to show 23% gain in revenue and 92% increase in profits, coming after a spate of acquisitions and investments.  NBR – 21 August 2017

UK – There have been complaints about sound levels at the iSense PLF screen at Odeon's flagship Bournemouth site. Screenings of "Dunkirk" has led to several patrons complaining, though Odeon rejects that the sound levels are too high. A spokesperson is quoted as saying that:
Our Bournemouth sound levels are in-line with cinema regulations and our speakers operate at safe levels. And the sound systems are checked monthly by Odeon's engineering team to check for any defects in either speakers or amplifiers.
But guests have complained that the issue for the World War II films was not volume but the bass levels. Bournemouth Echo – 20 August 2017
Paraguay – Cinema in the South American country is part of the continent's trend of fast growth. The country now has 18 multiplexes with 70 screens and almost 12,000 seats, according to Ultracine. Six new multiplexes have opened since 2016, when there were just 42 high-end screens. Last year 1.33 million tickets were sold and this year it is expected to be 1.8 million, representing a growth of 22% to 25%. Despite this the country remains the smallest market in the region. Ultima Hora (ES) – 21 August 2017
South Africa – Price increases at Ster-Kinekor and NuMetro cinemas. The former put up its top price from ZAR 91 (USD $6.90) to ZAR 97 (USD $7.35), while the later went form ZAR 85 (USD $6.44) to ZAR 95 (USD $7.20). The price rises were not uniform across all sites and some sites saw small cuts fo 3D and VIP screens. "An annual price increase is normal for most companies operating within the entertainment and service industry sectors," said Ster-Kinekor. "The average ticket price increase is between 6% and 7%, which is in line with the country's current inflation rate." MyGaming – 22 August 2017
UK – Here is a cinema marketing manager going beyond the call of duty. Annabelle Luce, marketing manager at The Light Cinema in Market Place dressed up as the eponymous horror doll to promote the release of "Annabelle: Creation".  A woman was taken to hospital in Brazil after screaming and collapsing at a screening of the horror film. Bolton News – 17 August 2017
Imax/PLF
Korea (Republic of, South) – You can now own your own ScreenX, at least as a limited-edition Lego model.
The limited edition block includes three human figure figures with popcorn, cola, etc., and it is possible to produce a detailed presentation like an actual auditorium with an emergency exit and a fire extinguisher.
The model will be sold in CGV cinemas for KRW 24,000 (USD $21) for a month. (We want one!) ChosunBiz (KR) – 22 August 2017
Outdoor Cinema
UK (Scotland) – The Glasgow pop-up screening of "Dirty Dancing" was marred by complaints and cancellations.  Here is a complaint from someone who spent GBP £100 for their mother's birthday:
Half the food menu wasn't being served due to being not cooked properly and couldn't serve it. Then when we did get our food, they got it wrong. The drinks were disgusting and had half the ingredients missing. When questioned, they then told us they didn't have what they needed to make them properly.
The organisers blamed a 'technical fault' and cancelled the remaining events. Proof, if needed, that pop-up screenings are harder to pull off than they look. All the more kudos to Secret Cinema. Evening Times – 20 August 2017
Law & Order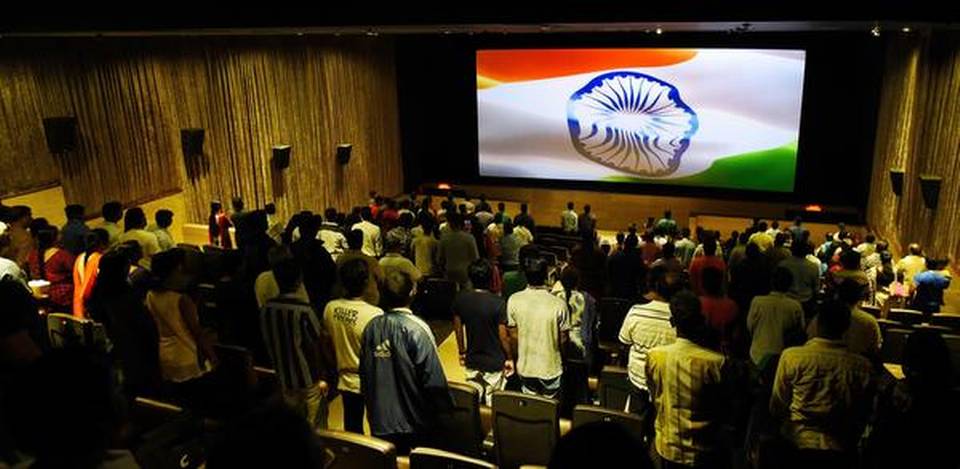 India – Three students have been arrested for not standing when the Indian national anthem was played in a Hyderabad cinema. The students were said to be from the disputed Indian state of Jammu and Kashmir. Not standing when the Indian national anthem is played before the film was recently made an offence under the Prevention of Insults to National Honour Act of 1971. Moneycontrol – 21 August 2017
Finally
UK – A rare collection of old movie posters has come to life when builders found them being used as carpet underlay in the home of a late cinema owner. "The 70 prints featuring Alfred Hitchcock, Sir Laurence Olivier, Henry Fonda and John Wayne were used in Cardiff cinemas from 1936 to 1940." The 12-sheet posters are up to three meters tall. The posters will be auctioned off but the auctioneer can't put a guide price on them as they are such a unique find. BBC – 17 August 2017

Latest posts by Patrick von Sychowski
(see all)