Odeon's Kingston luxury screen; Vox goes Outdoor in Dubai; Megaplex's 17th cinema to open in Salt Lake, Dolby's Dolby Cinema; Sacramento 2 new multiplexes; all-laser Gold Cinema in Holland; Rome's Alcazar re-opens; Rome's (NY)  Capitol gets 2nd screen; Reel 6-screen in Kirby; The Light Thetford opens; go-ahead for Colchester and Horsham multiplexes; Teignmouth's Riviera to be refurbished; Lotte's 111th cinema; Lower Hutt's Event Cinema to be razed after earthquake.
---
---
UK – The Odeon in the wealthy London suburb Kingston-Upon-Thames has opened a luxury upmarket cinema auditorium as part of its refurbishment. The new Screen 15 offers 50 luxury reclines, and premium food and drinks offerings, including Croma pizza and planks. Lots of food porn pictures in the article, but the comments section has one guest still complaining about unmotivated staff, sticky floors and dirty toilets. ThisIsOurTown Kingston – 23 November 2016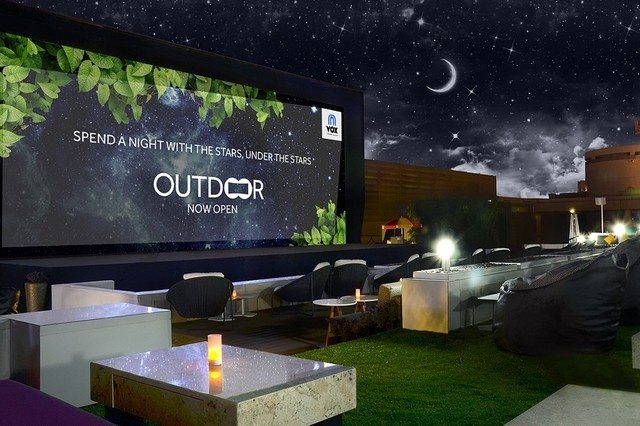 U.A.E. (Dubai) – Vox has opened an outdoor screen-cum-al fresco dining space. The revamped Vox Outdoor in Dubai's Galleria Mall showing frost-run movies offers luxury lounge seating, with blankets, as well as a food and drinks hamper – popcorn, cookies and either nachos or a hotdog – bundled (!) in the Dh 150 (USD $40.84) ticket price. The National – 23 November 2016
USA (UT) – Megaplex Theatres is set to open a a luxury six-screen theater complex in Salt Lake County, on the location of the former Water Gardens Theatres, in the spring of 2017. The Larry H. Miller Megaplex Luxury Theatres at Cottonwood will feature heated power recliners, private meeting and event space, D-Box seats, gourmet food and Coca-Cola Freestyle machines. It will be Megaplex's 17th in Utah and southern Nevada. Salt Lake Tribune – 29 november 2016
USA (CA) – A gushing fanboy review of Dolby's in-house Dolby Cinema. "You wouldn't know by looking from the outside, but nestled deep within Dolby's discreet new San Francisco headquarters resides the greatest movie theater in the world." Also a hearty testimony from "The Force Awakens" co-producer Ben Blatt, but the most interesting tidbit is that Disney's El Capitan has both Dolby Vision (projectors) and Dolby Atmos (audio), but does not qualify as Dolby Cinema design specs. Digital Trends – 26 November 2016
USA (CA) – Two cinemas opening in Sacramento this past week. Folsom's Palladio LUXE Cinema, which opened 18 November and Sacramento's Century Arden 14 and XD that opened 1 December. The six-screen Luxe is owned by Cinema West and is the city's second dine-in multiplex, after Rocklin's Studio Movie Grill. Arden 14 replaces the Century Stadium 14 (known as The Domes) and will offer "expanded concessions" such as pizza, chicken wings alongside more traditional popcorn and hot dogs. Three more multiplexes are set to open in the coming year. Sacramento Bee – 26 November 2016
The Netherlands
– When Cinema Gold opens in Eindhoven in 2017 and it will be the first European cinema only equipped with laser projectors (from Barco). The four-screen cinema will feature luxurious seating, small tables, mood lighting and drink and food table ordering services.
Press Release – Barco 29 November 2016
Italy – Rome's Alcazar Cinema in Trastevere will re-open in January after a year's closure to become a cinema and music venue. a 33-year old entrepreneur called Luca Carinci sold his bar in Travestere to enable the re-opening of the cinema without any public support. The first film to screen will be "Dead Poet's Society", the same film the was shown when the cinema first opened in 1988. Some 1,150 cinemas have closed across Italy in the last decade. Wanted In Rome – 28 November 2016
USA (NY) – Rome's Capitol Theatre hosted a ribbon-cutting ceremony on 1 December for its new cinema auditorium. The first auditorium, situated next to the theatre, opened in November 2014 and screens independent movie releases. The first screen seated 50 people while the new second one will seat 75. Rome Sentinel – 29 November 2016
UK – Reel Cinemas has been revealed as the operator of the planned six-screen multiplex in Kirby at the site of the former library on Newtown Gardens. Reel operates 15 cinemas and has plans for at least ten more cinemas over the next five years. Liverpool Echo – 23 November 2016
UK – The Light cinema in Thetford is opening today (Friday 2 December). It will have a seating capacity of 300 and offer a café bar, with free Wifi. This is The Light's seventh cinema and its first in Norfolk, with three more openings scheduled for 2017. Eastern Daily Press – 29 November 2016
UK – A multiplex is set to be approved for Northern Gateway site by Colchester Council, despite warning that opening it could cause a 38.6% downturn in people visiting the town centre's Odeon cinema. Not clear how they arrived at such a precise figure. H&M Standard – 24 November 2016
UK – A go-ahead is expected for a multiplex in Horsham as part of the re-development of the wester end of Swan Walk mall. A six-screen cinema would be built, alongside shops and restaurants, with an entrance on the ground floor and screens on the floor above. WS County Times – 28 November 2016
UK – Teignmouth's historic Riviera Cinema may re-open after extensive refurbishment to the art-deco interior. Torquey Herald Express – 23 November 2016
Korea (Republic of – South) – Lotte Cinema has opened its 111th cinema with the inauguration of the Lotte Cinema Eunpyeong on the fifth floor of the Lotte Mall Eunpyeong Store. The cinema has eight screens and 1,336 seats, including the SuperFlex PLF screen with Dolby Atmos. ChoSun Biz – 29 November 2016
New Zealand – The Event Cinema multiplex in Lower Hutt's Queensgate Shopping Centre will be demolished, along with a nearby car park, after sustaining earthquake damages in the recent quake. Some 70 shops in the mall will be closed in the period until Christmas, causing further misery for retailers and consumers, but worst news for 39 people who will lose their job at the cinema. Stuff.co.nz – 26 November 2016

Latest posts by Patrick von Sychowski
(see all)