France €4 tickets, Vista growth, Korea cinema sizzles, Regal dividends, VR & IMC results, FSK trailer reviews, Inox investment, Cinépolis & Barco, AAM blog, Beiersdorf goes Christie, Lotte safety, Reading death suit, Regal picks Eco3d for seating, Rivoli roof bar, Vue Preston, Gold Cinema Santa Cruz, Hoyts returns to Christchurch and Northern Ireland Cinema Day. 
---

Like Celluloid Junkie's FACEBOOK for ALL THE LATEST NEWS.
---
France – The French seem very keen on their €4 cinema schemes, including the permanent one for children as well as the annual "Cinema Springtime" festival. It seems that there are regional version as well, such as this one in Normandy, running form Wednesday 24th until Tuesday 30th of August, with 11 cinemas with 33 screens participating in the "Place aux cinemas" scheme.  In Metz there is Cine-Cool 27 August – 3 September when tickets are €4.50 It would be interesting to see more such regional initiatives – not just in France. Normandie27actu (FR) – 23 August 2016
New Zealand – Vista Group International (VGL) has reported half-year figures for 2016 and the cinema ticketing and software major are a stonking 49% year-on-year in terms of revenue – or 42% without acquisitions, of which there were three. Headcount was up 24% and the company also announced a strategic tie-up with Tencent affiliate WePiao to grow further in the major Chinese cinema market. The company expects its Chinese operation to generate 50% of what its current annual revenue is. Press release – 26 August 2016
Korea (Republic of – South) – The recent heatwave in Korea has been a boon for mall owners, restaurants and cinemas as people seek air-conditioned shelter. Lotte Cinemas reports 10% year-on-year increase, while CGV's occupancy is 3.3% higher from 24.4% to 27.7% for the last nine days of the heatwave. Korea Times (KR) – 18 August 2016
USA (NY) – Looking for a cinema stock with dependable dividend payouts? Then Regal should be your pick, argues William Stamm for Seeking Alpha.
Regal Entertainment Group's dividend is above average at 4.1% and has been increased 6 of the last 10 years with a DGR of 1.0%.
Regal Entertainment Group's total return overperformed the Dow baseline for my 43.7 month test period by 34.69% for a total gain of 76.45%.
The current re-seating push to install recliners across many of its cinemas should keep its business growing nicely. Seeking Alpha – 22 August 2016
Australia – Village Roadshow's cinema operation did well in the past year, with net profit of of AUS $16.6 million (USD $12.55 million) for the company, down from AUS $40.2 million (USD $30.4 million). The 58.7% drop was mainly due to the poor performance of VR's  film distribution and its Sydney Wet'n'Wild theme park. AFR Weekend – 25 August 2016
Ireland (Republic of) – The Ward family's Irish Multiplex Cinemas Ltd, saw profits go up from €7.23 million to €7.99 million in the financial year that ended last October. Payroll shrunk from 44 to 42 (32 in operations and 10 in administration). Thus staff cost also went down from €903,573 to €811,708, while directors' pay took an even steeper drop from €45,000 to €7,500. Meanwhile the Ward's separately owned Irish Multiplex Cinema Tallaght Ltd, saw profits of €182,233 in the financial year to the end of April 2016, with accumulated losses falling from €1.825 million €1.64 million. There is a dispute form a contractor to the amount of €339,290. Irish Examiner – 24 August 2016
Germany – A father who took his children to see the new "Star Wars" was upset that there a trailer for the very adult humour-oriented "Dirty Grandpa" before the film. Is this right? Both are actually rated 12, as decided by the FSK (Freiwillige Selbstkontrolle, or Voluntary Self Regulation) body based in Frankfurt am Main, which certifies over 10,000 per year. MDR (DE) – 22 August 2016
India – The state of Karnataka may cap multiplex ticket prices at INR 120 (USD $1.79) as part of a raft of proposals, that including support for the region language film industry and upgrading cinemas. As always, it is the cinema dirigiste policies of neighbouring Tamil Nadu that are the inspiration. IBT – 24 August 2016
India – Inox Leisure plans to invest INR 2 billion (USD $30 million) in to have 60 more cinemas screen across India this fiscal year. "In addition to one property, five screens and 617 seats (already opened), we expect to open another 12 properties, 54 screens and 10,786 seats this financial year," Deepak Asher, Inox's Leisure Director and Group Head is quoted as saying. A year ago Inox said it would invest INR 3.2 billion (USD $47.8 million) to open 128 screens in the next two-three years. Is this latest figure in addition to that plan? Or has the original plan already achieved 33%-50% of its goal? As always, these questions are never ask of them. Economic Times – 25 August 2016
Mexico – Cinépolis is expanding its partnership with Barco, with plans to deploy 1,000 screens around the world using Barco technology. The company already operates 4,000 screens using Barco projectors and other technology. Press release – 24 August 2016
UK – Arts Alliance Media's CEO John Albers shares his thoughts on the second wave of digital cinema technology. The very short read – "it's about the audience":
So in the new technology-led, connected world, it is imperative for cinemas to create the engaging customer experiences that today's consumers demand. The tired notion of turning your phone off in the cinema needs to be forgotten if exhibitors want to stay relevant in the entertainment world.
Worth reading the post, even if it obviously soft-sells AAM's cinema system solutions. AAM blog – 15 August 2016
People
USA (CA) – Christie has poached Susie Beiersdorf from Sony Electronics to become Christie's VP, Cinema Sales – Americas. Meanwhile Christie veteran Dave Muscat was promoted to VP, Sales, Enterprise Solutions – Americas. "Since 2008, Susie has been directly involved in the rollout of digital cinema for a major electronics company and as such, she brings not only a wealth of exhibitor relationships but also considerable studio experience to Christie," Dale Miller, EVP, Global Sales, Christie is quoted as saying. She is also on the board of the ICTA and chair the Inter-Society, member of SMPTE, participates in LIP and ISDCF. Press Release – 19 August 2016
Health & Safety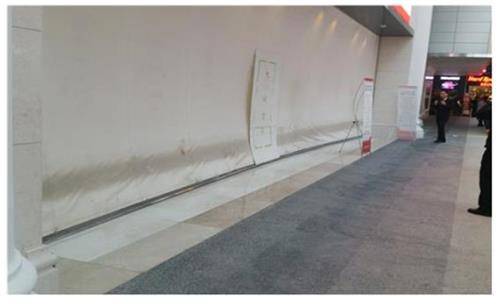 Korea (Republic of – South) – Questions raised about the fire safety measures in place at Lotte World's cinema in Seoul. After an inspection in December 2014 Lotte was told to make adjustments that my not have been followed up adequately. Particular focus is on the fireproof shutters that are supposed to block smoke. Yonhap News (KR) – 25 August 2016
USA (CA) – A man has filed a wrongful death suit against Reading Cinemas after his grandson chocked to death on a hot dog in their Valley Plaza cinema. The 14-year old boy who had down syndrome showed signs of chocking but the cinema staff allegedly would not stop the movie or turn on the house lights. Kern Gold Empire – 23 August 2016
Seating
USA (TN) – Regal Entertainment has selected Eco3d for renovation and recliner-seating conversion planning. Eco3d creates virtual 2D and 3D models for each auditorium to achieve optimal seating configuration. Eco3d's solution is said not to require construction managers to fly to each site, thus cutting down costs and speeding up implementation. FJI – 19 August 2016
Japan – The 'Jack and Betty Cinema' (Ed. – Is that what it is really called in Japanese?) in Kanagawa Prefecture Yokohama City is swapping out its seats and is offering anyone the chance to come and take one or more of the old seats. Seats from 'Jack' can be collected on Saturday 3 September, while those of Betty are available on 10 September. You have to bring your own transportation. Cinema.ne.jp (JP) – 22 August 2016
Concessions / F&B
Australia – Melbourne's art-deco Rivoli Cinemas in Hawthorn East is getting a 1940s-style rooftop bar called nineteenforty.  "We've always been enamored with the history of the cinema," Rivoli site manager James Zack is quoted as saying. "The rooftop bar seems like the perfect way to invite guests to enjoy the space as much as we do." The Weekly Review – 22 August 2016
Cinema opening/Closings
UK – Details have been revealed about Vue's plans to revamp its multiplex at the Capitol Centre near Preston. The 1991 multiplex would get a new entranceway amongst other changes to be discussed at a council meeting for approval to the plans. Prestonblog – 21 August 2016
India – Gold Cinema is opening a new multiplex in Mumbai's Santa Cruz, the chain's sixth since it launched in 2007. No word on how many screens or seats the facility located in the Milan Garment Hub has. DNA – 25 August 2016
New Zealand – Hoyts is returning to Christchurch with the opening of a new cinema in May 2018. The former Hoyts cinema was damaged in the 2011 earthquake and has since been demolished. The new cinema located in the CBD will feature two Xtremescreen auditoriums as well as two Hoyts Lux auditoriums. Stuff.co.nz – 25 August 2016
Finally
UK (Northern Ireland) – Monday 29 August has been declared Northern Ireland Cinema Day. The occasion is the 120th anniversary of the projection of the first ever film in NI and is organised by Film Hub NI.
John Ford's much-loved 'Irish' picture The Quiet Man returns to the big screen for just £1 (11.30am, QFT), while modern Irish cinema will be highlighted by a screening of The Survivalist (7.30pm, Unionist Hall, Enniskillen, followed by a Q&A with writer/director Stephen Fingleton).
Other films and events have also been organised for the day. The Irish News – 26 August 2016

Latest posts by Patrick von Sychowski
(see all)