RealD's Ultimate Screen, AMC accelerates Dolby Cinema, Cinepolis India price hike OK, Harkness India growth, walking distance Picturehouse, Russian BO up, weekly immersive live Little Cinema, Cineplex bedbugs, German cinema lock-in, CGV bed cinema success, Imax Pasching #1, Kate Scherping NCM CFO, new Tokyo Cinema Sunshine and cinema 'ghost'.
---
Upload and read cinema-related press releases at CelluloidJunkie.com/WIRE
---
Spain – Forbes has a surprisingly in-depth profile of RealD's 'Ultimate Screen', a project seven years in the making, which claims increased brightness of up to 85% compared to traditional silver screens and reduced ghosting (colours comparisons above on a RealD Ultimate Screen (left) and a standard silver screen (right). For now there are only four of them installed around the world: one each at the Burbank AMC (USA), Surrey Quays Odeon in London (UK), one at the Beijing Wanda (China) and one at the Boulder Cinemark (USA). Forbes – 9 August 2016
USA (KA) – AMC and Dolby are speeding up the deployment of Dolby Cinema installations in AMC multiplexes to 100 auditoriums by the end of 2017, "seven years ahead of the originally announced schedule." AMC and Dolby are also working on expanding beyond the initial 100 installations. There are currently 22 AMC Dolby Cinemas, eight under construction and a total of 50 to be operational by the end of this year. Press release – 8 August 2016
India – Cinepolis India has been given permission to increase ticket prices by the State government of Andhra Pradesh. Prasads SP Entertainment LLP (Capital Cinemas) was given permission for similar hike on 26 May. Prices will rise to INR 150 (USD $2.25) against INR 125 (USD $1.87) for executive seating tickets, and INR 200 (USD $3) against INR 175 (USD $2.62) for VIP seating ticket, with additional INR 30 (USD $0.45) charge for 3D movies. Socialist red tape restrictions for cinemas continue to flourish in India. The Hindu – 9 August 2016
India – Harkness Screens expects a lot of growth for both multiplexes, single screens and outdoor venues in India in the coming years. Preetham Daniel, Senior VP, Asia Pacific, Harkness Screens is quoted as saying:
There is lot of consolidation in the multiplex space in India. Three to four players are adding large number of screens and also technology into the Indian market. Additionally, local players who own single screens are also revamping their business. This is giving us opportunities to expand in India.
Harkness' Bengaluru factory has the capacity to make 1,500 screens per year but currently suppose about 450 screens per year in competition with local players like Galalite. Hindu Business Line – 8 August 2016
Italy – "One thing programmers don't like to hear is that it isn't about films but venues,"  Picturehouse Cinemas' Jon Barrenechea announced at a Step-In panel on art-house cinema held at the Locarno film festival. Interestingly 90% of the customers for the chain's Dulwich cinema live within a 10 minute walk and the 243-seat three-screener is doing "incredible business." Variety – 7 August 2016
Russia/CIS – Despite a economic slowdown box office in Russia  & CIS grew in the first half of 2016 by 8.6% to 29 billion rubles (USD $413 million), with attendance also up year-on-year by 9% to 112 million tickets sold. Foreign (i.e. Hollywood) films were the main driver, though local films grew by 5.1% at the box office and attendance was up slightly by 200,000, with local hits such as "Flight Crew" helping local films to a 23% share of the BO. Screen Daily – 9 August 2016
Event Cinema
USA (NY) – Secret Cinema is not the only ones to put on a performance around a film. Little Cinema does the same thing, except for a different film each week. Forbes profiles the 'Saturday Night Live' of immersive cinema (meaning an improvised performance on a weekly basis). Films ranging from "The Wizard of Oz" and David Lynch's "Lost Highway" to "Who Framed Roger Rabbit" get a live make-over, with the audience participating by coming in costumes. Perhaps even more impressive than Secret Cinema's mastodont productions. Forbes – 8 August 2016
Health & Safety
Canada – Cineplex Entertainment has re-opened two auditoriums that were closed after a patron filmed what was claimed to be bedbugs and posted it to social media. The Facebook video has been viewed more than 365,000 times. Two of the 12 auditoriums at Cinema City Movies 12 were closed for a third-party inspectors to check, who found no bug activity. CBC News – 12 August 2016
Germany – Two 17-year old girls found themselves locked into a cinema in Saarbrucken after the end of the last screening of the night. They tried to escape from a window five meters above ground before the police came to their rescue. Bild (DE) – 10 August 2016
Seating
Korea (Republic of – South) – CGV has had tremendous success with its 'Bed Cinema'. The auditorium had 51% occupancy for the past year, compared to an average of 30% at other CGV cinemas. Converting a regular screen to a bed cinema led to a 114% jump in attendance. It is particularly popular for holidays like Christmas, Valentin's Day and also during the recent heatwave. CGV gave away KRW 2.3 million (USD $2,100) worth of duvets and pillow cases to winners of its anniversary celebration. Sedaily (KR) – 9 August 2016
Imax/PLF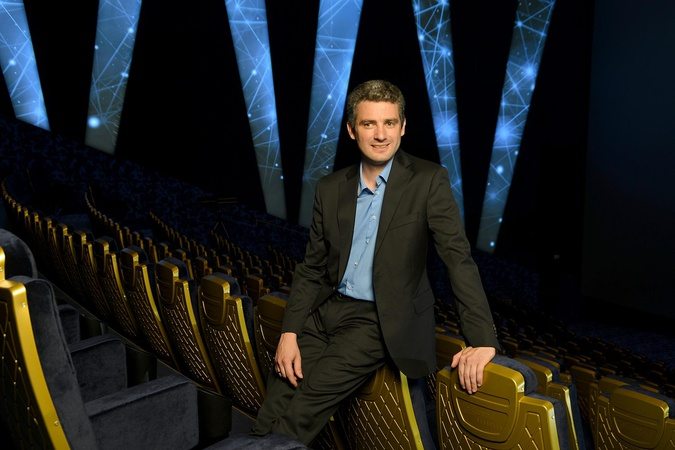 Austria – Just a month after opening the Hollywood Megaplex Plus City's Imax screen in Pasching became the world's most successful Imax screen showing the latest "Ice Age" film. Even Imax head Andrew Cripps considers it one of the Top Ten Imax screens in the world. Blickpunkt:Film (DE) – 10 August 2016
People
USA (NY) – National CineMedia (NCM) has named Kate Scherping as new CFO, a position she will also hold for NCM LLC. She was previously CFO and also interim president and CEO at Quiznos. Co-Interim CFO David J. Oddo becomes Treasurer and SVP, Finance, while fellow Co-Interim CFO Jeffrey T. Cabot is named SVP, Controller. Press release – 9 August 2016
Cinema Opening/Closings
Japan – A new 12-screen cinema will be built as part of a shopping complex next to Ikebukuro station in Toshiba, Tokyo, by Tokyo Land and Sasaki Kogyo Co. With 2,500 seats and an 18m-by-26m Imax laser screen, as well as 4DX seats, it will be the largest multiplex in the metropolitan area when it opens in 2019. Cinema Sunshine (not related to Andrew or Bob) has 13 complexes across Japan. Sankei (JP) – 9 August 2016
France – Cayenne's cinema Vox will close for a 10-month €2 million renovation. The work will add a third auditorium, face-lift to the front and a food area. 80% of the funds required will come from grants and tax on tickets. The cinema will re-open in June 2017. France Bleu (FR) – 9 August 2016
UK – Work has begun in The Light cinema in The Broadway in Bradford. The six-screen 700-seater claims it will create more than 100 jobs (!) when completed. That is a lot of ticket ushers and popcorn servers, unless they mean for the whole of the shopping mall extension. The Telegraph & Argus – 8 August 2016
Finally
UK – Haunting or a hoax? You be the judge. This mother claims that the 'ghost' of a little girl photobombed her family selfie in the Light Cinema in New Brighton, Wirral. Emma Johnson is quoted as saying:
My family are normally all quite sceptical, but everyone was a bit shocked when they saw it and I'm quite interested to find out what it could be.

But we've had to hide it from the kids in case they are scared so we have just told them that it is an advert for Ghostbusters but my eldest is starting to cotton on now.
Who ya gonna call? Daily Mail! Metro – 8 August 2016

Latest posts by Patrick von Sychowski
(see all)