In this issue: IMAX VR EXCLUSIVE, Cinema Park+Formula Kino, Movipass adds 111% audience, Odeon FY 2015 results are good, Kinepolis to sell two Utopolis sites, Secret Cinema revealed, PVR Playhouse for kids, Reel, Vox and Bahrain, Austrian gun man in cinema, cinema fires in UK and Canada, plus a cinema wedding.
Celluloid Junkie can EXCLUSIVELY reveal today that IMAX is planning to launch a virtual reality (VR) headset and service for the ultimately immersive of movie experiences. Called I'M@X " (pronounced " I'm at X") the headset will offer a virtual screen between 100 and 1,000 foot in size for users to enjoy Hollywood blockbusters and more.
Though not officially confirmed, Celluloid Junkie has learned that IMAX will promote the service as, "the biggest movies – on the tip of your nose." A source involved with the project said that, "the concept of 'I'm at X' means being at the largest of movies experiences, but 'X' also means taking the viewer to any virtual world." An early demonstration that Celluloid Junkie witnessed involved a virtual recreation of IMAX CEO Richard Gelfond's executive bathroom. It was very shiny.
VR expert Phil Lelyweld commented, "Mark this day in your calendar; this is the biggest step forward for immersive film enjoyment since the first row of multiplexes seats was designed to be five feet from the screen." Users of I'M@X will not only be able to view the screen from any angle, but also fly through it and watch the film from behind the virtual screen, or even upside down.
With regards to the pricing of the I'M@X headsets and films a spokesperson from IMAX, who was not authorised to speak to Celluloid Junkie on the record, said "we are looking at a subscription business model of having users sign away their first born, but we're still gauging the market acceptance for this." The news comes not long after IMAX launched private home IMAX cinemas, even available on super yachts.
With zero risk of piracy, Hollywood studios are said to be falling over themselves to supply films on a day-and-date basis to the I'M@X service. Such amazing news could only be brought to you by Celluloid Junkie on one day of the year. (No Press Release yet)
Russia – Details have been revealed about the merger of Cinema Park and Formula Kino. According to Nevafilm Research the joint entity would control 14% of overall sites in Russia and the deal is valued at USD $200 million to $250 million. The cinemas will continue to operate under their existing brands, due to the cost of re-branding. Screen Daily – 24 March 2016
USA – The unlimited moviegoing service MoviePass claims that in its tests in two markets demonstrates that it increases movie going by 111%. Perhaps more significantly for exhibitors, it also grew concessions spend by 123% to an average of USD $400 per year, compared to USD $120 for a typical movie goer. Variety – 23 March 2016
USA – Despite "Deadpool" and "Batman vs. Superman" doing blockbuster business, Q1 2015 has been below that of the first quarter of last year, sending some jitters to Wall Street's cinema stocks:
AMC Entertainment (NYSE:AMC) is down 3.2% after B. Riley downgrades the exhibitor stock to a Neutral rating from Buy over concerns of Q2 box office numbers.

Cinemark (CNK -2.6%) and Regal Entertainment (RGC -1.1%) were lowered to Neutral by the B. Riley team as well on the same box office anxiety. IMAX (IMAX-0.8%) and Marcus Corp. (MCS -1.2%) were left alone by B. Riley, but are also in retreat.

The YTD box office gross in the U.S. is tracking behind last year's level, according to data from Box Office Mojo. The comparison could be troubling with last year's film slate back-end loaded.
"Finding Dory" and "Captain America III" to the rescue in Q2? Seeking Alpha – 30 March 2016
UK – It was a good 2015 for Odeon & UCI, which posted a 19.7% rise in revenue to GBP £747.2 million, while retail revenue was up 19.2% across the groups 243 cinemas in UK, Ireland and mainland Europe. The company's market share now stands at 19.4% in the territories that it operates. This should strengthen Terra Firma's hand in getting a good price from any buyer of the group, which could be announced within weeks. PDF 2015 Q4 and Full Year Report
Bahrain – But less good news for Bahrain Cinema Company (a.k.a. Cinch), which posted 16.5% fall in net profit for 2015. It operates 44 cinema screens in Bahrain and 27 screens in Qatar. Arabian Business – 25 March 2016
Belgium – Competition authorities have approved Kinepolis acquisition of two of Utopolis' four cinemas in Belgium, but the multiplexes in Mechelen and Aarschot must be sold off to an entity with no links to Kinepolis. Reuters – 25 March 2016
Republic of Korea (South) – Cinemagoers have complained about CGV's new ticketing system. People who buy in Economy Row and move to Standard Row are told by staff to pay extra or stay in the cheap seats, even if the cinema is empty. Other complain that the quality has not gone up, even though some seats have a premium price. Korea Times – 30 March 2016
Oman – Majid Al Futtaim Cinemas will open its Vox Cinemas open in at least three locations, pushing up its screen count in Oman by 150 percent by 2020. The cinema arm of Dubai-based shopping mall developer Majid Al Futtaim opened its first cinema in the country in 2014. Arabian Business – 23 March 2016
UK – Secret Cinema has revealed that it's latest Tell No One was "Dr. Strangelove" which took GBP £1.24 million over its one-month (24 screenings) run, with a capacity of 950 audience members per screening. It also held a Secret Cinema X event on 26 March that was revealed as German crime thriller "Victoria", which took GBP £12,740 at GBP £28 for the one-night only event. Next up "28 Days Later" will run from 14 April to 29 May. Screen Daily – 21 March 2016
Colombia –The United States Agency for International Development (USAID) and the Country Strategy Foundation have launched the "Project CineBus – Laboratory of Diversity" that will tour Colombia and strengthen values of diversity for Afro-descendants. El Espectador (ES) – 29 March 2016
Algeria – The government in Algeria is considering a film sector recovery plan that would spur more cinemas to be built in the North African state. El Watan (FR) – 29 March 2016
People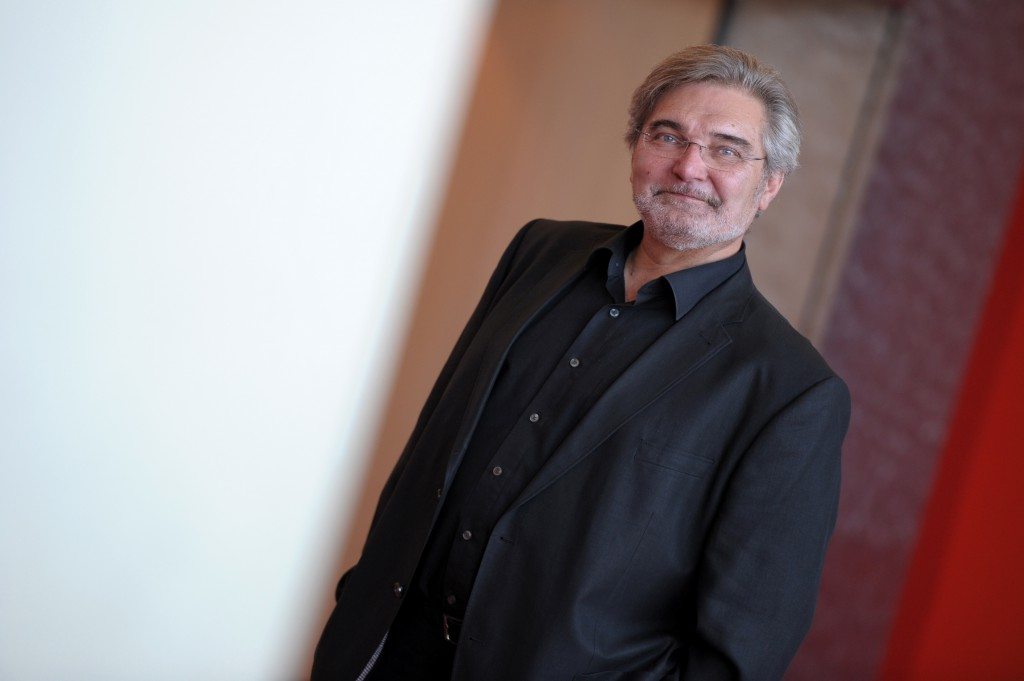 Luxembourg – Nico Simon has been named recipient of the 2016 UNIC Achievement Award. He is the former head of the Utopolis cinema group (sold to Kinepolis) and President of Europa Cinemas. During his 22 years as Utopolis CEO he grew the company from the five-screen arthouse multiplex Ciné Utopia, to a brand across 93 screens and 12 countries. The award will be presented at the Cine Europe conference in Barcelona in June. Press Release – 23 March 2016
Health & Safety
UK – Lyme Regis Art Deco 1930s Regent Cinema went up in flames last week. The structure of the building collapsed and any re-building will be a substantial and costly effort. Nobody was injured but firefighters struggled to get the fire under control. The damaged cinema remains will be demolished to make way for a re-build. BBC – 22 March 2016
Canada – A fire at the 1930s Snowdon cinema in Montreal. ICI Radio Canada (FR) – 27 March 2016
Law & Order
Austria – A court security guard who brought his weapon with him to a screening of "Batman v Superman" triggered a major police response. Special Cobra units entered the Millennium City cinema after several audience members called emergency services to report a man carrying a firearm. The man had a licence to carry it, but the incident was still called 'regrettable'. Nachrichten.at (GE) – 24 March 2016 
France – 150 people were evacuated form the Pathé Valence when an emergency alarm was triggered. There was no fire and such a malicious incident had been triggered six times in less than a week. Authorities are studying CCTV footage to identify the perpetrators. France Bleu (FR) – 28 March 2016
Germany – A 52-year old dutch women is alleged to have started screaming in English that everyone will die during a screening of "Batman vs Superman" at a UCI cinema in Potsdam. The screen was evacuated and police with bomb sniffer digs were sent in but found nothing. The other cinema goers were compensated with free tickets. PNN (DE) – 29 March 2016
Cinema Opening/Closings
India – Having just passed the 500 screen mark, PVR celebrated by opening a 15-screen "Superplex" in Noida. The cinema in Logix mall includes five different cinema formats: IMAX, Gold Class, Premiere, 4DX and Playhouse. The last of these is a space exclusively for kids. Economic Times – 28 March 2016
Poland – Helios will open an eight-screen multiplex in the planned Galeria Libero mall in Katowice to open in 2017/18. Dziennik Zachodni (PL) – 31 March 2016
U.A.E. (Dubai) – The latest Reel Cinema in Dubai offers VIP screen with plus pillows, snug blankets, gourmet food and leather recliners. The ten-screen cinema at City Walk is the exhibitor's court in Dubai. Emirates247 – 30 March 2016
France – Pathé is opening its latest multiplex in Valletta, including the first laser Imax auditorium in France. It will be very high tech site with movie posters projected onto the walls. "With your smartphone, you can scan the poster of the selected movie, and you'll find on the application to make your reservation online." Var-matin (FR) – 30 March 2016
UK – Greenbridge's Empire Cinema now has an Imax screen where its largest regular screen used to be. It will be the 42nd in the UK and Empire's fifth. Swindon24 – 24 March 2016
Finally
UK – Cinema marriage proposals. We never tire of showcasing them.
While the audience attempted to get through the lengthy previews that always come before a film, Rachel's attention was quick to be grabbed by a large-version of Steve taking over the big screen.

The entire room – which Steve's family and friends had infiltrated for the special occasion – was taken by surprise as Steve asked for his partner's hand in marriage as he dressed as James Bond.

Of course, an extremely red-faced Rachel said yes – how could she not to such an incredibly creative proposal?
Hats off to Vue cinema for hosting this lovely surprise. You can watch the video on Metro's site. Metro – 29 March 2016

Latest posts by Patrick von Sychowski
(see all)