The scale of the growth of micro cinemas or private theatres in China is such that the business held its first ever two-day conference in January. More than 400 'industry leaders' attended the "2016 China Micro Cinema / K Theatre Industry Summit" event in Changsa. Numerous issues were discussed as the nascent industry tries to become legitimate and tap into the growth that has propelled the Chinese cinema industry into the world second largest.
The keynote speech was held by Zhao Jian of the 1905.com Entertainment Group, who noted that Chinese cinemas added 8,027 cinema screens in 2015 and that this is set to grow further in 2016, particularly in China's second- and third-tier cities. The focus should now be on the after-market for movies, which is significantly under-developed in China compared to North America and Europe.
Significantly the conference was also told that around 80% of the content in private cinemas in pirated and that many establishment flout building codes and do not adhere to fire & safety standard or food hygiene regulations.  Zhao Jian wanted that unless private cinemas change their status quo they will become marginalised as an entertainment platform within two years. Not surprisingly 1905.com's interest and involvement in the micro cinema market stems from a desire to expands its (legitimate) streaming content business.
The host city Changsa is reported to have 110-130 micro cinemas – with some even quoting a figure of 200 –  for an urban population of about four million. Overall there is estimated to be over 1,000 micro-cinemas in China (each one having several screens), compared to 80,000 KTV (karaoke TV parlours). Though with KTVs only having a vacancy rate of 40% there is scope for re-purposing or dual-purposing some karaoke rooms into micro cinemas.
As part of its foray into the private cinema market 1905.com launched the 1905 (Beijing) Technical Services Limited division to cater specifically to private cinemas. In January 2015 the company also launched a platform exclusively for private cinemas and began policing the use of its brand and logo for such establishments. 1905 has developed a private cinema theatre operating system, O2O (online-to-off-line) ticketing system and will also be launching advertising, promotion, copyright protection campaigns, social media and interactive games efforts.
While a typical cinema ticket bought via a smartphone e-commerce platform can cost CNY ¥9.99-¥19.99 (USD $1.50-$3.00) a private cinema room costs CNY ¥200-¥300 (USD $30-$45) per session. In addition to lack of recent blockbusters, the quality of the vision and sound presentation varies. However, on the plus side is listed the ability to create screening rooms with themes of everything from spring blossoms and sea pirates to prison style inspired by the television show 'Prison Break'.
It is also worth noting that China does not have a tradition of art-house or independent cinemas, and as such the micro cinema are an opportunity for like-minded cineast to catch up on classics from world cinema or smaller foreign titles that would not pass the import quote for theatrical release. Apparently micro cinemas have also been popular for Chinese audiences wishing to catch up on "Star Wars" episodes I-VI, while episode VI ("The Force Awakens") played in regular cinemas.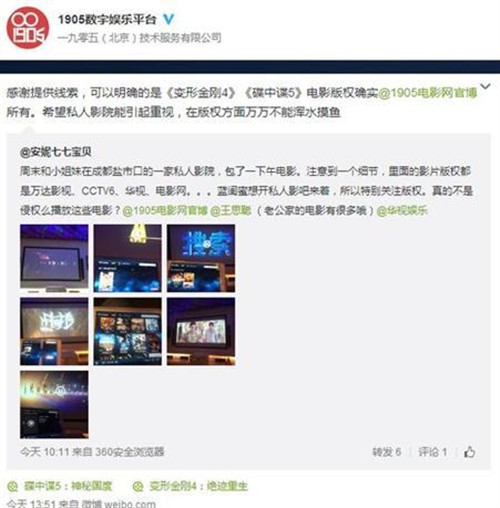 The conference was also an opportunity for vendors to how off high-end home cinema projectors, sound systems, speakers and seating (including 4D motion seating) to prospective clients. In addition to 1905.com other online platforms such as Storm and BesT also had a presence at the show.
A spokesperson for Guangzhou-based audio and video systems equipment company Li Jun told reporters for Star Online that, "The current audio-visual industry can be divided into traditional cinema, video bar and a private cinema market, with traditional cinema like buses, video bar like taxis, and private cinema like private cars. We believe all three will not be replaced, however, the proportion of private theater will continue to show rising momentum."
According to Chinese Video Network editor Chen Xiaoxiao on it is estimated that the potential market for private theatres is between CNY ¥8 to ¥10 billion (USD $1.2-1.5 billion), with many said to be interested in investing. While this figure seems high, even when including a significant F&B [food and beverage] spend, given that China's cinema box office cam to USD $6 billion in 2015, there is no question that private cinemas are starting to shake off their quasi-legitimate status to take its place as a legitimate entertainment business platforms in China. In another encouraging trend, authorities are starting to clamp down on micro cinemas that flout IP, health and planning regulations.

Latest posts by Patrick von Sychowski
(see all)