From left: Hu Qiming, Mao Zheng Jun, Lu Way, Yu Xin (photo: Mtime)
Mtime hosted a cinema conference on 11 December with a panel on "Diversified Cinema Revenue". With over 31,000 screens, 6,200 cinemas and CNY ¥40 billion (USD $6.17 billion) in box office, diversification of revenue outside the box office is still seen as a major issue for the future. UME General Manager Lu said that his cinema chain has diversified into books stores (see picture below), where they also sell still, scripts and more. Earth Theatres general manager Yan complained that movie tie-ins and merchandising often lack creativity, quality and are difficult to synchronise with the film release, with copyright and IP a further issues for selling merchandising relating to "Snow White" and "Inside Out" (both Disney/Pixar). Meanwhile Wanda cinemas offer live streaming of "League of Legends" tournaments in 100 cities over two days with sold-out houses, and feels that interactive and social entertainment is an important proposition for Millennials ("95"-ers). Wanda has launched its "Member+" scheme in 111 of its cinemas so far. Mtime – 11 December 2015
State administrator SAPRFT has promised to crack down on fraud after numerous complaints of 'ghost fields' (i.e. empty auditoriums) in supposedly sold out screenings. This has been noted for local hits "Vampire Killers" and "Lost in Hong Kong". SARFT had previously issued "Cinema ticketing System (Software) Implementation Rules" that requires box office software to report centrally its takings 10 minutes after the start of each performance. Despite this there have been instances of 200-seat auditoriums reporting 300 tickets sold for a single show. News.92jn.com – 12 December 2015
One of the events I was not able to attend was THX's "Future of Digital Cinema" presentation held off-site at the City University of Hong Kong Run Run Shaw Creative Media Center. A distinguished panel included THX's CEO Ty Ahmad-Taylor, Imax China's CEO Zhong Ying Feng, GM of Light Cinemas Chen Xuxiang and cinematographer Ross Clarkson. China Giant Screen is partnering THX for its 100+ screens in China. It has also partnered Universal for its upcoming "The Huntsman: Winter War", "The Secret Life of Pets" and the next "Bourne" film. Ent.qq – 11 December 2015
Starlight Film (Shanghai Star Film Co.) has been approved for a public listing. Established in February 2012, the company had four cinemas (Star Studios, Shanghai Ying World Studios, Nantong Wenfeng World Studios and Fujian Star Studios) and a revenue of CNY ¥20.8 million (USD $3.2 million), CNY ¥34.5 million (USD 5.3 million) and CNY ¥24.5 million (USD $3.7 million) for the last three years, so quite a small exhibitor, but interesting to see such SMEs push for IPO. Wabai – 14 December 2015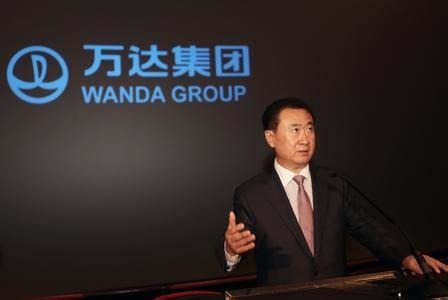 Meanwhile Wanda Cinemas is rated a 'Buy' with target price of CNY ¥133 (USD $20.51) by Gao Hua Securities analyst Liao Xufa. Wanda is on an acquisition spree that has included Hoyts Cinema (Australia) and Fashion Culture Communication (Beijing) Co. The combination of AMC + Wanda Cinema + Hoyts + Shimao theatres gives Wanda a global share of 7%, but the ambition is for its cinema to account for 20% of global box office by 2020, which means additional acquisitions. There is also a look at Wanda's investment in film such as "Teenage Mutant Ninja Turtles", "Interstellar" and "Transformers 4". People.cn – 9 December 2015
Ticketing
More signs of the dominance of (discounted) mobile ticketing, with Taobao's "12.12" cinema special offer selling 1.5 million movie tickets and CNY ¥46.87 million (USD $7.22 million) or nearly 30% of China's total BO on 12 December. The special deal included cinemas such as UME, Film, Earth, Golden Harvest, Hengdian, Jin Yi and nine other exhibitors, totaling more than 4,000 theatres and covering 325 cities. Taobao uses Alipay payment system. Many offers proliferated during the start of the Lunar New Year period, with tickets costing as little as CNY ¥12.8 (USD $1.97) with some providers. 100.ec – 14 December 2015
The rapid rise of mobile ticketing in 2014 is leading to the end of cinemas' own loyalty and membership schemes. Using platforms like Cat's Eye to book ticket not only allows for cheap tickets with seat selection, but also double points, vouchers, and offline activities member benefits. Baidu offers low-cost tickets for members, viewing gifts, gourmet gifts, food concessions and other benefits relating to viewing privileges. SMI's partnership with Baidu for a joint-membership card seems to be benefitting the cinema too, though, with special offers for popcorn and other items. Yule.com.cn – 8 December 2015
While the rest of the world ventures to the "Star Wars" galaxy this week, in China where the film doesn't open till January, there is the opening of "Mojin-The Lost Legend" instead. TCL has in partnership with Wanda Film set up special on-site promotional competition venues in three Wanda cinemas. People competing using their smartphones can win prizes. STCN – 7 December 2015
Sina News looks at the situation of Chinese cinema and movies as the box office crosses CNY ¥40 billion (USD $6.16 billion), polling a great number of industry professionals, and finds that while the quality of films is improving, the tastes still veer towards broad comedies. One producer summarises up the situation as such:
Currently, the real economy outlook is not optimistic, so more capital industry began to focus on soft assets, and Chinese cinema ushered in a rare investment opportunity. A comparison of the data shows that last year the growth rate was 36 percent of Chinese film, but only the first three quarters of this year amounted to 50%, a high rate of return on the film industry increasingly concern. I think, now is still this far we have not reach the amount of investment capital needed for the industry, from the creation, production, marketing, distribution, screening, development of derivatives to the movie, the theme park to build a long chain, I am more optimistic about the future with more attention to the film industry capital.
Another industry insider complains a certain third-tier city Zhejiang theater manager he had bluntly told him that theater evasion concealed 25 percent of box office revenue is normal. There is hope but also anxiety about the future. Sina News – 5 December 2015
Imax/PLF
Imax has signed over 500 screens in Greater China, with CJ CGV deal for 25 additional screen helping it hit that number. Of these 275 are opened and 245 are contracted, with CJ CGV having committed to 122 cinemas, which divide into 100 in China, 20 in Korea and two in Vietnam. Imax confirmed at CineAsia that it has crossed 1,000 opened screen world-wide. Imax CEO Rich Gelfond was quoted in FT as saying that China will be the world's biggest film market within two year. Variety – 7 December 2015
Barco signed its first customer for the three-screen Barco Escape outside of Europe and not surprisingly it is in China. The panoramic Barco Escape movie theatre will be located at the Changping AEON Cineplex in Beijing, following a deal between Barco and China Film Group (CFG). A second Escape screen will open at CFG's United square Cineplex in Shanghai later this month. Press Release – 7 December 2015
RealD's Luxe is coming to China's Kunming city, following a deal with Kunming Dadou Motain Wanguo Cinema, set to open in Q1 2016. This will be the third Luxe installation in China and Asia, with two existing screens in China's Tianjin and Chengdu city. Press Release – 8 December 2015
Private Cinemas
Private cinemas continue to proliferate like mushrooms, with 200 reported in the city of Changsha alone. With a population of 3.5 million the capital of Hunan province only entered the ranks of Tier 1 cities in 2013. Private cinemas are apparently particularly popular with students, with many located near universities, where they appeal to socialising over movies or gaming with friends. Old department stores are popular sites, as they cannot accommodate a traditional cinema (due to hight restrictions), making private cinemas the social anchor point instead. People.cn – 13 December 2015
Shanghai News Channel dubs private cinemas a 'trendy privacy form of entertainment.' Most of the private cinema in Shanghai charge by the hour, with CNY ¥100 (USD $15.43) being the going rate, with 'overnight' rates of CNY ¥300 (USD $46.27). In addition to movies, there is gaming or live streaming of sporting events, though the article acknowledges that intellectual property rights remains a problem, with "The Martian" available in most private cinemas that the reporter visited, despite still playing in regular cinemas and not officially available on DVD or Blu-ray. China is said to have a total of 1.5 million official video halls of varying quality, with 100,000 private cinemas. Shanghai News Channel – 12 December 2015
Finally
A cinema in Nanjing offers the ultimate in cinema relaxation – a bed to watch the film from. But no hanky-panky in the dark! Yangtze.com – 6 December 2015
Patrick was a Senior Analyst at Screen Digest, went on to launch the digital cinema operations of Unique and Deluxe Europe, then digitised Bollywood at Adlabs/RMW, and now writes, consults and appears on panels about cinema all over the world.
Latest posts by Patrick von Sychowski (see all)