Porn films are rarely known for their elaborate plots, so it might come as a surprise that the true story of one of the world's largest porn empires reads like a Shakespearean tragedy. Over the past fifty years Private Media Group rose to become Europe's largest producer of what's euphemistically known as 'adult entertainment', the first one to be listed on the NASDAQ stock exchange. But at the heart of this purveyor of glossy sex in exotic locations with impossibly beautiful models, was an ugly father and son conflict involving betrayal, murder plots and international financial conspiracies. It was about a father from humble Swedish origins who built himself a millionaire lifestyle on the back of commercialised sex and a son who only wanted to please his father, but who incurred his mortal wrath when he stepped in to save the faltering porn empire.
I became fascinated by the story when I first came across an obscure documentary in our film collection. Klubb Super 8 is a Swedish film archive and distribution label that specialises in cult classics that the critics would rather forget. The films ranged from sci-fi, horror, viking comedies, thrillers, sex education to lots of 'nudie cuties' films from the 1960s. Remember the film that Travis Bickle thought would be a good date movie in "Taxi Driver"? That's the kind of film that I and my colleague Rickard, who founded the company, re-issued on VHS and DVD. Amongst this diverse back catalogue was an hour-long Japanese documentary from 1970 called "King Porno" about Berth Milton Sr.
We suspect that Milton Sr. commissioned and paid for the documentary himself, because it is a fascinating example of self aggrandisement about a man clearly obsessed with the trappings of wealth and glamour that the proceeds from his glossy sex magazines afforded him. There he is posing with gorgeous women in front of his two-tone Rolls Royce Shadow (called 'Lady Fuck'), one of the very few of its kind in socialist Sweden at a time when everyone else was driving Volvos. But Milton Sr. wasn't like other Swedes, because he had a vision of a global empire of jet-set sex, which the Japanese crew was there to document. Out of shot of the camera was a teenage boy, who would grow up to become the man that actually made that vision come true: his son Berth Milton Jr, or just Junior.
Act I – Founding an Empire
Before he owned a Rolls, Berth Milton Senior got his start selling Volkswagen cars, proving such a good salesman that he was pulling in more money than the director of the company he worked for. He was a natural when it came to business, seeing himself as an American-style self-made man and standing out in the conformist and leftist Sweden. But the one thing he shared with his fellow Swedes was an uninhibited attitude towards sex; only to him the era of 'free love' was a golden opportunity to cash in.
Senior had always had a keen interest in amateur photography and filmmaking. He was given his first still camera at the age of six. By the time he was nine he was already able to talk much older girls in his neighbourhood into disrobing for his lens. As well as a businessman he was a craftsman with an equally good eye for beautiful women as for good picture composition. But Senior was also lucky with his timing. Sweden had been known for its liberal attitude to nudity ever since Arne Matson's "One Summer of Happiness" ("Hon Dansade en Sommar" – also available on DVD from Klubb Super 8) won the Golden Bear at the Berlin Film Festival in 1951. This was back when the festival audience got to vote for the winning film and clearly liked the sight of Ulla Jacobsson naked bosom. In the 1960s the limit of what could be shown in print and on screen in terms of nudity and sex was being pushed by smaller magazines and film producers in Denmark and Sweden.
Milton Sr. however was not impressed by the cheap black and white photos and booklets being distributed in Scandinavia, but aspired to the kind of glossy glamour of Playboy and Penthouse. His publication Private would be colour from the start and feature nothing but the most stunning women willing to get naked and have sex on camera in the most beautiful locations. Dingy basements that others used for photo shoots would instead be the nascent global headquarter of his empire, situated in Stockholm's Gamla Stan (Old Town) where he did everything from processing, layout and distribution. In the era before credit cards or PayPal, money would arrive by post in different currencies from all over Europe to pay for the discreet mailing of his magazine.
In a corner of the office was a shy and gangly teenager, who could be mistaken for an intern, if such a job had been considered appropriate for a boy that young. Not only did he help on the business side of stuffing magazines into envelopes, opening envelopes with cash and counting them (different piles for Deutsche Marks, French Francs, Italian Lira and English Pounds), but he also helped out with the naked photos shoots, carrying equipment and wiping up after the 'climax' of the scenes. To the girls, he became something of a mascot that brought out their motherly instinct when their bosoms weren't heaving for the camera. He never complained because doing the job meant that he could be close to his father, whom he worshiped.
Milton Junior was the result of the Senior's first marriage in his pre-porn days. Senior's own dad had operated a traveling amusement park: Miltons Tivoli, which is perhaps how Senior got his inspiration for a glitzy and movable entertainment facade underpinned by distinctly unglamorous work. Senior married but had neither the time nor patience for married life, leaving his wife, son and Junior's four-year older sister in the north of Sweden to work in Stockholm. Junior's mother had to look for work herself, so Junior and his sister were raised by friends of the family.
During the summers Junior was allowed to go down to Stockholm and stay with his dad in a tiny one-bed apartment. This was the highlight of the year for him, despite the awkwardness of this father-son time together. Dad would often bring back women/models and have sex with them while Junior was awake on a mattress in the kitchen, hearing everything through the thin walls. Other nights dad would give him money to go to the cinema or amusement park and then 'forget' to let his son in when he returned late at night, ringing and knocking on the door in vain. For his 11th birthday dad would give him a photo album inscribed "To Berth on his 11th Birthday", that his son would treasure for years. It was one of the few concrete tokens of dad's fleeting affection. It made a rare change from being told off for stumbling onto his dad having sex with yet another new pretty lady.
It was the same year that Senior opened his em-porn-ium Sexy Shop on Stockholm's main commercial thoroughfare Drottninggatan. Junior went to work there distributing flyers ("Stick them on the windshields of foreign registration cars," his dad instructed him), packing magazines, running the super 8 projector showing sex films. He was paid a pittance but he worked twice as hard as everyone else to prove his worth to his dad. By the end of the summer he was always sent back up north to home, thinner and more tired than when he arrived.
Act II – The Emperor of Naked
As Junior grew up, so too did Senior outgrow Sweden. He saw himself as a pioneer who kept battling against the establishment, whether this was the Ministry of Justice trying to censor his work or the taxman snooping into his financial affairs. He had started simple enough in 1965 with his own secretary on the cover of the first issue of Private magazine. But five years later, Senior was ready for the world. It wasn't just the Japanese documentary crew that was there to record his step onto a bigger international stage. German men's magazine Daily Girl was there to do a major story on Senior, who was by then remarried and had just seen the birth of twin girls. But the new family was just an accessory to the photo shoot accompanying the story of the self-made King of Porno, posing on a yacht in the Stockholm archipelago (borrowed from a race car driver that Private was sponsoring) or next to the private jet in Stockholm's Bromma airport (belonging to a legitimate business from the Wallenberg family). The Porn Emperor of Naked wasn't naked himself – he just borrowed the trappings of an emperor.
"A whiff of good living: Jet and luxury yacht are part of the image which Berth Milton polishes with the same zeal as his photography," was how the magazine headlined it. By this stage Private was being distributed to 26 countries, though Senior did not want to get drawn on specific details such as circulation or revenue. He wanted to project the image of a millionaire and a family father at that, one who was very happy and satisfied with his new family and was leaving the personal hedonism behind. Left behind was also his daughter and son from his first marriage. Senior had his sights on bigger markets: beyond Europe lay the US.
The whole time Senior maintained an iron grip on the Private business to ensure that the highest quality was maintained. He didn't just hand pick the models and photograph them himself, but also what they would be wearing (at least in the first few photos), the locations, the cars and the props. After that, Senior would be equally determined to do the best layout on the glossiest printed paper available, even buying the printing presses to control the whole process. He faced competition from Denmark (Color Climax were his porn nemesis) and having tested the water shooting a glossy porn film, only to see it pirated within weeks, he doubled down on printed smut. When shooting scenes in Sweden became too repetitive, he started taking his shoots all over Europe. This wasn't just sex – this was jet-set sex.
When the deal to expand into the US proved an empire building too far, he instead turned his attention to Spain. In the late Franco era Barcelona appealed with its sunny climate and cheap life, much like Los Angeles had for filmmakers of both the Hollywood and Chatsworth (adult film) variety. Here he would take his family far away from the Swedish disapproval of commercialised sex and the taxman's poking around.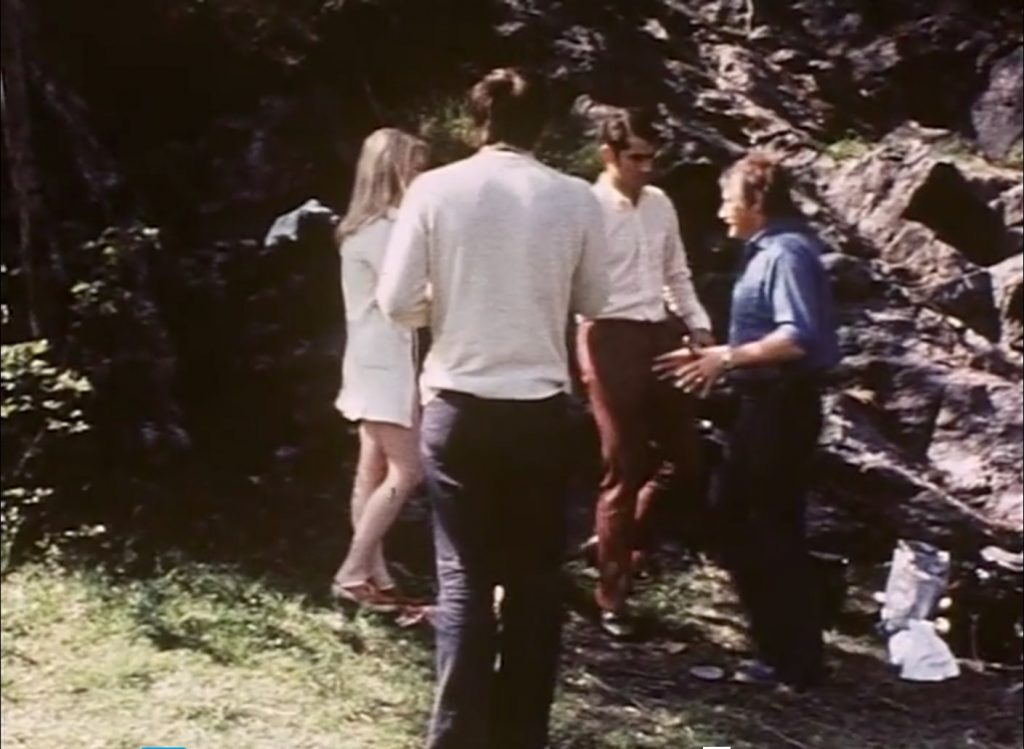 Act III – The Prince to the Rescue
With Berth Junior left behind by his dad, he turned his back on porn and the hope of winning the affection of his father. Junior settled down in Stockholm and decided that he was going to build the kind of stable family life for himself that he never enjoyed with his parents. He had inherited his father's knack for business, despite only having graduated from the business school of porn life. But instead of exporting glossy magazines of women in lingerie, he made his money importing pantyhose and watches.
Junior then started building up his own fortune running everything from gyms, spas, chiropractors, massage parlours (strictly no hanky panky ones) and salad bars to tanning salons. It was the happy era of ABBA and SAAB, with Junior finding a wife and welcoming his first child. Becoming a father himself he had a chance to right things for the next generation of Miltons. The now grown-up skinny and shy kid from the north, who was bullied over his Finnish-Swedish accent, was becoming not just a family man but a proto-Yuppie. Instead of a Rolls, his one concession to a glamorous life was his Harley Davidson bike.
While Junior was prepared to forget Senior, the Swedish taxman was neither ready to forget nor forgive the sums that it was felt were owed to the Swedish state. This was the same decade that Ingmar Bergman had to go into exile after being frogmarched away from a rehearsal of his play at the Royal Dramatic Theatre over owed taxes. Sweden's most famous author Astrid Lindgren wrote a fairy tale that was a thinly veiled attack on the rapacious taxman, for whom 100% tax rate was not enough. If Sweden's most famous film director and book author didn't stand a chance against the powers of the tax authorities, there was even less hope for the country's most infamous pornographer.
The 80s is when the gloss of popular culture caught up with the gloss of Senior's sex vision, with semi naked women gracing TV screens 24 hours a day as MTV pumped out the soundtracks of the decade. Sadly the 80s were the swan song for Senior's reign as King of Porn with even Spain not far enough away to escape the Swedish authorities. With no tax declaration for the years 1984 to 1987, there was no option for Senior but to seek bankruptcy protection. The notes from the doctor and insurance provider paint a picture of a broken man, whose years of flying around the world had left him in a poor physical state with both health and mental problems. The 100th issue of Private was to be his last one. There was only one person he could now turn to.
"Take everything, as long as you take care of me," were the words with which Senior handed over the proverbial keys to his broken porn empire to Junior. He didn't just hand over the Private business group but even his personal possessions, including his much loved Rolls-Royce. Junior had turned his back on porn and had no desire to return to the world of smut. Junior had proven himself a capable businessman who could stand on his own two feet and, besides, he had his own family to think of.
But even at the age of 35, he could still not shake the deep rooted desire to win his father's love and affection. So whatever reservations he harboured, he put them aside, not just to save his father but also to save the empire that he had left so long ago and seen fall into neglect. Junior wasn't just a dutiful son, but he was also by this stage a sharp businessman who recognised a valuable brand that had lost its lustre. He wouldn't just win his dad's affection but he would also make an even greater success of Private.
Junior paid off dad's debts in Sweden and in Spain. He installed his father, with his new young stepmother and newborn stepbrother in an apartment in Stockholm. Junior set about cleaning up the business with a vengeance and getting the publication back on track. Having dabbled in real estate in both Sweden and Spain, it was easy for him to move easily between the two geographical poles of the business, perhaps not realising that he was leaving his wife and children behind in Stockholm whenever he went to Barcelona, much like his father had left him in the north of Sweden to build the porn empire for in Stockholm the first time around. But this time would be different.
The 1980s were giving way to the 90s. There were not just porn films but on the horizon there were also exciting new technologies like pay-per-view and CD-Roms. There would be Private Film, Private Gold, Private Clothing boutiques, Pirate Magazine and Private Black Label. He had a vision of becoming the first adult entertainment company listed on the NASDAQ stock exchange. The fall of the Berlin Wall had opened the path to a land of beautiful women who would have sex on camera cheaper than any Swedish, German or Dutch models. The Private 2.0 empire would be bigger, better, sexier and more successful than anything his dad could ever have dreamt of.
Act IV – The King v the Prince
As he sat in a Stockholm fast food restaurant, waiting for the meeting with the person very likely sent to kill him, while the police were hiding in unmarked cars outside, Junior must have reflected on where exactly things had gone wrong with Senior. All he had wanted was to rescue and make a success of Private, the label his dad had created as his life's work, so that he could finally win dad's respect. The problem was that Junior had made too much of a success of Private 2.0 and the old king was resentful and felt cheated out of the new riches.
Never mind that Senior with his iron grip on the company had managed to run it into the ground as it ran into problems with tax authorities across Europe. Never mind that he handed over a soiled brand laden with debt to his son. Forget that his son had taken care of him and his step mother and step siblings so that dad could enjoy a comfortable retirement back home in his native country. All that Senior could see was that Junior was sitting on the Private throne with all the riches and glamour that he himself had always coveted. If Junior wasn't going to hand Private back to him willingly, he knew people who might make him. And if Senior couldn't have it back, he might instead ensure that his son wouldn't live to enjoy it.
It's perhaps not surprising that there is a lot of overlap between the porn world and the criminal underworld. In the smut business there are things that need doing for which the Yellow Pages phone directory doesn't have a category or listings for that particular profession. In Swedish these violent men are simply known as a 'torpedo', perhaps because they move silently and undetected until their mission is carried out to gruesome completion. In English parlance they would simply be known as 'fixers'. And Milton Senior was still acquainted with plenty of fixers.
Sweden might be known as a liberal and happy country, but it is also the country where the Prime Minister was gunned down on a Stockholm street and the murderer is still not known to this day. It is a country where motorcycle gangs were the organised crime power of the 1980s and 1990s, controlling everything from drugs to prostitution. If you were in the flesh trade then the Stockholm night clubs like Chat Noir is where the worlds of porn and prostitution overlapped. One was only marginally more legitimate than the other and Milton Senior had always made sure to have friends in both camps.
When threatening Junior directly himself didn't produce any results, Senior decided that it was time to send him a 'message'. At first it was nothing more than an explosion at Junior's house in the wealthy Stockholm suburbs. Nobody was injured, but it was enough to make Junior fear for his immediate family's life and to send them away. He knew just how brutally ruthless his father could be, and how even as a broken old man he could still exert control. Everything that Junior had rebuilt from scratch was at stake.
Private was more successful than it ever had been or indeed, ever would be. The listing of the company on the NASDAQ stock exchange – after a lengthy road tour to investors persuading them that porn was going legit – was just the crowning achievement. The magazine had spawned several sister titles, TV channels, VHS and then DVD, hotel pay-per-view, dating services, distribution deals and partnerships with leading porn producers like Marc Dorcel in France. Next up was the brave new world of the Internet and the World Wide Web. Meanwhile the productions were getting more sophisticated and big budget: historic porn dramas, Hollywood take-offs like Private Gladiator, the two-part "Millionaire" series that reportedly cost close to two million US dollars, more than the budget of a typical European non-porn feature film. Junior was himself a millionaire, listed in 2001 as the 29th richest individual in Sweden, amongst the owners of such other notable global Swedish brands as IKEA, ABB and Ericsson. He celebrated the start of the new millennium with a huge party in Berlin that also marked the 35th anniversary of Private Media Group. The share price was at an all time high of $15-$20 dollars. The Economist, Forbes and Vogue were all writing about Private and writing about the man at its helm: Berth Milton (Junior). Because there was only one Berth Milton by now that mattered, and that was Junior.
Whatever reluctance Milton Junior had about projecting the lifestyle that Senior tried to impress with, he soon embraced it, but with an upgrade. He would have the sharpest tailored suits to meetings with bankers and investors – Chase, ABN Amro, Citicorp, Morgan Stanley (the list goes on) all wanted a stake of Private – because in the Clinton years, sex was no longer dirty. He would have the most fashionable shirts, slacks and shoes on the Private yacht ('Private Lady') moored just off the coast in Cannes during the film festival and the parallel Hot d'Or awards. The company won over 130 adult industry awards, including 13 Venus awards in 2004 for its "Millionaire" big budget production. It made household names of adult stars like Rita Faltoyano, Helen Duval and Silvia Saint, who emerged from the ashes of the Communist eastern European countries to become the faces (and other body parts) of Private. Perhaps by being like his father externally would make Senior realise what a chip off the block Junior was and even if Senior couldn't love him, he would respect Junior.
Resentment was, however, the only feeling Senior felt as he must have flicked through the latest issues of Private or read the interviews with Junior as he posed on golf courses or leaned against a flash car or motorcycle. The Prince was living the King's life, but the king was not dead and felt that he should never have surrendered his kingdom.
Meanwhile Junior was facing the same problems Senior had in the form of the never ending probes from the tax man, that made him feel as violated as any of his adult actresses might have been on the set of one of his films. Junior had a reputation for being miserly and if he wasn't going to pay his performers, colleagues or suppliers decently, he sure as hell wasn't going to surrender large sums of cash to the Swedish state. The fact that Private was a public company, with investors and quarterly earnings reports, didn't make him feel more charitable towards paying his debts. But now tattooed bikers were threatening his family. Hell's Angels were coming to get them, with Senior believed to have promised them a stake in Private, once he got his hands on it again.
Ultimately Junior had to cut a deal with the police and authorities. It was not just his life at stake but the safety of his wife and children too. Junior might never gain the love of his despotic old father, but he wasn't going to risk his family. So a sting operation was planned where Junior was going to meet with a 'representative' (think biker 'torpedo') of Senior to discuss a possible deal that would involve a significant 'downpayment' (just don't call it "blackmail"). But Junior knows that it is probably just a pretext for his father to have him eliminated completely. So he sits in the empty McDonalds late one night in central Stockholm, looking at the watch, while the police are in the car outside. He doesn't know if they will be able to observe, video film and listen in on what will happen and intervene fast enough. In the end three men enter, order food, have a brief exchange with Junior and are then arrested by the police a few minutes after leaving, when their van is pulled over.
One of the three men was ultimately convicted, while there was insufficient evidence against the other two, But Junior still did not feel safe and had a bodyguard follow him and his family wherever they went for the next year. But it was the last time his father would attempt to wrestle back control. Senior died alone in his Stockholm flat in February 2006. He never made peace with his son and the photo album book he gave his son when he was 11 was the only concrete token of affection that Junior ever had from dad in his whole life. The Prince of Porn was now formally King, but his reign would prove very short lived.
Act V – Losing an Empire and Finding Yourself
"It's 100 euro to strip, 200 euro for vaginal and 300 euro for anal sex." I'm in Barcelona, the year is 2014 and the situation is not what you might think. The man sitting across from me is not a pimp but a friendly former banker, the new CEO of the Private Media Group, explaining the current per-scene cost of hiring an actress to perform in one of their film shoots in Prague. The important thing is that there is no dialogue because the films have to be dubbed into local languages wherever they are sold, so the films have to feature voice overs. Also easier and faster to shoot when the performers don't have to memorize or do retakes of dialogue. I'm given the nine page copy of the script of one of their latest films, something to do with vampires.
I'm in Barcelona to sign an agreement with Private Media Group for Klubb Super 8 to release the "King Porno" documentary. There have been several films and television programs made about Berth Milton Junior, both in Sweden and elsewhere, but the film in our collection is unique in terms of being about Senior. Private Media Group has one small request that we are happy to honour and there is no obstacle to us releasing the film. Meanwhile I get an insight into Private 3.0.
Berth Milton Junior is out. He was found to owe the Swedish state close to one billion Swedish kronor (around a hundred million US dollars) in taxes and penalties. The only solution was to declare himself bankrupt. The same tall building in Barcelona that houses both the Private Media Group and Junior's penthouse apartment was taken over by the banks and a new CEO was installed, one with a proven track record in finance, to turn the company around – again. Sensibly none of Milton Junior's children or family appear to want to continue the family legacy.
Walking through the offices I could be in an internet publication HQ – think Buzzfeed or Vice – only on the screen are the kind of explicit images being flicked through that would have the HR department give you marching orders if you were caught viewing them during office hours in any other business. This is the Internet age and it has not been kind to Private. Piracy has hit the porn industry harder than it did Hollywood and, besides, who wants to go to kiosks to buy paper magazines when instant nakedness is available on your computer, tablet or smartphone. The shares of Private are now worth pennies instead of dollars and a zero has been shaved off what the porn actors are paid these days.
Milton Junior lost his father but seems to have found his heart, just as his business empire crumbled. He won public sympathy in Sweden when the children's cancer fund and the homeless mission both refused his donations. He promised to spend millions building schools and hospitals in Botswana instead, where nobody would ask where the money came from and how it was earned.
The year before I went to Barcelona to meet his replacement, Milton Junior was photographed back in Sweden at a bar together with Thomas Möller, former head of the Swedish chapter of Hell's Angels. He was staying at the luxury Renaissance hotel instead of his usual residence, said to be a luxury villa in Mauritius, together with his new family – his 23 year old girlfriend Michelle. He still owes the Swedish state SEK 927 million. It is not known if he visited his father's grave during his brief return to Sweden.
Klubb Super 8 has yet to release the documentary about Berth Milton Senior, posing in front of his Rolls-Royce for the Japanese film crew, the young Berth Junior looking on just outside the shot, not seeing a porn king but only his dad.

Latest posts by Patrick von Sychowski
(see all)