UK – The Financial times has a special 'The Business of Film' supplement that looks at cinema and finds – surprise, surprise – that it is still surviving and thriving in the age of streaming and lauded TV shows. Rentrak's Paul Dergarabedian is quoted as saying that "This could be a record year," at the box office. Success stories such as China and Imax (and Imax in China) are ticked off. Imax's CEO Gelfond predicts that the cinema window of exclusivity will endure "for a significant amount of time." There is also the customary handwringing about the domination of tentpoles that are sequels and/or Marvel films. Nothing really new all-in-all but well-written snapshot of what the prevailing opinion of the cinema industry is in 2015 – though no mention of craft beers, gourmet snacks and comfy and/or shaking seats. (More on that below) Financial Times – 26 October 2015
And if you don't trust the FT, World Finance is here to tell you that 'People still love the cinema in spite of Netflix and other streaming services.' (In other news, the earth is still round and the Pope has still not converted to Seventh Day Adventism.) Not that anyone is complacent, as Phil Clapp is on hand to explain. WF even uses the same Box Office Mojo chart as FT. World Finance – 30 October 2015
USA – According to Seeking Alpha, there has been a mini-rush into exhibitor shares since Regal announced its Q3 2015 results, which were bolstered not by films but by improved concession sales. So it seems that investors don't just read the FT (and WF) but act accordingly.
The 10% gain in concessions per patron was an eye-catcher from the Regal report, as well as management's favorable read on Q4 traffic.

Gainers include AMC Entertainment (AMC +5.6%), Cinemark Holdings (CNK+3%), Carmike Cinemas (CKEC +3%), Marcus Corp (MCS +2.8%), and Reading International (RDI +1.3%). Sector cousins RealD (RLD +4.9%) and IMAX (IMAX+1.7%) are also higher.

Also of note is the Chinese M&A-fueled rally going on in the broad leisure and lodging sectors. Movie chains have long been considered potential targets of China-based media companies.
The fact that "Bond", "Star Wars" and the final "Hunger Games" films are releasing in Q4 can't hurt either. However, another Chinese company swooping in and buying a major US or Canadian chain seems unlikely at this stage. Seeking Alpha – 28 October 2015
Spain – Ymagis has completed the previously announced investment in Proyecson. Under the terms of the deal Ymagis owns a 51% stake in Proyecson, while the company's General Manager Francisco Lafuente Serra for Spain and Portugal retains the remaining 49% stake. Proyecson SA is a leading Spanish cinema integrator that specialises in the installation and maintenance of cinema equipment. Press Release (PDF) – 29 October 2015
UK – Old news, but since we didn't cover it at the time (and in case you missed it): Terra Firma has bought more time to sell its Odeon & UCI business. The life of the 10-year buy-out fund has been extended twice already, but has now been given another year to divest the cinema business, which would otherwise have had to been sold by April 2016. This means that there is more time to get a better price for Odeon & UCI, while the new management team in place since 2014 have more breathing space to implement much needed reform in the business. Wall Street Journal – 13 October 2015
India – BollywoodHungama looks at 'The Changing face of Indian Cinema', not just how the films have changed, but how conditions have changed for exhibitors, as the power has shifted from single-screen to multiplex operators.
In earlier days, single screen cinemas were yielding more returns for producers than what muti-screen theatres are able to manage today. Single screen owners never had high bargaining power but suddenly multiplex chains are making them feel miniscule. They are highly de-motivated by the fact that a large share of business goes to multiplex chains, who don't even own the property. Also multiplexes are looked up on as preferred partners and single screen owners are subjected to unfair treatment.
Not just cine-nostalgia but an abject lesson in Schumpeter's 'creative destruction' theory of business evolution. BollywoodHungama – 28 October 2015
India – Meanwhile piracy remains a major problem for Indian film producers, distributors and exhibitors, with both Bollywood and regional films sometimes appearing online even before the film has opened in cinemas. Sadly the compromises are often the result of an inside job:
Farokh Balsara, partner and a media & entertainment industry leader at Ernst & Young, says online leaks are a result of the movie value chain being compromised. "Typically, leaks happen because someone in the pre-production, distribution or exhibition stage has been paid to make copies of the film. These are then leaked to torrent websites and platforms because there is an audience out there, hungry for this content," he says.
The growth of 3G and 4G mobile devices is said to be fuelling demand, while slack security in the production chain enables leaks to happen. Business Standard – 26 October 2015
India – Revenue and profits were up year-on-year at Inox, which saw Q3 net profits of INR 205 million (USD $3.14 million), compared to INR 52.3 million (USD $0.80 million) for the same quarter last year. Other key metrics were also up, but shares still fell 9%, as investors booked profits after the company's shares had gone up 37% since its June quarter figures were announced. LiveMint – 26 October 2015 
USA (CA) – RealD also announced its quarterly figures and they were nothing to write home about.
The company reported $0.14 earnings per share (EPS) for the quarter, missing the consensus estimate of $0.17 by $0.03. The firm had revenue of $53.60 million for the quarter, compared to the consensus estimate of $61.22 million. During the same period in the previous year, the business earned $0.10 EPS. The business's quarterly revenue was down 2.9% on a year-over-year basis.
Despite several analysts recommending "Sell" the stock has an average "Buy" rating and consensus target price of USD $14.45. They currently trade at USD $10.31. Voice Chronicle – 30 October 2015
Seating
USA (NY) – An interesting perspective on the re-seating effort underway by AMC (and others) in the Galleria at Crystal Run in the town of Wallkill from its local paper. The AMC representative (Ryan Noonan) is open about the fact that 50-60% of seating capacity will be gone and that "Showing up Friday night 30 minutes before the show, and getting center seating, those days are gone." While prices will not go up immediately, customer should expect to have to pay USD $1-$2 more eventually. But in addition to new seats they are also getting new speakers, new audio system, new screens, new carpets and a Coca-Cola Freestyle machine, in addition to enhanced food options. AMC has converted 70 of its planned 350 theatres as of the middle of 2015. Times Herald-Record – 26 October 2015
USA (NY) – Meanwhile smaller chains are being pushed into following the lead of the likes of AMC. Here is an example of Pittsford Cinema 9, also in New York state, installing leather recliners after nearby Eastview Mall's Regal Cinemas 13 and AMC Webster 12 previously installed recliners in recent years. Interestingly for those that fear cannibalisation of audiences, the switch that saw 1/3 of seating capacity vanish still saw a 20% increase in the customer base. The management also did "a social media research project on the benefits of installing the recliners prior to the project's construction." Most of the seating was replaced, except for the screens with stadium seating, where only the front rows got recliners. Democrat & Chronicle – 27 October 2015
USA (CA) – Another long article looking at what cinemas are doing to attract older and affluent audiences away from their flat-screen TVs (the three keys ingredients are helpfully ticked off already in the headline: "booze, food and comfy chairs"). This article even goes to the trouble of interviewing NATO's spokesman and #2 Patrick Corcoran:
"Older patrons have different requirements for when they go out," Corcoran said. "They want to be pampered a little more. They have a little more spending money, so food service and alcohol are things that attract a large portion of the population."
French fries, funnel cake fries, pulled pork nachos and gourmet sausages are only some of the things on offer with craft beers, daiquiris and wine before you slip into your recliner seat. Press Enterprise – 23 October 2015
Japan – As previously reported, even the traditionally conservative Japan cinema market is being swept up in the recliner lounge and immersive seating craze, with Toho cinemas installing 4DX seats and local films like "Attack on Titan" related with enhanced effects, while Shochiku Multiplex Theatres Ltd. has installed 23 spacious "platinum seats" that seat two at its Shinjuku Piccadilly theater in Tokyo's Shinjuku Ward. The surcharge for 4DX is ¥1,00-¥1,200 (USD $8.28-$9.94), while the snuggle seats cost ¥5,000 (USD $41.41) per person, though the equivalent 140-degree recliner seats at Aeon Cinema in Okayama 'only' coast head that. Aeon has also been focusing on event cinema, having hosted over 100 special children's events over the past year. Japan Times – 29 October 2015
Technology
USA (AR) – It is not just the established DLP Cinema OEMs that are pushing into the laser-light illuminated projector market. The prospect of replacing Xenon light bulbs is attracting interest from new players as well. Power Technology is one such company, announcing that will install its Illumina Cinema Laser System at CALS Ron Robinson Theater in downtown Little Rock in early December. According to the press release, "This is the first laser illuminated projection installation in the state of Arkansas and puts the Ron Robinson Theater in an elite group of cinemas in the world powered by laser light." There you have it. Press Release – 26 October 2015
Concessions/F&B
USA – October is National Popcorn Month, a fact that is not lost on the Coca-Cola company, which highlights the fact that Americans consume 16 billion quarts of the white stuff each year (not all at the cinema, of course) and sales hit almost USD $1.1 billion in 2014 according to the Popcorn Board. There is also some concessions innovation from one of Canada's hippest cinemas.
Movie concession nostalgia is what inspired celebrated pastry chef Farzam Fallah to create a dessert pairing Coca-Cola cake with popcorn ice cream and red licorice sauce for the hip Toronto restaurant, Richmond Station.

"It just made sense — Coca-Cola, chocolate, popcorn, Twizzlers," Fallah said. "I feel like that's something everyone gets at the theater."

He christened his creation Movie Snacks, steeping popcorn in whole milk and cream overnight to create a unique flavor of ice cream that conjures up the slightly burnt butter-and-salt taste of movie popcorn.
You can find the recipe on the website. Coca-Cola Company – 12 October 2015 National Popcorn Month
Japan – The Tachikawa Station Cinema City's Cinema Cafe is offering unlimited red and white wine for ¥1,000 (USD $8.30). The all-you-can-drink weekdays offer  is available in the Pizzeria Bar Napoli adjacent to the cinema, with no sign that patrons can bring drinks into the auditoriums however. (Somehow I don't see this working in the UK, where wine appreciation takes other forms than manga comics.) WorkMaster – 27 October 2015
Event Cinema
Germany – AMC's spin-off series "Fear the Walking Dead" will be shown in cinemas in Germany. CineStar will show the first two episodes in 26 of its cinemas across Germany on 6 November. This follows a deal with Amazon Prime Instant Video, which has the television rights to the show in Germany, while the original "The Walking Dead" is show on the Fox pay television platform of Sky. There have been several instances of hit television shows, such as "Breaking Bad" and "Game of Thrones" being shown on the big screen, but this is the first time a new series (albeit a spin-off from another popular series) has premiered in cinemas in any country. W&V – 28 October 2015
Health & Safety
France – A teenager suffered injuries when he fell four meters from a roof after trying to sneak in for free at the Pathé cinema at Belle Épine. One of the two teenagers stepped on a plastic window that broke and he fell onto a stairwell. Police and fire teams arrived at the scene and he is being treated for injuries at the Necker Hospital. Le Parisian (FR) – 27 October 2015
Accessibility
Germany – The first cinema in Frankfurt (Mal Seh'n Kino) has been fitted with audio description technology for blind and visually impaired patrons. The Sennheiser Cinema connect system cost €8,000 to install – three-quarter of which was paid for by the Hessen state government and local film board – and can be accessed with a regular smartphone and a set of headphones. Modern hearing aids that incorporate Dolby Surround are also compatible, though availability of DCPs with audio description remains patchy. Frankfurt Allgemeine (DE) – 27 October 2015
Cinema Opening/Closing
UK – A naming right dispute with Odeon means that the Cineworld planned multiplex for Warrington will not have an Imax screen but instead feature the exhibitor's Superscreen PLF equivalent. The 2,500-seat 13-screen multiplex set to open on Bridge Street in 2019. Such is the power of the Imax brand that despite promises of dual projection, high-brightness and Dolby Atmos for the screen, community organisers are raising a stink about the removal of the Imax from the plans: "This is unbelievable, we were promised an IMAX and now the council has been sneaky and removed all mention of it from its website, instead of being open and honest in telling the community this devastating news." Warrington Guardian – 30 October 2015
UK – The reviews are in for the new Cineworld in Birmingham and the verdict for the Midlands' first purpose-built Imax screen is that it delivers.
Birmingham's latest cinema is an 11-screen Cineworld multiplex inside Resorts World at the NEC.

And the good news is that the new, purpose-built 282-seat IMAX theatre at its heart is a stunner.

Complete with a floor-to-ceiling screen and a sound system that will blow your socks off, it will soon become the place where many film fans will want to see their favourite new movies.
Cineworld and Empire both have Imax screens in converted multiplexes in the region, but this one was built from scratch and currently screens Bond. All the stats on and details on the cinema are in the article. Birmingham Mail – 27 October 2015
USA (MI) – ArcLight has opened its second cinema in Chicago (but the first purpose-built), with the 14-screen multiplex in the NewCity shopping mall in Lincoln Park. The exhibitor is trying to replicate the ambiance that has made it one of the most popular cinemas in its native Los Angeles.
A hybrid movie house showing arthouse films and Hollywood blockbusters — its grand opening next week is timed to the debut of the Bond flick "Spectre" — ArcLight brings a new angle to Chicago's theater offerings. The advertising-free (trailers still run), reserved-seating multiplex plans to feature weekly retrospectives of old movies and host documentary series.
But the competition is heating up and when AMC open its 11-screen multiplex in nearby Block 37 it will be the first Chicago location to offer AMC's "Cinema Suites" recliners, individual tables and push-button waiter service. Two screens feature Dolby Atmos while one has 35mm projection. Chicago-Tribune – 29 October 2015
India – South Indian chain SPI Cineas has sold its swanky 11-screen multiplex Luxe to Jazz Cinemas. Not previously a notable player in the Indian exhibition market, Jazz Cinemas Private Limited was previously known as M/S Hot Wheels Engineering Private Limited. The Hindu has investigated the corporate manoeuvres that led to the creation of this new venture:
It is pertinent to recall here that Luxe was thrown open to the public in March last year after much delay in getting safety clearances from police. The deal, which has been in the offing for a while, was made apparent recently as patrons of Luxe were redirected from SPI Cinemas's website to another website: jazzcinemas.com.
SPI Cinema has been an acquisition target of PVR. The directors of Jazz Cinemas are also listed as directors of Midas Golden Distilleries Private Limited. Speakeasy cinemas anyone? The Hindu – 30 October 2015
U.A.E. – Record perhaps not surprisingly being broken at the Gulf's first laser Imax cinema.
Last month, the company unveiled a new 100,000sq ft entertainment destination in the firm of a 24-screen Vox Cinemas in MoE's new extension, which features Imax with laser screen; the largest Vox 4DX auditorium; Theatre by Rhodes, combining fine food and film in a collaboration with Michelin Star Chef, Gary Rhodes; and two Vox Kids.

Vox plans to invest Dh1 billion over the next four years to reach 300 screens by mid-2018 and 550 screens by 2020, company chief executive Cameron Mitchell told Emirates 24|7.
The cinema chain already has presence in Lebanon, Oman and U.A.E. but is soon opening in Egypt and Quatar, looking at Egypt and Asia after that. It estimates that it will be present in nine countries inside and outside the Middle East by 2020. Emirates247 – 30 October 2015
USA (NY) – It will soon be good-bye to Westchester's Hawthorne Multiplex as National Amusements has been given permission to tear it down the 10-screener and replace it with an Audi dealership. "I'd be very disappointed to see it close. It tends to be a more mature crowd that comes here, which is appealing," a local resident is quoted as saying, but therein also lies the problem as cinemas want to attract families and young audiences, if they are not prepared to convert the cinema to high-end recliners, alcohol and F&B. The Examiner News – 26 October 2015
Finally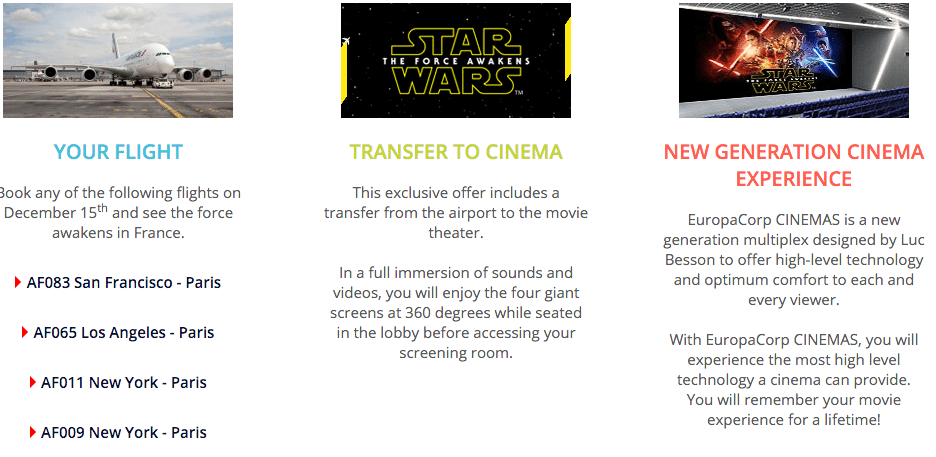 For the Star Wars fanboy (and fangirls) who can't wait for the new film to open in the US they can now fly with Air France from Los Angeles, San Francisco or New York to see the film two days early in Paris' EuropaCorp cinema.
For the promotion, Air France teamed up with French theater EuropaCorp Cinemas, the multiplex designed by French director Luc Besson. The package includes a plane ticket, a free transfer from the airport to the movie theater "in a dedicated Star Wars shuttle," and a movie ticket to the EuropaCorp Cinemas outside of Paris. How convenient.
I would have been even more impressed if they had pressed the Concorde back in service for this, but instead its the Airbus A380 double decker. Inverse – 29 October 2015

Latest posts by Patrick von Sychowski
(see all)