'It's going to be impossible in the 21st century for anyone to think about anything without a Chinese aspect.'
– Sir David Tang (bit.ly/1FRy1Zu)
BREAKING NEWS: Wanda is rumoured to be acquiring Top 10 exhibitor Jin Yi Cinema and data platform Yi Yan Network (parent company of Arts TU Network amongst others). The exhibitors shares are said to have been suspended pending the deal. LINK
Imax rolled out the red carpet for a Chinese delegation of journalists and film people visiting its headquarter in Canada to showcase its new laser projection and talk about the company's expansion in China. The question of how to program Chinese blockbusters alongside Hollywood films (not to mention "Game of Thrones" and the World Cup) was one of the hot topics discussed.
So, for "Wolf Totem", "Heaven Will Mighty", "One Step Away" and other Chinese IMAX film, how do they get into IMAX's vision? Greg Foster said they copied the Hollywood model of pre-establishing good relationships with Bona, Huayi and other producers and Tsui Hark, director Jiang Wen, etc. "The year for ahead for IMAX format films is locked in advance." But since the Chinese are basically only a one-IMAX auditorium per cinema market, so basically they can only do one film at a time. "While we do not wish to do so, but sometimes we have to be very polite and refuse some films."
Gelfond is quoted as saying that the learning of the past 15 years is that for Imax to become a success in China it has had to localise and become a Chinese company, plus also offering favourable terms to exhibitors.
Richard Gelfond: In fact, in China we have adopted this model of cooperation, and for more than half of the domestic theaters we are in partnerships,where we provide equipment free of charge to the theater, and recover our costs by way of box office splits. The cinema does not need to invest in assets, including setting fares, means that theaters have ownership, so for the theater it is basically a zero investment.
Lots of insights into Imax's thinking in this interview, including an ambition to have 400 screens in China. LINK
Imax und Huayi Brothers have dopend their co-operation, with Huayi Brothers adding three Imax screen to their portfolio, whereas the two companies had previously only co-operated on film production and distribution. "Giant screens will be added at existing Huayi Brothers Cinema multiplexes in Beijing and Wuhan, and to a new-build project in Hefei."  LINK
Imax has also expanded their co-operation with Shanghai Film Group. "Shanghai Film Corporation, one of China's largest vertically integrated movie groups, is to install two further Imax screens. The new screens are in addition to the 19 it already has on order and will lift SFC's total commitment to 25."  LINK
The pace of new cinemas opening continues to accelerate in China. In April an average of 16.8 screens opened every day, for a total of 505 screen in 63 cinemas with a seating capacity of 36,733. This marks a 12.5% year-on-year increase. Most new cinemas was opened by Earth Cinemas, Zhejiang Time Cinema and Film Digital Cinema. The month's box office champion was Orange Sky Golden Harvest, which only just managed to nudge Wanda Cinemas into second place with CNY ¥958.11 million (USD $154 million) compared to CNY ¥945.67 million (USD $152 million), according to data from Ent Group.  LINK Even more data can be found HERE.
But while cinemas building and box office is booming, not all Chinese domestic film productions are doing well. The directors of two recent films that underperformed, "Intruders" and "Obsessed", accuse theatre managers of "murdering" their films. "Due to the feeling that their work in the upper booking suffered unfair treatment, "Intruder" "Obsessed" issued solemn declaration of the two directors in Quannei Wai caused widespread repercussions, the number of visitors come forward to the name of the big names  to show support." Theatre managers defended themselves and said the heavy (read: non-commercial) content of the films were to blame for audiences staying away. LINK
Wanda Cinemas has published its quarterly figures and achieved in the first quarter of 2015 net profit growth of nearly 60%, while popcorn margins were three times that of box office takings. LINK
Media Research Director Peng Kan thinks that Chinese cinema market is nowhere near its full potential. ""China now has about 25,000 screens, a conservative estimate of an upper limit of about 40,000, although the core business district in the big cities have a local phenomenon of excess, but not enough overall prosperity, potential theater is not completely saturated." Peng Kan told reporters."  LINK
China Film giant Screen held its first ever US demonstration during CinemaCon of its PLF capabilities.
China's first giant-screen theater in Las Vegas Palm Tree Hotel Brandon theater (Brenden Theater) and held a grand opening demonstration, the demonstration during the American film industry exhibition were attracted global major theaters, film production companies concerned and related agencies from around the world participating. More than 200 guests from the international film industry, by the China Film Co., Ltd. and the United States Hollywood Deluxe jointly invited to observe the "giant Chinese curtain" related technology demonstration activities.
It also announced that its first deployment outside of the Mainland will be in Indonesia with Cinemaxx's Jakarta Karawachi Studios,after which it will target Taiwan, Hong Kong SAR, Korea, the Southeast Asian countries, Pakistan, India, and  the Arabian Peninsula. LINK
Xinhua Daily Telegraph takes note of how dark many 3D screenings are and investigates. It talks to exhibitors, RealD and others, to come to the conclusion that cinemas saving on lamps is a big part of the problem. It notes that for a cinema with an annual "[CNY ¥] 2 million [USD $320,000] of profit in auditorium where they can save [CNY ¥] 30,000 [USD $4,830] on Xenon lamps, for 10 auditoriums that is [CNY ¥] 300,000 [USD $48,300], i.e. not a small sum." LINK
Subtitles
"Avengers: Age of Ultron" has been attracting a lot of comments on Chinese microblogging platforms – because of the number of translation errors, where the meaning is too literal. Here are some examples:
"Even if you get killed, just walk it off!" becomes "Some people kill you ran." And "I'm home" becomes "I'm fine." And "We may not make it out of this" turned into "We can get out of [this]." And "waiting too long" becomes "I'm old."
Apparently similar problems were noted with the translation of "Guardians of the Galaxy" last year, when "I am loser" was translated as "I am the Lu snake." The article comments that the distributors "might as well use Google to translate it." Ouch! In China translation and subtitling is highly controlled by SAPRFT and monopolised by just four companies: China Film Group, Shanghai Film Group telefilms plant, Changchun Film Group telefilms factory and August First Film Studio. LINK For a full list of all the translation errors, this article has it covered.
Ticketing
Chinese cinemas are trying to fight ecommerce platforms by having their own cheap ticket promotions, for example tied to a specific credit card provider. But when the limited number of tickets run out they face customer ire. Even if you turn up at 10 o'clock when tickets go on sale, staff say the POS machine is broken and then claim it is is old out. "Subsequently, the reporter said that when he tried to find out if there are so many credit card P.O.S. single voucher, the ticket staff said that this is a trade secret and they cannot divulge this information."  LINK
Some cinemas are even trying to entice cinema goers with free shoe polishing and free manicures. But this unfortunate old shoe polisher collapsed from the heat in the stifling Beijing summer. LINK
Over the May-Day holiday commerce channels like Baidu sold over 100,000 online membership cards that allowed people to buy cinema tickets as cheaply as ¥5.1 (USD $0.84). Available in 282 cities across China this "detonated a viewing frenzy" that also saw Imax tickets sold for just ¥65 (USD $10.48). "By the exclusive cooperation with the cinema, to create a new membership card O2O [online-to-offline] viewing mode, stimulated and boosted Labour Day Baidu movie ticket amount sixfold compared to last year, compared to 51 day of the total amount of the votes of only 71 % growth rate, Baidu is eight times the market growth rate." LINK
People's Daily notes that in 100 days China's box office has already crossed a hundred million yuan per day and asks, "What makes the Chinese film market rapid expansion, so the spending power of visitors have increased dramatically?" While increased building of cinemas (see above) is one factor, people's access to Internet channels is highlighted as the greater reason.
"The Internet may cause the traditional film industry great disaster, going from angels into demons." Zhao Jun, deputy general manager of Zhujiang Film Group enlightening said. Right now, with audience seating, the Internet booking at a conservative estimate of the proportion is 40%, and even some radical estimated it to have reached 60 percent, often as low as 19.9 yuan fare even 9.9 yuan, the amount of votes the difference between the minimum price and the actual price is subsidised by the Internet companies.
Zhao issues a strong caution about how commerce platforms "subsidize cinema tickets for the purpose of plunder and traffic data." But US Mission Network CEO Wang defends the practice, saying that they are simply filling what would otherwise be "dead seats." Ending with an almost Confuscious-like quote from the discussion, the article reflects, "The Internet does not guarantee winning film, but the film industry if you do not understand the Internet, it is difficult to obtain victory." Zhuhuilong said.  LINK
Some are even considering installing free WiFi in cinema lobbies to enable greater transaction volume. LINK
Event Cinema
The screening of Chinese operas in chins is slowly starting to take off. "Opera movie "Dragon and Phoenix" "champion media" since April 25, has been in Beijing for a week full of special screenings, 14 cinemas around the capital each day, the time and place for the two films reflect row fans, by the fans fancier warmly received."  LINK
Technology
Dolby and their newly integrated Doremi brethren held a training session 5-7 May at ACE Beijing company. Looks closely at the photo above to see who led the training and ignore that fact that it is a photo of a 'Confidential Information 2015' Powerpoint. LINK
NEC is promoting its laser projectors in China, particularly for NMAX (pure coincidence that it sounds like 'Imax' I'm sure). " The NEC launched NMAX laser projection system solution consisting of three color laser digital cinema projectors, no noise screen system, efficient 3D systems, servers and other embedded content, and aims at solving the current cinema viewing experience exists in decline, high operating costs, maintenance and other complex issues of insecurity."  LINK
Advertising
The Chinese cinema advertising market is not only large, but is accepted by 69.18% of viewers and set to double within three years. "Yi Yan data show that in 2015 the cinema advertising (excluding rolls) market size is expected to exceed 1.8 billion yuan [USD $290 million], with audience reach of 689 million viewers, meaning that per capita single screening by running price changes is not the case. This reflects that the value of the cinema advertising has scope for further expansion."  LINK
Private Cinema
Private cinemas (screening rooms) with "soft lighting, soft carpets, comfortable sofas, coffee fragrance blowing," continue to gain in popularity, as this reporter found out visiting one in Marriott City Square, with its . ""Private cinema" by virtue of the different characteristics of the private viewing box environment and private services customized style, quickly captured the hearts and minds of everyone, not only hard to find a box weekends, weekday bookings are also quite popular."  LINK And here is another in Jinan.
Drive-in
Drive-in cinemas in China face a problem that with hot summers, people need to run air conditioning in the car to make the experience enjoyable. But for balmier nights, people can even catch a train to the drive-in cinema if they don't have a car (or hate car jams). "Driving to the scene Mr Ping said, with wife and children, sitting in the open on the outskirts of watching an open-air cinema, I feels very good. Before Liu Ping steel work said that if there are no traffic jams, from Pingxiang city to here it's just a few minutes, and Pingxiang high-speed rail station is nearby, he suggested that the theater all night car show, so you can attract some people after midnight ride high-speed rail to viewing."  LINK
Cinema Opening/Closings
GT Land Plaza has opened a new very large cinema in Guangzhou. "1,200 seats in the theater with blue, white color design, irradiation spotlights. Full 4K Ultra HD projection, the golden ratio screen settings, ergonomic seat design to provide the best viewing results. Shadow Chamber adopts the international advanced Dolby SRD and DTS digital sound system." So no Dolby Atmos it would seem. LINK
CGV opened its latest multiplex in China and thought that Korean girl bands in short skirts would get the most attention for the event. "CGV Star Juhui Studios (Qingdao Vientiane City) on April 30 held its grand opening. At the opening ceremony on May 1, the South Korean popular women's team combination MissA, and Chinese pop music star "Korean diva" Chen Zi Tong invited to help out in the IMAX film hall Studios held a stunning visual feast carnival ."  LINK
Finally
A spectator who went to Tangxi City Film multiplex to watch "Furious 7" was furious when an animal (cat? rat?) fell on him halfway through the film. Had to seek hospital treatment for bite/scratch and is demanding compensation from the cinema. LINK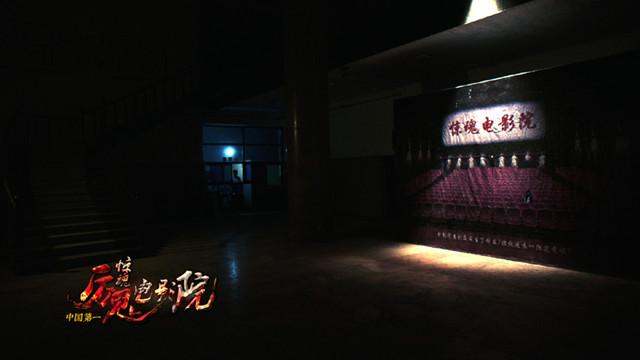 A ghost film based on the alleged hauntings of a real cinema in Hong Kong will premiere on 19 June. "The aftermath of the ghost house, dormitory, hospital and other horror film uncommon scene of terror, the "Cry cinema" selected cinemas this particular place, the famous Hong Kong film based on real events of haunted theater Studios East, East theater located at the junction of Lockhart Road and Fenwick Street in the Wan Chai district of Hong Kong."  LINK

Latest posts by Patrick von Sychowski
(see all)