A catch-up of cinema news from mainly Anglophone countries from the last few weeks, plus one very big piece of news from Scandinavia.
Scandinavia – The majority stake in Nordic Cinema Group, the regions largest cinema operator, has been sold for SEK 4.7 billion (USD $546 million) by Swedish private equity firm Ratos to British private equity firm Bridgepoint. Vue had previously been rumoured to be interested and there is also speculations about an IPO, but interesting to see one PE firm selling to another. Bonnier is keeping its 30% stake. LINK
UK – Everyman Cinemas is on an expansion spree, having raised money and snapped up four Odeon sites, paying GBP £7.1 million for sites in Esher, Gerrards Cross, Muswell Hill and Barnet. "Everyman Media group raised £20m from a share placing to fund these purchases. The group will invest £6.1m to refurbish the properties and will add 14 screens to the current 21 they own."  LINK
UK – Showcase Cinemas will spend GBP £10 million on installing 9,000 recliner seats in its cinemas across the UK. It is the first exhibitor to do so for all seats in all targeted auditoriums. "Nottingham, Reading and Leeds cinemas will be rebranded under the flagship Showcase Cinema de Lux brand, supplemented with full lobby refurbishments, installation of XPlus screens and upgraded lounge bars." LINK
New Zealand/USA – Vista has signed a deal with AMC for its Movio consumer analytics software for undisclosed terms. It will use the AMC Stubbs loyalty card/program to analyse the behaviour of frequent cinema goers. Vista holds a 56% stake in Movio, which grew in revenue terms 311% last year and increased staff form 7 to 27. LINK
UK – The Light has become the second cinema chain in the UK to offer an 'unlimited' movie card (after Cineworld). For GBP £19.95 per month The Light Infinity card offer unlimited movies and interestingly also25% off on concessions. Good news for customers of the former Cineworld cinema that feared losing their unlimited movies option.  LINK
Technology
USA (CA) – Warner Bros. has signed a far-reaching post-production deal with Deluxe that will include the transfer of Global Digital Media Exchange (GDMX) to Deluxe's ownership. Deluxe previously took over Sony Colorworks. Further sign of post-production industry consolidation. LINK
USA (CA) – Satellite DCP delivery platform DCDC, co-founded by several Hollywood studios and top US exhibitors, announced during CinemaCon that it will in the future also offer live streaming of event cinema and other applications. LINK
Law & Order
Ireland (Republic) – The Irish Multiplex Cinemas (IMC) group is being sued by Cinetech over alleged non-payment for cinema equipment, including projectors, sound systems and 3D systems. "[A]mong the debts owed are €483,000 from the Tallaght company, some €426,000 from IMC Ltd, and €260,000 from Galway Multiplex." LINK
India – Single-screen and multiplex owners in capital Delhi are caught in a power struggle between the city's police and the state government. "Cinema hall owners are puzzled as both the licensing unit of the city police and the Delhi government's revenue department have sent them letters for carrying out the annual/bi-annual inspection of movie halls."  LINK
UK – A man is in court for a bomb hoax (leaving a bottle of wine with wires protruding) in the Empire Cinema in Newcastle three days before Christmas last year. 800 cinema goers had to be evacuated. LINK
USA (CO) – The trial of Aurora cinema shooter James Holmes has entered its second week. Lots of horrific details, as you would expect. LINK
UK (N. Ireland) – Northern Ireland's largest cinema chain, Moviehouse Cinema Ltd, has been fined £110,000 for an E.coli outbreak at its restaurant Flicks in 2012. CEO Michael McAdam says he is "deeply sorry" and "personally devastated". LINK
UK – Around 50 protestors stormed the Cineworld at Bentley Bridge, which was forced to shut as a result, over the screening of the "Nanak Shah Fakir". Sikhs object to Guru Nanak being depicted in human form. Odeon and Cineworld pulled all screenings of the film. LINK
India – Have Indians been "brain washed" when it comes to standing up for the natinal anthem played in cinemas? One columnist's views on "multiplex patriotism". LINK
UK – UK's Federation Against Copyright Theft (FACT) has been paying out up to GBP £1,000 to cinema staff who catch pirate camcorders in the act. LINK
Event Cinema
UK – Secret Cinema has launched a spin-off Secret Nightclub venture, linked to this summers "Star Wars: Empire Strikes Back". Technically the Cantina Bar appeared in the previous episode, but who's quibbling. It kicks off 14 May.  LINK
Netherlands – The self-proclaimed King of Waltz André Rieu will not just be beaming his annual Maastricht concert to cinemas across the world but will also be taking questions from viewers, who can submit them to 'Ask André!'  LINK
UK – The closed tube station that was used in "Skyfall" is being turned into a pop-up cinema for a limited time. "[T]he disused Charing Cross station in the centre of the city, is opening up for a long weekend in May and screening a series of classic films," organised by the Underground Film Club. LINK
Advertising/Promotion
USA (CA) – US cinema ticketing service Fandango has launched a video promotion featuring celebrities extolling why they love the movie experience. And a tie-in sweepstake. LINK
UK – Cinema advertising is off to a strong start in 2015, helped by blockbusters and both DCM and Pearl & Dean opening up their 'Gold Spot' slots. "Ad spend for the medium is up 9.4% year on year – with ad revenue growing faster than TV, radio, out of home and print."  LINK
Ireland (Republic) – Wide Eye Media is prediction a record year for cinemas in Ireland, the country with Europe's highest per head cinema attendance. "Irish cinema admissions in the 12 months to the end of March are already up 3pc compared with the year before, with 1.02 million moviegoers flooding through doors in the 12 months."  LINK
Outdoor cinema
UK – The town of Reading will host a floating cinema as part of Water Fest 2015. LINK
UK – Sheffield's first drive-in cinema is a great success. Who would have guessed that viewers would dress up as Pink Ladies for a screening of "Grease"? [Everyone? – Ed.] Even the city's Mayor attended (in usual suit). Let's see who dresses as the Gimp for the "pulp Fiction" screening planned. LINK
UK – Good to have this issue clarified. "Following concerns that The Open Air cinema may well have been a data collecting scam, MKWEB has tracked down the owner of the company behind the up-coming event who says it will definitely go ahead."  LINK
Accessibility
New Zealand – Reading Cinema staff in Porirua removed the wheelchair of a patron watching "Furious 7" and failed to return it at the end of the screening. The customer was understandably furious. LINK
Imax/PLF
UK – Empire Cinemas will open an Imax screen at Festival Leisure Park in Basildon in time for "Jurassic World". LINK
UK – Birmingham will get a third Imax screen when Empire Great Park at Rubery converts one of its 13 screens to an Imax later this year. Cineworld is also plans to incorporate an Imax screen into the 11-screen Resorts World cinema under construction at the NEC.  LINK
Cinema Opening/Closings
USA (MA) – Want to own a sea-side cinema in New England? Write a 250 reason why and you could win the Cape Ann Community Cinema in historic Gloucester, Massachusetts.  LINK
USA (FL) – Coconut Grove's the Promenade will be the second site in the US for Silverspot Cinemas when it opens this Friday with 11 screens. "The first one opened in Naples. Others are scheduled to debut in coming months in North Carolina (this summer), Miami (fall 2016) and Ohio (winter 2016)." LINK
USA (NC) – New Hanover County could be getting a multiplex as Stone Theatres puts forward a proposal for a 14-screen cinema complex.  LINK
USA (IL) –  The ArcLight Glenview opened on 1 May in what used to be the Regal Glen 10 in The Glen Town Centre for a premium experience. "All 10 auditoriums feature a black-box design aesthetic — featuring dark seats, floors, and walls — keeping the screen the bright focal point of the room. "  LINK
USA (CA) – ArcLight has just opened its latest complex in the Los Angeles area of Culver City (home to amongst others Sony Pictures). "The multiplex would be the eighth ArcLight location for the Los Angeles-based company, which will face some competition in the area from Cinemark, which recently opened a high-tech luxury cinema in [nearby] Playa Vista." The L.A. times article says that "ArcLight Cinemas has helped reshape the cinema-going experience in Los Angeles." LINK
UK – The Light has re-opened two-screens in its Wisbech cinema that were previously out of action because of water seepage. LINK
UK – Britain's last mobile cinema has been sold on eBay for GBP £120,000. A fleet of these futuristic were built for the government in the 1960s and one survived the scrap heap and was lovingly restored. LINK
USA (AZ) – Harkins has broken ground on its next multiplex in Goodyear where Harkins Estrella Falls 16 opens next spring.  LINK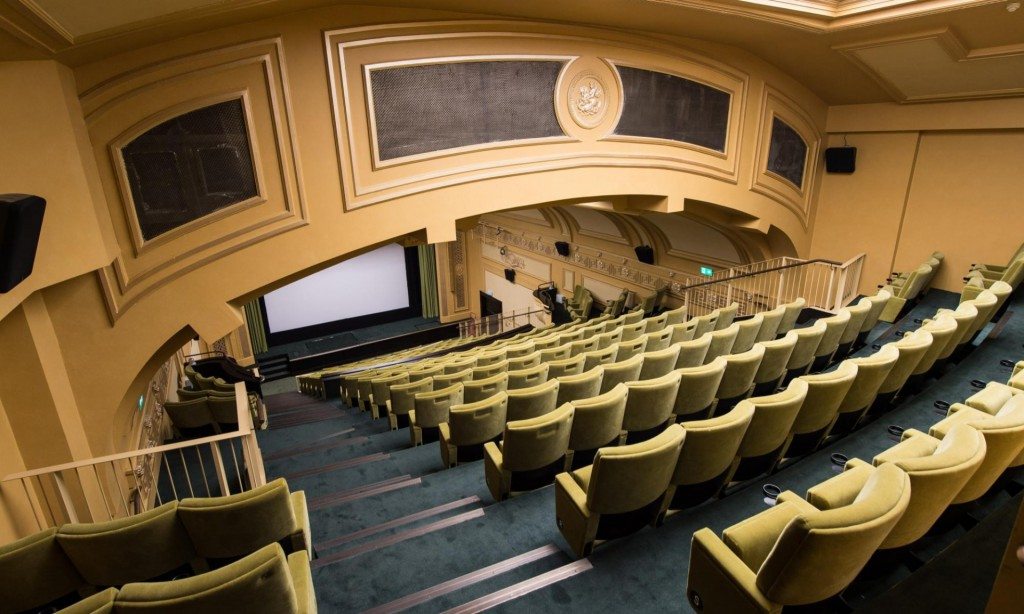 UK – The oldest venue in the UK to have hosted a cinema screening (of the Lumières natch) has re-opened as a part-time cinema after 35 years. "The three-year project, whose £6m completion cost included £1m of heritage lottery funding, has returned the "birthplace of British cinema" to full working order and programming begins on Wednesday 6 May." LINK
Australia – This former Hoyt's cinema on Bourke Street in Melbourne has been sold for AUS $60 million (USD $48 million) to an overseas developer. Known as known as the Midcity Arcade and Chinatown Cinema Complex it once also housed an 'erotic cinema'.  LINK
U.A.E. – One of Dubai's oldest cinemas, the single-screen Golden Cinema, is set to close. Showing mainly Indian films, the 1,500-seater has been in business since 1972. LINK
History
France – The Cannes Film Festival is about to start, but nearby La Ciotat is home to Eden, the oldest operating cinema in the world, which showed some of the first Lumber films. LINK
Canada – Restoration of a 103-year old Revue cinema in the greater Toronto area has uncovered some of the cinema's original features. " Vintage wainscoting, canvas wall pieces and what could be the wooden frame of an original ticket booth — all potentially from the theatre's birth in 1912."  LINK
Finally
USA (DC) – Washington Post's film critic Ann Hornaday has an excellent suggestion for how to improve manners in cinemas, "a set of calling cards with carefully worded admonishments whose tone would become harsher the longer they were ignored. Safe, discreet, glow-in-the-dark — and nobody gets hurt." Somebody pleeeeease get these printed and distributed. (Please.)  LINK
USA (CA) – The  Edwards San Marcos Stadium 8 cinema probably has the world's oldest greeter, the very genial 93-year-old Marvin Stuart. "The gregarious San Marcos retiree — known for his welcoming quips, corny jokes and firm handshake — has been tearing tickets and putting a smiles on customers' faces for more than 11 years."  LINK
UK – A couple of self-confessed film freaks got married in a cinema in Perth. LINK
Patrick was a Senior Analyst at Screen Digest, went on to launch the digital cinema operations of Unique and Deluxe Europe, then digitised Bollywood at Adlabs/RMW, and now writes, consults and appears on panels about cinema all over the world.
Latest posts by Patrick von Sychowski (see all)