Heng Ye Film Distribution's commando action-drama "Wolf Warriors" beat out "Kingsman" over the holiday to earn over CNY ¥200 million (USD $32.5 million) in its first four days on release.
In the film, which is playing in China in 3D and Imax, Wu plays a Chinese Special Forces soldier who is kicked out of the army and then joins a mysterious group of insurgents known as the Wolf Warriors. It also stars Yu Nan and the British martial artist Scott Adkins.

According to data from the research group Entgroup, the movie had 153,284 screenings and chalked up 5.87 million admissions over Qingming, or Tomb Sweeping Day, when people return to their ancestral homes to pay tribute at the graves of their forebears.  LINK

But Tencent asks whether "Wolf Warriors" won the battle of the box office fair and square, or whether there was a political agenda to ensure it ended up #1. The article notes that recent military-themed films such as  "Target War" and "Jian Shi Attack" were commercial flops.
Because it is a military-themed film, it had to be approved by not just SARFT but also by the PLA [Peoples' Liberation Army] General Political Department and the General Staff. In Nanjing, where it was filmed, there were many soldiers who came out (ordered?) to the cinemas, which also put on many 'private screenings' (where the auditorium is rented out for an entire show) of the film.
The conclusion is that the film holds up on its own, with a on-line score of 7.3 (out of 10), having production values "very close to Hollywood standards." Yet surprise at the high BO takings linger.
In fact, the SARFT Film Bureau only has the power to review the film, and no power to "order" the major theaters to give it preferential treatment. At most it only "encourages", such as was the case with last year's "Day Fireworks" and "The Return" when the film released, SARFT had issued a similar "encouragements" for theater willing and inclined to tilt, but those that do not want to would not be punished.

Such films are sometimes accorded "special treatment." An old leader of the China Film Group said in the form of an old proverb, that a cinema boss told him: "Even if you are my own father, they can only give you one day" [i.e. preferential treatment, but only so much]. This is also the consensus of the industry, where at the opening of the release of some films, it is indeed possible for a variety of reasons to give them "special treatment", but the space is no more than a day or two for cinemas: as long as attendance is good, the they will keep playing it for more days. After all, in a time of rising rents and salaries, the theater needs to be able to survive.  LINK
Much of the popularity of the film is attributed to the popularity of its lead, martial arts star Wu Jing, who is particularly revered by males in smaller Chinese towns and villages, where the film did better than in major urban areas.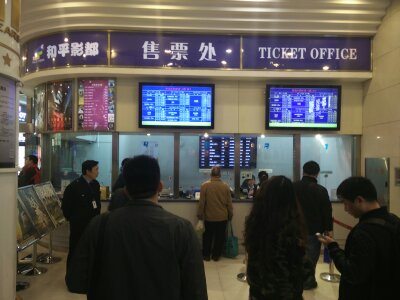 There is no denying the growth of the China box office, which increased 40% in the first quarter 2015 year-on-year, according to data from Ent Group.
In the first three months of this year, Chinese box office takings rose to $1.53 billion (9.48 billion yuan), a rise of around 40 percent on the first quarter of 2014.

Entgroup data to March 29 showed that box office takings in February, which includes the key box office bonanza at Chinese New Year, were up 23 percent at $660 million.

In March receipts were $447 million this year, versus 261 million yuan last year.  LINK
The Mainland market also reached the CNY ¥100 billion milestone in under 100 days, more precisely CNY ¥10.177 billion at 19:00 on April 6th. IN 2014 it took 141 days. Online mobile ticketa (including CNY ¥1, ¥9.90 and ¥19.9 super fares) accounted for 50% of all sales in Hangzhou over the three-day Qingming holiday.
Yet annual China cinema growth figures are not all that they appear to be, as highlighted in this analysis by Sichuan News Network's Real Estate Channel, which shows that screen growth continues to outpace boxoffice growth. The article calls this "crazy expansion" and points out that ticket prices was static in 2013 and 2014 at CNY ¥35 (USD $5.64), with e-commerce platforms/app increasingly subsidising cinema tickets.
 Data show that from 2010 to 2014, China screen had CAGR of 40.4%, however, during this time movie audiences went from 281 million to 830 million, a CAGR of only 31.1%; while the average output of a single-screen theater has decreased from ¥260,000 in 2010 to ¥ 190,000 in 2014, which means that a single screen ROI has dropped. In this case, the major theaters have proposed large-scale channel expansion, how do they think that it will end? Under the pressure of a situation of increasing competition, what are the future cinema environment patterns are going to be? In this regards, the general manager of INSITE Group Research Centre, Institution of Chartered Surveyors (RICS) China, a spokesman for Miss Zhang Ping, believes that the future of "industry reshuffle will be intense, and ultimately the formation of a number of large theaters monopoly pattern."  LINK
So which cinema in China has the highest per-seat income? If you guessed an Imax screen, perhaps in Beijing or Shanghai, then you couldn't be more wrong.
Green Palace Cinema recently celebrated its tenth anniversary. This cinema is located in Beijing Road, Guangzhou, a small theater, only 1,016 seats, without a giant IMAX screen, the ticket price is not high, but the cinema's attendance in 2012 and 2013 was 52.66% and 51.83%, meaning that it was the national champions theater; single-seat earnings value in 2012-2014 for three consecutive years it won the national championship without an IMAX theater. Even more amazing is that in 2012, the average yield per seat in the cinema is 51,000 yuan [USD $8,221], breaking the national record high single-seat theater in terms of earnings.  LINK
Exhibitors are increasingly concerned about the power of the internet majors BAT [Baidu, Alibaba and Tencent] as they not only muscle in on selling cinema tickets via smartphones but also make forays into film production and distribution (Ali Pictures).
The development trend of the future is anyone's guess, but the news of theater practitioners is that they are still nervous and do not want to be hijacked by BAT, do not want to become accessories. What are some ways you can help the theater? The answer is nothing less than two points – stick to the core member resources, revitalize, back to basics, so that the core consumer value is maximized; to build their own electronic business platform, the establishment of small-scale business ecosystems, against dumping, pricing and firmly grasp the initiative. In last year's BIRTV, pointing unlimited (pull Movie Network) exhibit called "smart e-commerce theater management system CIAS" system, said to be the country so far the only piece of software, hardware and operations management solution integrated theater that can help theater with a full range of management, and can provide 7/24 hours of uninterrupted operation and maintenance support.  LINK
RealD continues to roll out its 6FL (six foot-lambert brightness) 'quality stamp of approval' for cinemas in China. Not surprisingly it is RealD's major client Wanda again.
RealD 3D film company has issued the first 6FL certification in China, whereby 3D film screenings are held at the brightness of the cinema auditorium available for the 6FL certification. April 8, 2015, Wanda Cinema Zhengzhou Zhongyuan, Wanda Cinema Zhengzhou, Henan twenty-seven stores will get the first 6FL certification, high quality 3D will be highlighting Zhengzhou pursuit of quality of life and love movies collar heart love.

What is RealD6FL certification? RealD6FL certification is one of the world's most respected theater cinema certification activities, through RealD6FL certified auditorium it ia advocating normalization screening standards raised to 6FL, with higher color saturation during screenings, which can more accurately present the author's creative intent and picture detail. The audience watching the screen when it is not so dim also no longer feel dizzy or suffer tired eyes.  LINK
While Wanda tends to get a lot of publicity it is easy to overlook other exhibitors also growing fast, such as the #2 Shanghai Cinemas, owned by Shanghai Film Group (SFG).
 From 142 million yuan in 2002 to 700 million yuan in 2009, to 1.883 billion yuan in 2014. This is Shanghai Alliance and cinema all the way from the box office over the years in Chinese its cinemas rank second only to Wanda Cinema. As a flagship location in Shanghai Yonghua Cinema box office has for many years ranked first in the country, Jackie Chan Lai Yiu International Studios box office in Beijing in 2011 made it the top cinema in the country. Shanghai Peace Cinema IMAX DMR belongs to both theater and Beijing UME Huaxing International Cineplex IMAX Hall is also the country's first and most influential business giant screen IMAX theater, so as the film distribution industry in China it is like an "aircraft carrier."  LINK
Motion seat vendor MediaMation has signed a deal to install its seats in Wanda Cinemas' Nanning multiplex through a partnership with Chinese 3D equipment supplier Luxin-Rio.
MediaMation, a maker of 4D technology, has opened its first location in China, one of several projects it hopes will come to fruition in the People's Republic.

For the uninitiated, 4D refers to theaters that rely on a series of synchronized effects so that audiences have a more dynamic bigscreen experience. As with a theme park ride, seats move, there are bursts of fog, mist and smoke, and various smells are emitted. There are a handful of 4D theaters in the United States, but they remain more popular in Asia and Latin America.  LINK
Finally
Toronto's Chinese-language Dushi.ca publication highlights that only three cinemas in Canada still use analogue film and explains the difference between Canadian and Chinese cinema layout. Think ribs, but not sweet-and-sour spare ribs.
Canadian City Network: Cineplex theater company converted to digital in 2012. The company currently only has three theaters in the country that still using film projectors, Toronto Only VarSity and Bay / Bloor Cinema, mainly in order to show films where the only copy is on film.

Canadian theater design is different from traditional Chinese theatres, in that a theater usually contains several auditoriums. On building layout, a screening room located at the center of the building, like the human spine column, as each theater as general points on both sides of the ribs, so you can control auditoriums with a minimum of manpower.  LINK

Latest posts by Patrick von Sychowski
(see all)