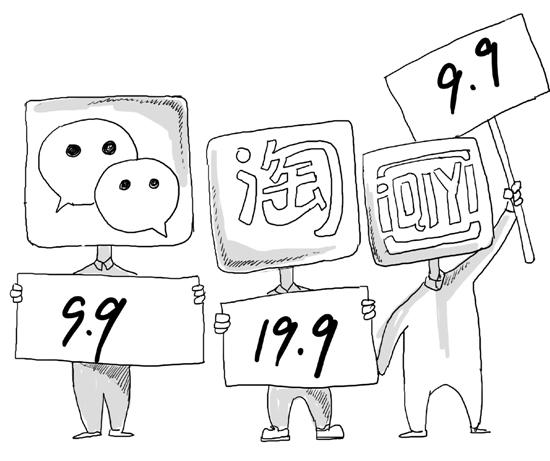 First Financial Daily Online looks at how it is possible that two cinema seats next to each other for the same film might cost one person 100 yuan while the other paid less than 10 yuan. Yes, it is our favourite topic of micro-channels (BAT – Baidu, Alibaba and Tencent, plus their smaller competitors) and their cut-throat cinema ticket subsidy competition, which will take up most of this week's Digest.
An online ticketing site, told reporters that the party subsidies generally into three categories, the first category is the online ticketing website, in order to grab the market they will come up with some subsidies. The second category is the brand partners, such as some banks to promote consumer credit card and other purposes, will come up with ultra low-cost subsidy to buy movie tickets credit card. The third category is the producers took part Xuanfa own expense to online ticketing website to achieve the increase in attendance, thus promoting the theatrical piece purpose of improving the rate of discharge.

In the crazy subsidies, theater listing price of 40 to 100 yuan movie tickets have been reduced to 10 yuan level.

However, this subsidy is difficult to sustain. People familiar with the movie industry are aware of a movie ticket sales can only get 2 to 5 yuan service fee, even if previously occupied Online ticketing area 60% share in the East Guevara, they can not cover the cost of making the service ticket machines labor and operating costs, not to mention such a crazy play.  LINK
China Culture Daily draws an analogy with how 20 years ago Wal-mart and Price Club would sell DVDs for USD $4.99 that cost them $15 to buy from distributors and that this pushed video stores like Tower Record out of the business. "Later, the producers and distributors found that not only had the traditional channels collapsed, but the psychological pricing level expectations of consumers is also reduced. " CCD also points out that in the US, online cinema tickets are not allowed to be sold below retail cinema price and only a small 'service fee' added on top. Good analysis showing that the Chinese industry and media are fully aware of the dangers of unfettered online cinema ticket price wars.
China Network is also worried about the long term implication of cheap micro-channel cinema ticket offers.
O2O [online-to-offline] banner of electronic business platform offers seat selection online marketing model to the movie industry. Continuous pattern means endless promotions, 9.9 yuan, 19.9 yuan ultra-low fares impressive. Promotions and cheap e-commerce supplier undeniably inspire consumer enthusiasm, but the positive effect on the number of Chinese box office needs to raise a question mark. With more and more consumers turning to online tickets, more and more consumers fleeing theater membership marketing, more and more consumers buying concessions products outside and bring snacks directly into the theater, these phenomena are making insiders panic.  LINK
Jinling Evening News' reporter visits the local cinema and samples what sort of cheap deals can be had on your smartphone for various films: "Paddington" in 3D for three people – 29.7 yuan, "Dragon Blade" in 3D for three people – 40.8 yuan. Almost nobody at the cinema was buying tickets at the regular box office counter.
Sina Finance is looking at what is driving the willingness to throw money at cinema ticket subsidies.
By doing active users assessments of the market, the market value, and further attract venture capital, such as PE (Private Equity investment). Once the investment risk is not good, then the money is wasted, so the subsidy depends on the strength of the enterprise, if an enterprise development to the extent of the burn, that is the "commerce".

"I think the main thing to subsidize fares is based on financial strength and business development strategy." Yong said the "final through integrated operations, to make up for deficiencies in the box office early, in initial revenue."  LINK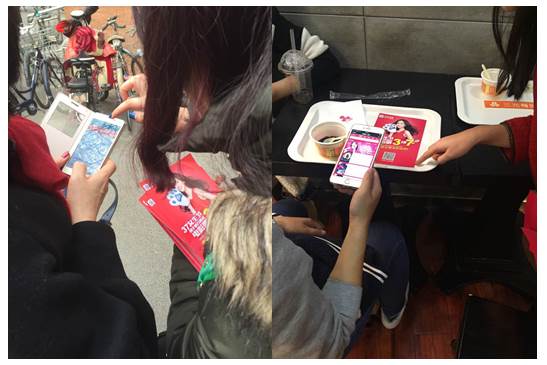 Of the three BAT micro-channel e-commerce majors (Baidu, Alibaba, Tencent), Baidu has been the most aggressive in subsidising cinema tickets recently, launching a special 3.7 yuan (USD $0.59) deal only for women on March 7th (3/7), tying in with the Women's Day weekend.
Girls section 3.7 in full swing, today ushered in the strongest peak consumption. It is reported that Baidu heavy launch section for girls to create "3.7 yuan to see the film" Girls Day welfare packages, March 6 at the warm-up period that ushered in the outbreak. Data show that Baidu rice movie ticket amount in Film, Jin Yi, Stellar and the earth, and many other activities of a large number of cinema theaters has leapfrogged the WeChat, Mission, Cat's Eye, to rank first.

It is reported that, following last year's Festival detonated girls, Baidu is a strong attack in the year, creating a "girls section 3.7 yuan to see the movie", provides online seat selection, handsome full of surprises, such as service to accompany the movies, has become one of the most heavy this year the girls section Privilege feast.  LINK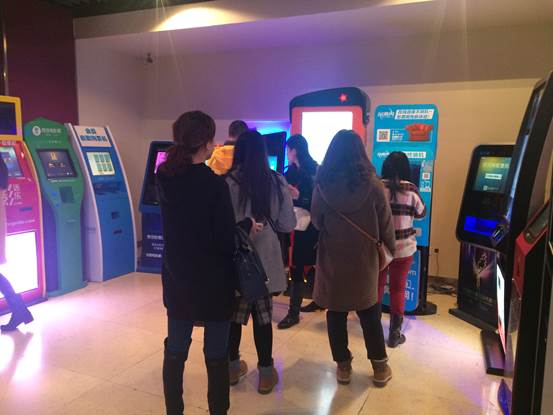 Yet the promotion was perhaps too much of a success, with several cinemas reporting long lines and ticketing machines breaking down.
For yesterday's girls section 3.7, the Baidu mobile launched 3.7 cinema events, a number of multi-theater movie screenings can be as long as a minimum 3.7 yuan ticket to watch. The low price in various popular movie theater, many cinemas Baidu self service ticket machines resulted in waiting in a long queue, and even some theater tickets machine downtime, with the resulting situation of paralysis. According to a theater manager, "Crazy. People no longer pay with money, as before, although there are a lot of promotions for the movie tickets, but such hot scenes like today we've never really experienced before."  LINK
The Chinese Lunar New Year/Spring Festival is somewhat open ended, which this cinema goer found out when he wanted to use his group ticket but was told he would have to pay 15 yuan extra as it was still 'Spring Holiday'.
Netizen "Fan" reflects on how he recently took his children to the Nanning era Film World cinema, using a friend's group ticket. Group ticket marked a disclaimer stating "Premiere, Valentine's Day and a National holiday movies is when this cannot be used, or the need to pay an increase charge." At that time, the major administrative authorities have regular working days, but the cinema insisted, "is still the holidays, you need to pay an extra 15 yuan." He was puzzled, when a movie ticket mentions "holiday", can it be determined arbitrarily by the theater? They talked with the person in charge of the theater, the other said the last group tickets are also mentioned:. "All interpretation are the final right of the cinema"

"Fan", said a ticket extra charge of 15 yuan is not much, but the key is whether the cinema was right to charge it.  LINK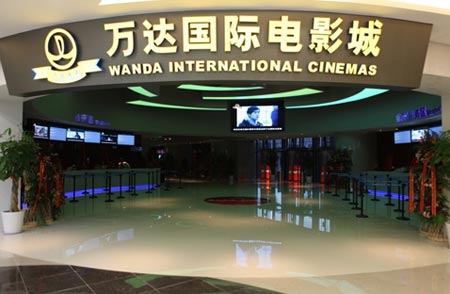 Now that Wanda Cinema has had its IPO we get more regular stats trumpeting its growth, such as this one proclaiming 22.3& month-on-month revenue growth, hardly surprising given the Lunar New Year festival in February – and a total of 185 cinema opened.
Wanda Cinema March 4 announced in February this year, business presentations, in February, the company grossed 550 million yuan, an increase of 22.3% from January to February cumulative box office revenue 930 million yuan, an increase of 30.4%. Up to now, Wanda International Cinema amount reached 185.

The report shows that the former Wanda Cinema 5 working days per month will be announced on January degrees movie box office data, in February 2015, the company grossed 550 million yuan, an increase of 22.3%, with audiences 12.16 million passengers, an increase of 14.7 %. As of February 28, 2015, the company has already opened in 185 theaters, 1,641 screens.  LINK
Cinema goers were refunded after they had to watch 30 minutes of advertising after a computer glitch. They were still upset that the cinema did not advertise the start of the film time instead of the pre-show advertising block.
The film is supposed to be screened, but instead nearly half an hour of continuous playback advertising, what kind of mood would that put you in? The evening of March 1, Lei in Yibin Yibin when people went to watch movies in a local theater, they encountered just such a situation. This made Lui very angry, who said, "I never want to go to cinema again." In this regard, the cinema staff said the incident was due to problems with the computer system, and the staff is not the first time that lead to.

Lawyers believe that theater is not in accordance with the provisions of consumer contracts in the corresponding period of consumer services, in violation of the "Consumer Protection Law," in which case the public, can be reflected to the business sector.  LINK
Hangzhou has the highest box office average for any Tier Two city in China, yet while cinema buildout has been strong but not excessive, many local cinemas are feeling the pressure of competition.
"At this stage no-show, the closure of cinemas in Hangzhou, but operational difficulties, their box office revenues have been insufficient to support the cash flow." Fuhai Fang said, "invest in a movie theater in Hangzhou, the cost will be between eight million to ten million on the high or five or six million on the low end. For the return on investment, the fastest is 3-4 years, the slowest 7-8 years or even longer. "

According to the Phoenix real estate site visits to observe, in the same row and close period pieces, some cinemas crowds, and some doors to cold. For example, the Qianjiang New Ze Arts Studios, which because of its "Sand Boat" food Outlets has a very low popularity, it is very rare to have a large moviegoing crowd.  LINK
The following section of the article glumly discusses "Cut-throat competition on the horizon, "vote with their feet" is fly?"
China Projector News is worrying that box office is not keeping up with cinema screen growth.
Chinese film at the box office have in recent years led to sustained high growth boom in theater construction investment, for example in 2013 the country added a few more than 5000 screens, and in 2014 a quarter of the number of new screens have been over 1600. However, the explosive growth of the number of screens at the same time, attendance is not optimistic at this stage in the Mainland China box office growth rate has begun to keep up with the speed of the theater building.

Currently, the first-tier cities market saturation, many second and third tier cities become the focus of the layout, but also began a new theater is too concentrated and lack of market demand than expected to bring the operating pressure and other problems that may affect the future of cinema investment enthusiasm. At the same time, the majority of county towns, rural areas, the problem is still very difficult to watch movies prominent regional imbalances in the theater building is remarkable. LINK
A similar worry for the third-tier city of Taizhou, which is 2014 had close to 150 million yuan (USD $24 million) of total box office, which is growing but profits are shrinking
Box office is not representative of the incremental operating profit theater has also been upgraded? Liang Hao group said that despite the growing number of cinema box office has gradually risen, but the theater instead of getting thinner profits.

"On one hand the development of the film could be sold fast mode, plus the Internet's intervention, sales channels, and more and less profitable theaters; on the other hand more to build more theater, cinema competition was also prominent. The result of this competition will lead to a price war. "Liang Hao group explained.
Apparently few Chinese cinema goers sit through the end credits to catch the 'Easter Egg' clips at the end of Marvel and other films that point to future sequels. Staff also usually want to get in to collect 3D glasses or sweep the floors. Beijing Youth Daily's Xiao Yang worries that they might be missing out on important plot points.
Reporters watched screenings, out of more than a hundred viewers in the auditorium only about 10 people stayed until the end, which is not easy to wait until the last ten. Because in China's cinema, end credits are often ignored. Headlight auditorium has been lit, the staff left at the exit started early recovery of 3D glasses, the right of the sweeper is staring at the floor. From the left and right eyes are eager to convey a message – hope the audience leave. In this silent urging dozen spectators but firmly send virtual heart like a precious eggs – the "father of comics" Stan Lee appeared, he was the father of the film Fred in "Big Hero 6", there are anti-wear underwear quirks, the legendary Tamkang University, but in fact it's own closet with in this world of high-tech monitoring every move. The eggs closely associated with the plot, but also may indicate a sequel to. However, the previous exit audience missed.  LINK
Chinese cinemas may have had a record Lunar New Year holiday at the box office, but one of the country's leading actors thundered at the recent plenary session in Beijing that "Chinese theatres are full of lousy movies."
China February movie box office up 4.05 billion yuan (about 2.4 billion ringgit), but the actor Chen Daoming, says that just using as the sole criterion for gross domestic product (GDP) is not a national development, the box office is not the measure of a country. The only standard is the quality of film standards.

Chen Daoming performance of "Kangxiwangzhao" TV series, the two sides have been at a record high ratings. He is China China Golden Rooster Award winner, acted in "Infernal Affairs 3" and other films, the CPPCC National Committee, who is also China, he is in Beijing to attend two sessions of China's National (CPPCC, NPC), he accepted at the meeting in neutral. When the media published his views on the issue of Chinese cinema.  LINK
Health & Safety
With 3D being much more popular in China than in the US (70% of all screenings were 3D in the multiplex that this reporter visited), questions about how clean the re-used eyewear is continue to be asked. apparently only Wanda provide wet tissues to clean the glasses better yourself.
When a 3D visual feast is a stimulating enjoyment, so we ask whether we wear glasses that are sanitised? Reporter survey found that out of six theater visited, only Wanda Cinema Han Street had an initiative to provide a 3D viewing glasses wipes, while in other theaters such a service was not provided.

In Wuhan Jinyi International Cinema (Malls shop), the reporter learned that the theater 3D glasses and glasses use the same method to clean up after the end of each movie using screenings disinfected once. However, if the number of people viewing is high, the sterilization cannot be done very careful. Yinxing film in international cinema, one into the theater, you can see the entrance decorated with 3D glasses sales, style with different price ranges. Usher introduced weekly theater 3D glasses with ultraviolet disinfection, wipe it again every day. Jinyi International Cinema consistent with the argument is that the number of people a lot of time viewing, Yinxing international film theater 3D glasses disinfection time is not fixed, Monday to Thursday, as the flow of people means ultraviolet light is used for disinfection once.  LINK
Finally
File under "Promotional Stunts Gone Wrong". To highlight its 3.7 yuan [USD $0.59] Women's Day tickets (see above), Baidu had hired a male model to appear in person in a cinema. But one female fan got a little to frisky and ended ripping off his shirt. Or was it part of the stunt all along?
Sign cinema Manhunt Manhunt was shy girls stripped down fall fresh female Yuezhanyueyong? In Beijing March 5 afternoon a theater "3.7 Girls Day" promotion, who has been invited to the scene to provide tickets for the girls, and consulting services The male model suddenly confronted with "close interaction" between pull more clothes were removed, this scene is also the scene caused a lot of people watching. This reporter has learned that the male model named small day (a pseudonym), is the theater girls section 3.7 provides promotional activities for the tickets, and consulting services for fans Manhunt audience. The event is organized by Baidu glutinous site planning, intended for the March 7 Girls Day offer "exclusive privilege" to 3.7 yuan to buy movie tickets on its website girls. This form is actually already appeared in a number of activities, not uncommon.  LINK

Latest posts by Patrick von Sychowski
(see all)