No sooner has Odeon reminded the world that it is (still) for sale then Vue lets slip that it is interested in buying Nordic Cinema Group.
British cinema operator Vue Entertainment is preparing a bid for Nordic peer Nordic Cinema Group, majority-owned by listed Swedish private equity firm Ratos, The Sunday times reported without naming sources.

Nordic Cinema had sales of 2.6 billion Swedish crowns ($312 million) and earnings before interest, tax and amortisation (EBITA) of 366 million last year.

Citing analysts, The Sunday Times said Nordic Cinema Group could be worth between 350 and 400 million pounds ($617 million).  LINK
Carmike has released its quarterly results and while Q4 was down in line with the rest of the industry, analysts are optimistic about 2015.
Carmike Cinemas (NASDAQ:CKEC) posted its quarterly earnings results on Monday. The company reported ($0.04) earnings per share (EPS) for the quarter, missing the consensus estimate of $0.20 by $0.24, American Banking and Market News reports. The company had revenue of $185.40 million for the quarter, compared to the consensus estimate of $191.00 million. During the same quarter in the previous year, the company posted $0.24 earnings per share. The company's revenue for the quarter was up 7.9% on a year-over-year basis.

Several analysts have recently commented on the stock. Analysts at Wedbush upgraded shares of Carmike Cinemas to a "buy" rating and set a $36.00 price target on the stock in a research note on Wednesday, February 25th. Analysts at Zacks upgraded shares of Carmike Cinemas from an "underperform" rating to a "neutral" rating and set a $28.60 price target on the stock in a research note on Wednesday, February 11th.  LINK
USA – TheStreet asks whether it is time to book profits from the rising exhibitor shares.
Although recent popular films like 'Fifty Shades of Grey' and 'The SpongeBob Movie: Sponge Out of Water' have lured people back to the multiplex, box office attendance is still on the decline. RealMoney Pro contributor Chris Versace explores this trend, what's driving it and what the stock implications are. Despite slowing cinema traffic, stocks like Regal Entertainment and AMC Entertainment are still near 52-week highs, prompting Versace to recommend that investors book some profits. However, he doesn't rule out all box office plays. With Disney's 'Avengers: Age of Ultron' likely to be a profitable release later this year, Versace explains why that's just one of the reasons investors should consider buying the stock.  LINK
UK – Mortgage and banking company Nationwide has released a survey that shows that UK students are frequent cinema goers but also more likely to smuggle in their own food into cinemas. The survey was done to promote the company's youth banking account.
85 per cent of students take their own food and drink into the cinema, compared to 65 per cent of cinemagoers in the UK

59 per cent seek out money off promotions, compared to 46 per cent of cinemagoers in the UK

54 per cent eat before going to the cinema, compared to 43 per cent of cinemagoers in the UK

44 per cent watch a film in 2D rather than 3D to save money, compared to 22 per cent of cinemagoers in the UK

40 per cent take their own 3D glasses to avoid paying for them, compared to 23 per cent of cinemagoers in the UK  LINK
Fundraising
UK – Sheffield's leading independent cinema is launching a fundraiser to help improve the cinema.
The independent four-screen cinema, housed in the former Kennings car showroom on Paternoster Row, has been entertaining people since 1995 with a handpicked programme of films, special events and educational activities for all ages.

And now, the landmark institution and registered charity is asking cinemagoers and local businesses to help raise a quarter of a million pounds to improve further the quality of the audience experience.

Peter Brooks, chairman of the trustees, said: "This is an opportunity for the people of Sheffield to help revitalise our iconic venue for the diverse audiences we serve.  LINK
Advertising
USA (NY) – US cinema advertising major NCM has snagged a pretty major agency upfront.
Omnicom Media Group (NYSE:OMC) enters into an upfront deal covering about $50M in advertising with National CineMedia (NASDAQ:NCMI), which places ads in front of moviegoers and on their mobiles nationwide.National CineMedia — owned by America's biggest theater circuits, Regal, AMC and Cinemark along with smaller partners — says it reaches more than 710M consumers a year.The move is another step in Omnicom's premium-video focus, which has increasingly entailed cinema inventory buys. It's NCM's first ever agency upfront.  LINK
Cinema Opening/Closings
USA (AZ) – An early opening for this Harkins cinema.
Harkins Theatres has announced the grand opening for its newest movie multiplex. The 14-screen theater will open at 7 p.m. Thursday, March 19, in the Queen Creek Marketplace, on the southwest corner of Rittenhouse and Ellsworth roads.
The opening will take place two days ahead of the earlier March 21 date projected in September by Whitney Murrey, the theater chain's director of marketing, in a phone interview Sept. 24.  LINK
UK – A reprieve for development plans that could have meant the closure of Birmingham's The Electric independent cinema.
Plans for apartments next to the Electric Cinema – which bosses feared would put it out of business – have been scrapped after a raft of objections.

The owner of the oldest working cinema in the UK had feared the scheme would lead to its demise because of noise pollution complaints from residents.

However, plans to turn the former snooker hall next door into studio apartments have now been withdrawn, which Electric owner Tom Lawes called "democracy in action".  LINK
USA (DC) – Washington's West End cinema will stop showing films as of the end of this month. Bigger circuits get exclusive runs of Oscar contenders, making operation unsustainable.
Since opening the three-auditorium, 218-seat theater in 2010, Levin has made the West End a haven for small, independent movies that otherwise could only be seen on demand or not at all. Films like Kenneth Lonergan's "Margaret," Eugene Jarecki's documentary "The House I Live In" and "Awake: The Life of Yogananda" exemplify the kind of "orphan" films that found purchase at the West End, which also served as a move-over house for bigger movies, such as "The Social Network," "Silver Linings Playbook" and "Django Unchained."

That model made it possible for the West End to stay afloat even with the paper-thin margins of the movie exhibition business. But, Levin said, for several months the theater has been "treading water financially, and we have looming significant increases in our occupancy costs that we simply can't cover from operations."  LINK
UK – The company behind a planned GBP £115 million designer outlet village has defended it decision to cancel the inclusion of a cinema. No word on who the interloper might be.
It emerged earlier this week that the picture house planned for the Mill Green Designer Outlet Village off the A5 in Cannock had been removed from the project.

The reason it was axed was due to the council receiving interest from a cinema developer to build a facility elsewhere in the town.

Rioja Developments is the company behind the outlet proposals which have now been submitted to Cannock Chase Council.  LINK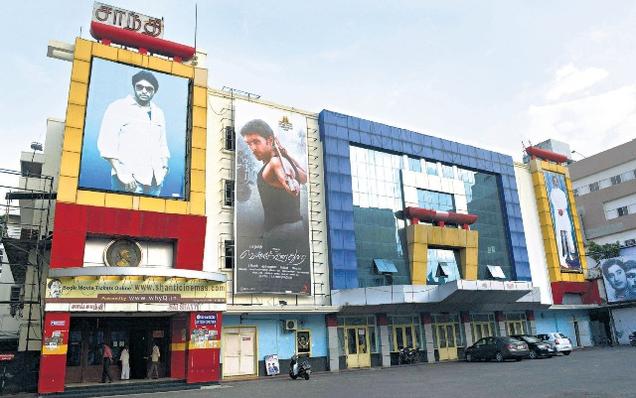 India – An iconic cinema in Chennai (formerly Madrass) is set to make way for a three-screen multiplex.
At a time when many theatres and commercial complexes in the city are being redeveloped into residential apartment complexes, Shanti theatre on Mount Road is set to go the same way. Owned by thespian Sivaji Ganesan's family, it is to be redeveloped, though as a multiplex-driven entertainment hub.

The complex, constructed by G Umapathy in 1956-57 and later bought over by Sivaji Ganesan's family, will be replaced by a three-screen multiplex that would double up as a virtual gaming centre and retail hub, said Akshaya MD T Chitty Babu, who has signed a joint venture with owners of the property for redevelopment.  LINK
Finally
Den of Geek's Louisa Mellor went to see "Shaun the Sheep" and watched most of the film without realising that the instead of the films soundtrack the walk-in muzak was playing. Sadly she does not reveal what cinema it was, other than that it was NOT Odeon. Funny and thought provoking read.
I'd gone in expecting Shaun The Sheep: The Movie to be largely dialogue-free, but this was something else entirely. None of the characters made any noise at all, nor did their environment. All we could hear was gentle piano while the action of the film unspooled. A caravan sped chaotically down a country lane to the sound of tinkling keys. Shaun and pals kitted themselves out in charity shop gear accompanied by a few sparse chords and the odd arpeggio. Sheep ransacked a swanky restaurant while an unseen pianist caressed a keyboard.
"How they expected to make any money with this is beyond me, but golly, I admire and applaud them", I thought. "How fitting that an animation studio of Aardman's calibre should pay homage to the origins of cinema, to silent film, and the Wurlitzer organ tradition," I mentally congratulated the filmmakers, stroking my chin. "I wonder why more wasn't made of this in the press?".  LINK

Latest posts by Patrick von Sychowski
(see all)