China's State Administration of Press, Publication, Radio, Film and Television (SAPPRFT) has taken note of the danger to the cinema experience if films are shown in poor conditions, such as insufficient brightness (particularly for 3D) and poor audio. It has therefor put cinemas in notice, as well as giving audiences a way to complain (call Tel: 010-82024005 13901121804). If only other countries film and cinema bodies (France's CST notwithstanding) were as forward looking. The first paragraph ought to be gold plated.
[If] film screenings technical quality can not be effectively guaranteed, it will harm the legitimate interests of moviegoers and film copyright holders, and film digitization has brought technological achievements do not match the long run, is not conducive to the sustainable development of the film industry, and will lead to the theater in market lost credibility. In order to further improve the quality of film screenings, are hereby notified of the following matters:

First, the film shows the vitality of the quality of films, the movie business is a concrete manifestation of good faith, must lead to radio and television departments at all levels and industry associations, cinema, cinemas highly valued, not for any reason reduce film screening criteria.

Second, each company must immediately cinema this notice will be forwarded to the respective theater, and the organization of specialized personnel to show the quality of the census, for the existence of film screenings quality is not up to the standard of the phenomenon must be promptly corrected. Each theater should seriously organize self, responsibility to the people, for the presence of screening quality problems, to identify the reasons for immediate rectification.  LINK
Are the wheels starting to come off the Wanda bandwagon even before the cinema IPO? In an article titled 'Hong Kong-Listed Wanda No Longer Boy Wonder' by Beijing-based Caixin Online it is pointed out that the Dalian Wanda Commercial Property IPO was expected to raise USD $5 billion to $6 billion but only $3.71 billion. Yet it is the anecdotal evidence that indicates that all is not well with the cinema portfolio either:
A recent business trip experience for a Hong Kong investment banker, who chose not to be named, highlights oft-heard concerns about Wanda's future. The banker traveled to a Wanda resort in the seaside city of Sanya, in the island province of Hainan, with plans to stay three nights.

But the banker checked out after just one night at the Wanda Culture Center at Haitang Bay because, he said, the place was as lonely as a ghost town. Moreover, he said, in Sanya he saw an upscale, Wanda-owned movie theater that seemed much too remote to draw cinema-goers.

"It's hard to imagine movie-goers going there because taxi drivers refuse to take you unless you pay a higher fare," he said.  LINK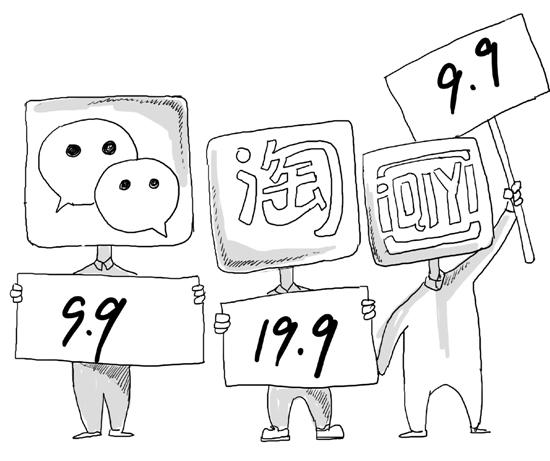 Aggressive price wars among on-line and mobile ticket providers over the New Year period pushed down the price but it is proving increasingly unsustainable.
Had hoped to attract more viewers through the Internet theater managers soon found that these activities bring more traffic to their own theater, but also affect the price of their own and exclusive piece system. Themselves in a dilemma.

"It's a few appliance 's low-cost promotions, user tickets are cheaper, but they come back again and theater settlement price down, so we did not get much benefit. but you can not participate, other family 9 9, you sell 6, the audience of course, do not go home. "A manager of a theater in Shanghai told us. Because of fears that partnership, he did not want to disclose his identity.

"This type of activity for our new theater opened more favorable, because supposed to promote low-cost marketing is the most effective way. But these theaters generally weak negotiating capacity, they are able to get the subsidy is less." Another Beijing large theater manager told us that he also requested anonymity.  LINK
(For an in-depth overview of the role of micro-channel cinema ticketing in China I highly recommend this article.)
It is a bad sign for the market when new cinema close doors just two years after opening, but such is the competition in part of China.
17.5 Centre Square Studios, with eight auditoriums, opened in September 2012. Film City Management Office to provide data show that as of November 2014, 17.5 Square Studios Center took 2.098 million yuan at the box office.

"A medium-sized cinemas, at least 10 million initial investment, the latter venue rent, utilities expenses, staff salaries and other operating costs, at least two to three million a year, if there were only more than 200 million at the box office, after removal of the film is divided into, indeed unsustainable, "A movie industry analyst commented.

Daughter, Mita, plus 17.5 Xin Star Studios, near the center of the square there are only four theaters, coming in as well as two Han Hilton and Golden Delicious. "Cinema geographically distributed unevenly, resulting in unnecessary competition and waste of resources, the future direction of development should be to go the cinema regionalization direction, radiation effective viewing area to expand the population and slowly into the community of centralized services . "Sincerely, Marketing Manager Zhu Stellar Studios presentation.  LINK
Qinghai Daily has an in-depth article looking at the growth of the cinema sector in China. Most of the stats are already well known, but what is new and interesting is the subsidies and funding by Beijing to build modern multiplexes in traditionally poorer regions, such as Tibet and Hainan.
The past two years, the state investment in the construction of urban theater gradually increased. Reporters from the Provincial Bureau of Radio, Film and Television Film Department learned that the Ministry of Finance in the State Press and Publication Administration of Radio, digital cinema box office for the western county of 50 million or more were theater cinema hall building subsidy per 400 000, the upper limit of three halls of subsidies; I also the provincial capital of the province's major theaters and cinemas were the counties grant funds for the construction of urban cinema halls 200,000 per grant, limit four halls; on County hall theater building to give every 300,000, limit three halls of grant funds .

Meanwhile, in order to accelerate the construction of Tibetan theater and two cinemas, to promote the construction of digital cinema Tibetan province, state-sponsored construction of more than 130 million fund has issued a formal possession of the province's 30 districts and counties are expected to 2015-2016 will achieve a county planning objectives theater. Currently Huang, the heteropoly, Guinan, Hainan prefecture other counties to complete the construction of the main body of digital cinema, have started construction of Xining City, Qilian County, Minhe, Hualong Hui Autonomous County of digital cinema. Tibetan areas of increasing the number of screens will effectively solve the pastoral areas of the masses "see the movie difficult" issue. "Cinema theater building for economic development has a crucial role in the theater with high-tech equipment, super music theater scene, 3D visuals and comfortable viewing environment is a lot of viewers most want direct experience. The same movies, and on television watching is not exactly the same effect in the theater, so more moviegoers still prefer watching movies in the theater. "provincial Radio and film Department deputy researcher Xu Man-hong said.  LINK
How do you measure if a particular market is over-saturated in terms of cinemas? It's all a matter of perspective. Overbuilding and ticket price drop are worrying signs, but if you consider that average attendance is less than one film per inhabitant per year in China, compared to five to seven in markets such as the US, then markets are not 'over-screened' but 'under-attended'.
And to hear that more and more cinema news, fans Chen laughed, fares dropped in recent years is an indisputable fact, watching a movie before going to four or five dollars, and now the average fare is 32 yuan, "I remember in 2012 Hui Town Studios for over grabbing market launch group purchase price concessions, a ticket only 20 yuan. "

The per capita number of viewing angles from the box office is still room for improvement

Relatively saturated market, more and more studios, tend to be relatively saturated market, of course, will become increasingly fierce competition. Bao Li, general manager of China Film Studios southern branch believes Huizhou film market has continued to tap the space. According to the data, the current Huizhou viewing per capita is less than 1 year, and in foreign countries, this figure is 4-5 times. So, from this perspective, the future of the movie box office Huizhou still room for improvement.  LINK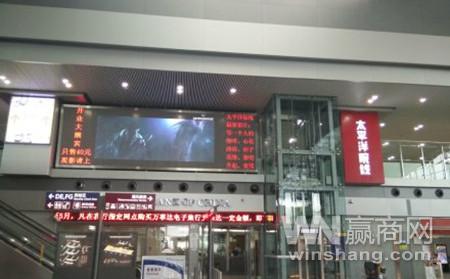 Chengdu Evening News reports that Chengdu is now the fifth biggest movie city in China, as well as the country's "Imax capital", in a long article filed with stats and analysis.
Reporter yesterday learned from the movie Office platform data exclusively owned, 2014, Chengdu movie grossed more than one billion yuan for the first time. As of December 30, 2014, amounted to 1.015 billion yuan at the box office, compared with an increase of 39% in 2013, becoming the north to Guangzhou-Shenzhen (Beijing 2277000000, 2015000000 Shanghai, Guangzhou 1.282 billion, Shenzhen 1.222 billion), the fifth box office over 1 billion city. Flying there and box office increasing theaters, cinemas: As of the end of 2014, a total of 18 cinemas in Chengdu, 96 theaters, 11 IMAX screens, has become one of China's IMAX "City."

Chengdu, Chengdu, movie box office ranking higher than the GDP rankings, but also because of this, every recent blockbuster release, starring the director will come to Chengdu propaganda or movie premiere, Chengdu fans at home can also be "the number of stars."  LINK
But the article also has words of warning towards the end about how "crazy influx of capital will also increase investment risk," and predicts consolidation in the exhibition sector.
But there are insiders with respect, "Although the film market in Chengdu huge potential, but short-term excessive mining, so we all kind of big pressure." In China, in addition to several theaters and a few Wanda has its own real estate projects, most large theaters also need cooperation and commercial real estate, shopping malls or through stationed voted to build the theater signed a lease contract, which means that most of the newly opened theater increased operating costs, potentially increasing the risk of investment. The theater investment competition triggered high rents, so that the new theater to recover the cost of increasing pressure. In fact, part of the theater Chengdu actually at a loss situation.
Beijing has close to 1,000 cinema screens, but has been lacking film institute cinemas that screens archive and art-house films. That has changed last year with the opening of three screen dedicated to promoting audience appreciation of a wider range of films with affordable ticket prices. Attendance so har has been 35-70%.
China Film Archive, as the country's "Movie Database" Chinese films have preserved more than twenty thousand, seven hundred and six Department of incremental year. As a result, in order to ensure ongoing features cinema-themed show, Beijing Radio and TV news publishing cooperation with China Film Archive, uniform selection of films, and exclusive piece for piece, make sure that the theme of the film's screenings sources and quality. Select the city's three theaters, establishment of "art film" in Beijing, "the classic movie", "Children's Videos" show features three themes theater – China Film Archive Cinema Art Cinema xiaoxitian (main show art house films), Jackie Chan Lai Yiu International Studios Wukesong theater (mainly showing classic movies) and a new video joint Huayi Brothers Studios Wangjing theater (mainly show children's films) as a feature cinema pilot, will be fixed auditorium, fixed time every week at least two times Theme screenings, ensure domestic films up to 10 yuan, 20 yuan to introduce the film the highest low fares.

Jackie Chan Lai Yiu International Studios Wukesong store charge that, in addition to low prices, the movie quality level is the most important reason to attract the audience, hoping to give viewers a good movie, movie quality standards and enhance the appreciation of the audience.  LINK
Shanghai's policy of discounted cinema tickets for pensioners is off to a slow start with low uptake. In the first month the 106 participating theaters sold only about 5,000 special discounted tickets.
How Snub elderly fare? Month the best performance given data Jinyi Studios: Studios total 1800 seats, the total box office in 2013 amounted to 4.3 million yuan, the average monthly 35.8 million yuan, while the implementation of the January total of more than 5,500 yuan at the box office elderly. Assuming the box office this year with last year, accounting for only about ticket then aged 1.5 percent. City of Film Distribution and Exhibition Industry Association, who spent two weeks in three columns to 106 theater field research. As a result, most of the feedback was: "Price is still not attractive."

Compared to 9.9 yuan, 19.9 yuan to see a movie, "cabbage price", the elderly reflects the advantages that only 35 yuan, "do not operate on the phone directly to the site to get the ID card to buy, easy enough." But in between convenience and cheap, they tend to choose the latter – on behalf of the network purchase by children, then took the code to ask the staff to help theater tickets. Once a child can attend to their viewing this plan shelved.  LINK
The end-of-year was not just an occasion for calculating how box office growth for the whole of the Mainland, but also for each individual region and metropolitan area to show off how much it had grown in terms of cinemas and attendance.
According Shantou cultural market comprehensive law enforcement unit director Chia case trial chamber survey, in recent years, the city's new Digital Cinema 8, an increase of 80 percent over 2012, the city's six districts and one county is currently built in digital cinema has reached 10 which Jinping, Lake all three, Chenghai, Chaoyang, Tide South, South Australia each one, which Haojiang digital cinema has not started planning; seats soared to 7231, an increase of 60% over 2012; Boxoffice also with The tens of millions annually. Built in 2013 in the Lake District, a comprehensive business center Star Lake City, has added a new investment of 15 million, Hall 8 826 Star Studios, Shantou become the second five-star standard digital Studios. Then Squeak Yangtze River Road Studios, mansions Area sail followed Studios have been built. Also pay close attention to the upgrading of the old theater Hull, theater "Big Brother" Grand Theatre Arts invested heavily in the purchase of one million domestic "giant-screen film", became the first eastern Guangdong DMAX IMAX theater.  LINK
Technology
Beijing Exhibition is experimenting with 'ring screens' showing content in 360-degrees. Sitting somewhere between ScreenX/Escape and Occulus Rift VR it will struggle to show films but could have other interesting applications.
Central screen theater and other planes reveal that different theater literally this theater is to surround the big screen around the audience in which large span and stunning screen effect on screen is more respected modern viewer, the entire ring screen With a modern high-tech theater, will be synchronized sound and visual, making the viewer to fully immerse in here and enjoy the beautiful and comfortable life in science and technology to create visual hallucinations in.

It is because of the ring by the current screen cinema who loved and respected, Beijing Exhibition Co., Ltd. Long Bo era firmly seize this opportunity, commitment ring screen cinema technology applications and production. The lifelike animation to create vivid, in the interview, we also found that the use of such advanced technology from the Beijing Exhibition Co., Ltd. Long Bo era military support strong backing in interactive projection, holographic projection and sophisticated technology on the military simulation. LINK
Concessions
Food safety remains a paramount concern in China. In which other country would you check for (and find!) lead in popcorn? A US Food & Drug Administration study considered "The 0.1 parts per million (ppm) recommended maximum lead level in candy," so by my calculations, this is two to four times over that limit.
CCTV program group Reporters were in the cinema, the supermarket to buy a six kinds of popcorn, then popcorn food samples to detect heavy metals lead testing station. Inspectors detected after sampling, in which six samples of popcorn, four samples contain lead. Among them, the highest lead content popcorn reached 0.042 milligrams per kilogram, while the lowest was 0.018 milligrams of lead per kilogram, the other two are not detected leaded popcorn.  LINK
Health & Safety
A sad and unexplained death by a woman in a cinema. The staffs' slow reaction is almost equally troubling.
2015 fourth day, Longyan a mere 25 years old woman, died suddenly at the cinema viewing, Xiangxiaoyuyun .

The evening of January 4, this sad scene took place in Longyan Wanda Studios. Accompanied viewing companion question, stuffy air cinema theater, after the accident, the staff did not actively participate in rescue, delayed the rescue the best time. Yesterday, Longyan Wanda responsible person, has started an internal investigation, all waiting for the autopsy report. LINK
PLF
The Wanda-Imax love-in continues.
Wanda Cinemas and IMAX 's cooperation, after seven years of running come this far, for the Chinese cinema industry, this is fast enough to make people jealous envy. With Wanda's first IMAX theater museum opened in Dongguan, Wanda Cinemas and IMAX partnership will soon celebrate its new opening.

December 20, in from around the country hundreds of senior Wanda IMAX witnessed by fans, Wanda Cinema IMAX Dongguan Wanda Cinema Museum finally opened her shop in South MALL mystery. Wanda Cinema Line Co. general manager Mr. Mao army had, IMAX China CFO Mr. Jim o An Pusi, Miss Zhou Meihui IMAX senior vice president of Greater China, attended the unveiling ceremony of this museum.  LINK
Finally
A novel way to promote a Thai horror movie – body painting.
December 20, "Revival of the Lost Bangkok" body painting artist stationed in theaters, in the theater scene so that fans feel for the first time up close "close contact" body painting art and film. By Linkin Park, Li Xin Yun, Li Yuan extreme fear suspense film starring "Revival of the Lost Bangkok" will be shown nationwide on December 26. "Revival of the Lost Bangkok" as the last part of this year's extreme fear suspense movies, about a pair of close girlfriends play similar to Thailand, after the temple was invited to various amulets strange trip accident occurred.  LINK

Latest posts by Patrick von Sychowski
(see all)