The two last episodes of HBO's "Game of Thrones" plus a new trailer for the upcoming season will screen in Imax. The show previously screened pre-release episodes theatrically, but that was 'only' George R.R. Martin's own Cocteau Cinema in Arizona.
HBO and Imax have struck a deal to make "Game of Thrones" the first TV series to grace the theatrical distributors' big screens.

An exclusive season five trailer, as well as the final two episodes of the fourth season, will get an unprecedented run Jan. 23-29 at 150 theaters in top markets across the U.S.

While the visual spectacle of the HBO hit makes it a natural for the large-screen treatment, "Thrones" will be digitally remastered to fit the Imax format.  LINK
UK – A film student who took a home-made 3D camera rig into a 3D screening of "Gravity" has been cleared of trying to pirate the film.
A film student has been cleared of trying to make a 3D pirate copy of the film Gravity at a Birmingham cinema – after a judge decided there was no evidence he had intended to defraud anyone.

Mr Recorder Nolan QC directed a jury at the city's crown court to find Ciprian Florea not guilty of making and possessing a 3D camera with intent to commit fraud.

And the judge was critical of the decision to bring the case against the Birmingham City University film technology student in his third year.  LINK
UK – While the box office fall in 2014 was not as large in the UK as it was in the US, it was still significant, as highlighted by figures from Rentrak. The attendance figure gets overlooked in favour of BO, but long term it is a more critical yardstick.
Figures for 2014, released by industry analyst Rentrak, show that cinemas across the UK and Ireland experienced a 2.9% decline in takings to £1.13bn – the most significant fall since records began in 1991. It was also the first time since 1998 that no film broke the £40m mark at the box office – exceeded by Despicable Me 2, the second film in the Hobbit franchise, Frozen and Les Misérables in 2013. In a year that was otherwise dominated by sequels, the top grossing film of 2014 was The Lego Movie, which pulled in £34.3m. It was closely followed by The Hobbit: The Battle Of The Five Armies which has made £33.5m so far and The Inbetweeners 2 which made £33.3m. The Wolf of Wall Street also broke the record for the highest ever grossing 18-rated film, making £22.7m.  LINK
UK: The Cinema Exhibitors' Association (CEA) is so relieved that 2014 was not even worse than it was (thanks to a late save by Paddington the Bear and Bilbo the Hobbit) and optimistic about 2015 that it has put out a press release about what a great cinema year it will be.
After a year in which box office dipped slightly – a final figure of £1,057,683,837 representing an annual drop of around 2.4 per cent [NB: Rentrak said 2.9%. Ed.] – UK cinema operators nevertheless enter 2015 with expectations high. Buoyed by a strong finish to 2014, where Paddington and The Hobbit: the Battle of the Five Armies performed exceptionally well, audiences can look forward to what is possibly the strongest slate for many years right across the next twelve months.  LINK
UK – The question to ask is not 'why did so many people fall for this', but why doesn't Odeon in this day and internet age have an official Instagram account?
A BOGUS cinema ticket giveaway on the internet appears to have duped up to 50,000 people into thinking they have free Odeon tickets. The seemingly fake Odeon account appeared on Instagram claiming to be giving away a ticket to see six films for its first 50,000 followers. However, the cinema chain has since said it does not have an official Instagram account. LINK
Australia – "The Interview" might only have been screened in independent US cinemas but in Australia it is getting a wide multiplex release on 12 February. Australia and New Zealand are, however, the only territories likely to see a cinema release in the Asia-Pacific market.
Australian exhibitors are supporting the release but some worry its B.O. prospects will be diluted because many Aussies have already downloaded the title.

"Sony are a major supplier to exhibition and I think the industry should get behind them and support the film," Reading Cinemas CEO Wayne Smith tells IF .

"Unfortunately time is running against Sony and there are a lot of comments on Sony's Facebook page from people who have already illegally downloaded it."  LINK
Australia – A laudable initiative to help homeless people escape extreme heat and get to watch a film in cinemas.
The City of Melbourne will offer homeless people free passes to the movies and swimming pools amid fears that the summer heat will prove to be a "silent killer" of those unable to escape it.

The city's heatwave and homeless strategy sets out measures to help homeless people during the expected heatwave, delivered by six homelessness groups including the Salvation Army and Youth Projects.

Free swimming and locker passes to five pools in central Melbourne will be made available for homeless people until 31 March. Complimentary movie tickets will be distributed on days of extreme heat, and homeless centres will open after hours to provide cooler conditions.  LINK
PLF
Qatar – A mall in Qatar will be home to the world's largest Imax screen – and an Angry Bird theme park.
The Mall of Qatar has revealed plans for a new family entertainment centre which will include the world's largest IMAX cinema screen and the world's first indoor Angry Birds theme park.

Scheduled to open by the end of 2015, the cinema with over 3,000 seats will anchor the new centre, according to a statement.

The mall will be home to the largest IMAX screen in the world that introduces new ground-breaking 3D laser technology, the statement added.  LINK
Technology
Belgium – Kinepolis cinema viewers can enjoy Barco laser projection in select cinemas. Four, to be precise.
Belgian cinema chain Kinepolis, which owns 35 cinemas in Europe, has started using its Laser Ultra 4k projection concept on four of its 317 screens, French newspaper Les Echos reports. The system uses a Barco laser projector, the only product of its kind that supports 4K resolution, and 60 frames per second, rather than 24 now.

Lasers deliver two or three times better brightness than the current Xenon bulbs, making it good for 3D glasses, which are dark. The technology provides stronger contrasts, more colours and a more even lighting, according to Kinepolis R&D director Bob Claeys. The laser projector is more energy efficient and a longer lifecycle. Barco plans to install nineteen such projectors worldwide in the first quarter. LINK
Law & Order
USA (NH) – Another reported sexual assault on child in a cinema, this time in New Hampshire.
Police are investigating the reported assault of a 10-year-old boy in a movie theater bathroom last week.

The sexual assault allegedly occurred on the evening on Dec. 30 at the Keene Cinemas on Key Road and was reported to police the same day, Detective Lt. James F. McLaughlin said Tuesday morning.

A limited description of the reported assault was released Tuesday morning.?  LINK
Accessibility
Canada (Ont.) – Good to see that the cinema did the right thing in the end. Let's hope others learn from this.
A theatregoer with cerebral palsy who said he was denied a large bag for his medium-sized popcorn is pleased with the theatre chain's response.

Jason Santry, 45, asked for a large bag when ordering popcorn Friday night at Landmark Cinemas in St. Catharines, Ont. The request was granted by the concession stand attendant, but then denied by a supervisor.

Santry said he explained to the supervisor that he required a large bag because the shaking caused by cerebral palsy results in him spilling a good portion of a bag filled beyond the brim.  LINK
USA (LA) – A woman is suing an AMC cinema because she fell over a handicapped sign and ended up disabled.
Carolyn Mire filed suit against American Multi-Cinema Inc. and Flik Inc. in the 24th Judicial District Court on Oct. 17.

Mire claims that she was visiting the AMC Elmwood Palace 20 Theater, owned and operated by the defendants, located at 1200 Elmwood Park Blvd. in Harahan when she pulled into a handicapped parking space. The plaintiff alleges that as she exited her vehicle she walked around the front of the car and tripped on the base of of a broken handicapped parking sign and fell to the ground. Mire contends that as a result of the incident she injured her hip, wrist, knee and body as a whole.  LINK
People
USA (CA) – RealD has a new person in charge of worldwide cinema strategy responsibilities.
RealD Inc. announced the appointment of former Disney and Paramount Pictures studio executive Anthony Marcoly to the position of President, Worldwide Cinema. A member of the executive team in this position, Marcoly will be based out of the company's offices in Beverly Hills.

He will be responsible for overseeing RealD's global cinema strategy, sales and operations. He brings his domestic and international exhibition relationships fostered through his years at Disney and Paramount to RealD, just as the company's cinema business is seeing growth in overseas markets. LINK
UK – Given Vue's penchant for acquisitions and expansion, this should be an interesting job.
Multiplex cinema operator Vue Entertainment International has appointed Euan Sutton as group general counsel, replacing Anne Whalley who left in September 2014 after holding the position for over eleven years.

Sutton, who took up his role today, will be responsible for advising the group on risk management, M&A and large scale transactions. He will report into the group management board headed by chief executive Tim Richards.  LINK
Cinema Opening/Closings
Belgium – Attempts to turn the last porno cinema in Brussels into an art-house cinema suffered a major loss after the new owners gutted the place of all of its interiors, include g seats, air duct and more.
It is with dismay that we learned that the new owner of the ABC cinema, Stephano estate agency Immo, ransacked the interior and equipment of the former porn cinema Boulevard Adolphe Max. We have lost forever this institution in the Brussels film life, in favor of pure speculation and dehumanized real conversion. For several months the CinéAct Foundation – created in April of last year to save the ABC cinema – has made every effort to save this unique place and preserve the film and cultural appropriation of the building. An open movie project to the most diverse associations should be seated. With crowdfunding and support of the King Baudouin Foundation, CinéAct had managed to collect in April in the amount of EUR 60 000, in the form of donations from 600 supporters.  LINK
UK – London's Curzon Soho art-house cinema, threatened by closure due to the Crossrail 2 underground plans, is getting on-line love. But that won't be enough to stop it from suffering the same fate as the Astoria.
A petition in support of London's Curzon Soho is gathering pace following reports that the arthouse cinema may face demolition.

The petition, hosted by 38 Degrees, generated close to 6,500 signatures in 24 hours after it was revealed that the cinema may be knocked down to make way for the £25bn Crossrail 2 development.

Among those to sign the petition are actors Mark Gatiss, David Morrissey, MyAnna Buring and Alice Lowe to journalist Jon Ronson and documentary maker Jeanie Finlay.  LINK
UK – Odeon West End is now closed for good. But a new Odeon will appear in its place in three years' time.
ODEON West End originally opened back in the 1930s and has been at the heart of the UK cinema industry ever since. Over the years, it has hosted many film premieres and welcomed thousands of guests through its doors.

However, the good news is that ODEON West End will be back! After undergoing a major refurbishment the venue will re-open in approximately three years time.  LINK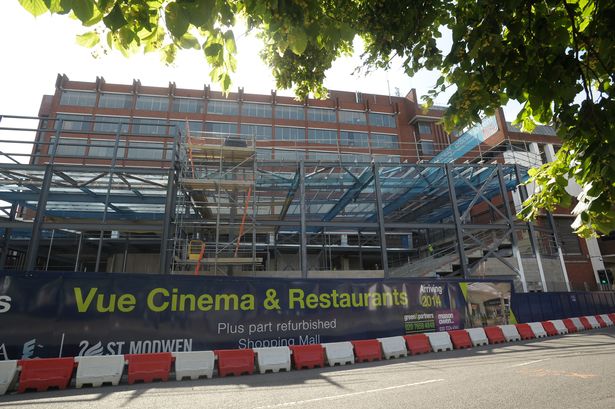 UK – The Farnborough Vue opening has been pushed back. Again. This time until March. Provisionally. So maybe it will be ready in time for "Star Wars VII".
A spokesperson this week told the News & Mail: "A new seven-screen Vue Cinema will open in 2015 accompanied by new restaurants which will provide an important boost to Farnborough's economy by giving it an increased attraction in the evenings.

St Modwen will be handing over to Vue for fit-out shortly and an exact date will be confirmed nearer the time."  LINK
UK – A second multiplex for down-town Doncaster? Looks like it.
A multimillion scheme has been drawn up to develop a cinema, hotel and gym at a high profile Doncaster town centre spot. The £10 million plans would see an eight screen multiplex developed at the Frenchgate Centre, a 56 room hotel and a 20,000 square foot gym. It could mean there would be two cinemas in the town centre, as Doncaster Council announced plans to develop one in the Waterdale area earlier this year.  LINK
Finally
USA (OH) – Musical adaptations regularly screen in cinema ("Into the Woods" right now), but it is rare that a cinema is adapted into a musical.
"Gloria — The Musical" will be performed at 8 p.m. Friday, Jan. 9, and Saturday, Jan. 10, at the historic Gloria Theatre, located at 216 S. Main St., Urbana.

The venue has been an Urbana entertainment hub for 110 years, starting as a Vaudeville theater called The Clifford, operating until the early 1930s, when it shut down for a decade.

Urbana industrialist Warren Grimes rebuilt The Clifford as a two-screen movie cinema and named it The Gloria after his young daughter in 1941. It was later purchased by Chakeres, where it operated until fall 2013 as a cinema.  LINK

Latest posts by Patrick von Sychowski
(see all)