Imax has crossed 200 screens in Mainland China following the latest deal announced with Wanda Cinemas.
IMAX and Wanda Cinema, announced today that the company, along with Wanda Plaza is located in Hangzhou Gongshu Wanda IMAX theater opened, IMAX theater in China's total reached 200. Wanda Cinema is one of the first partners to IMAX theaters in China. Currently, Wanda Cinema has become the company's largest IMAX cinema partners in the international market, the commitment to build a total of 210 IMAX theaters.

In 2001, China's first IMAX theater opened in Shanghai Science and Education, which marks the formal entry into the Chinese market IMAX Corporation. In 2004, IMAX company opened its first commercial IMAX theater in China. At present, China has become the world's second largest IMAX market, a total of more than 400 IMAX commercial theaters, 179 of which have been opened. After all screens installed, IMAX theater network will cover commercial 122 cities in 30 provinces of China.  LINK

RealD announced at CineAsia a three-screen deal with Broadway Cinema for its Luxe PLF brand. This is the first deal in China and heats up the competition with Imax, China Giant Screen and own-brand PLF operations.
Global 3D and visual technology company RealD Inc. (NYSE: RLD) and leading Hong Kong and Chinese theatrical exhibitor Broadway Circuit announced today an agreement to install 3 "LUXE: A RealD Experience" (LUXE) auditoriums in Broadway's cinema locations in mainland China. Introduced by RealD in 2013 as a new Premium Large Format (PLF) initiative, LUXE auditoriums will be installed at Broadway locations in Tianjing, Chengdu and Guangzhou, with the Tianjin location expected to open in May 2015. All 3 LUXE auditoriums opened at Broadway locations will feature RealD 3D projection and a RealD Precision White Screen.

"As a leading circuit in the rapidly growing and highly competitive China market, we have been looking for the best possible cinema setting for our moviegoers," said Tessa Lau, CEO of Broadway Circuit. "We find LUXE a perfect match. We see it as an initiative to define our 2D and 3D premium offering. We are pleased to partner with RealD to jointly provide our audiences a unique, fully immersive experience."  LINK
Imax/PLF is so popular in China that for this occasion a temporary Imax screen was erected for the premiere of the Chinese film "Step away".
Beijing on the 5th December from the 8th IMAX 3D "Step Away" world premiere remaining three days. In the premiere venue of the Olympic stadium in Beijing Olympic Sports Center, a domestic space makeovers are unprecedented in secret. In just four days, IMAX company will transform the Olympic Stadium for the temporary IMAX theater. December 8, 2828 guests watched the IMAX version of the 3D "step away" at the scene, experiencing one of the most special IMAX viewing experience. Today, the team successfully completed the entire theater to build the most critical work to hang curtain, this 26-meter-high 14.5 meters wide IMAX screen will show the IMAX version of the guest 3D "step away" gorgeous visual effects at the premiere night.

For the successful completion of the first in the history of the transformation of temporary IMAX theater performed in mainland China, IMAX companies, especially mobilized four experienced engineers from North America, responsible for the composition of the technical team arrived in Beijing to build more IMAX audio experts to the scene to ensure that the day of the premiere Governor array audio presentation . Curtain hanging IMAX theater has been a part of the process of building one of the most exciting and critical link, and is used as a temporary theater venues in the Olympic stadium screen is more difficult to hang smoothly. Today, under the joint collaboration of nearly 20 staff, 14.5 meters wide and 26 meters high and weighs 750 kilograms of high-gain metal IMAX 3.0 big screen is smooth suspended, hanging curtain link complete success!  LINK
A strange way to promote your company in the cinema market – by talking down the business. But that is what Uni-Show appears to be doing.
In 2013 the number of domestic new theater for about 900, an increase of 39.6%; new screen 5077, the total number of screens to break 18,000, an increase of about 40% of screenings. However, considering the scene were a decline in cinema goers, in a single-screen costs rising, the theater of operations further increase the pressure. Especially in IMAX Imax, since relatively few sources, and the fare is high, in the absence of a large IMAX screenings, essentially idle, resulting in greatly auditorium waste of resources.

Let's look at fares, in 2013, the national average is only about 35 yuan fare. Under the existing profit-sharing system, the theater can get 50% ie 17.5 yuan at the box office into removing sales tax (3.3%), movie special funds (5%) of these two necessary expenses, left 14.6 yuan, and then consider the rent, shadow Office construction costs, labor, utilities and other aspects of the theater in the current market structure, profits have been minimal. Coupled with the current average age of the audience in the 20s, and buy tickets online has become the norm, it is further weakened the theater profits, resulting in elongated payback period.  LINK
Airports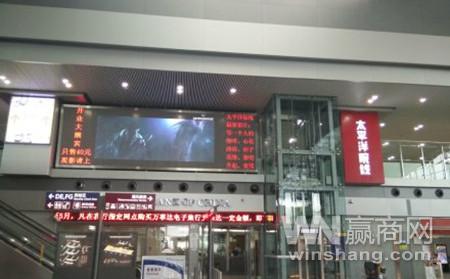 In Pacific Theatres has opened a 'mini cinema' in Chengdu Airport Terminal 2.
Just settled in early November Chengdu Shuangliu Airport Terminal T2 "Airport Pacific theaters," the store, called Chengdu "minimal theater", is also the first airport to synchronize large movie theater, only 42 seats. Yesterday, the cinema side said attendance month trial operation of more than 50% of its price and movie updates with the city's other Pacific theaters Studios synchronization.

"Our airport shops are open this year in Chengdu, a second franchise, and now there are about 30 investors talk about the intent." Yesterday, the deputy general manager of Sichuan Pacific Cinema Line Tao Yang told reporters in Chengdu Commercial Daily.  LINK
Qingdao airport is meanwhile going one better by opening a 4D seating cinema. No word on which make of seats.
Digital Cinema Qingdao Airport Domestic Terminal as an isolation area leisure experience, since 2004, provides special services for millions of visitors and become a service highlights Qingdao airport. However, with the rapid development of the film market, ordinary video screen can not meet the passengers on the novel, stimulating demand viewing experience. For the majority of visitors to provide more "big up" waiting service, Qingdao airport on the original theater was upgraded, the introduction of advanced 4D viewing experience services to travelers experience stimulating, innovative and unique atmosphere pleasant to spend boring waiting time.

The new 4D movie hall located on the domestic quarantine in floor position, facing the 13th gate area, to the left and right sides of the escalator through the tunnel to the rear passengers to enter the security. After the counter simple formalities, you can enter the auditorium seated.  LINK
4D
It seems that motion seating (aka 4D cinema) is becoming such a gimmick that unscrupulous back-alley video parlour operators are trying to cash in on the trend too in China.
"6D", "7D", has now become a small theater Showmanship gimmick, which is two years in the street alleys everywhere; rented storefront, then simple business can be opened ……

Readers rebellion, said Wanda King Street Fuwang to convenience stores, movie theaters do with storage room.

If it is the doorway stood "6D dynamic film," the big sign, it is difficult to convenience stores and "cinema" together. Door frame an advertisement, a large light box, there is a monitor and sound, stereo spread all kinds of Scream, monitor loop with the audience wearing 3D glasses, in a special chair and rocking to and fro of the screen. These imply, the "cinema" within this grocery shop door also marked the words "6D dynamic film a ticket 20 yuan," and so on.  LINK
Consumer Protection Law
The police had to intervene to prevent a riot when this screening of "Interstellar" did not go ahead. Generous refunds were eventually offered.
Today, located in Beijing's Chongwen Gate a well-known theater, cinema erratum has been offline due to video playback sessions, resulting in hundreds of spectators stranded unable viewing video hall, once resulting in theater does not work. After 110 police intervened to mediate and the business sector, the ultimate theater audience retention pay 500 yuan [USD $80] per person as compensation. Micro-channel movie tickets online ticketing platform as one of the third party, but also for the associated user did refund processing.

Reporters around 11:30 arrived at the scene, as well as more than a hundred spectators stranded in the movie hall, theater minister responsible Shaw was standing in the center surrounded by the audience on behalf of the auditorium. Endless challenge facing the audience, Xiao minister laughed language. Six-year-old lady about to lean on the wall in front of the right side of the auditorium loudly said: "Today only you can save money." Carter, the scene applause.  LINK
Finally
Is this super cheap ticket a sign of price promotion gone mad? Less than 10 yuan (USD $1.61) per ticket for the new blockbuster "Gone With the Bullets". Make sense of the headline if you can: "Subsidize electricity supplier network seize new means of pre-market release tablets side subsidies to"

Latest posts by Patrick von Sychowski
(see all)