A truncated Daily on account of preparations for CineAsia, but we felt we had to put it out, if only for the 'Finally' item.
The previously announced promotional joint venture between Cinemaxx and CineStar has been approved by the German competition authorities.
On 28 November, the Federal Cartel Office has completed the merger proposal (B6-56714) for planned joint venture Cinestar and Cinemax with a release and thus given the green light for the establishment of a jointly organized company of the two chains.

As previously reported, Cinemax and Cinestar want to combine their ranges in the cinema market. The company's headquarters should therefore be on Cinemax headquarters in Hamburg, also has offices in Berlin, Dusseldorf and Frankfurt are planned. LINK
India – The company whose Vice-President of Technology was caught pirating a major Bollywood film is planning on rolling out mini-plexes across India. Not the first time that they have announced this.
Digital entertainment player KSS plans to invest Rs 90 crore [USD $14.5 million] for rolling out 180 screens in 80 locations in smaller cities over the next five years, a top company executive said. 

KSS Miniplex is a division of KSS which is into setting up miniplexes through joint venture with the local partners and the proposition includes planning set-up,  screening, operations and marketing. The partnership would entail profit share of 50:50.  LINK
Germany – Next year will be the 8th time that the School Cinema scheme takes place in Germany.
In 100 theaters in 93 cities, including the Rialto Palace in Neumarkt, Bavaria the school cinema week goes from 16 to 20 March 2015, the 8th round.

Children and young people from all grades and school types can go together with their teachers on cinematic journey of discovery.

The great success of the school cinema week in recent years show that the program and the services of the state-wide largest film education project are already well established. An extensive range possible in all administrative districts and counties is the goal, which will continue to be realized in 2015.  LINK
Health & Safety
India – A disapointing lapse in basic fire safety norms for PVR and at an Imax no less. Bad publicity too for Warner Bros if a fire had erupted and people had died.
Movie-goers to IMAX in PVR, Koramangala, after watching Interstellar on November 26, were in for a surprise. At the end of the show, they realised that both the exit doors were locked. 

The ushers didn't allow them to leave through the front entrance citing "procedures" and took nearly 10 minutes to find the key, while the audience waited long after the end credits had rolled.  LINK
Cinema Opening/Closings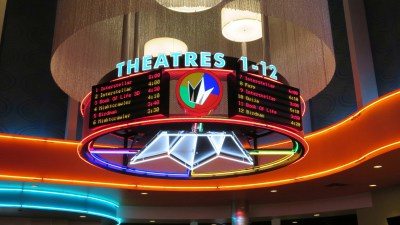 USA (CA) – We've mentioned this Regal cinema before, but as the opening is in aid of a great cause we are happy to bring it up again.
Regal Entertainment Group will open its new Carlsbad 12 multiplex with special events Sunday, Dec. 7, through Tuesday, Dec. 9., leading up to the official grand opening on Thursday. Tickets will be $3 for all films shown during the three preview days.

On Monday, the theater will show food-focused movies, and all proceeds from tickets, popcorn and soft drinks will go to the San Diego Food Bank. Sunday's proceeds benefit Toys for Tots and the Humane Society and SPCA will receive Tuesday's proceeds.  LINK
Finally
Russia – IKEA takes the concept of bedroom cinema to a whole new level.
Spectators await the start of a cinema screening at a Kinostar De Lux Multiplex in the Moscow suburb of Khimki. 

Furniture retailer IKEA has converted one of the cinema halls, completely replacing standard seats with their furniture, according to local media. 

There are 17 double beds fitted in the hall, which was renamed to 'It wakes love'. LINK

Latest posts by Patrick von Sychowski
(see all)