Yesterday was the one-day Cinema of the Future conference organised by the CEA in London. One of the key talks was a panel with amongst others UK advertising major DCM's CEO Simon Rees, who argued for need for a new relationship between exhibitors and their audiences.
Speaking at the inaugural Cinema of the Future conference in London, Rees cautioned delegates that while the big screen experience remains robust, exhibitors need to address the way they interact with audiences in order to ensure continued growth in the sector, which is experiencing significant challenges in 2014.

"Cinema is going through a phase of resetting itself," said the executive during a panel on the digital landscape. "It's learning pretty quickly that it needs to reset itself in the eyes of its customers.

"The quality of the content is strong – the big screen experience is strong – but the key challenge is in cinemas' relationships with their audiences.  LINK
Just how honest are cinema goers? The only independent cinema in Newcastle is hoping they are after they discovered that their online system had not charged customers buying tickets on their website for two months.
A cinema in Newcastle has appealed for people who recently bought tickets online to pay for them.

Technical problems with the e-ticketing system used by Tyneside Cinema meant some tickets were issued without payment being taken.

It came to light when customers got in touch saying their card statements had shown no record of a charge.

For security reasons, the box office did not keep card details, so it is now relying on people's goodwill.  LINK
Here is the message from the cinema's own website.
Due to a technical problem some of the tickets that were purchased via our website have been issued to customers, but payment for them hasn't been taken from customers' bank accounts.

This online booking problem is now fixed.

However, if you have bought Tyneside Cinema tickets via our website during September and October, we would ask that you please check your credit or debit card statements as they arrive to confirm whether your payment was made.

If you find that your tickets haven't been paid for, please contact us to pay for your tickets.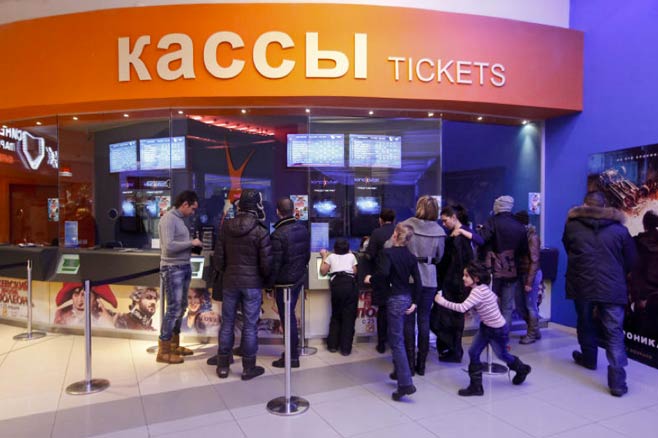 Russia – The Russian Duma (parliament) has voted down a proposal to impose a quota in the import of Hollywood films. The MPAA is, perhaps not surprisingly, happy about this.
The Motion Picture Assn. of America, which represents the interests of the Hollywood studios, has welcomed President Vladimir Putin's opposition to the introduction of movie quotas as Russia lawmakers shelved a plan to bring in the measure Thursday.

Members of Russia's lower house of parliament, the Duma, had been due to debate a bill that would have imposed a 50% limit on foreign films, but lawmakers have decided to park the proposal.

This follows a recent speech made by President Putin in which he said he opposed such a policy.  LINK
"Interstellar" might not have been available in 3D but it was in 4DX, though not everyone liked it.
According to CJ 4DPLEX, an affiliated company of Asia's largest multiplex cinema chain CJ CGV, the 4D edition of Interstellar, during three weeks of showing in their 22 4DX auditoriums, were more than 70 percent times capacity on average, which is by far the highest this year…

As of today, 4DX is running 113 auditoriums in 27 countries worldwide including South Korea, China, the United States, Mexico, Russia, Brazil, Japan, Thailand, Indonesia and others.

However, it seems that not all were amused by 4D. Many complained about the distraction caused by the physical effects. Zhang Cong, a Chinese tourist visiting Seoul, said she felt dizzy when watching the 4D Interstellar.

"Actually, I couldn't concentrate on the story line because of the frequent motion of seats," she said.  LINK
This reviewer (pictured above) was also not impressed.
USA (MI) – Ticket sales are up a whooping 60% since this multiplex switched to luxury seating.
heaters are installing tush-friendly recliners as a way to compete for a declining number of customers. They are throwing in restaurant-grade food, alcoholic drinks and even wait-service delivery directly to patrons in their seats.

"I am totally impressed," said Lance Capistrant of Watertown, who had a dinner, beer and a movie recently without leaving his almost-horizontal seat at the Marcus Oakdale Cinema.

Four theaters in the metro area have made the switch to recliners — although the Marcus Oakdale is the only one with in-seat delivery of food and drinks.  LINK
India – Mukta Arts has ambitious plans for its cinema expansion.
As the movie exhibition business undergoes a consolidation phase, Rahul Puri-led Mukta A2 Cinemas, the exhibition arm of Subhash Ghai's Mukta Arts, is looking at occupying the mid-level spot, with a screen presence of around 100 screens by the end of the next fiscal.

Currently operating 30 screens across 10 properties, the cinema chain will be ramping up its presence in tier-II and tier-III areas.

The outfit started operations around three years back. With an average of three screens per property, the multiplexes have a ticket price range of Rs 120 to 150. The latest expansion has been in Bhopal and in the coming months, Puri and his team plan to take brand Mukta A2 Cinemas to territories like Gurgaon, Panvel and Dehradun. In the long run, the chain may look at strategic investment from bigger chains, but for now, the focus is on brand building and organic expansion. LINK
Canada – A name change in store for several Cineplex multiplexes to Scotiabank (Cinéma Banque Scotia in French-speaking Montréal), as part of a naming rights scheme.
Cineplex announced Tuesday that the shopping centre's movie theatre will be one of eight in Canada renamed "Scotiabank Theatre."

St. John's is one of three new locations for the name change, along with theatres in Halifax and Saskatoon. The three new Scotiabank Theatres join cinemas in Vancouver, Edmonton, Calgary, Toronto and Montreal.

A news release from Cineplex Entertainment said theatre signage will change soon.  LINK
Romania – Indian multiplex operator Cine Grande plans to expand in Eastern Europe.
Indian Cine Grand cinema chain, which has two multiplex cinemas in Romania in Bucharest and Botosani, plans to make EUR50 million to EUR60 million investments in about 20 movie theaters in the country in the next three years.  LINK
Cuba – In 1962 Cuba had no less than 32 mobile cinemas (Cine-movil). Now the concept is being brought back with digital projection and inflatable screens.
The revolutionary experience of mobile cinema, which brought the cinema to the most remote communities in Cuba half a century, now returns to show the benefits of digital projection .

Given the evidence that Cubans are increasingly the magical dark room, the organizers of the 36th International Festival of New Latin American Cinema will neighborhoods to project films suitable for the whole family on an inflatable screen 6×6 meters.

The incentive will also enjoy the film in a predominantly digital projection, thanks to a projector-art acquired by film and cultural authorities in Cuba.  LINK
Digital Death Watch
Canada – This Dollar Cinema has gone first-run, but I worry for how long given that the photos of the projection booth show nothing but 35mm film.
The Dollar Cinema can still cost film buffs a buck or so a flick for second-run films or those offerings at the tail end of their first runs — provided patrons buy a booklet of 20 tickets for $23. Otherwise, the price is $2.85 for admission to these films.

But $1 is all that patrons pay for regular-sized soft drinks or bottled water, as well as for small bags of popcorn and candy — considerably less than the price for these items at multiplexes.

Since last week, however, the Dollar Cinema has turned a new leaf with its Marquee CinéSpotlight program, in which the theatre will showcase first-run films not available at any other venue in the city. Kicking off this program were the offbeat but engaging pop-music fantasy Frank, starring Michael Fassbender, and Eternity, another tale from the music biz focusing on a hardluck and decidedly mediocre R&B duo.  LINK
Cinema Opening/Closings
Germany – The operator of the Berlin Zoo Palast and Astor Lounge is bringing its brand of luxury cinemas to Hannover.
For Hans-Joachim Flebbe it is not least a return to his roots when on December 3, the Astor Grand Cinema in Hanover is inaugurated with a grand gala for invited guests. Because after a good five months of intense remodeling opened Germany's largest premium movies on the site where once Flebbes career at Cinemax began: in the former Cinemax in the Hanoverian Nikolaistraße, the first home of the hamburger chain. This is Flebbe together with partner Heinz Lochmann in the city of the future in direct competition with his former employer, the Raschplatz there – where Flebbe had already opened a cinema in the late seventies – Operates a house.

The Astor Grand Cinema will offer approximately 2200 visitors place in ten halls. 500 of the seats are boxes with waiter service facilities and deck chairs with a row spacing of 1.80 meters. In the large hall, Dolby Atmos system is installed in approximately two smaller rooms, the first production-ready laser projector model of NEC will continue performing its duties.  LINK
UK – This cinema is described as the "first decent cinema" the town of St Albans has seen in decades.
It's been an Odyssey of a journey, but finally St Albans cinema is reopening its doors tonight for a lucky pick of volunteers and benefactors

Owner of the long-awaited entertainment venue James Hannaway will welcome guests and introduce a film each night until Sunday.

The cinema will then close again to finish off any outstanding work, before being ready for a full opening on December 13.  LINK
Germany – The lack of a second fire exit forced the closure of this small cinema.
The city of Duisburg has stopped Werkstatt [Workshop] cinema by Volker Emmig in Duissern. A second emergency exit lacking, says the 55-year-old. The master mechanic and movie fan has filed a lawsuit, hoping for the administrative court in Dusseldorf to show anger without further films in his vehicle operation can.

"Drive" is the first film in March 2012, the Volker Emmig shows in his Werkstatt cinema in Duissern. 20 to 30 people fit in, and so many have since also been regular weekend to him. But now the 55-year-old master mechanic looks thwarted by the planning department of the city. He should show in his Werkstatt no more films, because a second emergency exit, a second escape route is required.  LINK
UK – Just in time for the Christmas blockbusters Cineworld in Milton Keynes unveils its revamped PLF Superscreen.
Cineworld has just announced the opening of its brand new Superscreen.

The ultimate cinema experience will reveal itself at the Milton Keynes location on December 12th.

It will offer film fans state-of-the-art projection and sound, allowing customers to enjoy the latest releases – including Fast & Furious 7 and The Hobbit: The Battle of the Five Armies – in unrivalled surrounds. [sic]  LINK
UK – An opening date has now been confirmed for the new Curzon cinema in Sheffield.
The three-screen Curzon cinema is to open on Friday, January 9, located on George Street on the former site of the Sheffield Banking Company premises.

Bosses say between 15 and 20 jobs will be created at the new cinema, which will also include a new cafe and bar.

Curzon is one of the UK's leading independent cinema groups, with 15 venues around the country.  LINK
UK – An innovative way to fund a cinema expansion – build flats on top. Let's see if the Penzance Council approves this scheme.
NEW flats and extra cinema screens could secure the future of a Penzance icon.

A total of 12 flats could be part of one of the largest development projects ever undertaken by the owners of the Savoy Cinema.

Income from selling the flats could fund the extension and two new screens at the cinema on Causewayhead.  LINK
Australia – Construction has started on the Glenelg multiplex with more details revealed.
The former WorkSkil building, at 5A and 7 Partridge St, Glenelg, has now been demolished — an early step in Taplin Group's $17 million development which it plans to open next summer.

Last month theadvertiser.com.au revealed Greater Union had won the contract to operate the new cinema.

The 930-seat, eight-screen cinema complex is set to be built on land bounded by Milton, Cowper and Partridge streets.  LINK
Ireland (Republic) – Yet more delays to this art-house cinema in the Irish Republic.
Major concerns about the deliverability of the city's arthouse cinema, which is delayed by years and over-budget, have been raised again.

Fears about Solas' ability to operate the facility, without public convention, if it ever gets up and running, were also expressed.

The backers of the project now face a grilling from city councillors, who are angry that the project appears to have stalled once again.  LINK
Finally
Another cinema-oriented marriage proposal, but this one not on or in front of the big screen. Plus something other than strikes and worker-management conflict from the Brixton Ritzy for a change.
A woman proposed to her girlfriend with a romantic message displayed on the front of a south London cinema.

Instead of the usual films and cinema times the proposal was on show for cinema-goers visiting The Ritzy, in Brixton, last Wednesday.

The message read: "Now it's my turn Chris – will you marry me? xxx"

A Twitter exchange revealed the woman behind the message after she thanked the cinema for allowing her to post the message.

She also explained her partner, Chris Andrews, had previously proposed to her in New York and she was returning the favour.  LINK

Latest posts by Patrick von Sychowski
(see all)