Mexican/international chain Cinepolis is mentioned as one of the potential bidders for Regal, according to the LA Times. Other potential buyers mentioned include No. 3 US chain Cinemark, Shanghai Film Group Corp., Chinese e-commerce major Alibaba, or South Korea's CJ Group. It is clear that there is no obvious front runner, but nobody is prepared to rule themselves out at this stage.
Cinépolis, Latin America's largest theater chain known for its luxury amenities, may be among the prospective bidders for the United States' largest theater chain.

Adrian Mijares Elizondo, chief executive of Cinépolis USA, said his company would consider buying Regal Entertainment after the Knoxville, Tenn., company surprised investors last week when it announced that it would entertain offers to sell the chain.

"It's not every day that the biggest chain in the industry goes on sale," Elizondo said. "We would take a look at Regal. This is a growth opportunity, and like any growth opportunity we have available, we will discuss it and evaluate it."  LINK
Ukraine – The apparent arson attack on Kiev's oldest cinema is starting to make waves with the city's population and politicians, including the Mayor of Ukraine's capital. Questions are also being raised if it was a hate crime or related to a rent dispute.
Hundreds of people rallied in front of Kyiv city hall on Oct. 31 to demand an investigation into a fire that recently destroyed the popular Zhovten cinema. They also called for reconstruction of the historic building and Kyiv's oldest move theater built in 1930, which has been the subject of a years-long rent dispute.

The activists honored the ruined arthouse cinema by wearing yellow jackets, hats and scarves and holding yellow posters that read "Give Zhovten cinema back!" Zhovten means 'October' in Ukrainian and derives from the word "yellow." Others spattered black drops on their placards accompanied by the inscription: "There are still drops in the ocean," a reference to the popular EuroMaidan Revolution slogan "I am a drop in the ocean."  LINK
Russia – The entire staff of Russia's Museum of Cinema have resigned in sign of the further sapping of the culture sphere in Russia. The museum had been helped by foreign embassies to schedule films and to facilitate the holding of events; all you need to be labeled as a 'foreign agent' these days in Putin's Russia.
The entire staff of the Moscow Film Museum have collectively resigned from their posts in protest against the institution's new director, Larisa Solonitsyna, who joined the museum in July this year. In an open letter to Russian Culture Minister Vladimir Medinsky that was published on the museum's official website, the team slam Solonitsyna's "incompetence, authoritarian style of leadership [and] lack of transparency over decisions".

Solonitsyna was appointed director of the museum by the Ministry of Culture on 1 July 2014, replacing Naum Kleinman, who had been museum director since 1992.  LINK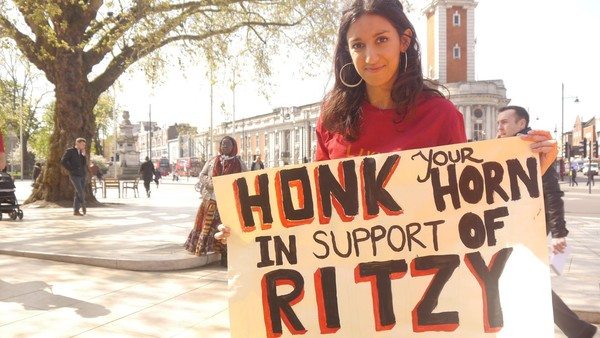 UK – The Financial Times takes note of the PR disaster that is the Brixton Ritzy pay dispute. Now Mooky is finally getting involved.
But in an abrupt about turn on Thursday, Picturehouse issued a terse one line statement saying "there will be no redundancies at this time". Willy Donaghy, Bectu official, was "delighted" at the change of heart but added that the ballot for strike action would continue until the union had received assurances on job security.

The Picturehouse chain was acquired by Cineworld, the UK's biggest cinema operator with more than 200 sites, in 2012. The parent company reported adjusted pre-tax profits of £25.3m for the 26 weeks to June 26 earlier in the year.

Picturehouse continues to be managed as a separate entity and Mooky Greidinger told chief executive the Evening Standard that senior group management was "not aware" of the redundancy plans. "I am now making this a group matter and I have decided together with Picturehouse management to put an end to the consultation process," he said.  LINK
Business
UK – It's been a bad summer at the box offie in the UK, with sunny weather and World Cup adding to the misery of an 'unexciting' slate of releases. So now the Film Distributors' Association (FDA) are trying to help save the autumn with a sizzle reel of the films opening in the next few months.
The 60-second clip features 47 of the 75 films that will be hitting cinemas in the next six weeks, including Paddington, Ridley Scott's Exodus and the newest in the Hunger Games franchise. However, some of those included, including Gone Girl and Teenage Mutant Ninja Turtles, have already been in cinemas for some weeks.

This is the first time the FDA have resorted to such a measure over the Christmas period and comes after a particularly bad September for cinemas, where admissions were only 8.5m, down 13.8% on the same time in 2013.  LINK
India – PVR's Q2 results are down, but should not be taken at face value on account of merger of CHPL, CIL and its subsidiaries with PVR during the time period.
Multiplex operator PVR Ltd today reported a decline of 66.60 per cent in its consolidated net profit to Rs 9.20 crore for the quarter ended September 30.

The company had reported a consolidated net profit of Rs 27.55 crore for the July-September quarter of last fiscal.

However, PVR's total consolidated income from operations during the second quarter increased 9.41 per cent to Rs 400.20 crore as against Rs 334.45 crore in the same period a year ago, the company said in a BSE filing.  LINK
And a poor quarter is not enough to dent the exhibitor's ambition as it raises money for further expansion.
PVR Ltd, country's largest multiplex chain operator, has received its board's approval to raise up to Rs 500 crore ($81.4 million) through non-convertible debentures (NCDs), the company said in a stock market disclosure.

Last month, PVR received its shareholders' approval to raise up to Rs 500 crore ($81.18 million) through qualified institutional placement (QIP).

Issue of NCDs would mean the company would not dilute its equity base.  LINK
India – Price caps on cinema tickets mandated by the Regional Governments of South India are holding back Imax from launching their premium offerings in cities such as Chennai (formerly Madrass).
For a city defined by its passion for cinema, it is indeed an unkind cut that the two proposed IMAX screens have been teasing film buffs for more than a year now.

Enquiries reveal the two screens — Luxe IMAX at Pheonix Mall in Velachery and Palazzo IMAX at Vijaya Forum Mall in Vadaplani — are yet to get government clearance. One of their requests is to increase the admission price to recover the high cost of projecting films in the IMAX format.

The wait has been agonisingly long for city fans as movie buffs in Bangalore and Hyderabad have, for a long time now, watched movies like Dark Knight Rises, Gravity, Thor and Godzilla that are known to have exploited the Image MAXimum format optimally.  LINK
China – Remember THX certified cinemas? The brand is trying to stage a global comeback via China.
THX Ltd. has launched a groundbreaking partnership with ChinaFilm Group as a first milestone to its expansion into China; officially introducing THX Certified Cinemas to Chinese moviegoers while enhancing China's vie to meet international film industry standards. The firstTHXCertifiedChina Giant Screen (CGS) auditorium is scheduled to openin November 2014 in Shanghai. THX Certified Cinemas the pinnacle of Hollywood entertainment experiences mark the next level of entertainment experiences for China and guarantee continued success in its fast-growing market.

Following the August 2014 opening of THX's first China office in Beijing, this innovative collaboration is the latest achievement in the company's strong pace of global expansion.  LINK
Advertising
China – An event was held last week in Beijing to promote cinema advertising, which is growing significantly in the world's second largest cinema market.
Earth era of advertising successfully held a "people selling camp in precision" media conference in Beijing Yizhuang headquarters, guests have the earth Communications Group and chairman of Miss Liu Rong, vice president of Miss Ding Xiaoyun earth theaters, Times ad Mr. Zheng Hao, general manager, and Miss Jia Jinxia CTR Account Director to attend. 4A agencies and advertisers from around the country come to this meeting. 17:30 Xu, general manager of the advertising era Mr. Zheng Hao six industries in 2015 announced a strategic partnership to recruit project started, as the country's territory passengers lit era theater advertising marketing push will tell a new "Fun Cinema "Let's entertainment pondering advisory bring us happiness.

Highlights of this conference can be described as endless, so we have to say that this new understanding of the theater converged media environment, where the movie is not simply leisure and entertainment, it is a pleasure to consumers cutting-edge information capture platform; on Main terms of brand promotion is a vast arena, where you can wanton play, creativity breeding, breeding new paradise.  LINK
Yummi Media's CEO AJ Simpson was also in town to promote the launch of the Cinime app in partnership with Wanda and China Times, which interviewed him.
"China Times": "interactive" movie will become the mainstream in the form of advertising?

AJ: In our previous experience in Europe and Singapore, in fact, viewing the crowd for an interactive movie advertising model is very eager. In some relatively mature film market, the viewing of market development has been formed, so the higher the demand will be released. Our product is that it gives fans a better brand experience, a pleasant, deep memory. You know, the kind of edge play, watching the big screen advertising the feeling is too cool. The boundaries between the big screen and the audience was broken, they can at this moment as a whole a connection.  LINK
Health & Safety
Canada – Good to see authorities taking complaints like this seriously, even if no cause is found.
The Hazmat Team intervened in a complex of movie theaters in Ottawa on Saturday night.

She was asked to help at the scene by firefighters after several clients of one of the rooms have complained of respiratory problems.

The response team analyzed the air quality and ultimately found nothing abnormal.  LINK
India – Ceiling of cinema in collapses in Basirhat causing injuries.
A portion of the ceiling of a cinema hall collapsed on a group of people in Basirhat on Sunday afternoon, injuring seven persons.

Four injured were released after preliminary treatment, while the condition of three is said to be critical. Police have sealed the movie hall and launched a hunt for its owner.

Around 1,000 people were watching a movie in Falguni cinema hall when the incident occurred. Local people and police rescued those who were trapped in the hall and rushed them to Basirhat Sub-Divisional Hospital.  LINK
Law & Order
UK – Not clear if these crimes were committed in the cinema where they worked, which was demolished in 1995, but sickening whatever the location.
TWO former projectionists at Walsall's ABC cinema have been locked up for a total of 23 years for a string of sickening sex attacks on a young girl going back nearly 40 years.

John Smith was put behind bars for 16 years and told by Judge Martin Walsh: "You used her as an instrument for your perverted sexual desires."

The Judge sent Richard Parker to prison for seven years as he stressed to both men their actions had left their victim "psychologically scarred."  LINK
India – More hooliganism in south Indian cinemas. It is time for PVR and the local police force to stand up to such mob tactics.
Pro-Kannada activists disrupted the screenings of non-Kannada movies in Bengaluru on Karnataka Rajyotsava Day, forcing hundreds out of theatres.

More than 200 people watching the English movie Gone Girl at PVR Cinemas in Orion Mall in Rajajinagar were sent back from the middle of the show by a group of protesters who took objection to the screening of a non-Kannada movie on Rajyotsava Day.

Malini, a homemaker was one of those sent back. She said she was watching the movie with her husband when the incident took place. "Men wearing Kannada flags on their shoulders barged into the cinema just five minutes post-interval. 'We are born and brought up here and should only watch Kannada movies,' they were yelling. Later, we were all sent out of the theatre. The PVR Cinemas management was helpless and did not know what to do," she said.  LINK
India – A timely article ("Our too-easily offended public") about attempts to censor and muffle films in South India by political, judicial or mob means.
The controversy surrounding Vijay-starrer Kaththi is something we need to think about. Usually, there are two causes that lead to a ban or stay a film — content or commerce.

The commercial aspect is adjudicated by courts or film trade bodies, and it's clearly working. It is when objections on content are raised that problems crop up resolved in court.

Films can be monitored by the Censor Board, the courts, or the state or central government but of late, private groups are taking on this role, a totally unconstitutional act that usually indicates the reluctance or inability of the state police to take control of the situation.  LINK
Accessibility
Japan – The screening at the Tokyo International Film Festival of Masayuki Suo's film "Maiko wa Lady (Lady Maiko)" marked the launch of a new type of glasses-shaped head-mounted displays and earpieces, specifically designed to make cinema accessible to patrons who are hearing and visually impaired.
The special screening held at TIFF on Oct. 24 was a chance for the audience to experience the future of cinema in a barrier-free environment, so that everyone can enjoy going to the movies.

"There was originally little interest in the film industry to making movies barrier-free, so we decided to tackle this objective ourselves," said Koji Kawano, secretary-general of nonprofit Media Access Support Center.

"But helping those with disabilities was just the beginning — our goal is a universal design that enables people from various countries (to enjoy movies) when they visit Japan for the 2020 Tokyo Olympic and Paralympic Games."  LINK
Cinema Opening/Closings
USA (TX) – A new multiplex is scheduled for Tyler, Texas.
There are lots of summer box office blockbusters to enjoy right now, and several places to see them. In Tyler, there will be one more place to choose from as construction on a new Cinema from Carmike Theaters is set to begin soon. The theater, a five million dollar project, will have 14 screens and will seat about 3,000 people. The cinema will be located on South Broadway.  LINK
USA (TX) – And an expansion of this Carmine cinema is expected to give the two of Lufkin an economic boost.
A new expansion at Lufkin Mall by Carmike Cinemas means additional entertainment in the area and entertainment is not its only possible benefit.

By this time next year, Carmike Cinema plans to have a major movie venue open in the Lufkin Mall. They've signed a deal to expand the current theater to 8 screens.

"It will expand to the back parking lot. It will go along the wall way and then out into the parking lot about 100 feet," explained Marketing Manger Sherri Ziegenhals. "The cinema as it is right now has four theaters. They will take out the first one and expand that area into a bigger concession and ticket taking area, and then renovate the three existing theater and build five more out this way."  LINK
UK (Wales) – A GBP £191,000 grant to convert the local arts centre to a fully fledged (digital) cinema means that the inhabitants of the Welsh town of Berry will once again have their own cinema.
Blockbuster films are set to return to Barry six years after the controversial closure of the town's only cinema [pictured above].

Film fans in Barry have had to travel to Cardiff to see the latest Hollywood movies following the closure of the iconic Theatre Royal cinema in the town in 2008.

But now, thanks to new investment, the town will once again screen the newest releases.  LINK
Finally
Fancy food and drink in cinemas is no longer a novelty, but this is the first time I have come across linking what you nibble to the action on the screen.
What could be better than watching your favourite film and enjoying the food and drinks you see on screen? Well Edinburgh's own Jelly and Gin have come up with an event where you can do just that with Watch and Wolf a new multi-sensory cinema experience.

At Watch and Wolf you can fully immerse yourself in a film by eating and drinking along with the characters. On arrival guests will receive a box which holds numbered packages of bite-sized food and cocktails. After a short introduction, the film begins, during which the food-matched moments are signalled by the special host.

Watch and Wolf launches in December 2014 at the National Gallery of Scotland in the Hawthornden Lecture Theatre. The first three screenings will have a decidedly Christmassy feel, and will include the retro classic Gremlins and perrenially popular Elf and The Wizard of Oz. We are going to see Elf for a great fun start to the festive season and having been to a number of fantastic evenings organised by Jelly and Gin I am sure this event will be fabulous!  LINK

Latest posts by Patrick von Sychowski
(see all)