London's luxury department store Selfridges (star of the ITV drama series about its eponymous American founder) will be one of the first stores in the world to have its own in-house cinema. We like the look of it so much that we even break our usual policy of only posting on photo per story to show you both the outside (above) and inside (below) – so no artwork for China BO.
Selfridges opens the world's first department store cinema in its iconic Oxford Street store today, which will screen classic and contemporary films.

Selfridges has teamed up with the independent chain Everyman to install the 60-seat 3,500 sq ft experience, located on the store's lower-ground floor.

The cinema, which will be at Selfridges until spring 2015, will initially screen films selected by designers from the store's Masters campaign, which showcases the work of 12 influential designers such as Paul Smith, Marc Jacobs and Oscar de la Renta.  LINK
China (PRC) – Chinese Mainland box office it set to pass USD $5 billion this year, according to THR.
China's box office has just passed the key 20 billion yuan ($3.26 billion) threshold, a full three months faster than last year, and is already swiftly approaching last year's $3.55 billion total.

With a raft of major Hollywood and domestic titles still to come this year in the world's second-biggest film market, box office is on track for $5 billion in full-year 2014, according to M1905, which is the official website of the state broadcaster's movie channel, CCTV6.

It took 246 days to break through the 20-billion-yuan marker, which is 96 days faster than last year.  LINK
UK – While the US box office is down for this summer, UK is a different story thanks to Hollywood titles on average doing better and an outsize domestic hit, argues UK cinema advertising DCM Head of Film Tom Linay. (And remember, that's despite the World Cup.)
A lot of talk has zeroed in on the fact that no film in the US has crossed the $300m mark, the new benchmark for summer blockbusters. As a rule of thumb, the UK box office figure is often 10 per cent of the US figure, so the $300m mark is the equivalent of £30m in the UK. When we look at specific titles, it's clear that the UK is doing just fine.

The summer's most critically acclaimed blockbuster, Dawn of the Planet of the Apes has so far grossed $205m in the US and is winding down. In the UK, it has so far taken a huge £32m and is still going. That's bigger than any non-family film from summer 2013. Just behind Dawn of the Planet of the Apes and the second biggest film of the summer is a uniquely British creation, The Inbetweeners 2. It's already up to £31.6m and has the legs to overtake, Dawn of the Planet of the Apes. The US had no equivalent title this year and was crying out for a blockbuster comedy of this nature.  LINK
USA (CA) – Another week, another dumping of Dolby shares by Dagmar Dolby. I really have lost count now.
Dolby Laboratories (NYSE:DLB) major shareholder Dagmar Dolby sold 80,000 shares of the stock on the open market in a transaction dated Tuesday, September 2nd. The shares were sold at an average price of $46.28, for a total transaction of $3,702,400.00. The sale was disclosed in a legal filing with the Securities & Exchange Commission, which can be accessed through this link. Large shareholders that own 10% or more of a company's shares are required to disclose their transactions with the SEC.

Shares of Dolby Laboratories (NYSE:DLB) traded down 0.22% on Thursday, hitting $45.73.  LINK
Health & Safety
China (PRC) – Mosquito bites appear to be a problem in this Chinese cinema.
Yip when people watch movies in the view of the Lake District, a theater, who were mosquito bites a three pack. Afterwards they complained that the theater did not provide a good viewing environment, citing accountability hospital. The hospital said, because the cinema is close to the flower market, a small amount of mosquitoes are entering the theater, and it will increase the de-worming efforts.

Yip said the evening of September 1, she and her boyfriend went to the cinema to see a 3d Jinyang Road movie. "While we were watching, there have been mosquitoes flying around me, in my leg was bitten in three places. Itchy and annoying, the moviegoing mood was greatly affected, and isn't the theater responsible for this?"  LINK
UK – Norwich's Cinema City has been given a GBP £500,000 grant to create a centre for the region's movie and cinema history.
Film education charity Cinema Plus, which is based at the Norwich cinema, was awarded the cash by the Heritage Lottery Fund (HLF).

It will pay for a permanent archive to tell the story of Norfolk's cinema-going history, and a new education and community space at Cinema City called the Screen Heritage Centre.

Outdated rooms, currently used for cinema education, will be upgraded, a new lift will be installed and the space will be used for events such as screenings, talks and workshops.  LINK
Technology
Brazil – Yet another digital cinema deal from Brazil, the country that has dragged its feet on digital cinema worse than its World Cup players did on the field.
Centerplex Cinemas, one of the largest motion picture exhibitors in Brazil, announced today that it has reached an agreement with Quanta DGT | AAM to upgrade 44 of its units and become 100% digitally managed by Doremi servers by the end of this year. Servers selected include both the Doremi IMBSV and the IMS1000.

Centerplex was established in 1981 by Mr. Eli Jorge de Lima, currently President of SEECESP, Sindicato das Empresas Exibidoras Cinematográficas do Estado de São Paulo (syndicate of the Cinematographic exhibitor companies for the São Paulo State). Centerplex opened their doors in 1981 in Poços de Caldas-MG. Today, it is managed by Mr. Eli's son, Márcio Eli, Executive Director. By the end of 2015, Centerplex will have established 62 screens in 18 locations.  LINK
Laser – Barco's Goran Stojmenovik (product manager) and Bram Dieryckx (director product management) answer questions about issues such as laser projection by Installation website.
Projector technology is evolving with laser/hybrid light sources, in what verticals are lamped projectors still dominating and how are lamp-based projector manufacturers responding to the laser/hybrid technology? Are they adding value in any way?

Lamped projectors are currently dominating in every vertical. Globally speaking, laser projection is still in its infancy and is only starting to make inroads on the projection market this year. Depending on the product implementation (but not by default), solid state illumination could bring the benefit of constant brightness, long lifetime, higher uniformity, better colors, lower power consumption etc. These are the values that lamped projectors have to fight with. Next to possible lamp price decrease, we expect lamp suppliers to continue increasing lumen output and efficiency. However, taken the long history of lamps, the improvements in lamp quality would probably only be small and stepwise. So there is a real opportunity for laser projection, and we still have to see how the cost/benefit equation will play out in favor of laser projection.  LINK
Outdoor Cinema
USA (CA) – A novel take on the idea of pop-up outdoor cinema – combine it with quality food from multiplex vendors. But why don't they show 'Chef'?
Street Food Cinema is the hit outdoor entertainment series that combines four curated experiences into one event, with outdoor movies, street food, games, live music and more. Bring friends, family and even dogs (20 pounds or under).

Screenings will take place at the Marriott Golf Course, 1400 Park View Ave. in Manhattan Beach. Featured movies will be "Ferris Bueller's Day Off" on Saturday, Sept. 6, and "The Princess Bride" on Saturday, Sept. 13. Doors open at 5:30 p.m. The band starts at 6:30 p.m. The movie begins at 8:30 p.m.  LINK
Digital Death Watch
UK – Could this really be one of the last UK cinemas to switch to digital? The upgrade was enabled by joint funding from the town and district council, with the Mayor saying she hoped for "greater community involvement" in growing the new cinema.
Dover's Silver Screen Cinema is thought to be the last in the country to receive a digital upgrade.

The premises, in the Market Square, will reopen its doors to the public this Saturday after the installation of new projection and sound systems. The makeover has also included new carpets and chairs.

The single screen complex had previously been running with a 35mm film projector, but faced closure as distributors move to all digital formats.  LINK
Poland – A grant from the Polish Film Institute has enabled the Bialystok Cultural Center Theater Forum to go digital. Repertory screenings, Cheap Mondays and Senior's Thursdays are thus saved.
Replacing the projector are connected, in addition to the desire to raise the standard projection, the change in the distribution of films in the DCP (Digital Cinema Package stands. Package Digital Cinema). Projector model will be used in digital cinema, Barco II generation. 3D projection will be inTechnologyPassive three-dimensional image and HD quality, even in the 48 and 60 frames per second. Replacing the screen is subjected to the modern tech company Harkness screen material type Clarus 170 ("white-black"), corresponding to systems of polarizing 3D glasses work with "one-time" use.  LINK
Cinema Opening/Closings
India – One of south India's oldest single-screen cinemas is back, as an Atmos-equipped miniplex. Still called 'New Theatre'.
The oldest theater in Trivandrum now back with a new look. New Theater is started on 14th March 1936. Its now converted as Multiplex style theater. There will be 3 screens in the complex. Screen 1 is with 600 Seats, Screen 2 with 205 and Screen 3 with 200. Dolby Atmos is the sound system using in this theater.

The New Features are

2K Projection
Dolby Atmos Sound System
Push Back Seats
wide Car Parking Area
Cafeteria  LINK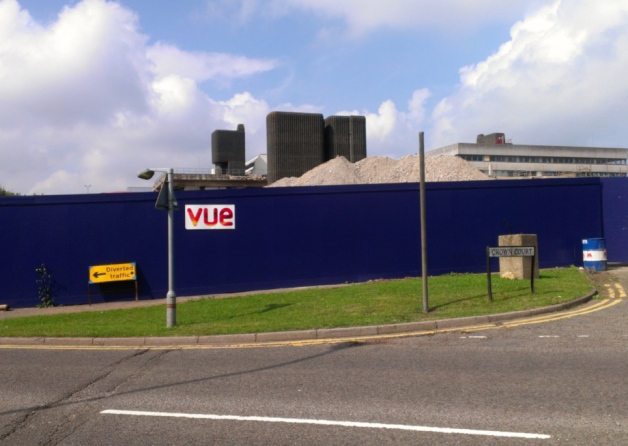 UK – The plans for a Vue cinema in Corby are inching forward …..slowly.
The owners of Corby town centre are moving forward with some of their proposals for the stalled Vue cinema site in Elizabeth Street.

Helical Bar has submitted planning applications to Corby Council to demolish the former bus station up to Chandlers Way and for a new gym in an empty storage unit beneath Willow Place,

In April Corby councillors postponed making a decision on plans for the £10m Vue cinema complex after taking independent legal advice on the issue.  LINK
Finally
A bit analytical for the 'Finally' section (not least on a Friday), but Quartz has some interesting takes on the future of films and cinema: "Here is one radical solution to Hollywood's movie crisis".
But if TV's path to cultural ascendancy was to become more like movies, then maybe the answer to the film businesses' woes is to become more like television?

In a recent piece in the Hollywood Reporter, BTIG analyst Rich Greenfield noted that the basic experience of going to the movies has not really changed over the years—although there are attempts underway to change that. AMC Entertainment is building an entire business around improving the theater experience, and the high profile venture capitalist Marc Andreessen recently shared his thoughts in a tweetstorm on the matter.  LINK

Latest posts by Patrick von Sychowski
(see all)