Is Vue ditching RealD? The exhibitor is switching almost 400 of its screens across the UK, Ireland, Germany and Denmark to Sony Digital Cinema 3D projectors. While the press release doesn't say it, this is a significant departure for Vue, which has exclusively been using RealD's 3D technology and is now expanding using the non-licence and non-proprietary Sony 3D solution that Sony previously only offered in non-RealD territories. RealD won't be happy about this.
The phased conversion process is scheduled to start in September this year. It will extend over a three to four year time period, covering a total of 394 screens across the group's Vue and CinemaxX branded European estate.

Unlike 'triple-flash' systems that rapidly present different images to each eye in turn, the Sony Digital Cinema 3D dual lens solution provides smooth, immersive flicker-free 3D images without distracting flashing effects. Whether audiences are watching in 3D or 2D, Sony's unique 4K projection technology assures an unparalleled viewing experience, with market-leading contrast levels plus exceptional colour and clarity.

Vue Entertainment International currently deploys a mix of Sony 4K projection systems across its estate, including the flagship R320 and its acclaimed sibling, the R515 that's optimised for medium-sized and smaller screens.  LINK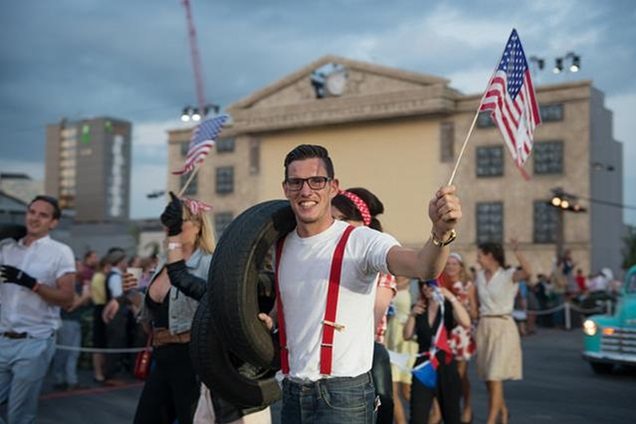 After the success of the Back to the Future screenings in London (aside from the botched launch), Secret Cinema is going to bring Hill Valley back to its ancestral and spiritual home – Los Angeles – as part of its launch in the US next year.
Secret Cinema is planning to take its hit production of Back to the Future to Los Angeles, marketing the 30th anniversary of the film's release.

The immersive cinema company, which builds live events around the screening of films, plans to stage the production in LA next summer. It will follow Secret Cinema's launch in the US in early 2015 with its Tell No One strand, which keeps the audience guessing the identity of the film until they arrive on the night.

Secret Cinema revealed its plans following the end of a month-long run of Back to the Future, staged at the Queen Elizabeth Olympic Park in Stratford, London from July 31 to Aug 31.  LINK
Concessions and F&B
USA (CA) – As if Michael Bay wasn't blamed for enough cinematic ills, he is now accused of causing over-eating amongst movie theatre goers. But all the more reasons for exhibitors to love him, if it increases concessions sales. All this according to research by Aner Tal at the Cornell University Food and Brand Lab.
The results of the study published Monday in JAMA Internal Medicine were unambiguous. The students who watched "The Island" with the sound on ate 98% more food and 65% more calories than the students who watched "Charlie Rose." Students who watched "The Island" with the sound turned off ate 36% more food and 46% more calories than those watching "Charlie Rose."

The researchers note that "The Island" has 24.7 camera cuts per minute while "The Charlie Rose Show" has just 4.8 camera cuts per minutes, but whether the pacing affects snacking rate is still unknown.  LINK
(Based on this I can also safely predict that Charlie Rose will not be event cinema-ing his way into any multiplex.)
UK – A perfectly lovely new cafe addition to the Henley-on-Thames Regal Picturehouse, but it's the history of the cinema in the last paragraph that fascinates even more.
THE Regal Picturehouse has opened a new café.

It began trading on Thursday last week on the ground floor of the cinema following a £30,000 revamp.

The café seats 26 people and it offers handmade cakes, toasted sandwiches, pastries, cheese and charcuterie platters, as well as barista-style coffee and teas.

In the evenings, a selection of wine and bar snacks will be made available.  LINK
Business
Azerbajdzjan – Hollywood movies dominate Azeri cinema screens. Turkey 99, Russia 44  (both down by half since 2000) and Bollywood six.
According to the official statistical report on "Azerbaijani education, science and culture, 2014", last year 28 cinemas showed 718 movies in the country against 1,084 cinemas in 2000. National cinema was represented only by 189 movies versus 322 movies in 2000. Foreign cinematograph supplied 523 movies (versus 689 in 2000) and 6 movies (against 73) were joint.

American movie industry supplied 348 movies to the country versus 329 in 2000. U.S. is the only country in the world to increase supply of its movies to Azerbaijan.  LINK
Ireland (Rep.) – Looks like a proper multiplex structure is finally going ahead at the Whitewater shopping mall.
Kildare County Council has granted a planning extension to the Whitewater Shopping Centre to demolish existing warehouse buildings on a site adjoining the rear of the centre to accommodate three retail units and an eight screen Mulitplex Cinema.

Permission was first granted in May 2009 for the retail units and the Multiplex cinema, which opened to the public as a six screen on the first floor in December 2009.  LINK
India – Inox has opened its latest multiplex reports EquityBulls as share price nudges up.
INOX Leisure Ltd have commenced the Commercial Operation in 3 screens of the new Multiplex Cinema Theatre situated at EF – 3 Mall, Sector 20 – A, Mathura Road, Faridabad – 121001, Haryana, from September 01, 2014.

INOX is now present in 45 cities with 83 properties, 323 screens and a total seating capacity of 86933 across India.  LINK
New Zealand – Cinema can be a tough business. Profits most definitely not guaranteed.
Wellington lawyer and former cinema owner Ian Hay has been bankrupted after the collapse of the companies that ran Island Bay's Empire Cinema.

Hay was not at the High Court at Wellington today and did not file any written opposition to the BNZ's application to have him declared bankrupt over a $1,064,000 debt.

The cinema closed for financial reasons last October and was sold early this year for $580,000, according to a court decision, well below the $1.25m Quotable Value figure.  LINK
Law & Order
India – Three people nabbed for stealing around USD $100 from a cinema in Kazhakkoottam.
According to police, Biju alias Kinkaran, 26, of Biju Sadanam, Kuzhikara near Kazhakkoottam, Aneesh alias Komberi, 27, of Puthuvalputhenveedu, Nettayikonam near Kazhakkoottam and Sunil, 42, of Puthuvalputhenveedu, Nettayikonam near Kazhakootam, were arrested on Monday noon.

"On Sunday around 9.30 pm the three along with one Manoj, went to Krishna Theatre near Kazhakootam for the second show.

While the theatre officials were busy with their work the three barged into the ticket counter and snatched Rs 4800 from there.  LINK
Crowdfunding
UK – A Kickstarter campaign is underway to open a cinema in London borough of Lewisham, which doesn't have one.
Deptford Cinema is a new, not-for-profit, volunteer-run cinema focusing on art film and experimental film. The cinema is opening in autumn 2014 and will be the Borough of Lewisham's only cinema. We will be providing a 50-seat cinema space, a cafe/lounge area, and studio and darkroom facilities for film processing and workshops. Films will be shown with a digital projector as well as on 16mm and 8mm film reels. Our upcoming programme of content is directed towards supporting the local community and providing opportunities for experience and education in experimental film and art. We are currently hard at work building on-site and preparing everything for the opening of the Cinema.  LINK
USA (MN) – Another terrific example of communities rallying to save their local cinema – which still just charges USD $4 per ticket ($£ on concession nights).
The St. James Princess Theater has been around for about 100 years and recently survived arguably its biggest hurdle yet.

The theater was forced to replace its old projector system because of Hollywood's move away from 35-millimeter film toward digital technology.

That trend left some small-town theaters in the dark. But not the Princess Theater.

Owned by the city of St. James, community members and local foundations helped the theater purchase $65,000 worth of digital equipment in 2012. Theater manager Linda Buller said she expected the process to take a year. It took about five months.  LINK
Cinema Opening/Closings
UK – But will the council be asked to stick its hand in its pocket or just rent out the building on favourable terms.
The man behind The Regal Cinema in Melton Mowbray, Tony Mundin, has approached Bourne Town Council about opening a new venue in the town.

Councillors have already met Mr Mundin and his family and shown them around the town hall. And confidence is growing that the building, which has been empty since the council moved into the Corn Exchange in March last year, could be brought back into use.  LINK
 Australia – Momentum is building to keep Melbourne St Kilda's Astor cinema open.
The Astor's closure would mean the loss of Melbourne's last single-screen cinema screening 70mm film.

More than 630 supporters have signed an online petition to the building's owner Ralph Taranto, asking him to keep the cinema operating.

While Mr Taranto has said he would do so, he has not revealed who would replace long-time operator George Florence, to be evicted next year after three decades in the role.  LINK
Finally
Sina Fashion has pulled together a list of 12 of the most amazing outdoor cinemas. We particularly like the look of the one above – Red Rock Amphitheatre, which seats 9,000 (!) in Colorado.
Dinner watching movies is the most boring way of dating. But sitting drinking beer watching movies under the stars, and even soak in a hot bath or sitting in the castle watching movies, that's cool and enjoy!

Thrillist website for everyone to find a global view of the most beautiful and fascinating or the most exotic 12 outdoor theater.  LINK

Latest posts by Patrick von Sychowski
(see all)