New Zealand – Ticketing software company Vista is off to a good start after debuting on the Kiwi boeurse.  
Shares of Vista Group International rose as much as 8.1 percent on their NZX debut, after the cinema software and analytics company raised $92 million in an initial public offering to pay existing owners and fund global growth.

The shares recently traded at $2.53, touching a high of $2.54, after an IPO at $2.35, giving the company a market capitalisation of $201.9 million between Pacific Edge and Hallenstein Glasson Holdings. Some $51.7 million of the funds raised went to existing owners who retained a 47 percent stake, while $40 million in new capital was raised to drive its international growth plans.  LINK
UK – A troubling decision by a London-based cinema Tricycle Theatre to expel the UK Jewish Film Festival, because of current events in Gaza and a grant from the Israeli Embassy.
The chairman of the UK Jewish film festival has spoken for the first time about the row that led to it being withdrawn from a north London theatre, and said he felt "sick to my teeth" when the theatre's director demanded to scrutinise the list of films to be shown.

"This was most definitely the thin end of the wedge. Who is she to say this film is right and this film is wrong? We have our own creative curator and our own 15,000 attendees. Why am I having to defer to her about what films she can defend?" said Stephen Margolis, chief executive director of the festival.  LINK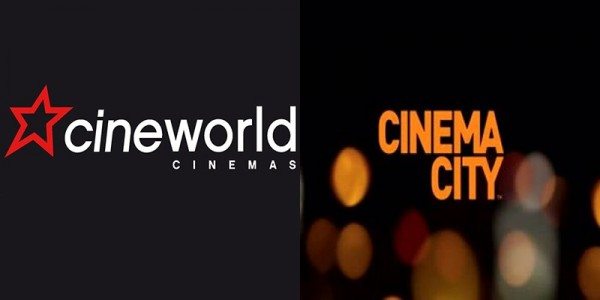 UK – Despite a slow summer, with sports and good weather conspiring to keep cinema goers away, Cineworld has managed to post good numbers, helped by the merger with Cinema City.
Hits such as The Lego Movie helped, but Cineworld also has its merger with Cinema City to thank for an expected sharp increase in half-year profits to £20million.

Cineworld's UK and Ireland box office revenues were down by 0.6 per cent in the year to the week before the end of July, but its total box office revenue was up 27 per cent compared to the same time last year.

This was due to the acquisition of Cinema City, a cinema business based mainly in central and eastern Europe, in February. Cineworld's first half profits are expected to be up 13 per cent when it releases results on Thursday, reckons investment bank Numis.  LINK
Pakistan – The expansion of multiplexes in Pakistan is underway, though still slowly and not without problems (even without the threat of terrorist attacks). This article looks at one of the larger players.
Super Cinema, a sister company of the Mainland Group limited, entered the business back in 2012 and recently inaugurated its ninth screen within two years' time. The company had initially planned to establish some 13 screens all across Punjab with an estimated investment of Rs1 billion [USD $10.1 million]. So far, the group has invested around Rs350 million [USD $3.5 million] and has created employment for some 250 people. The restructuring of the Sialkot cinema cost the company approximately Rs50 million [USD $510,000], out of which the cost of projector is around Rs20 million [USD $200,000].

In general, the cinema industry gurus are expecting at least Rs10 billion [USD $101 million] in investment all over Pakistan by different entertainment groups to establish state-of-the art cinemas. Construction of screens is also under the process and will get operational in the coming year.

These multiplex cinemas are entirely different from traditional cinemas and successful operations are highly depended on skilled manpower, which the country lacks. According to Gultasab, the assistance of 140 small and medium scale industries is required to operate modern multiplexes, most of which are technical.  LINK
Interestingly it claims that the projectors and technical training come from Korea, which makes me wonder if it is 35mm projectors or whether it is even North Korea (which has been known to share missile and nuclear bomb technology with Pakistan in the past), though it is more likely to be digital technology.
Technology
USA – Stereoscopy news says (shouts?) that 'THE REVOLUTIONARY 4K CHRISTIE SOLARIA 6P CINEMA PROJECTOR IS WHAT 3D NEEDS'. Judge for yourselves at this year's IBC Big Screen Experience, which is just one month away from kicking off in Amsterdam.
SMPTE 196M recommends 16 foot-lamberts for commercial movie theaters but the usual lght level in 3D theatres is more often between 3 and 4 foot-lamberts. Now, the new "4K Solaria 6P" 6-primaries laser projector from Christie is providing enough light to put full brightness on screens up to 23 meters wide.

The first Christie permanent, pure-laser projection system installation was unveiled on June 13, 2014 at the Shanghai Film Art Center, the first Cineplex to be built in China. It dazzled audiences with 60,000 lumens of brightness and a contrast ratio of 3,000:1 on a 1.4 gain high uniformity white screen measuring 23 meters in width.  LINK
Censorship & Ratings
China – Interestingly China does not have a country-wide film ratings system, so cinemas have to apply their own criteria of whom to admit.
A cinema in Urumqi, Xinjiang Uyghur Autonomous Region, has been suggesting children should not watch films deemed unsuitable for minors since August 3, following the same practice in two cinemas in the Ili Kazakh Autonomous Prefecture.

While China has no national film-rating system, the branch of the China Film theater chain in Urumqi began to rate screened movies as "G" (all ages admitted) or "PG-13" (parents of children under 13 are strongly cautioned).

Action movie Brick Mansions and thriller The House That Never Dies have been rated "PG-13" by the Urumqi cinema.

As it is just a private action, the rating practice does not mean to echo Xinjiang's anti-terrorism and stability maintenance campaign, said Yao Lin, the executive manager of the cinema.  LINK

 
Advertising
UK – More cinema advertising interactivity – this one in the lobby. DCM partnered PrimeSight in 2012.
Now TV has launched a new cinema campaign – 'BackInYourBox' – through Primesite's interactive inventory across Cineworld, Odeon and Vue.

Created by WCRS and facilitated by Mediacom and Rapport, the 'BackInYourBox' interactive campaign will roll out across the top ten most popular cinemas in the UK alongside static six sheet panels located in 304 cinemas nationwide.

The creative features a touch screen game based on the arcade hit 'Whac-A-Mole'.  LINK
Australia – More proof, if proof was needed, that cinema advertising delivers a considerably higher impact than television.
Val Morgan has today released the first results in the Power of Cinema series which demonstrate the value of including cinema as part of a/v media strategy. The findings prove that cinema significantly improves advertising effectiveness, delivering a 40% increase in the key metric of brand consideration.

The Power of Cinema series set out to replicate how television, online video and cinema is typically consumed by the Australian public. For advertisers this presents compelling information on the role of cinema as part of a/v strategy in conjunction with television and online video. It builds on previous research findings that showed cinema to deliver 6 times the engagement of television.  LINK
People
Germany – Vue is looking for a new MD for its German Cinemaxx operation.
Vue International said it has begun a search for a new Managing Director of its CinemaxX division after Christian Gisy said he would step down on Aug. 31.  LINK
Event Cinema
Germany – More details about the Bayreuth/Wagner event. not a first for Germany, but the Berlin Philharmonics never took off quite like the Met Opera, so it will be an interesting one to watch. The article looks at how event cinema plays out in a German theatre, with four (!) satellite dishes on the roof, and everything from Sydney Opera to Royal Opera House events planned.
The live broadcasts will find as the theatrical release in HD quality and Dolby 5.1 surround instead. Four satellite dishes on the roof of the cinema Movie Star provide the right connection. "Just as a small cinema you have to move with the times, otherwise one remains in this fast-paced time not," explains Stephan Rauch foot , the Marketing Manager of the Movie Star. The content, the cinema can show have, expanded noticeably. The Parchimer cinema goers and concert fans can look forward to an exciting season.

Around 200 cinemas in Germany and abroad show on August 12, a special classical music event: the opera "Tannhäuser and the Singers' Contest at Wartburg" by Richard Wagner live from the Bayreuth Festspielhaus. It is also shown in Parchimer Movie Star. From 15.45 moderator Axel Brüggemann and the tenor Klaus Florian Vogt Star together with festival director Katharina Wagner in an opening act for the evening and take the cinema audience behind the scenes of the Bayreuth Festival. "Tannhäuser and the Singers' Contest at Wartburg" is transmitted with over ten cameras in perfect HD quality in 5.1 surround sound and with German subtitles live in the cinemas. LINK
Digital Death Watch
Greece – AP has a gorgeous photo series of outdoor cinemas in Greece, many of which are unlikely to survive the switch to digital. Greece has one of the lowest rates of digital cinema penetration in Europe, but Hollywood studios will not keep sending it 35mm copies much longer.
Open-air cinemas survived Greece's real estate boom and the financial bust that followed, providing many with an affordable night out.

From tiny Mediterranean islands to the capital, Athens, warm summer nights and some spectacular settings kept movie fans coming back. But the global switch to digital projection could soon bring the tradition to an end.

Many independent cinema operators say they cannot afford to invest tens of thousands of dollars in new technology, but none have said so far that they will have to turn off their old film projectors for good.  LINK
Cinema Opening/Closings
UK – It may no longer be a cinema, but it's majestic art-deco exterior has been restored and it will entertain children for years to come.
A DATE has been set to bring an iconic Art Deco building back to life for the next generation.

The former Majestic Cinema on Darlington's Bondgate has been undergoing extensive renovation since January when North-East property developer Devlin Hunter bought the building.

As previously revealed in The Northern Echo, the venue is set to become the region's largest children's soft play facility and an opening date of September 20 has now been announced.  LINK
Pakistan – Welcome news of Pakistan taking its cinema heritage seriously.
THE Walled City Lahore Authority (WCLA) is planning to launch a project for the restoration of all cinemas in Bhati Gate and Texali Gate in the Walled City with public-private partnership.

Sources in the WCLA revealed that after the partition three cinemas operated in the area which included Pakistan Talkies, Tarranam Cinema and City Cinema but presently only one cinema, Pakistan Talkies, is entertaining the general public, though it is in a very dilapidated and rough condition.

The recent victim of the commercialisation was Tarranam Cinema, which was slowly demolished by the owners during the past one and a half years. An empty plot at the site of Tarranam Cinema with an old iron gate having its name on it reminds the citizens of its past glory.  LINK
Finally
Greece may have the Mediterranean climate, but when it comes to outdoor cinemas, these German cinemas knock the sandals of their south European counterparts – including an amphitheater one! (I am guessing they are all digital already.) Feast your eyes on this gorgeous photo display from DW.
The hot summer weather shouldn't be a reason to miss a night at the movies. In Germany, film buffs can chose from a number of open-air cinemas and enjoy all kinds of movies under a starry sky.  LINK

Latest posts by Patrick von Sychowski
(see all)