Great Scott, they did it in the end! Secret Cinema's delayed Back to the Future event went off yesterday without a problem. The company's founder had a few words of contrition before the start of the film, as reported in The Guardian.
"I was always confident we would pull this off, thought to be fair I was confident we would open last Thursday and I really pushed the timing. I look back and I think, I made a mistake. When you work in theatre, when you work in events, you are always close to the wire, whatever happens, but this was a massive show. The issues I had with the reports saying that we weren't ready, well, we were ready to open but the technical aspects – and I think when people come they will really see them, because it's quite a complex show – were the things we just had to work on."

He added: "Hands up, Secret Cinema has grown really fast and with this show it was always going to be something quite special, and we had to aim high because I can't take on a film that is loved to such a degree and not aim high. A lot of people say, well, Secret Cinema is not that secret anymore, but for me the idea is that you build a community of people who like to explore and have adventures and become other characters and live through their favourite films."  LINK
The Guardian even sent along its film reviewer to get his take on the whole experience.
Well, maybe Secret Cinema was having its Eric Stoltz moment: I like to think the delay was an elaborate postmodern joke about the fact that Back To The Future was originally cast with Stoltz in the lead role – an actor who was sacked after five weeks because he wasn't funny enough – and filming had to start all over again with [Michael J.] Fox.

As a Secret Cinema virgin I found the event engaging and entertainingly bizarre: faux-American and yet very English in all its fancy-dress eccentricity. It isn't exactly an immersive, wraparound experience – you could get that better by seeing the film at an old-fashioned cinema showing. But it turned into an impressive festival of fan love, a Comic-Con-ish event in which so many audience members dressed up in 1950s clothes which were as authentic as those of the actors employed by the production, that everyone was a co-contributor: it was virtually a user-generated live event.  LINK
But Peter Bradshaw saves his best observation for the penultimate paragraph, and it is one worth highlighting: "I'm not sure exactly what Secret Cinema seriously offers the business of film distribution and exhibition – but in our digital downloading age, we increasingly yearn for live events, real communal happenings, and Secret Cinema caters to that."
China – Food safety remains a hot topic in China and cinema concessions are not exempt. Looks like there are quite a few shortcomings, based on this survey by Wenzhou City Market Supervisory Authority and the released "Wenzhou City in 2014 circulation theater food quality sampling Table"
Recently, Wenzhou City Market Supervisory Authority in Lucheng, Ou Sea, Bay, Ryan and other counties (cities, districts) of the meat market, preserves, puffed food, soy and other special quality to carry out monitoring activities. The random sampling of settled include Wanda Cinema, Cinema of New China, including 20 White Deer Studios theater food distributor sold a total of 83 batches of food, which qualified 58 batches, pass rate 69.88%. Among them, a new era of Movie World, Wanda Cinema, Hang Lung Studios, Yongjia National Theater, Pingyang Studios theater settled within this five dealers sold food subjects were qualified, especially Wanda Cinema, Hang Lung Studios The two theaters, a maximum number of subjects and all batches of food were qualified.

"From the sampling results, the total number of [sample bacterial] colonies failed, the amount of sulfur dioxide exceeded, peroxide value substandard, colorants substandard food distributors theater is settled within several major problems exist in the sale of food." According to market oversight City Food at the relevant staff of the Authority, said the total number of [sample bacterial]  colonies exceeded easily cause diarrhea and gastrointestinal infections. Sampling of substandard fruit preserves mostly inferior raw materials, some unscrupulous manufacturers to sell to make candied fruit lover, harmful sulfur dioxide added during processing. Part of the informal food manufacturers using peroxide value has exceeded the raw material for the production of edible oil or cooking oil stored improperly or stored too long, the consumer consumption will lead to gastrointestinal discomfort, diarrhea, and even liver damage.  LINK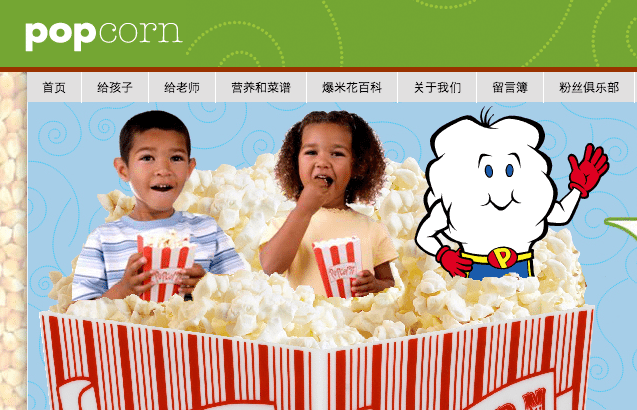 China – In other parts of China a cinema goer took a cinema to court for stopping him bringing in outside F&B – and won! The Yang vs. Yanti Cinema case could set an important precedent for consumer rights in Chinese cinemas, but also be a blow to concession spend for already hard-pressed Chinese exhibitors.
According to Yantai Laishan civil judgments issued by the People's Court, said the end of February this year, the plaintiff Wang to Yantai, a cinema, Wang before entering the supermarket to buy a drink from the outside, ready to drink while watching. But in the admission ticket, Wang has been the theater staff to stop, because when the theater viewing may not bring their own food and beverages, Wang storage requirements.

Wang bought movie tickets back "ticketing instructions" clearly stated, the audience not to bring non-food beverages sold in this cinema hall into the shadow. In addition, the electronic display screen at the wicket, "declined takeaway food (including beverages)," and so on. If this happens, Wang as consumers feel that their legitimate rights have been violated, then sued the paper petition the theater Laishan People's Court.  LINK
India – PVR has reported quarterly figures and they are good, with revenue and attendance up, though it is hard to compare like for like given the acquisition and integration of the cinemas of CHPL, CIL and its subsidiaries.
Multiplex operator PVR Ltd today reported a consolidated net profit of Rs 7.66 crore [USD $1.25 million] for the quarter ended June 30, 2014.

The company had reported a consolidated net profit of Rs 13.60 crore [USD $2.22 million] for the April-June quarter of the last fiscal, it said in a regulatory disclosure.

Meanwhile, in a separate filing, the company said its board today approved raising Rs 500 crore [USD $81.71 million] through Qualified Institutional Placement (QIP).  LINK
UK – An update on the Ourscreen cinema-on-demand trial underway in the UK. I'm guessing most of the target audience would chose to go and watch Guardians of the Galaxy this weekend.
Film fans in 13 UK cities will now be able to take over their local cinema and arrange customised screenings with a new personalised service for film buffs.

Ourscreen allows people to create and attend screenings of their own making, enabling groups to choose from hundreds of new and classic and have them played on the big screen of their local cinema.

In addition to choosing the film users can also select the time, place and even fellow audience members to customise the experience as far as possible in a first flurry of cities including; London, Bath, Brighton, Cambridge, Edinburgh, Exeter, Henley, Liverpool, Norwich, Oxford, Southampton, Stratford-upon-Avon and York.  LINK
UK – It looks like the pay dispute between staff and managers at the Brixton Ritzy (owner Picturehouse/Cineworld) is getting closer to being resolved.
Entertainment union BECTU is reporting that they are now "thirds of the way" to finding a settlement for the 15-week pay dispute which has seen the Ritzy cinema repeatedly closed by strike action.
The union reported that:
Talks at ACAS, which ran until 3am on 31 July, produced a new offer from Picturehouse which fell short of immediately conceding the London Living Wage of £8.80 per hour, but laid out a calendar to pay this rate to all staff on main grades by September 2015.  LINK
USA (CA) – A member of the Dolby family is selling out of the company that Ray Dolby founded.
Dolby Laboratories (NYSE:DLB) major shareholder Dagmar Dolby sold 35,173 shares of Dolby Laboratories stock in a transaction that occurred on Wednesday, July 30th. The shares were sold at an average price of $45.03, for a total value of $1,583,840.19. The sale was disclosed in a document filed with the Securities & Exchange Commission, which can be accessed through this link. Large shareholders that own 10% or more of a company's shares are required to disclose their transactions with the SEC.

A number of research firms have recently commented on DLB. Analysts at Zacks downgraded shares of Dolby Laboratories from an "outperform" rating to a "neutral" rating in a research note on Wednesday. They now have a $48.00 price target on the stock. Separately, analysts at JPMorgan Chase & Co. reiterated an "underweight" rating on shares of Dolby Laboratories in a research note on Friday, July 25th. They now have a $43.00 price target on the stock, up previously from $38.00.  LINK
Advertising
USA (NY) – Forbes looks at National CineMedia and how the company plans to ride out the bumpy summer at the box office. (Hint, it's not about cinema; it's all about television.)
National CineMedia believes it will weather any inclement market condition that might hit the movie sector precisely because it isn't what it might appear: a pure-play movie company. "Since Day 1, our mission has been to compete in the TV marketplace," Hall said. To that end, the company invited direct comparisons with top TV networks by staging a major presentation to advertisers in the heart of television's broadcast "upfront" week in May. At the Lincoln Square megaplex just uptown from where ABC, NBC, CBS, Univision, Telemundo and a handful of others were making their case and revealing details and clips (and stars) from their fall slates, Cliff Marks, NCM's president of sales and marketing was holding forth.

At the heart of his argument: cinema ads are now a reach vehicle, with better recall and sentiment scores than traditional TV or fragmented digital platforms. "In our theatres," he told the audience, alluding to common delayed-viewing ad metrics, "there is no C-3, there is no C-7. There is only 'see live.'" Moviegoers are younger, more attentive and more impressionable than TV viewers, said Marks, who worked in sales at ESPN before joining NCM. Given how heavily weighted moviegoing is to weekend attendance, in the aggregate, the movie population is "the No. 1 network of adults 18 to 49 in the country, period," Marks said. The median age of NCM patrons, 30, compared with cable TV's 41 and broadcast's almost 50, "puts us in the exact same conversation as MTV in terms of reaching millennials."  LINK
Law & Order
UK – If true (and given that the source is the Daily Mail that is a big 'if'), this would be pretty stupid: man refused entry to Vue cinema complex in area where population is 87% ethnically non-white, as guard says cinema was only for couples and families celebrating Eid.
A sales consultant was allegedly turned away from a busy cinema yesterday because he was not a Muslim celebrating Eid.

Leon Jennings had been visiting Birmingham's Star City entertainment complex with two friends.

But as the 22-year-old tried to enter the Vue cinema based on the site, which includes dozens or bars and restaurants, he said he was turned away by a security guard.

After asking them why, Mr Jennings claimed he was told by staff that film showings were only for couples and families celebrating the end of the Muslim festival.  LINK
USA (FL) – How dangerous is it for teenagers to hang out around cinemas? Or is it that hanging out by teenagers that makes these places dangerous? In the wake of a murder of a 17-year old girl who was shot in a Carmike Cinema parking lot in Florida, these questions are being asked.
The Carmike Royal Palm 20 Cinema in Bradenton has long been known as a teen hangout, but several recent incidents have residents questioning whether things are getting out of control there.

The shooting of Teria'le Rawls and the recent sharing through social media of a video showing an unrelated brawl have some saying enough is enough.

This video in question was posted to Facebook and purports to be of an incident that occurred July 19th outside of the Royal Palm 20. That's the same multiplex where 17-year-old Teria'le Rawls was shot and killed on Monday, and the incidents have left local teens on edge.  LINK
Pakistan – But cinemas in Pakistan are far more dangerous than anything in Florida, given incidents like this cowardly attack.
Unidentified persons threw a hand grenade at a popular cinema screening Salman Khan's latest movie Kick on Thursday, July 31, injuring at least two persons. The cinema on the MA Jinnah road has been running housefull.

Police said they were investigating the motive behind the attack as the modus operandi of attackers was similar to those who use grenades to damage property and spread fear.

"Two men on a motorcycle threw the hand grenade at the entrance of Capri cinema and fled from the scene. Two persons were injured," senior police official Imran Shaukat said.  LINK
Event Cinema
USA – More details about the US Doctor Who cinema screening – for those who are not catching the pre- and post-show extravaganza on BBC America.
Meanwhile, as with the United Kingdom, the episode will have a cinematic release in the USA, though this will not be simulcast. Instead, BBC America have partnered with Fathom Events to present Deep Breath in a special screening event taking place in twelve cities from midnight, with full details to be announced on the 5th August.

This will be followed by a wider cinematic release on the 25th August, with over 550 cinemas showing the episode at 7:00pm and 9:30pm, accompanied by the prequel and behind-the-scenes material as seen in the UK (no Q&A).

Tickets are now available to purchase from participating venues and also online from Fathom Events.  LINK
Cinema Opening/Closings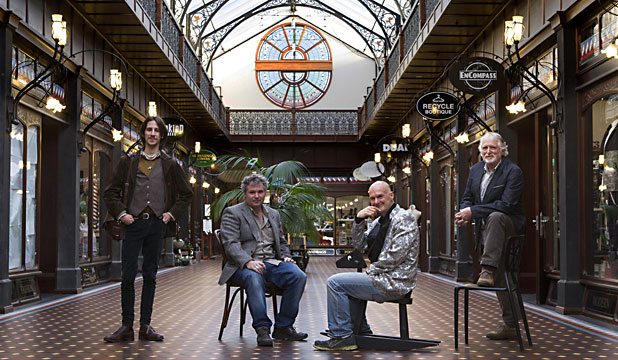 New Zealand – Christchurch's most famous video store owner is fulfilling a life-long ambition of opening an art-house cinema.
Two years ago Jeremy Stewart opened a small digital cinema, called the Cinematique, in the Alice's building on the corner of High and Tuam Sts and early next year will open a new two-screen cinema at The Tannery shopping centre in Woolston.

"It is a dream coming true," says Paul Stewart.

"It is the same philosophy as before. I have been a cinephile forever and day. The freedom Alice's had with videos we can now transfer to the big screen."  LINK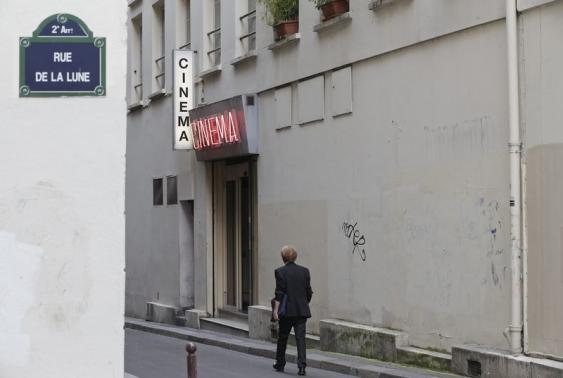 France – Reuters has taken note of the story of Le Beverley, Paris' last porno cinema and its owner/projectionists Maurice Laroche fight against the lure of online smut.
He started his career in mainstream cinemas and remembers showing cult classics such as "A Clockwork Orange", the 1971 Stanley Kubrick adaptation of the Anthony Burgess novella.

Though he said he had only seen two or three pornographic films in his life, he moved to Le Beverley for a career change and bought it from the former owner in 1992.

The films are shown on a loop and its 120-seater cinema is at its busiest around three o'clock in the afternoon. Laroche says the ageing clientele have little desire to brave the Paris metro system late into the night.  LINK
Italy – One of the few cinemas in Rome to screen films in their original (English) language, which closed in 2010, is set to become a shopping mall.
Rome's former Metropolitan cinema building at the Piazza del Popolo end of Via del Corso could be turned into a shopping mall, after developers got the initial green light from the city administration. However the plan still needs approval from the city parliament and the Lazio region.

Marta Leonori, Rome's commerce and tourism councillor, said that out of the building's almost 2,200-sqm space, 1,800 sqm would be destined for shops no bigger than 250 sqm while offices would take up 50 sqm and over 300 sqm would be kept for a cinema.  LINK
UK – Southampton's mystery cinema operator is……[drumroll]…. National Amusements' Cinema de Lux!
THE Daily Echo can today reveal the luxury cinema chain that has signed up to become part of Southampton's £70million city centre development.

National Amusements has sealed a deal which will see a plush Showcase Cinema de Lux built at Watermark WestQuay.

The first of its kind in the south, it will boast 10 screens, 3D screens and the latest in digital surround sound, and will create 150 new jobs.  LINK
UK – Hopes have been raised to bring a cinema back to Kings Lynn.
Plans to bring cinema back to Hunstanton's Princess Theatre were revealed as the £41,000 Sunset Wine Bar and terrace was officially opened.

Brian Hallard, theatre partner, said it was an aim to bring the cinema back, hopefully before Christmas.

Picture: Centre, Nick Daubney, West Norfolk Council leader with theatre partners from left James Johnson, Ian Larkin, Paul Searle, Brian Hallard LINK
Finally
Ever wondered where the names of British cinemas come from? Some of them have very grand ancestry. A columnist for Huddersfield's newspaper reveals all.
The first Curzon cinema was named, not after the family, but after the street in which it was located in London.

The Savoy Theatre in London was built on the site of the Savoy Palace and the Alhambra was a grand palace in Spain. Both became well known names for picture palaces.

The Rialto has been a part of Venice for 1,000 years and much later was used as the name for the theatre district of a city, hence it became a cinema.

A Plaza was an open square or courtyard in Spain and came to be known for shopping and entertainment.

About the only Huddersfield cinema in the past that avoided such glitz and glamour and opted for a more homely feel was The Cosy Nook at Milnsbridge. Aaah. Bless.  LINK

Latest posts by Patrick von Sychowski
(see all)