Carmike Cinemas' share price is up 166% in the last two year, but that's not necessarily a good thing, according to research analyst Gary Bourgeault. This long article looks at Carmike's rollup and acquisition strategy, whether it will be bought by a larger competitor and what price is right.
Carmike has chosen to grow via acquisitions, contrary to its competitor AMC Entertainment (AMC), which is focusing primarily on quality rather than quantity. Nonetheless, Carmike has been able to grow revenue and earnings per screen while adding more theaters to its circuit.

Now, the question is whether or not the acquisition strategy and performance of its individual theaters is reflected in the share price, or the company has heated up too much and is overvalued.

Another catalyst to contemplate is that Carmike is considered a prime candidate for acquisition, as it moves toward its goal of owning 300 theaters and 3,000 screens. At the rate it's growing in this consolidation atmosphere, I think part of the reason for the surge in share price is the inclusion of the possibility of being acquired by one of its larger rivals.  LINK
Just as with his incisive piece of analysis about AMC, I urge you to read this article in full.
USA (NY) – Physical attacks on people trying to enjoy a film without others talking are not being taken seriously enough. This dad was attacked by eight people. Will it take another shooting? Justice has definitely not been served in this case. You can read here what originally happened.
In the case of last summer's vicious attack at the Bow Tie Cinema by a gang of teenagers on an innocent father trying to enjoy a night out with his daughters and their friend, justice for the victims is nowhere in sight.

During the June 28 incident, a Niskayuna man suffered a severe concussion, a broken hand, a damaged tooth and other scrapes after being repeatedly kicked and punched by a group of out-of-control teenagers. One of the man's daughters also was punched in the face and had her cell phone stolen.  LINK
Business
Australia – On the eve of CineEurope BRW publishes a short profile of Vista and its Hollywood ambitions.
But future growth could come from its Hollywood contacts. The studios spend vast amounts on marketing, but it's money that is rarely well targeted. A division of Vista called Movio specialises in data analytics and aims to be the world's leading aggregator of film data, which should help studios choose their next project and when the movie should be released.

Senior says the more data they can obtain, the more they will be able to help studios understand what is going on with fans. Despite its size and popularity, the film industry is fragmented.  LINK
UK – Abbeygate Picturehouse has been bought from City Screen Limited by Abbeygate Cinemas Limited. This follows the ruling by the Competition Comission that Cineworld had to dispose of some of City Screen's cinemas.
Led by former City Screen Limited founding partner Tony Jones, the new owners have emphasised that it will be business as usual for the popular cinema. A seamless transition is planned with the programming services of Picturehouse Cinemas being retained.

They will also continue with a Membership scheme, honouring the existing Member benefits.

"It is great that we have been able to transfer the cinema into safe hands with Tony," commented Lyn Goleby, managing director of Picturehouse Cinemas.  LINK
Technology
USA (TX) – Famed for their zero-tolerance policy of smartphone use during films, Alamo Drafthouse has now pre-emptively banned Google Glass.
"We've been talking about this potential ban for over a year," [Alamo Drafthouse CEO Tim] League told Deadline. "Google Glass did some early demos here in Austin and I tried them out personally. At that time, I recognized the potential piracy problem that they present for cinemas. I decided to put off a decision until we started seeing them in the theater, and that started happening this month." The move makes Google Glass the latest addition to the Drafthouse Cinemas black list which already includes movie talkers, texters, and Madonna.  LINK
Event Cinema
Iran – World Cup matches are not allowed to be shown in bars, having previously been banned in mixed-gender cinemas in Iran.
The latest ruling comes after police said mixed-gender cinemas wouldn't be allowed to show World Cup matches, and the Iranian Cinema Owners Association says it won't hold separate screenings for men and women either.

Fans aren't completely out of luck though – the games will still be shown on Iranian TV and some public parks are likely to show the Iranian games on large screens. Iran kicks off with a game against Nigeria on 16 June, and is due to play Argentina and Bosnia-Hercegovina later in June.  LINK
Australia – But Aussies will be able to watch the World Cup in cinemas, like the Beverly Hills Cinema in Canterbury-Bankstown, who will be selling tickets and not just selling concessions.
The cinema will broadcast nine games live from the group rounds and, depending on interest, the quarter-finals.

The first game will be the Cup opener with home side Brazil taking on Croatia from 5.30am on Friday.

Cinema general manager Costas Meligonis said it was the first time they had broadcast World Cup games at Beverly Hills, but he was expecting a lot of interest.

Prices are $10, or $20 with popcorn and a drink.  LINK
UK – For those who missed out on buying tickets for Secret Cinema's Back to the Future – no need to wish you could go back in time and try to book earlier. Extra shows have been added, truly by popular demand.
After 42,000 tickets were snapped up within four hours, event organisers have extended the run of the impressive show between August 14 and 31.

Tickets go on sale tomorrow (Wednesday June 11) at 1pm, visit www.SecretCinema.org for more information.

Secret Cinema Founder and Artistic Director Fabien Riggall said: "For Secret Cinema presents Back to the Future, we will build an entire town, where audiences will live inside the world of Back to the Future.  LINK
UK – The special D-Day commemorative concert played in cinemas in the UK did better than "Grace of Monaco", which is perhaps not that surprising, given the critical drubbing the latter suffered.
Grace of Monaco opened at number nine on the chart, two places behind BBC Radio 2's D-Day commemoration concert, which was broadcast live from the Royal Albert Hall to 179 cinemas across the country.

Re-telling key moments of the Normandy landings and accompanied by the BBC Concert Orchestra, D-Day 70 Years on took £287,767 – averaging £1,608 per cinema.  LINK
Immersive Audio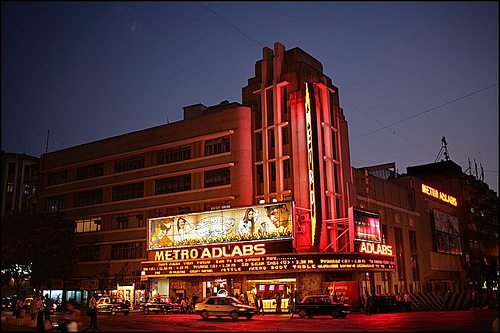 India – One of Mumbai's most gorgeous historic cinemas has been fitted with Barco's Auro 11.1 immersive sound system. BIG Cinema's Metro was also one of the city's first digital cinemas. (I know because I helped to install it.)
Barco, a global leader in digital cinema technology, is proud to announce that Metro Cinema, one of the oldest and most famous art deco multiplexes in Mumbai (India), has recently been adorned with the Auro 11.1 by Barco immersive sound technology. This unique sound format is designed to complement the crisp clear images on screen with an unmatched auditory experience. After HDIL Broadway last month, Metro Cinema—owned by major Indian cinema chain BIG Cinemas, itself a division of Reliance MediaWorks—is the pioneer Bollywood theater to adopt this high-end, sound platform.

Opened back in 1938, Metro Cinema has long been the most famous red-carpet theater in Bollywood. To propel the theater's reputation for extraordinary moviegoing experiences into the 21st century, current owner BIG Cinemas decided to install the Auro 11.1 by Barco speaker layout at its art deco showpiece.  LINK
Cinema Opening/Closings
USA (WI) – Carmike is about to open its new 10-screen cinema in Manitowoc. Elsewhere in the county, the downtown Strand six-screen theater closed this spring and the single-screen Lakeshore Cinema on Washington Street is in the middle of Kickstarter fundraising campaign to go digital.
[T]he Manitowoc 10 features a computer server room with some $500,000 of latest-generation technology helping to project images on the 10 screens, including the 60-foot-wide by 3-story tall picture on the Big D, in the largest of the auditoriums seating 357.

"Lots of things going on … cleaning, cleaning, cleaning … getting everything stocked, having staff training and learning the point of sales system," Reynolds said Monday inside the lobby of the theater.

Patrons will first see a wide variety of concessions items as they buy their tickets at one of 12 customer service stations. Carmike officials are excited about offering Coca-Cola's "Freestyle" soda machine capable of producing more than 130 flavor combinations.  LINK
Australia – One of the largest Australian cinemas outside the capital cities failed to find a buyer, so the current owners are keeping it.
ALBURY'S Regent Cinemas will remain in its current ownership.

Cromwell Property Group has owned the Dean Street landmark for a decade.

It had been on the market since early April under an expressions of interest process.

Selling agents CBRE confirmed yesterday the property had failed to sell after attracting three bids.  LINK
USA (FL) – iPic is opening a new cinema in North Miami Beach, where the now-shuttered Intracoastal 8 cinema used to be.
Boca Raton-based iPic Theaters said it has signed a lease with South Florida developer Dezer Development to build a new eight-screen, 40,000-square-foot luxury movie theater in North Miami Beach's Intracoastal Mall.

"The level of luxury that is associated with the iPic theaters will further complement the Eastern Shores lifestyle options that will be located now in the Intracoastal Mall," said Michael Dezer, chief executive of Dezer Development, which has holdings in New York, Florida, and Las Vegas, and says it is the largest oceanfront property owner in Sunny Isles Beach, with more than 27 oceanfront acres.  LINK
USA (TX) – Another luxury multiplex as a cornerstone of a new commercial development, this one in Houston, Texas.
Baybrook Mall's 555,000-square-foot expansion will be anchored by Star Cinema Grill, Houston-based commercial real estate firm Wulfe & Co. announced June 10.

The 42,147-square-foot theater is expected to open in the fall of 2015 and will be Star Cinema Grill's flagship location for the Houston market. The company currently has locations in Webster, Conroe and Missouri City, as well as in the Chicago area.  LINK
Canada – It's encouraging when developers and architects try to retain features of cinemas, even as they turn them into condos.
"75 per cent of the original Van East Cinema was retained and kept for the building we have today. The bricks we have on the outside, almost all the bricks, the concrete, the steel, all the exterior structure, as much as possible was retained on here," he says.

Askew says the building doesn't have the glamour of older spaces built in the 1930s or '40s but the theatre does have it's own allure. "It was originally designed by Bruno Freschi, the architect who did Expo '86 and Science World, so it's got a great heritage and history to it. The developer thought it was something where it was too special to just knock down and build a new condo there, which he could have done."  LINK
UK – It's hard to feel too sorry for a former cinema this derelict and that's been closed for too long, as is the case with the Rialto in Lochee. Sometimes it is best to move on.
The Rialto Cinema opened in 1928 and was the first in the city to show "talkies". It closed in 1962 and was converted to a bingo hall.

The building was given B-listed listed status in 1993, but many of its important architectural features were lost in a fire.  LINK
Finally
Those who have not been to a cinema with a Wurlitzer have not truly experienced the sheer joy of picture palaces of yester-year. You can keep your Auro and Atmos – this is the 1.0 movie audio technology that gets my cinestalgic heart racing. Where can you enjoy it? In the greatest cinema in the Netherlands, that's where.
The Tuschinski was an opulent masterpiece when it opened in the 1920s — its owner, Abraham Icek Tuschinski, took pains to equip it with the best organ his money could buy.

A Jewish immigrant originally from Poland, Tuschinski was killed along with his family in a Nazi concentration camp during the Second World War and his cinema renamed the Tivoli.

After the war it reverted to its original name and in the 1980s benefited from an expensive restoration project that returned much of its original grandeur.  LINK

Latest posts by Patrick von Sychowski
(see all)