An in-depth interview with Tim League, founder and CEO of Alamo Drafthouse Cinema, a true pioneer in the American exhibition industry. Very disarming and insightful.
How did the dining experience while watching a movie come about?
There was a theater in Portland [Ore.]that did beer and food service in the theater, and we really liked it. … So, yeah we completely blatantly ripped it off from another theater.

Why do you think the cinema eatery concept has been so popular?
Traditional movie concessions work for a certain group—sometimes you want a Coke and a popcorn. But our audience is a little older just by the nature of what we do, and so it's a great date experience where you can compress eating and going to a movie into two hours and minimize the babysitting time.

How did you start the whole concept of making themed nights in which the food reflects the movie?
I think that just comes with me being a movie fan, and I like to throw events and parties. So it just seemed a natural fit. … The idea of making the experience special and offering people something they can't get anywhere else was very early on part of our marketing strategy to build loyalty.  LINK
Italy – RealD has signed a deal with Italian exhibitor The Space Cinema to increase the latter's 3D screens by 40%.
RealD Inc. (NYSE: RLD) and leading Italian theatrical exhibitor, THE SPACE CINEMA, announced today an extended agreement to install an additional 40 RealD 3D Cinema Systems at THE SPACE CINEMA locations throughout Italy. When combined with the approximately 100 RealD 3D equipped THE SPACE CINEMA auditoriums today, the number of RealD 3D installations across THE SPACE CINEMA locations will be in total more than 140. New RealD Cinema System installations have begun and are expected to be completed by this summer.  LINK
Mexico – The Financial Times looks at premium cinema as part of its luxury conference, interviewing the CEO of Cinepolis (video).
Cinema is under threat from home movies and online streaming media. However, Mexican group Cinépolis is experiencing growth fuelled by a move into the luxury market. FT editor Lionel Barber asks chief executive Alejandro Ramírez why cinemas still appeal.  LINK
USA (CO) – Alamo Drafthouse isn't the only high-end cine-dining operation. Interesting to see multiplexes being converted.
The Regal Colony Square Stadium 12 movie theater in Louisville closed this weekend in advance of a planned conversion into Cinebarre Boulder, a cinema-eatery that combines a first-run theater with a full bar and restaurant, officials confirmed Monday.

The Louisville cinema, 1164 W. Dillon Road, would be the eighth U.S. location and second in Colorado for Cinebarre LLC, which was founded in 2007 as a joint venture between entrepreneur Terrell Braly and Regal Entertainment Group.

The remodel of the 20-year-old Colony Square will entail converting one of the 12 theaters into a full kitchen, adding a full bar and installing luxury rocking chairs in the remaining 11 theaters, Braly said. He said the combined seating at completion would be about 1,000 seats.  LINK
Premium Large Format
Russia – Imax has signed a three-screen deal with Russia's Formula Kino. After China, Russia is emerging as Imax's second most important market outside North America.
Under the terms of the agreement IMAX theatres will be installed in Moscow and Novokuznetsk, with IMAX's next-generation laser digital projection technology to be added to a new complex in Moscow expected to open in 2015, marking IMAX's first laser system deal in the country.

In December 2012, Formula Kino merged with Kronverk Cinema, which has an IMAX theatre in the regional city of Syktivkar. The merged companies operate under the Formula Kino brand. Today's agreement brings Formula Kino's total IMAX commitment to eight theatres, with existing IMAX theatres in St. Petersburg (3), Moscow (1) and Syktivkar (1).  LINK
UK –  Showcase cinemas is introducing its XPlus screen format, which will include Dolby Atmos, as part of expansion of its premium offering, Showcase Cinema de Lux.
Showcase Cinema is to invest £5m over the next 18 months, introducing XPlus screens across its UK estate.

The large scale screens feature technologically advanced digital projection, screen and audio in order to provide cinema-goers with the ultimate immersive experience available.

"We are committed to delivering the most immersive movie-going experience for our customers. With wall-to-wall screens and state-of-the-art Dolby Atmos sound, seeing a film in XPlus takes it to a whole new level," said Duncan Short, VP international operations of Showcase.  LINK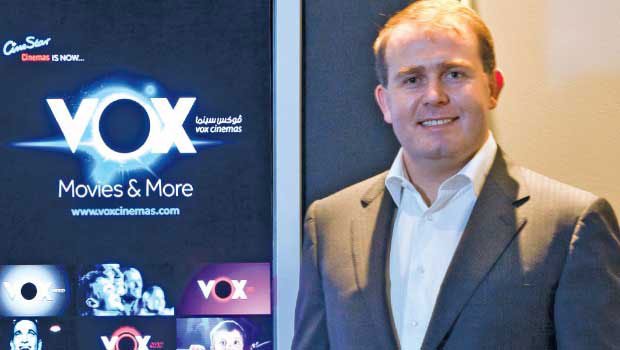 Oman – Vox Cinemas is launching its own Vox Max PLF screen, rather than going with Imax. No word on whether it uses Atmos or Auro.
Oman's largest 10-screen and 7-screen VOX Cinemas, owned by Majid Al Futtaim Ventures, are to open at the Muscat City Centre and the Qurum City Centre soon.

To mark this, Vox Cinemas is organising an official press launch at VOX Cinemas, City Centre Muscat on June 2, 2014 where senior officials from Majid Al Futtaim – Cinemas and Majid Al Futtaim – Properties will officially open it.

The website of the new cinema announced a large number of Hollywood and Bollywood movies coming soon to their screens from June 22, 2014.  LINK
Event Cinema
USA – Summer isn't just time for superhero blockbusters but also for opera repeats.
Beginning Wednesday, June 18, the Metropolitan Opera and Fathom Events will once again present Summer HD Encores, a series of choice encore performances from the groundbreaking Live in HD series of cinema presentations, in more than 400 U.S. cinemas nationwide through Fathom's Digital Broadcast Network. This summer's Encore series offers repeats of four popular Live in HD events, including Verdi's "Rigoletto" (June 18), Puccini's "La Rondine" (June 25), Verdi's "Otello" (July 9), and the Baroque pastiche "The Enchanted Island" (July 16).

Tickets for The Met: Live in HD Summer 2014 Encores, shown in cinemas Wednesday evenings at 7:00 p.m. in all time zones, are available at www.FathomEvents.com or at participating theater box offices.  LINK
Outdoor Cinema
USA (NY) – It looks like Hot Tub Cinema is as much of a big hit in Brooklyn as it was in London.
The first film in the series? Take a wild guess — "Hot Tub Time Machine."

It's not the first time New Yorkers have taken an offbeat plunge — including cooling off in floating barges and recycled Dumpsters — but this new pool party makes the mind reel.

The 100 or so tickets, which go for $65 and include an open bar, sold out in a snap (with currently more than 1,700 on the wait list). Obviously, Asher Charman picked right when he chose hipsterville for his hot-tub hijinks.  LINK
China – Another drive-in cinema announced in China. Interesting to see them grow there (and in UK), just as they are disappearing in the US.
Taizhou Economic Development Zone and Yuhuan theater are redoubling their efforts to build Xuanmen near Bay Bridge, which is expecting a mid-to-late-May opening. By then, the general public can sit in their own private car, while eating snacks, drinks, and watching movies, enjoy the casual, stylish living.

Recently, this reporter saw the construction site where the theater has begun to take shape throughout the automotive, construction workers are busy with the theater exterior of the car and greening work. Car Cinema investors Sandra told reporters that the entire automotive theater investment is 800 million yuan, covers an area of ??10 acres, a total of 88 parking spaces, as well as a relaxation area, between viewing packages, children's activity area, a barbecue area and other areas, with a length of 22 meters, 10 meters tall giant screen, Wenzhou and other places than the cinema screen much larger car.  LINK
Cinema Opening/Closings
France – The project manager of a theater Garat, near Angoulême, has received the support of a new investor, Jean-Pierre Lemoine, CEO Mégarama group, for the opening of a new multiplex in Angoulême.
The arrival of Mégarama group in Angoulême, in the territory of CGR should shake up the market. "Given the number of films released every year, there is plenty of room for both of us," believes his partner Jean- Pierre Lemoine. However, the realization of the partnership between SAS and Mégarama Cinescop clearly presents a challenge to the IRGC, a theater owner in the city center, whose aim was to present a new project to implement the multiplex Mountains area West Champniers, north of Angoulême.  LINK
UK – A cafe hopes to the the setting for a new cinema in Wallington, Surrey, to replace the local Odeon that closed. There is an Indiegogo campaign underway.
The movie theatre will be based at The Brook cafe and bar and is expected to seat around 25 people.

They will host daytime sessions for children as well as screening the work of local film-makers.

Blockbusters will be aired 10-weeks after they hit the mainstream cinemas and the venue will also show classic titles.  LINK
USA (CT) – The 12-screen multiplex in Southington, CT, is set for a re-vamp following a sale to Starplex.
The 12-screen movie theater at 1821 Meriden-Waterbury Turnpike was sold last week to Starplex Cinemas, a Dallas-based chain that wants to improve the theater and divide the remaining land into two separate pad sites, according to town and company representatives.

"The new movie owner wanted to retain a movie theater and are preparing changes to enhance the viewer experience," said Louis Perillo III, the town's economic development director.

The 16.4-acre parcel will be subdivided into three parcels to allow for a restaurant or other development in the grassy area in front of the theater. Perillo would not elaborate on the terms of the deal except that it closed last week, and the sale is a win for the area.  LINK
USA (PA) – The Digiplex Cinema Center in downtown Williamsport will be getting more film choices following the opening of additional screens.
Construction is almost complete. Two new screens have been added at the Digiplex Cinema Center on West 4th Street in Williamsport and two others were renovated.

Now, it's almost show time. The four screens will all be open by the weekend, bringing the total number to 11.

"More variety of movies. I think that they need it," said Rahsheena Hill of Williamsport.  LINK
UK – Some cinema conversion make you want to weep. And not out of joy.
The Majestic, an iconic 1930s building in Darlington will reopen this summer following an extensive refurbishment and restoration.

After much speculation, plans for the future of the former art deco cinema have now been unveiled.

The ground floor of the much-loved Bondgate venue will accommodate Bing Bong Soft Play, which will boast one of the largest soft play structures in the North-East.  LINK
Finally
How to review a film without actually giving away what the film is? That's the dilemma of this reviewer of Secret Cinema 21.
As it was set in the 1920s, this meant that we got to dress up in awesome suits, hats and dresses, which instantly makes everyone look cool and sophisticated, and I found myself lamenting that I usually wear jeans and boring T-shirts. It was also fun to see others wearing similar outfits on the bus as we neared the venue, as it made it all seem rather in-the-know, like we were about to take a secret journey in a time machine.

Once we handed in our tickets, I was instantly approached by an actor, who roughed me up a bit and gave me a mission. We weren't even in yet! Already it felt surreal and exciting. Before we knew it, we were hit by the sounds, sights and mood of the era, and the evening began. There are bars to order a decent range of cocktails, beer and wine, and food stands for the peckish.  LINK

Latest posts by Patrick von Sychowski
(see all)