Secret Cinema's Grand Budapest Hotel throws open its doors in London… UK and Ireland get drive in cinemas (both showing Grease)… Chinese crack-down on ticket fraud… Brooklyn's oldest independent cinema goes Indigogo for digital… Some news from Germany… Learn a new word (Kinosterben) as two art-deco masterpieces are gutted and only facades remain… Russian megaplax goes for expansion with RealD's Luxe… and seven reasons to go to the cinema on your own.
Secret Cinema's The Grand Budapest Hotel has been getting rave reviews (we plan to bring you our own shortly), as the man behind it reveals future plans.
Tweets of outrage greeted Secret Cinema's latest – and not because it un-Secret-ly announced it was a worldwide preview of the acclaimed new film by Wes Anderson (The Royal Tenenbaums, Fantastic Mr Fox).

Sample scoff: '£53 a ticket? I could fly to Budapest and back for that.'

But then Secret Cinema offers more than just cinema. It's closer to the immersive theatre experiences of Punchdrunk (which also charges around – or, crucially, just under – £50 a ticket). LINK.
In fact, the showing has been such a success that it has already been extended until 30 March and is getting top marks from the London Evening Standard's Chief Arts Correspondent.
The peculiar eastern European nation of Zubrowka has been recreated in a derelict lead and glass factory as the Secret Cinema team – who produce immersive theatrical experiences around screening films – bring Wes Anderson's new movie, The Grand Budapest Hotel, to life.

At Secret Cinema in the past, the thrill has been spotting characters – played by actors – and incidents enacted from favourite cult movies before watching the film again.

With The Grand Budapest Hotel not on general release until next week, the "Ah, of course…" sigh of recognition comes only upon taking a seat in the "ballroom" cinema to catch the end-of-evening screening. LINK.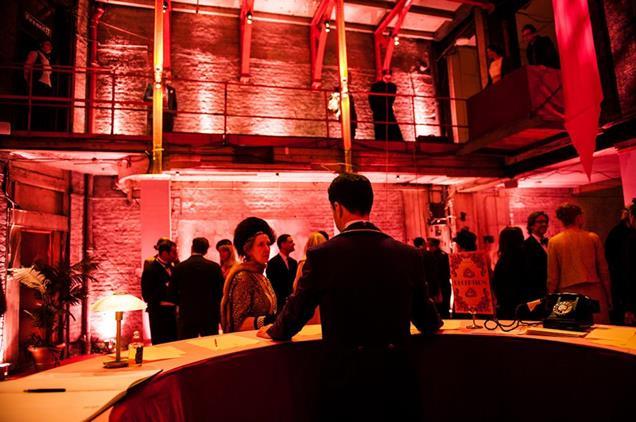 Talking to Screen Daily, Rigall reveals how they got permission to open the film a week early:
Having established a relationship with Fox through their production of Prometheus, Riggall proposed to distributor Fox Searchlight that Secret Cinema could preview The Grand Budapest Hotel before it goes on general release in the UK on March 7. They also secured the consent and approval of Wes Anderson's team.

"We are keen to build partnerships with the industry and Fox have given us a great vote of confidence in what we are doing," says Riggall, who originally trained at the New York Film Academy.

"This new series of Secret Cinema Presents will take certain films and release them in this way to create appetite and interest from audiences," he explains, highlighting how the company did a similar thing with documentaries The Imposter and Searching For Sugar Man.  LINK.
Next up Secret Cinema plans to expand in US and Asia, but first it has something really big planned for the UK this summer. Secret, of course.
Business
China: The Chinese government has slapped down a handful of cinemas that were falsifying box office reports to avoid paying tax and distributor rental.
Nine Chinese cinemas have been banned from screening new movies after they were found to have cheated in box office figures, according to two film associations.

Among them, six cinemas in east China's Shandong Province and northern Shanxi are banned until they rectify their practice and the other three are banned for one month, said a statement issued on Wednesday by the China Film Producers' Association and China Film Distribution and Screening Association.

The two semi-official organizations are under the State Administration of Press, Publication, Radio, Film and Television.

These cinemas were found to have reported fake box office figures to authorities, sold hand written (or no) tickets or hindered official box office inspections.

In one case, a cinema in south China's Hainan Province registered no audience at all in their computer system despite the screenings in question receiving viewers normally.
This fraud mainly took place in independently owned cinemas in tier two and three cities, where there is often cut-throat competition from over-building. The Chinese state is forcing all cinemas to move over to a national digital ticketing platform. LINK.
Russia: A Russian exhibitor with an American CEO (Paul Heth, above) is planning an aggressive megaplex and multiplex expansion drive in Moscow, St Petersburg and Siberia.
Russian cinema chain Karo Film said Thursday it would spend $150 million over the next two years in a capital investment and expansion program.

The investment program, in association with equity investors Russian Direct Investment Fund and Baring Vostok, will include building and developing what the company calls Russia's largest "next generation" movie theaters.
The first of the new cinema complexes, the Karo Vegas 22 Megaplex, where builders have already broken ground, is due to open in July in Crocus City, a major shopping and entertainment site on the outskirts of Moscow, easily accessible from the city's beltway MKAD road.

The 19,000-square-meter site will house 22 screens and 5,000 seats.
Interestingly it will be one of the first sites to feature RealD's Imax-competitor LUXE. LINK.  
Drive-in Cinema
Ireland: While drive-in cinemas are dying off in the US, attempts are made to bring them to life in Ireland and UK.
Underground Cinema, in association with the Dun Laoghaire Harbour Company, has announced the opening of Dublin's first Drive-In cinema, to open in Dun Laoghaire. The Drive-In will be located inside the Ferry Terminal in the seaside town, and will hold 80 cars with two screenings (a family friendly movie at 7pm and one for more mature audiences at 9pm) per evening.

The Drive-In will be launched as part of the Bank Holiday weekend celebrations in Dun Laoghaire for St. Patrick's Day weekend. Over the weekend in March, Underground cinema will screen a wide selection of films for young and old. The opening film will be musical favourite 'Greece' [sic] followed later on the same evening with Spielberg classic, 'Jaws'.
We think they mean the musical Grease, not Greece. LINK.
UK: Two entrepreneurs in Essex are not moping that there is no cinema in town; they open their own pop-up drive-in:
Brentwood may have a wait on their hands before a long-promised cinema finally arrives in William Hunter Way, but two business partners have decided to ease the frustration.

More than 5,000 film lovers and 1,000 cars are expected to line up in front of a 60ft screen at the Brentwood Centre on the opening night of June 14.

The project is the idea of Essex friends Adam Child and Adam Ryan, who run Essex Drive-in Movies.
They to plan to show the musical Grease, which is obviously indelibly linked in British-Irish psyche with American drive-in glamour. LINK.
Digital Death Watch
Germany: There are many ways to help raise funds for digitisation. In German a group of local ladies sell books in a fleamarket to help any little bit they can.
Ein Kilo Bücher für einen Euro lautet das Angebot der Bücherflohmarkt-Frauen, mehr als 600 Euro sind so für die Digitalisierung des Bad Uracher Kinos zusammen gekommen. Der Betrag wurde von den Frauen auf 800 Euro aufgestockt – eine Summe, die das Forum 22 gut gebrauchen kann: Immerhin jeweils 100 000 Euro kostete die im Oktober abgeschlossene Digitalisierung der beiden Kinosäle: "Dahinter steckt eine Vorbereitungszeit von mehr als vier Jahren", berichtet der Stadtjugendring-Vorsitzende Thorsten Hail.

Letztlich habe man über diesen Zeitraum nur noch Geld dafür angespart: "Wir wussten, wenn wir nicht digitalisieren, können wir das Kino schließen." Denn es hatte sich schon seit Frühjahr 2013 abgezeichnet, dass die Verleiher von immer weniger guten Filmen Kopien in den Umlauf brachten: "Wir waren mit der Umstellung gerade noch rechtzeitig dran", meint Hail erleichtert. Denn die schlechte Filmsituation wirkte sich bereits negativ aus: "Wir hatten einen kontinuierlichen Zuschauerrückgang."
LINK.
USA: The Brooklyn cinemas that we wrote about last week facing closure has launched an Indiegogo (not Kickstarter) campaign to go digital.
The owner of the Brooklyn Heights Cinema, a decades-old movie house, is looking to raise $30,000 to purchase a digital projector for one of the theater's two screens.

Owner Kenn Lowy has been forced to switch to advanced-screening equipment in order to show popular movies that are no longer available on 35mm film.

Without the money to buy digital projection by the end of March, "we're out of business," he said.
When patrons ask they can help, the operator has a telling reply: "Donate, and come watch a movie. " Use it or lose it.
Cinema Opening/Closings
UK: An old Regal cinema in a posh London suburb is about to become a Curzon cinema – and a whole lot more.
An 8,000 square foot penthouse with concierge service, a Curzon cinema, and a restaurant run by a celebrity chef.

These are just some of the features included in finalised plans for Kingston's iconic Gala Bingo hall in Richmond Road.

Developer CNM Estates has submitted its planning application to Kingston Council outlining a radical new vision for the vacant, Grade II-listed building.

The multi-million pound mixed-use scheme will also include a dance hall, office space and children's play and education centre.
LINK.
Australia: A long mooted cinema proposal has finally been given the go-ahead.
GLENELG'S $17 million cinema complex will go ahead after the state's peak planning body gave the project the green light yesterday.

The Development Assessment Commission approved the 930-seat complex and two-level carpark to be built just south of Jetty Rd after twice deferring making a decision in recent weeks .

The plan was first proposed by prominent Jetty Rd property owner and Adelaide developer Andrew Taplin in 2012.

The plans are expected to go back to Holdfast Bay Council for its final ratification within a month.
LINK.
Germany: Trust the Germans to have a perfect word for everything. 'Kinosterben', or 'death of cinema(s)', applies to this gorgeous 1930s art-deco, where soon only the facade will remain.
Vom Lichtspielhaus an der Maisacher Straße wird wohl doch nur das Vorderhaus mit dem charakteristischen Schriftzug erhalten bleiben. Eine Mehrheit im Stadtrat verständigte sich am Dienstag darauf, den Grundstücksbesitzern, Renate und Matthias Veicht, den Abriss des Kinosaals zu ermöglichen. Diesen soll eine deutliche Wertminderung erspart werden. Anstelle des Saals sollen zwei bis drei Gebäude für ein generationsübergreifendes Wohnprojekt gebaut werden.
Those historically knowledgable amongst you will also identify the reference to Potemkin Cinema. LINK.
USA: Kinosterben in Philadelphia too as the city's most historic cinema gets the thumbs down. Here too only the facade will remain.
A Philadelphia Historical Commission panel granted preliminary approval Thursday to a Florida entertainment company to demolish the Boyd Theater's lavish art-deco interior, despite an anonymous donor's last-minute offer to save the city's only surviving relic of Hollywood's golden age.

In reaching its decision, the Committee on Financial Hardship concluded that the large movie house could not be redeveloped at a reasonable cost, and that the purchase offer from the Florida company, iPic, represented the best hope for salvaging part of the historic building at 1908 Chestnut St.

IPic has promised to retain the Boyd's narrow frontage as an entrance for a deluxe eight-screen multiplex, but plans to raze the L-shaped building's ornate lobby and auditorium.
LINK.
UK: Scotland is to get a new Imax cinemas, but not with an established UK multiplex operator.
Leisure firm G1 Group has agreed a deal with IMAX Corporation to add an IMAX cinema at Perth Playhouse.

The deal represents IMAX's first agreement with an independent cinema operator in the UK and takes the total number of IMAX cinemas in Scotland to four.

G1 Group acquired Perth Playhouse in 2010 as part of a wider expansion plan to take the leisure group into the cinema business, having already added Grosvenor picture house in Glasgow's West End and another former cinema in Shawlands in Glasgow's south side.
Is it good or bad news for Imax that they do deals with independents in the UK, rather than the likes of Vue that have gone inhouse for large format screens? LINK.
Technology
Doremi: The server maker about to be taken over by Dolby has released a major update for its digital cinema mastering tool box.
Doremi, the world's leading digital cinema server developer announced today numerous upgrade features to its software mastering suite. CineAsset incorporates all of Doremi's essential workflow tools including CineExport and CinePlayer into one suite.

The comprehensive array of tools allows the creation, management and playback of encrypted (Pro version) and unencrypted DCI compliant packages from essentially any source. CineAsset includes a unique editing application for generating DCPs and CineAsset Pro includes the ability to easily generate KDM's for any encrypted content in the database.
Doremi has over 55,000 systems deployed world-wide. LINK.
USL: Doremi's smaller rival USL is differentiating itself by using solid-state hard drives that are faster, less prone to die and are easier to maintain.
USL, Inc. announces the product launch of the innovative CMS-2200 Cinema Media Server with solid state storage for the digital cinema industry. The new server features cross platform Android, xOS (MAC), iOS (Apple), Linux and Windows based Screen Management System (SMS) and built-in automation with an optional CMSA-100 expansion unit.

The CMS-2200 received rave reviews in January when it was used to demonstrate USL's implementation of immersive sound technology at the International Cinema Technology Association seminar series, in Los Angeles.

The CMS-2200 supports decoding of 4K, High Frame Rate 2K images, and is HDMI 2D & 3D compliant. Two USB 3.0 ports allow accelerated ingest of content and enable live streaming. CMS-2200 is a compact, projector-mounted unit and comes with a clear, concise operation manual, and online videos, for smooth, efficient installations. Also supported in the CMS-2200 is MPEG 2 for alternative content.
LINK.
Finally
For those of you who read yesterday's news that cinema-goers are happier people, UK's Metro has a handy guide for those of you forever being stood up by friends. Let them be miserable on their own. "7 reasons you should only ever go to the cinema by yourself":  5. No sharing the popcorn – There is always one friend who decides not to buy any food before the film. You ask if they are sure and of course they say 'Yeah, I just had a big meal'. Next thing you know, they demolish all of yours and have your drink as well because they now have a dry throat from all the popcorn." Go now and see The Grand Budapest Hotel, even if your unhappy cheapskate friends won't fork out £50. LINK.

Latest posts by Patrick von Sychowski
(see all)